News & Press
Arcadia University Joins Global edX Partner Network to Launch Online Doctor of Education in Educational Leadership
Written by 2U on Aug 2, 2023
Related content: Higher Education, Strategic Partnerships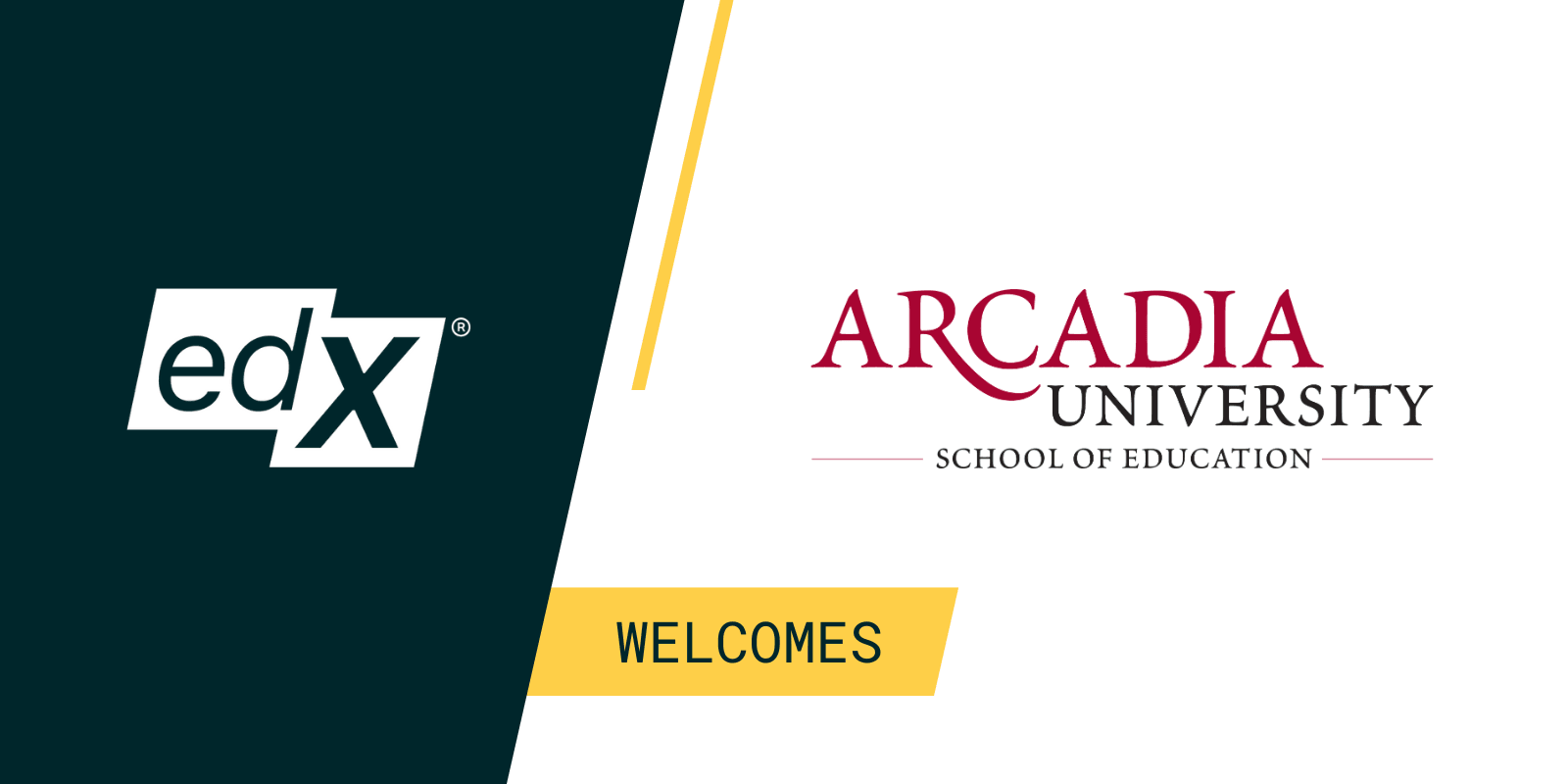 Partnership also includes first-of-its-kind doctorate-level microcredential to create affordable, flexible on-ramps to the full doctoral degree
GLENSIDE, Pa. and LANHAM, Md. – August 1, 2023 –
edX
, a leading global online learning platform from 2U, Inc. (Nasdaq: TWOU), today announced that
Arcadia University
is a new member of the global edX partner network, joining hundreds of universities and institutions in expanding access to the world's best education. Arcadia is partnering with edX to create a new online Doctor of Education in Educational Leadership (EdD) program and will also be introducing a first-of-its-kind doctorate-level microcredential that can stack into the EdD, creating affordable, flexible on-ramps to the full degree. The EdD is expected to launch in January 2024.
Designed for experienced professionals working in a variety of educational and education-related organizations, Arcadia's new online EdD program, developed under edX's
flexible degree model
, will provide learners with advanced research and practical skills for leading 21st century education institutions. The program focuses on giving school administrators and teachers a flexible way to develop skills for leading educational institutions and building inclusive, equitable classrooms.
Arcadia's doctorate-level microcredential will include a series of stackable courses in topics such as instructional design and educational leadership. While these open-admissions courses are designed to accommodate anyone with a desire to gain relevant skills, learners who successfully complete the microcredential program will be able to receive academic credit toward the full online Arcadia EdD program once admitted and enrolled.
"Joining the edX partner network is a significant step in expanding access to an Arcadia University education for students while working alongside 2U," said Dr. John Noakes, dean of the School of Education and associate provost at Arcadia University. "We're excited to launch an online EdD on edX and create innovative, stackable credentials to help guide more educators to rewarding careers as administrators and teachers. We're creating a learning opportunity to help meet the growing need for skills to create inclusive educational environments that facilitate effective learning."
"Arcadia University is leading the way in designing innovative pathways to education for roles that are critical in our society," said Andrew Hermalyn, 2U's president of partnerships. "Our strong partnership has been the foundation for delivering quality online learning experiences that match the rigor and reputation of Arcadia's on-campus programs. The new EdD program will help educate more teachers and administrators nationwide with the skills to aspire to top leadership positions and ensure every student is primed for success."
Arcadia University is a top-ranked private University in Greater Philadelphia that provides an educational experience that is values-based; rooted in justice, equity, diversity, and inclusion (JEDI); and places students at the center. The Institute of International Education has ranked Arcadia among the nation's top 10 institutions for study abroad for 11 of the last 13 years, and the Princeton Review has ranked Arcadia among the "Best in the Northeast" for eight consecutive years. The University's Physical Therapy and Physician Assistant programs are nationally ranked in their respective categories by U.S. News & World Report. Visit
www.arcadia.edu
.
edX is the global online learning platform that fuels the world's ambition. edX was developed in 2012 by Harvard and MIT to make the world's best education available to everyone. Today, as a part of 2U, Inc. (Nasdaq: TWOU), edX connects over 76 million people with online learning to meet every professional moment. Together with top-ranked universities and organizations at the forefront of their fields, edX offers thousands of job-relevant programs across nearly every career discipline, from artificial intelligence and robotics to sustainability and public health. Find online courses, certificates, boot camps, and degrees that fuel your ambition at edX.org.
Media Contacts
Arcadia: John DeRosier, derosierj@arcadia.edu