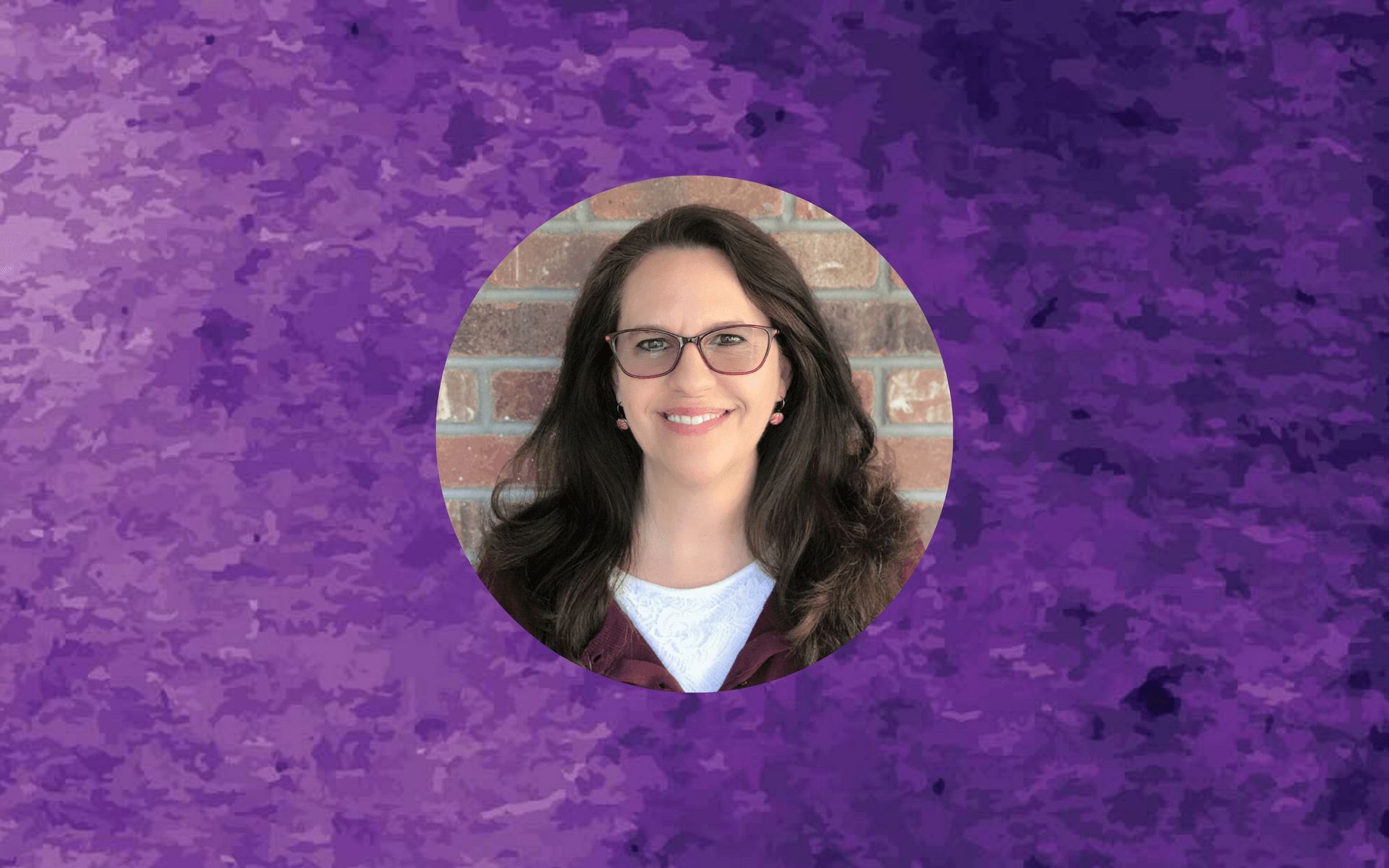 This story is a part of our "A Day in the Life" series that highlights the career journeys of 2U employees across the world. Throughout March we're celebrating Women's History Month and featuring members of one of our Business Resource Networks: the Womxn's Alliance Network.
As a former adjunct instructor,
Marylynne Lawson
has an intimate understanding of what faculty do, the challenges they face, and the fulfillment that comes from producing an educational experience that transforms students' lives. She's been in their shoes.
But at 2U, Marylynne no longer teaches 20-somethings in college eager to launch their careers. These days, accomplished academics serve as her captivated learner audience. She uses her experience as an instructor to act as a fierce advocate on faculty's behalf, building their confidence in their teaching practice one professional development seminar at a time.
Marylynne's relentless dedication to providing lifelong learning opportunities for faculty is a testament to her love of education. It's always been a passion of hers, especially women's education.
"In my undergraduate years, I saw too many women giving up on college," Marylynne explains. "It was infuriating to me! I swore I would never do the same and eventually encouraged many of my friends to go back to school to finish their degrees."
She eventually took her own advice after receiving some artful encouragement from a former student.
"I mentioned to a former student that I could earn additional degrees as a part of my 2U benefits and she responded with the guidance I had previously offered her: 'Didn't you always tell us that time goes by, so you might as well be working toward something? What are you waiting for?'"
That nudge was all the incentive Marylynne needed to apply to Baylor University's Doctorate in Education program, powered by 2U. "I'm living proof that it is
never
too late to further your education!" Marylynne says.
Read on to learn more about Marylynne's journey at 2U, how she empowers faculty, her belief in the importance of elevating and celebrating women, and more.
Why did you join 2U? What is it about the company that sparked your interest?
I was very drawn to 2U because I could see a path for myself that I knew I would never have if I continued my career as an adjunct instructor. I loved teaching, but the inconsistency and low pay got to be too much. And after having the opportunity to lead a team of part-time faculty in developing college success courses for incoming first-year students, I realized faculty development was the next career step for me.
At the time, 2U was growing fast, and there were so many opportunities for people to affect real change. One job opening really resonated with me on the Faculty Engagement & Development team. It seemed to be exactly what I was looking for. I applied, and the rest is this woman's history!
I'll also say that after working for state schools for so many years, the glitter of the Denver office and the fun culture was a huge draw. Being an adjunct professor is very isolating, so I was thrilled to join a group of people with whom I could work as a team.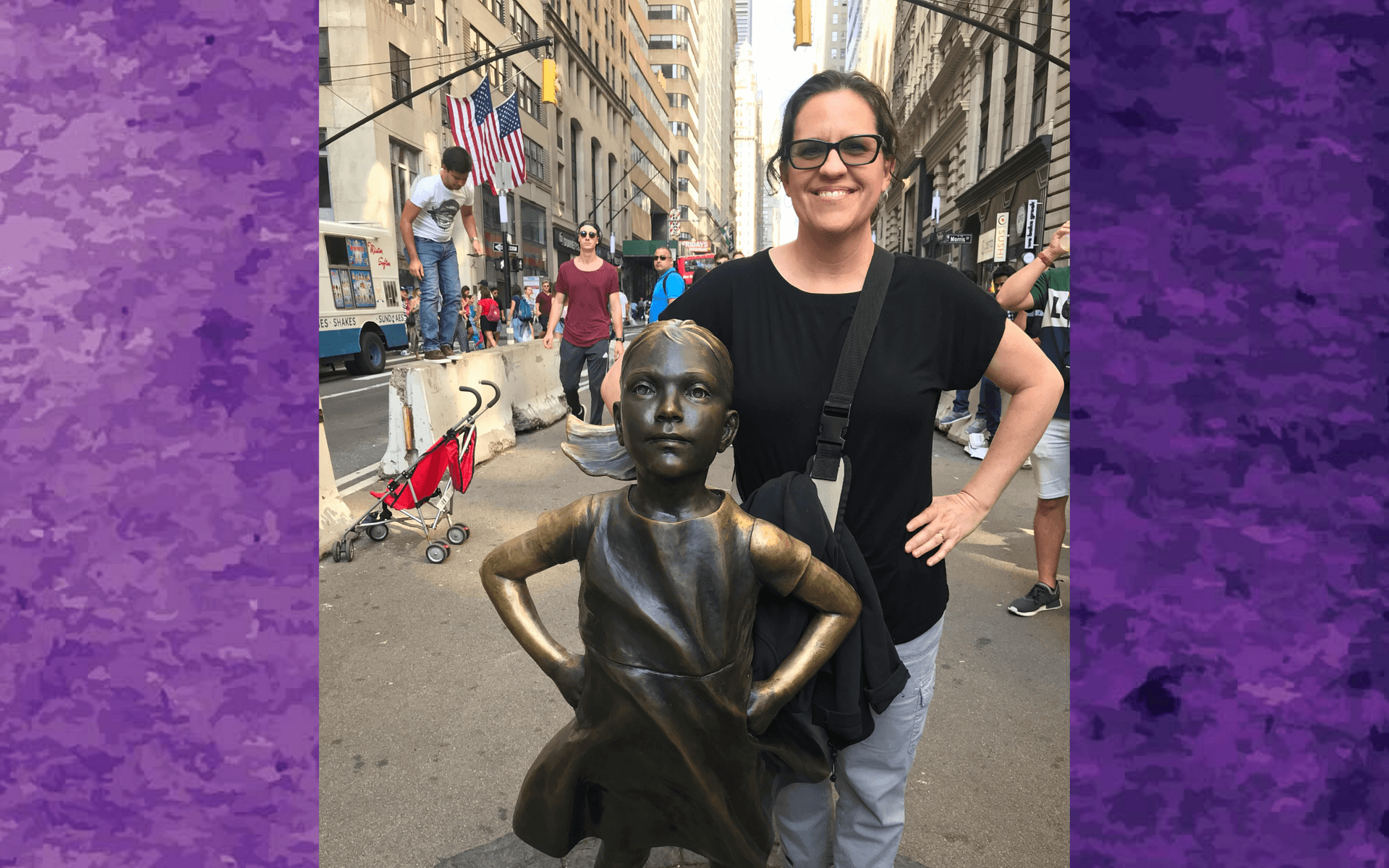 Marylynne posing with the 'Fearless Girl' statue
How would you describe your role as a lead faculty training specialist?
I train faculty on the process of designing courses for all our graduate programs, and I lead our Faculty Enrichment Program, which creates and hosts all of the professional development seminars, workshops, and events we offer to faculty. My team facilitates weekly seminars on topics ranging from adult learning theories to student engagement to effectively using Zoom tools. I also mentor faculty and 2Utes on the process of creating and facilitating seminars and would love to talk to anyone interested in facilitating an enrichment seminar in the future! (Have an idea? Miss being a teacher? Contact me at MLawson@2u.com.)
As you mentioned in your response above, one part of your role is overseeing 2U's Faculty Enrichment Program. What are faculty enrichment seminars, and where did the idea for them originate? Why is it so important to prioritize the ongoing development of faculty, and what impact have the seminars had on academics thus far?
When I came on board, the team was already hosting faculty workshops a few times a year. My manager asked me if I'd like to take ownership of the workshops as a project, and I jumped at the opportunity.
In our first year, we conducted 46 seminars for just over 1,000 faculty. In 2020, the number of seminars increased to 200, and faculty attendance doubled. The pandemic not only brought 2U new business—it also created a flood of faculty coming to us with very specific professional development needs. We started offering seminars every day on a wide range of topics, recruited faculty and 2Utes to teach, and grew the program by 300%. We now have a variety of seminar categories and a robust certificate program.
As an educational company, our sole purpose is not just to serve students. Faculty need opportunities to continually learn and grow themselves to offer the best experience to students. We need to support them, too. In the last decade, 2U has committed to providing that extra level of assistance and encouragement, and, through the process, we have built up a lot of trust with faculty across the programs we power. They really look to us to engage them in their learning.
We have a saying on the Faculty Success team that you may recognize, but we've altered it just a bit: "When faculty win, students win, and when students win, the university wins, and when the university wins, 2U wins!" It all starts with faculty!
You are also the 2Ute behind 2U's new "Equity & Social Justice in the Digital Learning Environment: A Workshop Series." Why are we hosting these eight-week seminars for instructors teaching in 2U-powered degree programs? What value do they provide faculty and, as a result, students? What has feedback on the seminar looked like thus far?
With my background in women's and gender studies, I knew I wanted to offer seminars to faculty on a range of important social justice topics. And when the events of last year transpired, I realized that activating this idea was more important than ever before. Faculty were also asking us for workshops on diversity and inclusion, further cementing the need to launch new seminars.
Before moving forward with launching the series, I gathered a small team to start doing some initial research. It didn't take long for that working group to grow when I decided to broaden the scope of the project to consider not just faculty needs, but student perspectives as well. I recruited help across 2U and our motley crew of a few grew into a 16-person Equity & Social Justice committee with members from Faculty Success, Student Success, and the Content Development teams. We created a six-part series to start and ran a small pilot last fall, expanded it to eight workshops, and promoted a soft launch of the "Equity & Social Justice in the Digital Learning Environment: A Workshop Series" to all faculty that started in February. Our official launch is in June. So far, it has been a huge success. Faculty are bonding, collaborating, and sharing resources while learning to build their emotional muscle in this work.
What do you find most rewarding and challenging about your job?
Working with faculty is definitely the most rewarding facet of my job. I've made incredible friendships with some of the smartest people! I get to connect with faculty across all our programs in many different fields, and I "nerd out" with them about their content and their passion for teaching. For someone who loves to learn, it's a win-win situation for me.
Relationships do matter, but they take time, and time is the biggest challenge in this position. There are so many subjects I want to research and so many seminars I want to teach, but there isn't enough time in any one day to do it all.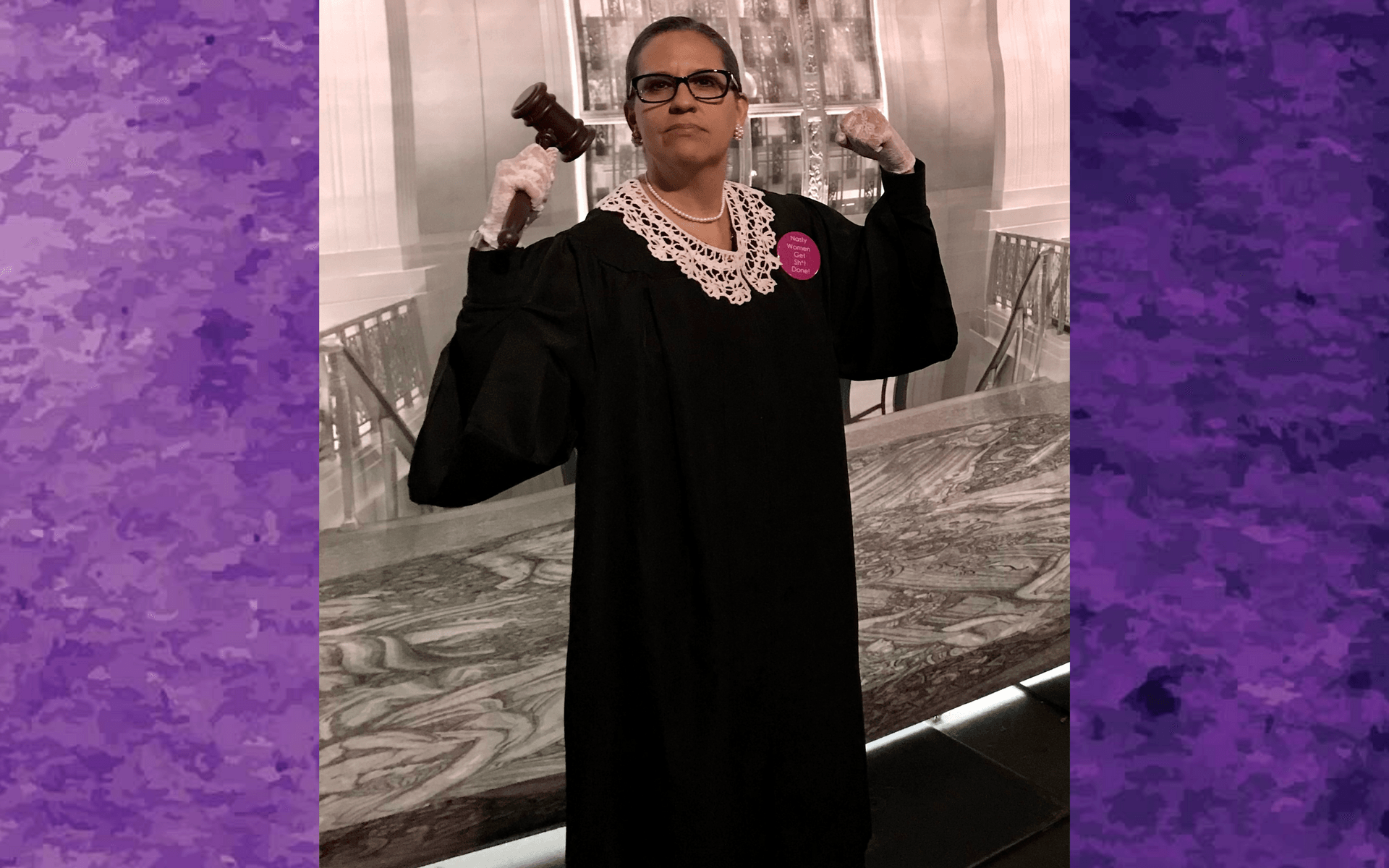 Marylynne dressed up as Ruth Bader Ginsburg for 2U Boo
What's your favorite part about working at 2U?
I love the people I work with. I know every team says this, but Faculty Success team members are truly the best. I also am grateful to work for a company that values innovative ideas and change. Educational institutions are notorious for moving at a snail's pace. But 2U is different. Here, I love how I can have an idea one day, speak to my manager about it the next, and start running with it a few days later. It is very much a "yes, go for it" place to work, and that bold and fearless ethos is unlike anything I've experienced in my career. Autonomy and encouragement really motivates and inspires me to be my best.
Why did you join 2U's Womxn's Alliance Network (W.A.N.), and in what ways do you contribute to the group?
I joined W.A.N. immediately after its inception. While I was eager to get involved, I was still pretty new at 2U, so I didn't think I could shoulder the responsibility of a leadership position. Instead, I was happy to attend events and support efforts individually. When the next round of applications for leadership positions opened up, I decided to take the leap and apply. Now, I'm the Denver chair for W.A.N. and am responsible for our new informal conversation series highlighting women making a difference in their fields.
What does Women's History Month mean to you?
To me, Women's History Month is a time to reflect and celebrate those women whose shoulders we stand on. Some of their histories may be viewed as problematic through our own anachronistic lens, but I believe we should still hail their accomplishments and show mercy for their mistakes. Women have always done the best they can with what they were given. We owe so much to those who have come before us.
I also believe Women's History Month is a time to celebrate our own achievements. We can't count on others to do it for us. So, make a point during March to tell a family member, or a friend, or someone you work with, one thing you did today that was amazing! Then post about it on social media and LinkedIn. It is not vanity to carve out a place for yourself in the world by owning your power and letting people know how awesome you are.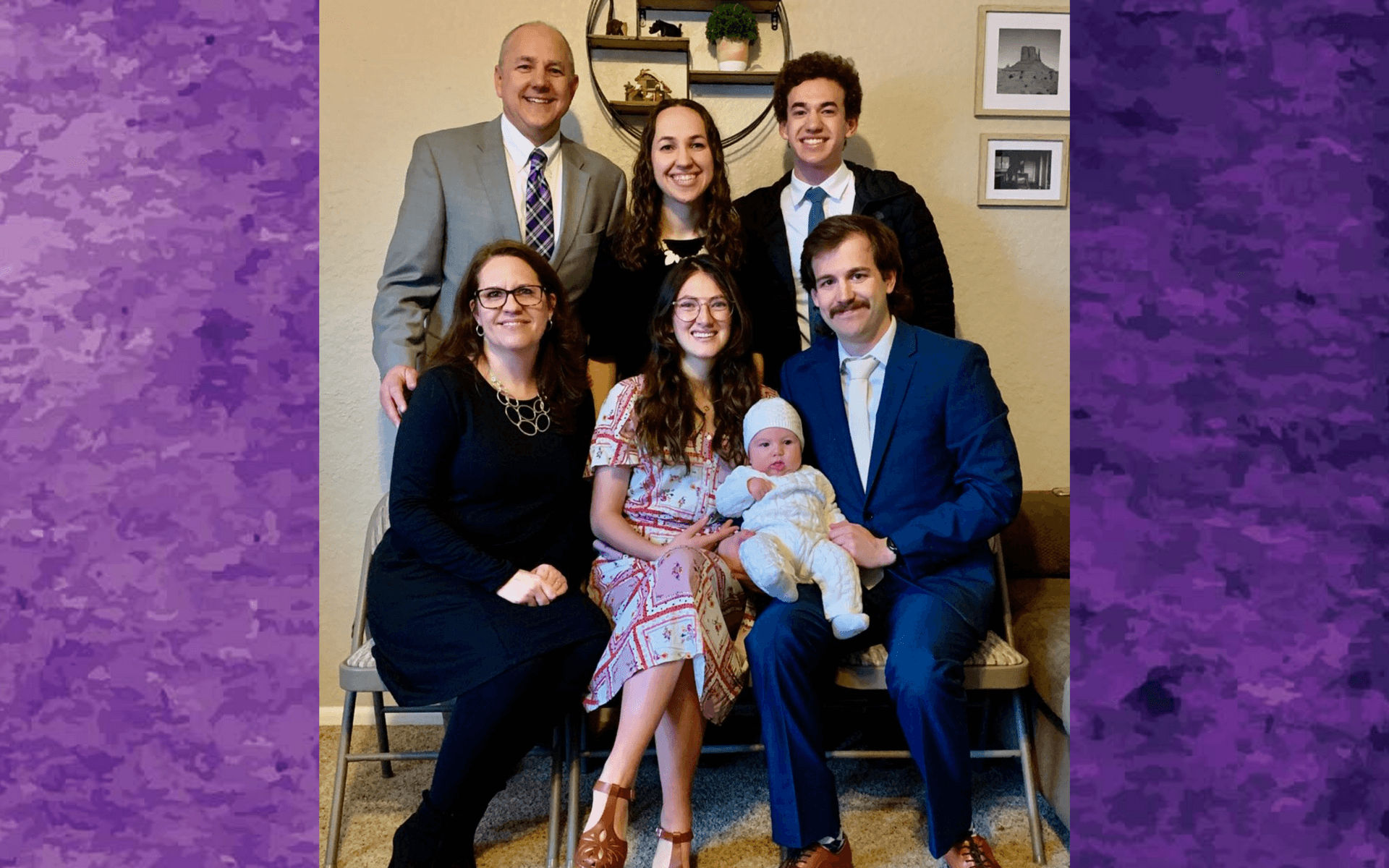 Marylynne and her family
The theme of this year's Women's History Month is "
Valiant Women of the Vote: Refusing to be Silenced
." As last year saw several historic milestones for women (from Kamala Harris being elected the first female U.S. Vice President and a record number of women being elected to Congress to TIME Magazine selecting 15-year-old scientist and inventor Gitanjali Rao as their first-ever "Kid of the Year"), what historic milestones for women have been most meaningful to you? And in your life, how do
you
refuse to be silenced?
Refusing to be silenced has never been a problem for me.
I grew up in a loud, Italian family, as the middle child of three girls. If I didn't speak up, I would not have survived! In fact, refusing to be silenced has gotten me in "good trouble" my whole life—from leading revolts in high school to fighting inequitable dorm rules in college to challenging standards for women in my early career and my religious community.
I've witnessed a lot of milestones for women over the years, but for me, those milestones are more impactful when they are achieved by my own family and friends. I witnessed my stay-at-home mom start her own column in the local newspaper and then watched her advocate for the handicapped before the ADA was the norm. I saw my female cousins and sister earn master's degrees—the first in the family to do so. I witnessed female friends pull themselves out of poverty, start businesses, and leave bad relationships, and I saw others adopt children and lovingly care for aging parents. I watched as my daughter found her own strong voice and thrived independently, then cried as she bravely chose to serve others and forge her own career. You see, women's history is about
all
of us—not just those who make it on TV or in the history books. Look around and you will find women making a difference every day in every aspect of their lives.
What advice would you give to someone just starting at 2U?
Embrace it
all
and do all the things! Join one of 2U's Business Resource Networks (or all of them), express interest in leadership roles, show up for social gatherings and events, and take time to connect with people. 2Utes are some of the smartest and kindest people I've ever had the pleasure to work with!