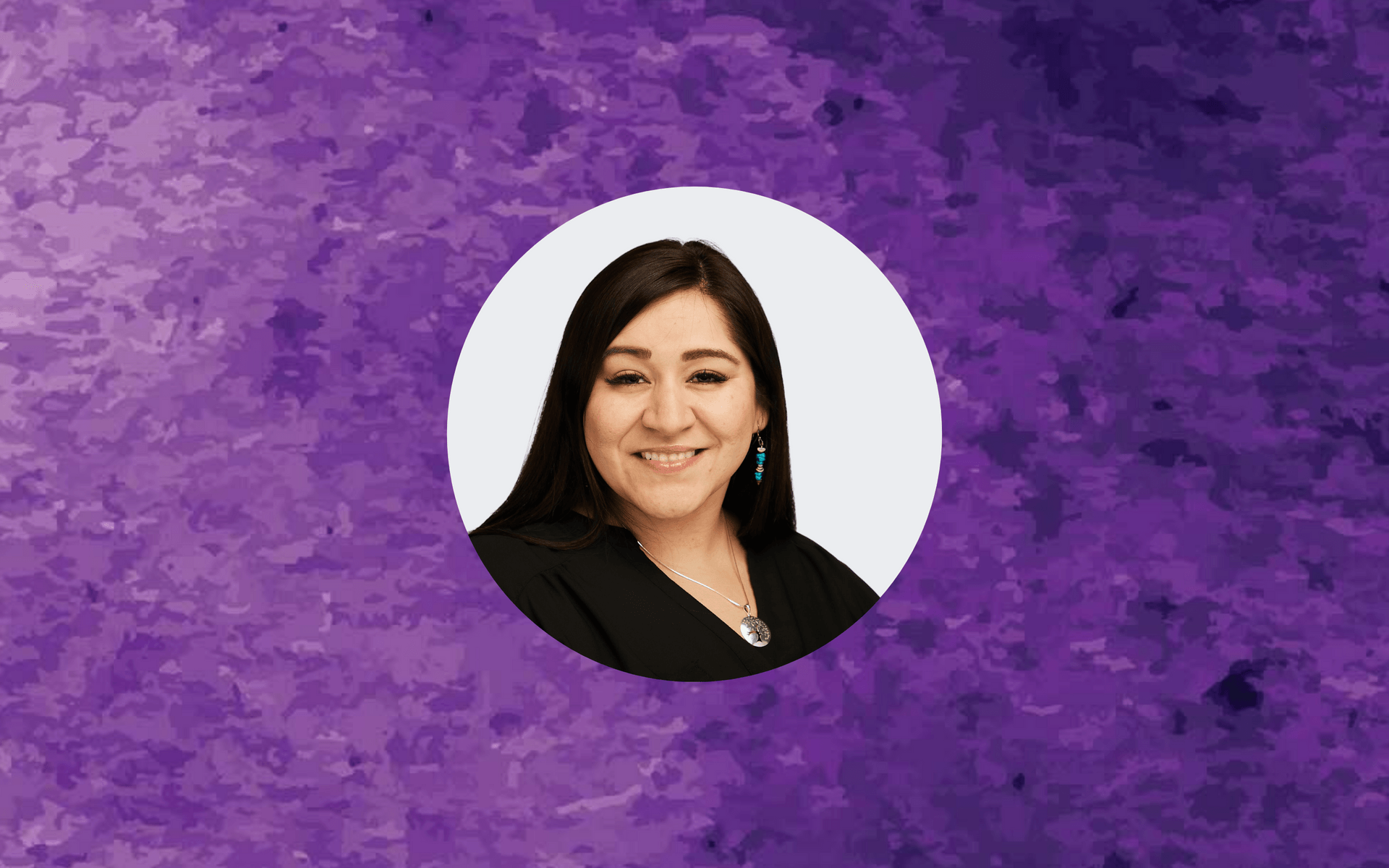 This story is a part of our "A Day in the Life" series that highlights the career journeys of 2U employees across the world. Throughout March, we're celebrating Women's History Month and featuring members of one of our Business Resource Networks: the Womxn's Alliance Network.
As a biracial daughter of working class parents,
Corrine Padilla
faced discrimination from an early age. But instead of being discouraged, she grew determined.
"Having experienced social injustice as a child and throughout my life due to gender, race, and socioeconomic status, I made it my mission to help others obtain access, equality, and opportunities through education," says Corrine.
For a long time, she was intent on becoming a lawyer. "I was convinced that the only way for me to shape a more socially just world was through law," she explains. After obtaining her bachelor's degree, however, Corrine realized she could make a greater impact on society through a career in education—and enrolled in an M.Ed. in Educational Leadership and Policy program to set her mission in motion.
Looking back, Corrine doesn't know where she would be without education. "As a first-generation college student, I was able to grow beyond my initial socioeconomic status and give back to my community because of education," she says. "Most importantly, education has allowed me to pursue my life's passion of creating a more socially just world."
Today, as a student success manager for 2U-powered boot camps, she's doing exactly that. Read on to learn how Corrine is paving educational pathways for overlooked populations, empowering women to be heard as a member of 2U's Womxn's Alliance Network (W.A.N.), and carving out spaces for underrepresented tech talent in Utah's
Silicon Slopes
.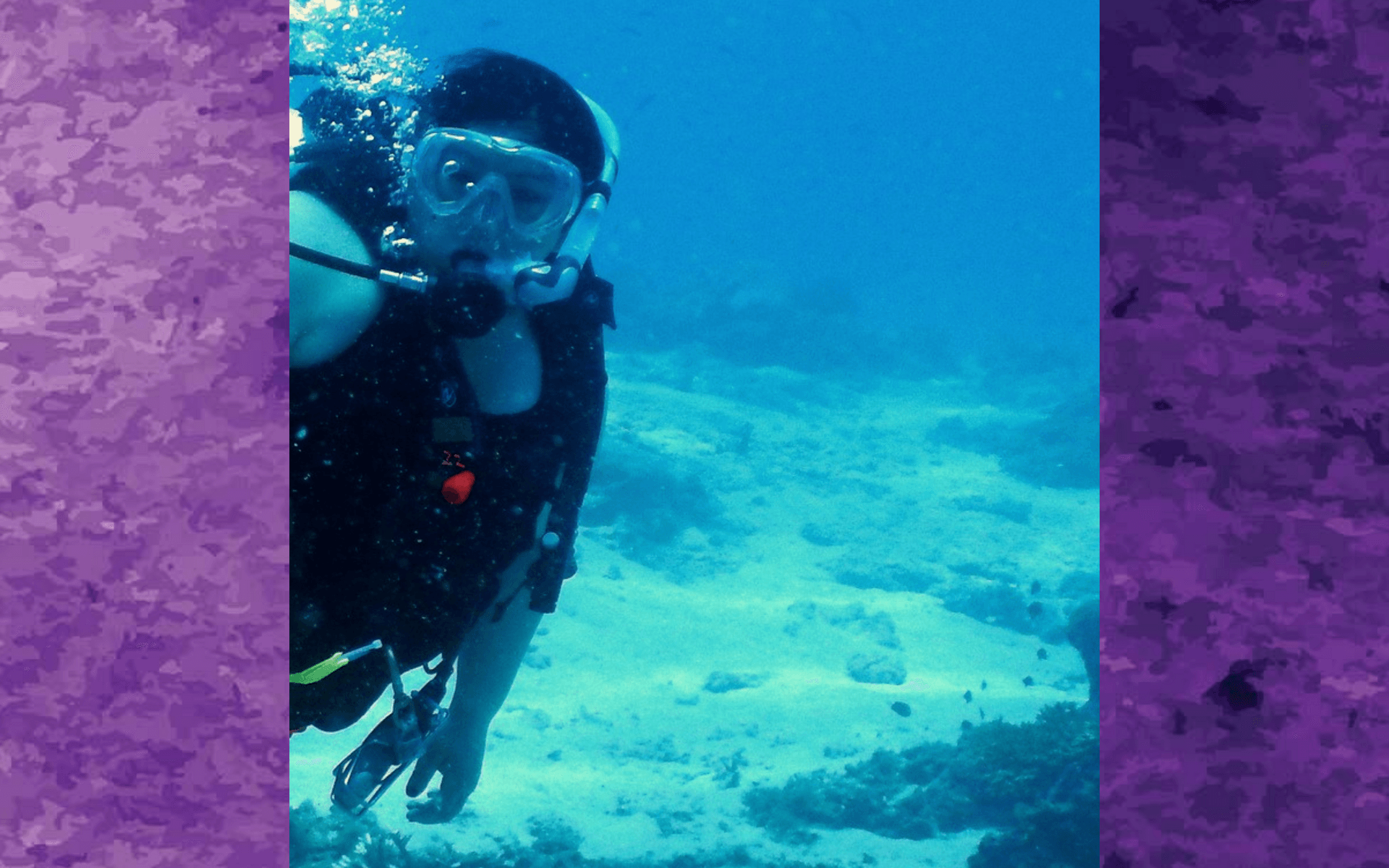 Corrine dives deep into everything she does—for students, for women at 2U, and for her own adventurous spirit
What got you interested in a career in higher education?
As a beneficiary of higher education, I know firsthand how important it is to have someone to guide you through what can be a very demanding endeavor. This is especially true for first-generation students and other underrepresented populations. I personally love the cross-section of increasing access within a lucrative and cutting-edge industry.
Why did you join 2U? What is it about the company that sparked your interest?
I hit a point in my career where I was looking to have a more expansive impact on people's lives by increasing access and equity for underserved populations.
Having previously spent a majority of my time focused on supporting traditionally aged college students working toward a four-year degree, I wanted to see what I could do within the adult education/re-education arena. Many of the students I serve today are making a hard pivot from established careers in a variety of fields, especially the service industry, or are shifting from a role of primary care provider and quickly upskilling to fill the demands of the tech sector. As a result, we have the unique opportunity to help marginalized individuals quickly gain access to a flourishing and vastly impactful industry.
What has kept me here at 2U for three years is the amazing company culture and the willingness of leadership to never stop improving. It's clear to me that I'm working in tandem with professionals who share my same passion and conviction that education can be—and is—transformative.
I'm here to support students on their educational journey [and] talk about the personal challenges they face with family, work, imposter syndrome, or anything else that may prevent them from achieving success.

— Corrine Padilla, Student Success Manager, 2U
How would you describe your day-to-day role as a student success manager (SSM) working on the University of Utah Coding, UX/UI, and Cybersecurity Boot Camps?
I like to joke with my fellow SSMs that one must be a jack-of-all-trades to succeed in this role! We're professional problem-solvers, partnership managers, and team leaders who go above and beyond to help students, instructional staff, and the company succeed.
As an SSM, I'm here to support students on their educational journey. That sometimes means helping adult learners—some of whom have been out of school for a decade or more—develop study strategies, adhere to time management practices, and connect with academic resources. Other times, it means providing a compassionate ear when learners need to talk about the personal challenges they face with family, work, imposter syndrome, or anything else that may prevent them from achieving success in a boot camp.
Outside of directly working with students, SSMs are responsible for supervising and supporting instructional staff. On a weekly basis, I assess and analyze quantitative and qualitative feedback provided by students regarding their in-class experience, and use that to help instructors and teaching assistants refine their pedagogical practice.
How does it feel to support students' success in programs delivered by the same university where you earned your M.Ed.?
I hold the University of Utah in high esteem, and it's deeply gratifying to help others find value in and benefit from their educational offerings, just as I did during my graduate studies. This is especially true when you can see graduates go on to carve out a space for themselves in the Silicon Slopes.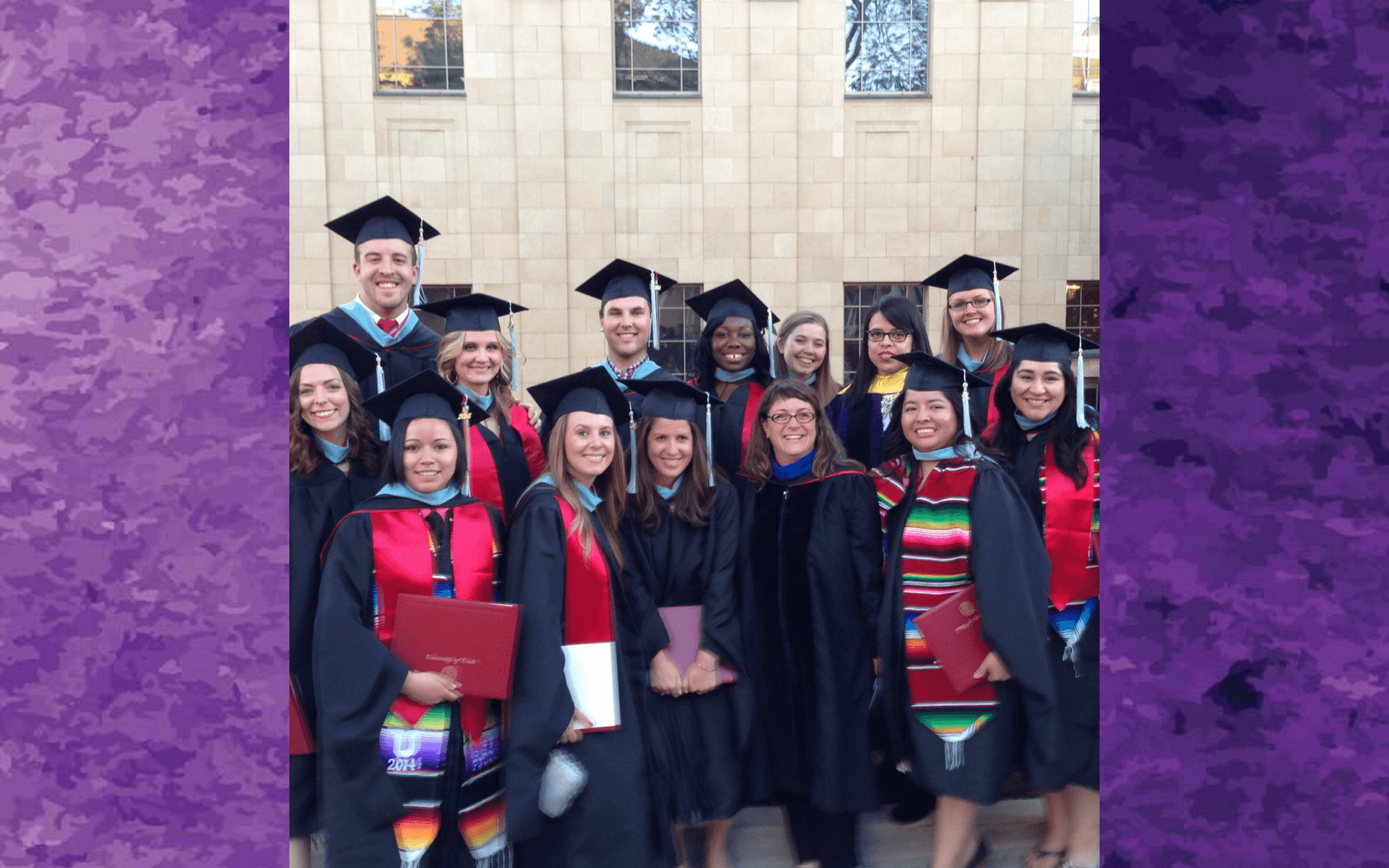 Corrine (far right) on graduation day for her M.Ed. program
What do you find most rewarding about your job? How about the most challenging?
There can be an emotional toll to pay when working so closely with students and investing in their academic success. This has been especially true during the pandemic and the social unrest that has consumed the United States. More than ever before, these past 12 months have challenged students—physically, mentally, emotionally, and in some cases economically. Navigating these hurdles so frequently has been one of the most challenging aspects of my position. In contrast, when I observe a student succeed despite major obstacles, it's incredibly fulfilling and gives me a renewed sense of hope.
Why did you join 2U's Womxn's Alliance Network (W.A.N.)?
I enthusiastically joined W.A.N. because I wholeheartedly subscribe to the notion that "behind every successful womxn is a tribe of other successful women who have her back." I love W.A.N.'s mission to educate and empower women and our allies. I want to help influence structural and cultural change within our organization, and I think the best way to do that is by working together and celebrating what we all bring to the table.
What does Women's History Month mean to you?
For me, Women's History Month is an opportunity to reflect on and celebrate the unique and bold accomplishments of women and our contributions to society. It's also a time to express gratitude to the long list of trailblazing women who have courageously and tenaciously improved my life politically, scientifically, economically, and socially. Most importantly, Women's History Month is a reminder to be fearless—to be a changemaker.
There have been so many incredible milestones that have made a lasting impact on me as a human and as a womxn. I, like many others, was moved and so proud when Vice President Kamala Harris was elected to office. She shattered a glass ceiling and elevated hope for so many girls and women.
Another moment that comes to mind took place in 2019, when Deb Haaland from New Mexico and Sharice Davids from Kansas were elected to the House of Representatives. They have the honor of being the first American Indian women to represent tribal voices as part of our federal United States governing body. As a native New Mexican and womxn with more than 400 years of tribal ancestry in the Southwest, I felt a personal glass ceiling shatter in that moment and experienced a renewed sense of inspiration.
In my day-to-day life, I have made a vow to never sit quietly by, but to use my voice, my knowledge, and my privilege to work toward the betterment of society.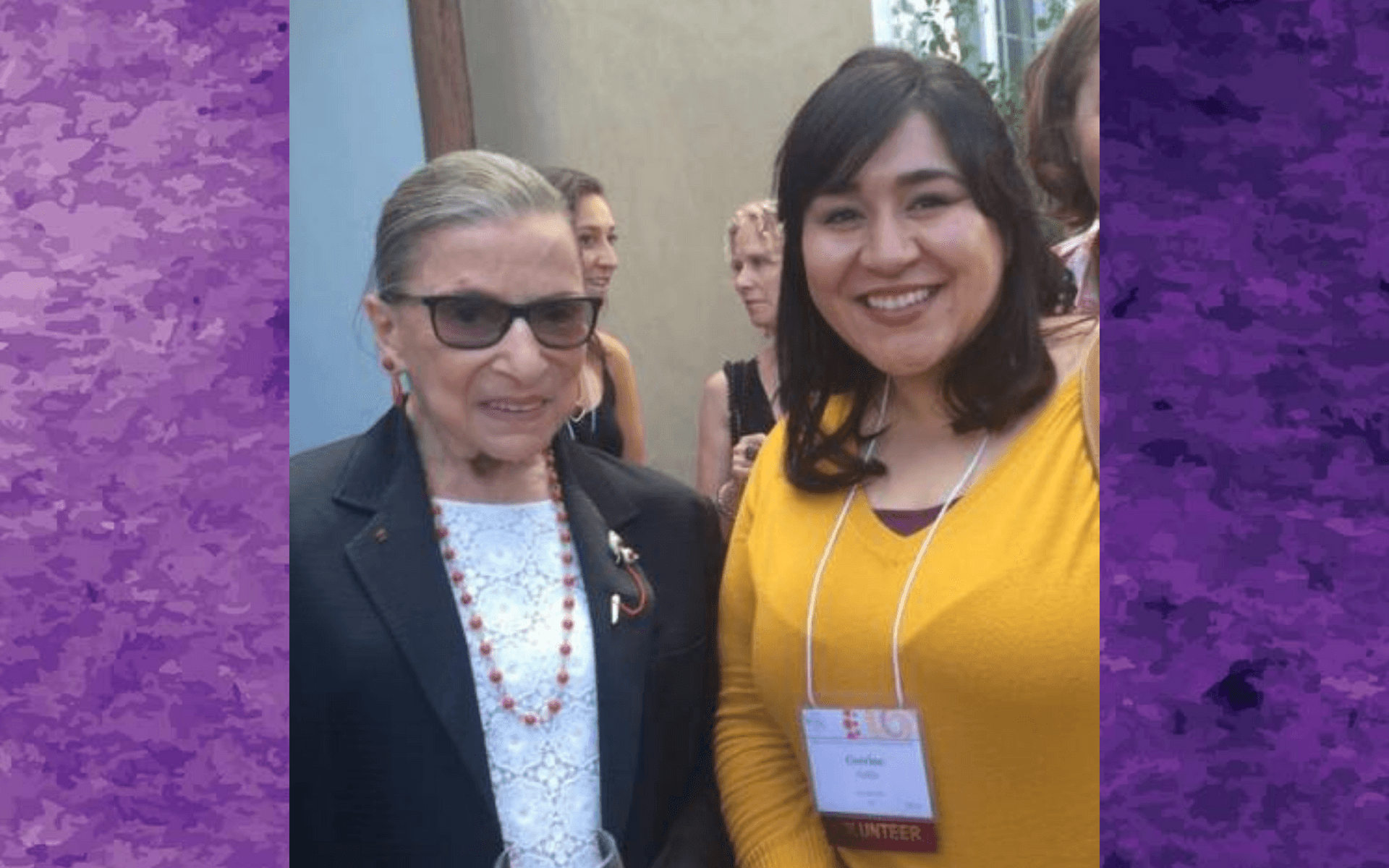 Corrine with late Supreme Court Justice Ruth Bader Ginsburg
Out of everything you've done at 2U so far, what are you most proud of?
While at 2U, I've had the pleasure of serving on multiple EDIT (Equity, Diversity, and Inclusion Team) committees, which are committed to valuing the voices and perspectives of all boot camp stakeholders. We strive to help students, staff, and partners feel empowered to be their authentic selves and advocate for one another. This committee work has allowed me to help create student-facing workshops and support 2U's Allyship training. Working directly on diversity, equity, and inclusion initiatives invigorates me, and I feel proud to be part of those successes.
What's your favorite part about working at 2U?
Aside from working with some of the most talented, innovative, generous, and friendly professionals I've ever met, I believe this company and the leadership truly do "Give a Damn" about students, our partner universities, and the culture we're creating here among ourselves. That, in my opinion, is a recipe for success—and I want to continue being a part of it.
What advice would you give to someone just starting at 2U?
Get to know people! Cultivating work relationships and building a peer network is key to success. Don't be afraid to make mistakes, but speak up quickly when things do go wrong so corrective action can be taken. As you settle in, remember that you were hired over other candidates because you bring something unique to the table. Don't hesitate to speak up and innovate.