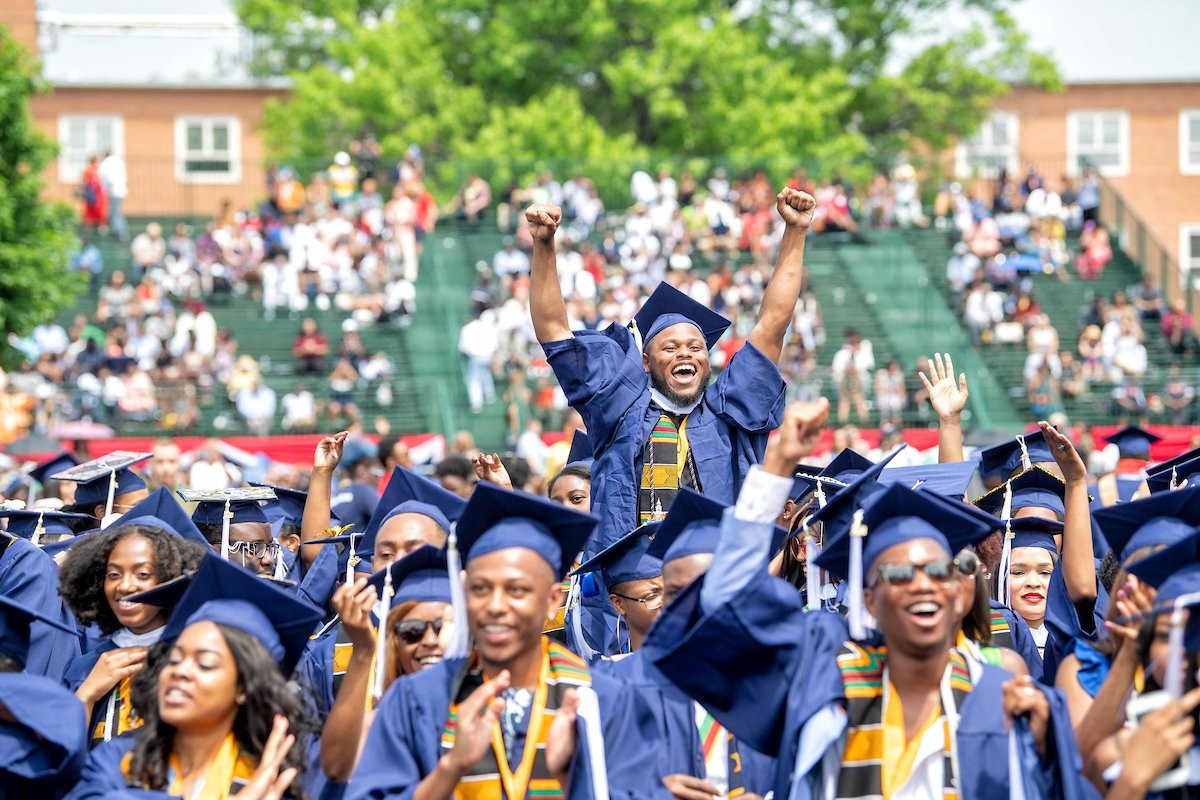 Howard University students celebrating at Commencement
For more than 85 years, the Howard University School of Social Work has cultivated generations of leaders to become what Dean Dr. Sandra Edmonds Crewe describes as a "force against systemic oppression." They are harbingers of change, social workers dedicated to understanding and uplifting their communities. And they are vital to addressing inequalities on behalf of underserved populations.
Today, 33% of Howard University School of Social Work graduates live in the Washington, D.C., Maryland, and Virginia (DMV) region. By bringing its rigorous Master of Social Work (MSW) program online in partnership with 2U, Howard University School of Social Work aims to expand its reach and prepare students of all backgrounds to serve Black and marginalized populations—and transform oppressive systems into ones that sustain their communities.
With
Howard MSW Online
set to launch in spring 2022, we sat down with Dean Crewe to learn more about the online MSW program and its uniquely Howard curriculum grounded in the Black Perspective. Read on to discover how the online MSW program will teach aspiring social workers to embrace and engage with different perspectives and accelerate social justice.
"At Howard, Black Lives Have Always Mattered"
Howard's online MSW curriculum is grounded in the Black Perspective: a guiding philosophy of the school that delineates how oppression, segregation, self-determination, and culture inform service to individuals and response to discriminatory systems.
"Many programs across the country are now focusing on Black Lives Matter," said Crewe. "At Howard, Black lives have
always
mattered. This is not an add-on. The Black Perspective is embedded in our curriculum."
This framework is especially important in the field of social work. "If you're in social work, you will be working with large segments of the Black community or underserved and marginalized communities because, unfortunately, that's where the disparities are," explained Crewe. "That's where the issues of social justice are."
She references vaccination hesitancy as a timely example. Although she encourages vaccination, Crewe said "The Black Perspective is going to allow you not to be judgmental of people who choose not to get a vaccine. It's going to ask you to understand where they're coming from, why they're coming from there, and what historical experience made them suspect anything that's being forced upon them."
By encouraging students to embrace differences and examine their own values, the Black Perspective helps shape empathetic, effective social workers. As Crewe put it, "We push you to your limits and make you find your own flaws to become a better social worker: a Howard-prepared social worker invested in understanding and challenging systems of social injustice."
"Online Gives Them the Opportunity to Live Out Their Dreams"
Access is key to the online MSW program. "We've heard from prospective students across the country that they would like to have a Howard experience—however, their life circumstances don't allow them to come and live in the Washington, D.C. area," explained Crewe. "Online education gives them the opportunity to live out their dreams."
By expanding access to its social work curriculum, Howard aims to empower more people from all backgrounds and locations to become social justice leaders in their communities. "The Howard MSW program will bring greater accessibility beyond the DMV area—and even within the DMV area, because there are working students who cannot change their schedules to accommodate our on-campus programming," said Crewe.
Quality was always the top priority when developing the online MSW program. "Students will not only get an online degree," said Crewe. "They're going to have an authentic Howard experience that's online."
The 2U partnership supports three key pillars of Howard's strategic plan: enhancing academic excellence, inspiring new knowledge, and serving the community.
This is a win-win situation. We are the scholars, and 2U becomes an expression of that scholarship. That's what a partnership is really all about.

— Dr. Sandra Edmonds Crewe, Dean and Professor of Social Work, Howard University School of Social Work
"This partnership is an excellent fit," explained Crewe. "We want to serve communities outside of the local area. Here's an opportunity for us to do that, and for high-impact collaborations."
"The partnership will help us advance our pedagogy as well," she added. "Working with 2U has given us the opportunity to engage in self-actualization, unpack the strengths of our curriculum, and present it in new ways that we hadn't thought about before—while keeping in line with our mission and values."
As a professor herself, Crewe has already seen the benefits of online education. "I'm now able to think about how I can add technology that enhances the educational experience for students," she shared. "This is a win-win situation. We are the scholars, and 2U becomes an expression of that scholarship. That's what a partnership is really all about."
"Social Work is at the Forefront Now More Than Ever"
According to the U.S. Bureau of Labor Statistics, social worker demand is expected to
grow 13% from 2019 to 2029
—much more rapidly than the average for all occupations—pointing to a promising future for professionals in the field.
"Social work is at the forefront now more than ever, because of the issues that have played across our screens about social injustices and the pandemic," explained Crewe. "We often say the biggest underlying condition that has created health inequities is racism. My prediction is that there will be more people seeking degrees in social work because of this ongoing social justice movement."
Together, social workers have the chance to empower clients and communities across the globe. As Crewe put it, "Great social workers have their heart in alignment with the needs of someone else."
Learn more about us.
At 2U, we're on a mission—to eliminate the back row in higher education and help universities thrive in the digital age. To learn more about who we are and what we do, follow the links below.