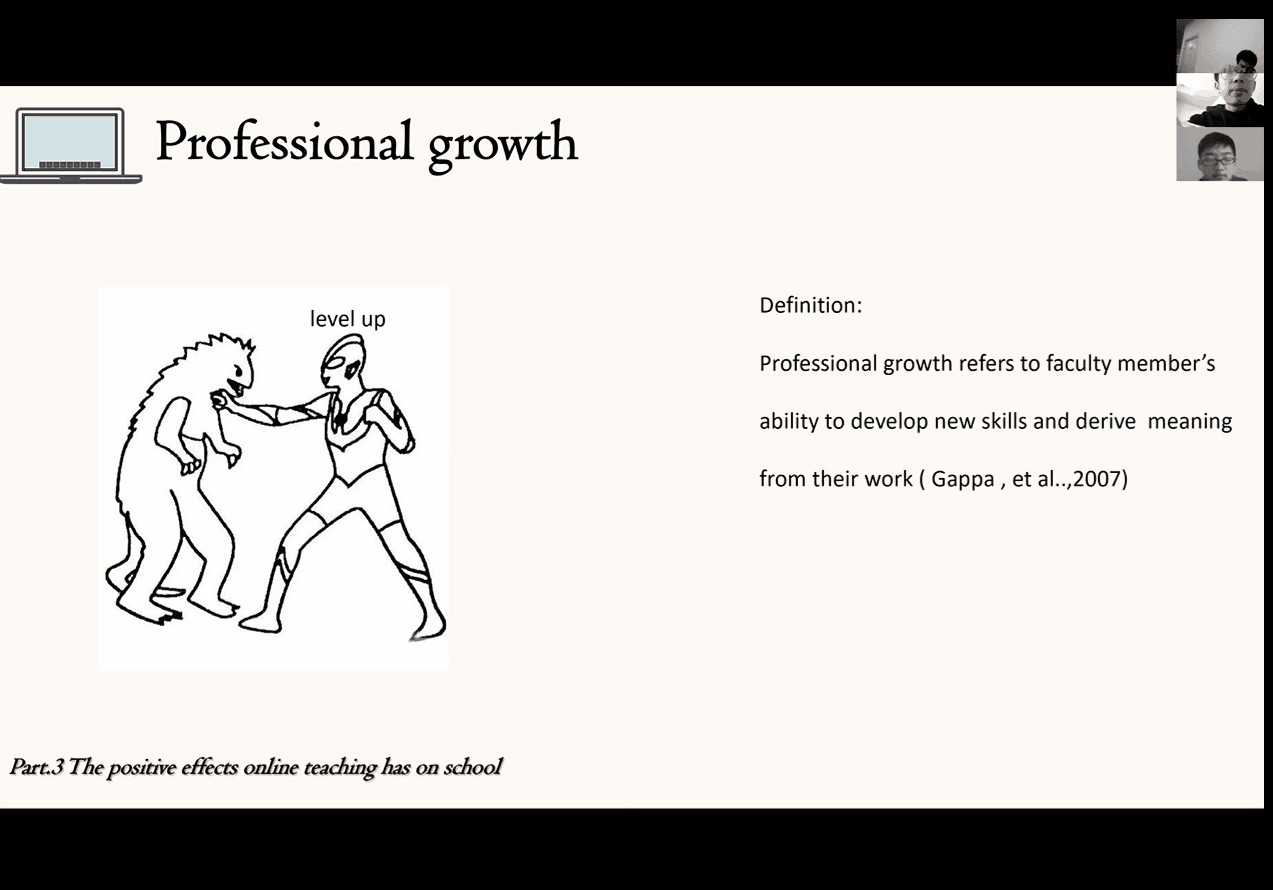 As a student in the University of Southern California
Master of Arts in Teaching online
program powered by 2U, Inc., I eagerly soaked up all the benefits of online learning: the breakout groups, the backchannel communication between students, even the "stop video" button (which allowed me to enjoy a midnight snack in my home in Korea while my teacher lectured on a Thursday morning in Los Angeles). Little did I know in 2011 that these same cyber tools I was learning as a student in my global USC classroom would prepare me nearly a decade later to seamlessly transition into leading the digital classroom, where there is indeed
#NoBackRow
.
Today I am a teacher in China, and I often reflect on my time in the MAT@USC program to determine how best to integrate the lessons I learned into my own online classroom setting. As a senior lecturer in the Center for Language Education at Southern University of Science and Technology (SUSTech), I have been incorporating technology into my lessons for quite some time. A STEM university located in Shenzhen, which is part of China's larger "Silicon Delta," SUSTech had already invested in experimenting online and so was ahead of the curve when coronavirus impacted the delivery of education around the globe. Tools such as WeChat videos and Blackboard documents were already being used to supplement SUSTech's in-class discussions. When the virus struck, these tools, once used as extensions to our lessons, became essential backbones to online learning.
In the TA Teaching Development Program I lead, for example, the value of the technology is a boon: the simplicity of Blackboard for document sharing, the flexibility of Zoom for real-time communication, and the ease of WeChat to bridge everything together. This tech doesn't replace a teacher's physical movement in a classroom setting between paired groups on a writing assignment, but it does encourage movement between platforms. And this nimbleness facilitates the growth of relationships among learners and expands student engagement. For "in-class" discussions, students no longer simply talk about their assignment; they now have the opportunity to utilize digital content sharing, which I encourage. The focus is less on pronunciation and communication skills and more on tech-savvy interpretations of the materials, forming a new type of approach in what we perceive as communication.
I also run an Engineering Teaching Development Program, where one of the projects we're working on is understanding how different types of learning—visual, aural, verbal, etc.—are affected by this transition to online instruction for students and teachers alike. The project covers topics like inspired and interactive teaching, and challenges teachers to consider how we transmit not just the
what
but the
why
to our students.
Throughout my career, I have embraced the idea that the best way to teach is to listen to what your students have to say about learning. In this unprecedented time, I believe that principle to be especially true. I have learned so much from my students through thoughtful and active listening. I get so many insights from them comparing and contrasting how they used to learn to how they now must learn, and they showcase their explanations through digital literacy.
Through this student-centered approach, I've realized that, as teachers, we should move on from the saturation of TED Talks. Instead, our students should be the ones delivering expert presentations through media of their choice to their classmates by way of integrated learning platforms. We the teachers should remain as facilitators, careful to shed light—but not to dominate or micromanage too closely. When classrooms resume on campus, we should tread lightly in our return to mediums such as YouTube. We should instead give our students the respect they deserve to be creators of content—not just absorbers.
Learning and teaching online have taught me about the advantages that come from a fully immersive and high-quality educational experience. As a student, I learned about pedagogy from a professor in California with classmates in Spain while I taught simultaneously in Korea. A distinctive strength of the online program was that it presented the global stage for students to learn on. I firmly believe that identifying positive aspects like this from the current set of circumstances and translating them for whatever the new normal of teaching is will make us better teachers. It will also provide students with unique, progressive, and sustainable learning opportunities that use tech tools as bridges to the future.
Thinking back to my MAT@USC experience, the dynamism and challenges of online teaching are still there, but now they're flipped. I find myself the host of my own online classrooms. I wield the power to assign breakout groups of my choosing. I can mute a student who may have a loud family member in the background. And I can still use that good old "stop video" button—only this time it's not for a midnight snack, it's to run to the other office to get a cup of coffee.
Learn more about us.
At 2U, we're on a mission—to eliminate the back row in higher education and help universities thrive in the digital age. To learn more about who we are and what we do, follow the links below.