Partner Spotlight
Applying Analytics for Equity: UInclude Is Bridging Gaps Between Diverse Candidates and Companies
Written by 2U on Dec 17, 2021
Related content: Boot Camps, Impact and Outcomes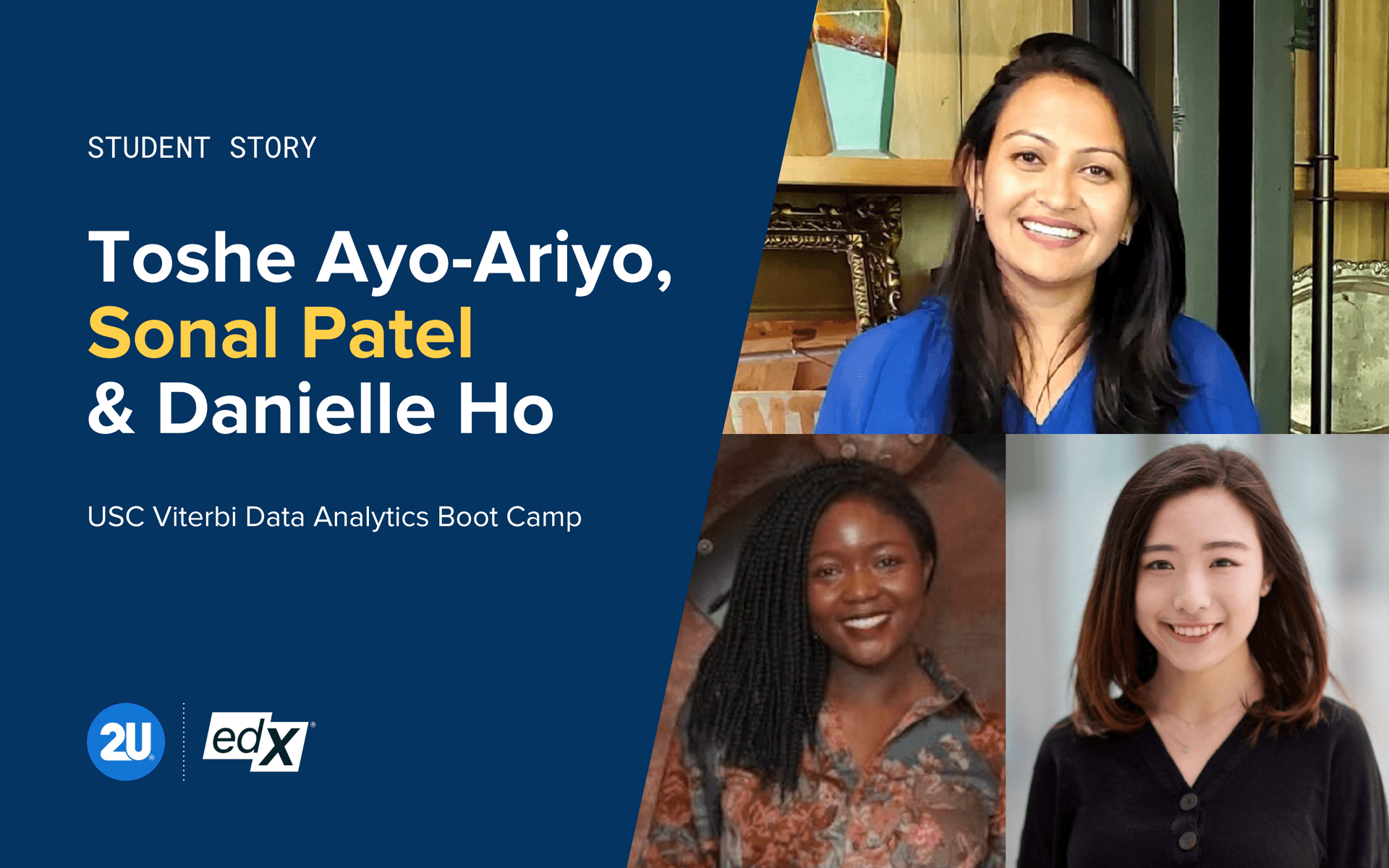 Top: Sonal Patel; Bottom L-R: Toshe Ayo-Ariyo, Danielle Ho
Coincidental as it may be, this diversity of representation and lived experiences became a source of inspiration for one of their boot camp projects: the Wonder Women Editor. "We conducted research on women in the workforce, and realized that one way to increase female workforce participation is to eliminate the use of gender bias in job descriptions," said Sonal. She continued, "Before we started, I wasn't aware of the masculine and racial implications behind certain key words." 
The Wonder Women Editor analyzed job descriptions to determine how gender-biased their language was, and then pointed out areas that could be changed to make the overall descriptions less biased. 
Though the editor began as a required assignment for completion of the program, it quickly became a passion project for the entire team. The project won Trilogy Education's
Next Level Contest
, which offers winning teams mentorship from tech and venture capital professionals, free enrollment in a short course of their choosing through
GetSmarter
, and continued support from the Trilogy community.
"We happened to win the competition, which came about because we loved what we were doing," said Toshe. "The overwhelmingly positive response helped us understand that there was really a need for the product we created. From there, we decided to pursue it further."
Today, the Wonder Women Editor is no more — in a good way. The team decided to launch a company based in Los Angeles called
UInclude
, an exciting venture that uses data-driven algorithms to help employers create inclusive and unbiased job descriptions proven to attract more diverse candidates. Through an upgraded version of
the job description editor
, UInclude helps companies optimize their candidate pool by identifying any and all biased language that should be removed.
"It was really important for our product to identify biases against several marginalized groups, not just women, for a number of different reasons," explained Danielle, who heads up UInclude's engineering, design, and product execution. "We each fit into several marginalized groups, and we noticed that in general, individuals and companies alike are talking about diversity and inclusion, but underrepresented groups aside from gender and race are being left out of the conversation."
UInclude's work is based on rigorous research and data analytics to understand the material ways in which the language companies use statistically discriminate against underrepresented communities in the workforce. So, as head of data strategy and data science, Sonal has a highly important role in the team.
"It was really important for our solution to be rooted in scientific research," said Sonal. "We didn't want to just be throwing out random words out there that haven't been rigorously tested, so we brought in a psychology research advisor who's very well-versed in the field and has guided us through our research process."
While the team is able to use machine learning algorithms to study the data they've already found on discrimination in the workforce, Sonal explains that there's much more to do.
"In the future, we're also looking to conduct more research on disability, religion, sexual, and nationality-based inclusive languages," said Sonal. Toshe added, "That way, this tool can be more helpful to employers and individuals who belong to all of these different communities."
On top of her research duties, Toshe focuses on everything business — from product strategy, to finance, and external communications. After spending nearly four years working in finance and strategy at Disney, she's more than prepared to propel UInclude into the future. 
Of course, being as small as the company is at this juncture, it's up to the entire team to think strategically about data and research to deliver a stellar product.
"As we've moved forward and have gotten more involved in product development and planning for our launch, I started to think more from our customers' perspective, who are primarily job recruiters," explained Danielle. "We really want to help recruiters attract and hire the diverse candidates they want and need for their company."
Despite the many obvious hurdles introduced by the pandemic, the UInclude team didn't have much trouble launching their startup from home. In fact, the disparity in opportunities available to privileged and marginalized communities brought into focus by the pandemic has made their business proposition even more vital.
"We actually came out at a really good time," explained Sonal. "Everyone has been talking about diversity over the last few years, which really increased the relevancy of our product and proposition."
More broadly, Danielle notes that the pandemic inspired workers to seek improvements to equitable salary, benefits, and accommodation options — with which UInclude can help. "People really care about good benefits and what the company stands for," said Danielle. "I really hope our product can help to increase the number of candidates companies receive by pointing out where job descriptions struggle along these lines."
At this early stage, UInclude has already attracted the business of over 100 people from different companies who use their product every month to generate new job descriptions. These companies are able to track the changes they've seen in response to UInclude-optimized descriptions — proving the product's real-world impact.
Ultimately, this success story is all thanks to the team's hard work and continued dedication. Toshe puts their incredible journey best: "We weren't planning to be entrepreneurs. It kind of just happened. And I think we can all say that we were very glad that it did."
Learn more about us.
At 2U, we're on a mission—to eliminate the back row in higher education and help partners thrive in the digital age. To learn more about who we are and what we do, follow the links below.