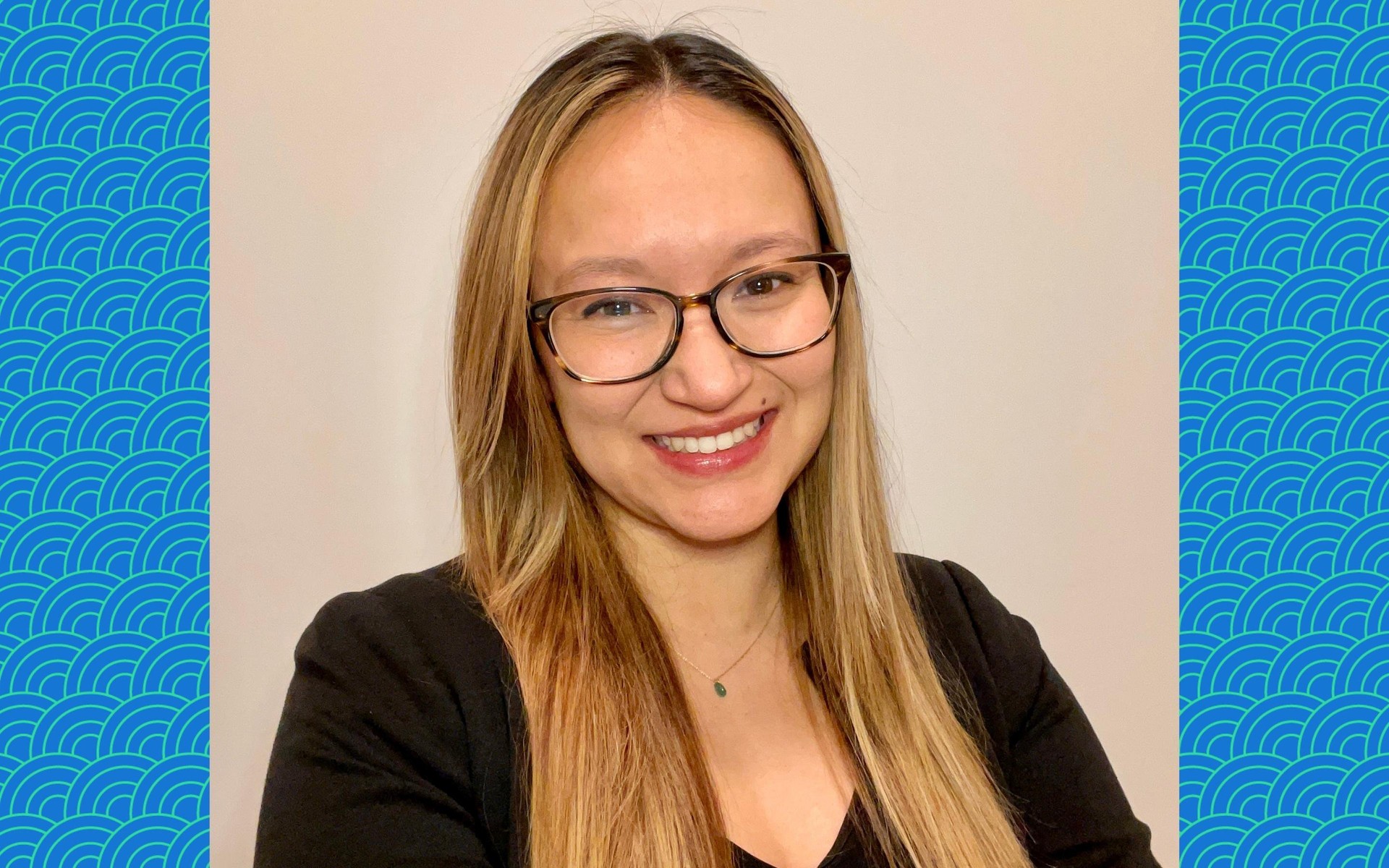 Growing up as a multiracial, Chinese-American child in a predominantly white town,
Christine McEachern
often grappled with her identity, fielding questions like "Where are you really from?" and trying to understand her place in her communities.
"As a child, I didn't always feel like my identity was my own to determine," shares Christine, "and I often looked to others for validation. Being multiracial, it wasn't always clear to me where I fit in."
It was through access to educational opportunities that Christine was able to start to unpack her identity and gain skills to carve out her own space. "It opened my eyes to so much history and understanding, while also providing me with tangible skills that propelled me to where I am today," she says. "My belief in the power of education is what brought me to edX/2U. The opportunities I've had here to grow as a leader, contribute to work I'm passionate about, and lean on incredible mentors and fellow API colleagues have been so rewarding. I'm grateful to be at a company where I can continue learning, while also creating access to learning for others."
In honor of API Heritage Month, we sat down with Christine to hear what inspired her to join edX/2U, how she has found a sense of belonging as a part of 2U's
Asian Pacific Islander Network
(APIN), and three ways organizations can better support API professionals now and into the future.
Thanks for taking the time to chat, Christine! We're thrilled to have you as a member of APIN. To start, we'd love to learn a bit more about your background. What brought you to edX/2U?
Throughout my life, I've always been involved in education—whether that meant teaching Kenpo Karate, rock climbing, or assisting pre-K students in the classroom. When I found edX in 2016, I was absolutely thrilled by the prospect of contributing to work that impacts millions of people all over the world.
From the moment I joined the edX team, I was struck by my colleagues' drive, passion, and willingness to help one another. It quickly became clear that I'd have the opportunity not only to learn and grow in my own role, but also to work cross-functionally. That excited me! Learning and development has been a consistent part of the edX/2U culture since I joined. It has allowed me to grow in so many ways, and I'll be forever grateful.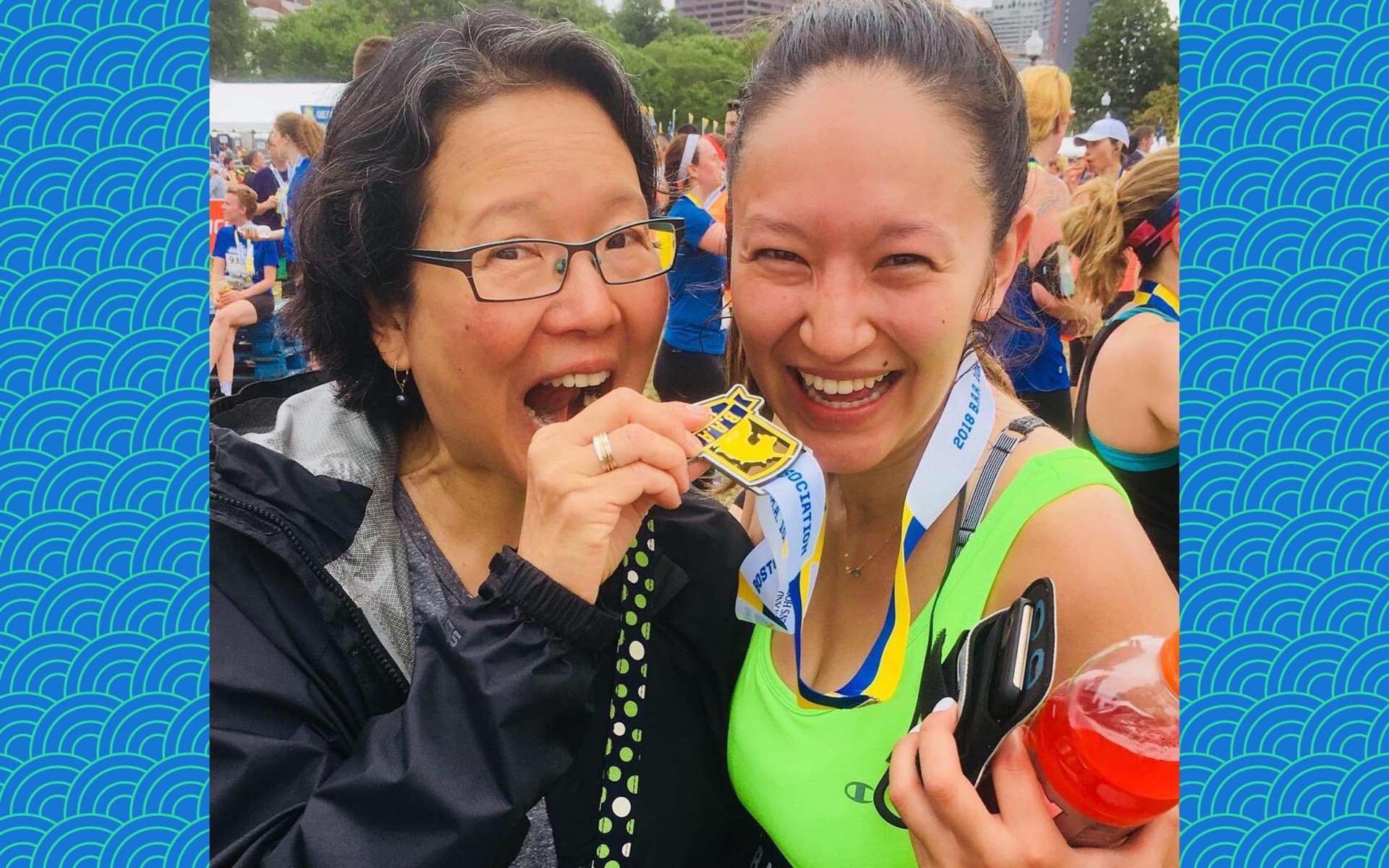 Christine is joined at the end of a big race by her mom.
We love to hear that you've been able to continue your own learning while contributing to the learning of others! OK, give us a sneak peek inside your average workday: How would you describe your role as a senior category manager on the Content Strategy team?
As part of the Content Strategy team, I work with internal and external stakeholders to develop transformative educational pathways for business and management offerings. On any given day, you can find me heads-down in market research or learner feedback, finding new connections between what learners are interested in and what employers are seeking. Then, I have the pleasure of meeting with many of our university and corporate partners to share these insights and identify the best ways to help learners develop in-demand professional skills.
That's incredibly important work—creating connectivity between education and industry needs. So Christine, what are the greatest joys you've found as a member of the API community?
In both my personal and professional life, I feel overwhelmingly proud to be a member of the API community. On a personal level, my grandparents immigrated to the U.S. from China when they were just teenagers to escape war and find a better life. My mother grew up in New England and, despite facing racism and discrimination, she never lost her passion for life or her love for her family and community. This story rings true for so many API families—though we are a diverse community, there's a shared sense of resilience and support that I am honored to celebrate.
Well-said. And what's the greatest lesson you've learned as an API professional at edX/2U?
Don't let others define your abilities or worth. If someone tells you that you're "just not ready" to tackle a new challenge, take that as an invitation to prove them wrong. I've learned this lesson through continuous encouragement from the amazing edX/2U colleagues I've had the pleasure of knowing over the years. It's empowered me in the workplace and beyond.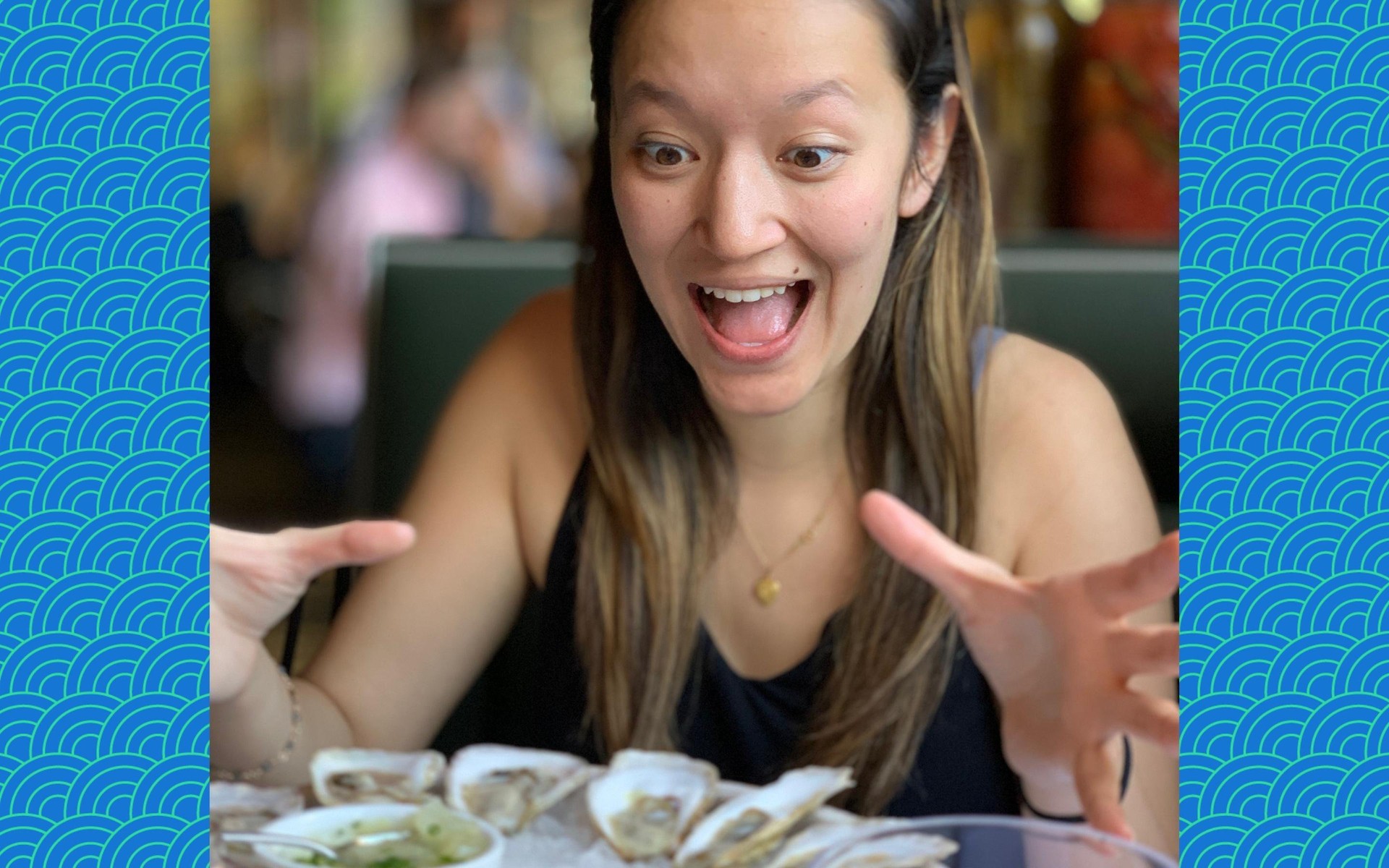 Christine loves seafood and food in general! "Food has always been my way to feel connected to my culture and to other people," she says.
"An invitation to prove them wrong"—yes! That's so empowering. From your perspective, what changes are needed in the working world to increase understanding, equity, inclusion, and support for all API professionals?
First, I think all organizations should invest in resource groups. At edX/2U, our employee-led
Business Resource Networks (BRNs)
serve as communities focused on supporting and learning from different affinity groups. These BRNs have been an incredibly impactful community to be a part of.
Secondly, I think organizations should focus on elevating data. Increasing transparency around career progression and promotion within corporations allows companies to identify and address inequitable patterns. As a community, we can then be accountable for creating the change we want to see.
Finally, companies should make space for underrepresented voices. For example, organizations can make space in meetings for API voices that haven't been heard yet and bring API voices to the decision-making table. With the rise in API hate during the past two years, making space also includes ensuring your API colleagues feel safe and supported by acknowledging and validating how they're feeling and processing.
We couldn't agree more. These are such good points, and ones we hope all organizations listen to. What about non-API allies, how can they support API professionals in their everyday interactions and professional relationships?
Check your biases and make space for other voices. Be self-reflective in your evaluation of others and any perceptions that may be influenced by unconscious bias. In meetings or work projects, be mindful of the space you are taking up and make room for API voices so they have the chance to be heard as well.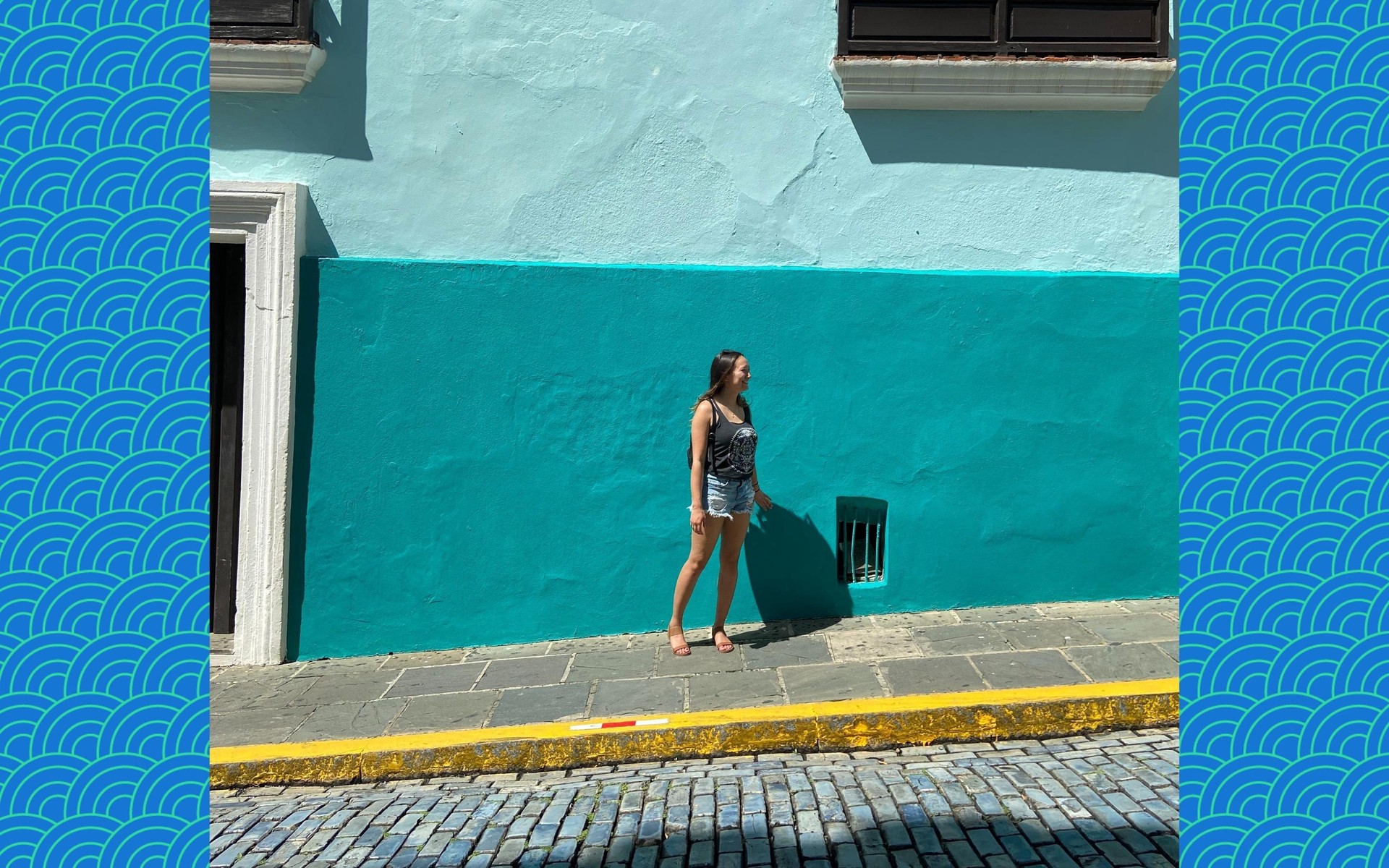 Christine enjoys traveling to new places; here she is exploring the vibrant colors of Puerto Rico.
That's such important advice. So Christine, as you know, APIN's theme for this year's API Heritage Month is "
representASIAN
." How is this month and theme meaningful to you?
Seeing yourself in others is so important. I have a very clear memory from when I was around nine years old, when it clicked in my head that I wasn't supposed to exist in certain spaces. Growing up, I hadn't seen myself in so many different arenas—whether movies, sports, or business—so how could I belong there?
Fortunately, I think things have started to change in recent years. I'm seeing stories from the API community in so many more visible spaces today—and in many of those stories, I often see myself. It's hard to put into words, but seeing yourself in others' journeys and accomplishments is so empowering. It reveals pathways that you didn't see before, and that's incredibly exciting!
You put that perfectly. Thanks so much for sharing your story with us today, Christine. Before we wrap up, what advice would you give other API professionals interested in joining 2U?
Join us! The API community at edX/2U has been such a positive force in my life, both personally and professionally. I've grown in ways I couldn't have imagined, built lasting friendships, and found lifelong career advocates. If you're interested in joining, I'd encourage you to have an open mind (you never know what new pathway or career turn might present itself), learn at every avenue, and find advocates to help guide you along your journey.