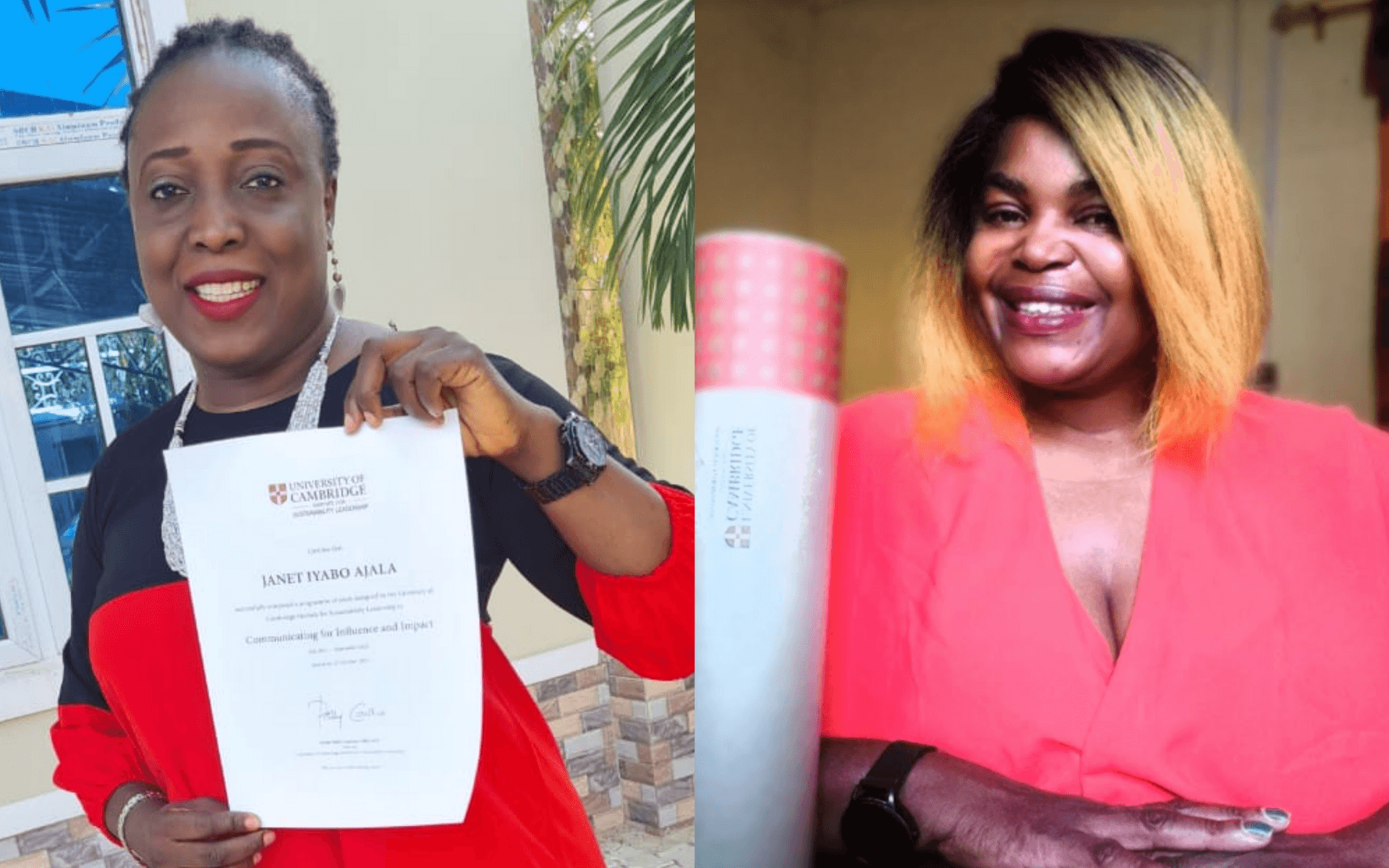 L-R: The IRC's Janet Ajala and Yolande Flore Longang Tchounkeu proudly display their course completion certificates for Communicating for Influence and Impact, offered by the University of Cambridge Institute for Sustainability Leadership
Editor's Note: Since 2019, 2U has partnered with the
International Rescue Committee (IRC)
to offer its global employee base access to quality online education programs—delivered by some of the world's top universities—via
a suite of full and partial scholarships
. More recently, we've been working together to create leadership development tracks for targeted groups of high-potential talent within the IRC's ranks, including its new "Power of 10" program.
According to
Fortune's 2021 Global 500 rankings,
only 4.6% of the world's 500 largest companies are led by female CEOs. It's no secret that the percentage of women in leadership roles continues to pale in comparison to men around the globe, driven in part by persistent cultural stereotypes and lack of access to quality education.
At the International Rescue Committee (IRC), we've been actively working to dismantle those barriers through a variety of initiatives, including the Power of 10, a women's leadership program that offers peer-to-peer mentoring, career planning, networking, and professional development workshops. Our goal is to build up global talent pools with more women by empowering them with concrete tools and resources—including complimentary 2U-powered programs made available through scholarships—so that they can ultimately take on top positions throughout our organization. For these women, access to educational opportunities that will help them grow their knowledge and skills is critical, especially when they are working in international regions of conflict. In just a few short months, outcomes from our first Power of 10 cohort have proven incredibly inspiring.
I recently had the opportunity to connect with two women in the program who help the IRC's humanitarian efforts in Nigeria and Chad, respectively.
Janet Ajala
, a field management unit coordinator, and
Yolande Flore Longang Tchounkeu
, a women protection and empowerment (WPE) program coordinator, both completed a
University of Cambridge Institute for Sustainability Leadership
(CISL) course powered by 2U this past fall and are eager to continue their educational experience together in 2022. Here, they share their experiences in the Power of 10, and the practical strategies they've learned through CISL that they've applied to their essential humanitarian work.
Hi Janet and Yolande—first off, thank you for all you do for the IRC. You are the backbone of what our organization is all about. So, paint us a picture of what life is like for the struggling populations in your area of the world. How have you been helping the IRC in our mission there?
Janet:
The ten-year protracted conflict in Northeast Nigeria has caused untold suffering. Livelihoods, nutrition, health and education systems, and water and food security have all been threatened by the insurgency. As a field coordinator, I help ensure that the affected populations receive much-needed support in the right quantity and quality. I also manage external relationships with government UN agencies and other humanitarian actors, representing IRC's interests at the state level. We work hard to help people who have been displaced from their homes—but discrimination, disease outbreaks, and competition for scarce resources have led many women and families to adopt negative ways of coping.
Yolande:
The IRC in Chad provides vital support to communities and refugees grappling with displacement and inadequate access to basic services. As a WPE coordinator, I provide strategic leadership and support many gender equality initiatives, including gender-based violence prevention and response through case management, capacity building, medical care, and psychosocial empowerment. The political, economic, and climate crises here are not only limiting people's freedom of movement, but also exposing women and girls to a range of protection risks including sexual exploitation, abuse, forced marriage, and survival sex.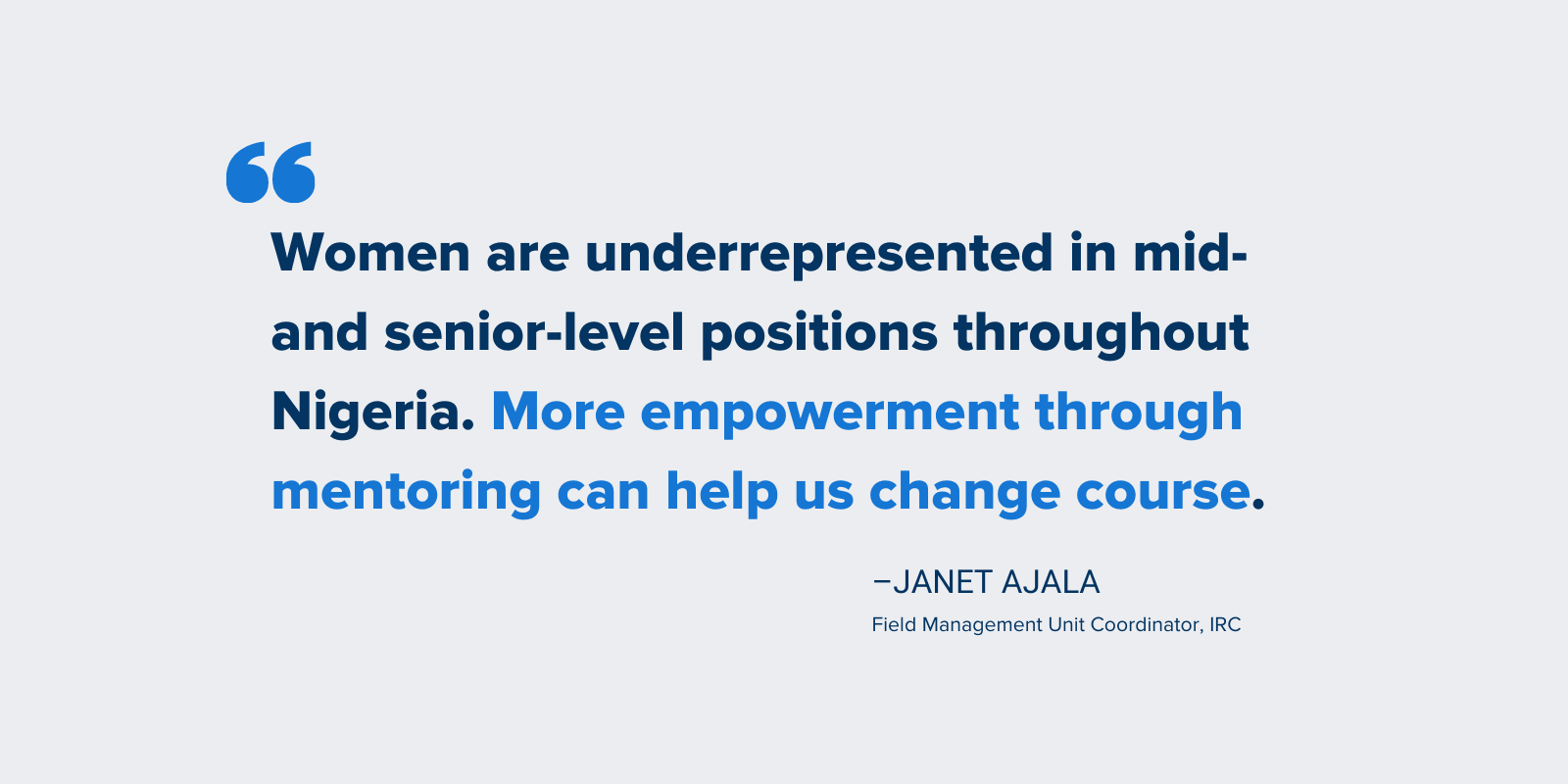 Yes, we have a long way to go to remedy these kinds of dire situations around the world. Every day we're making strides to help. When it comes to empowering more women leaders in your region to help address such extreme humanitarian crises, what obstacles do they face? How is the IRC's Power of 10 program helping you overcome those challenges?
Janet:
Women are very much underrepresented in mid- and senior-level positions throughout Nigeria. Many women believe these roles are the exclusive preserve of their male colleagues. This mindset has been ingrained through harmful stereotypes suggesting women should be seen, not heard. For women like me who've broken through these barriers, we're still confronted with stereotypes in the workplace. For example, job listings tend to focus on education levels or management experience that bias male recruitment. There's also often no policy for flex-time or telecommuting, which would allow women to balance their work and family responsibilities more fairly and efficiently. More empowerment through mentoring can help us change course—that's one key value being derived from the Power of 10 group.
Yolande:
Women in Chad face several barriers to becoming leaders in their respective fields. Girls don't receive as much education as boys because we're expected to get married and take over household responsibilities at a very young age. Some women refuse promotions because they wouldn't be able to reconcile their professional and domestic duties. Others are afraid of being ostracized by their communities. Female leadership training like the Power of 10 group can help women step outside of their comfort zone and embrace change. We're learning to capitalize on our talents by better understanding the elements that can be motivating or demotivating for women. The group is helping us see new perspectives, stimulate critical thinking, and build trust.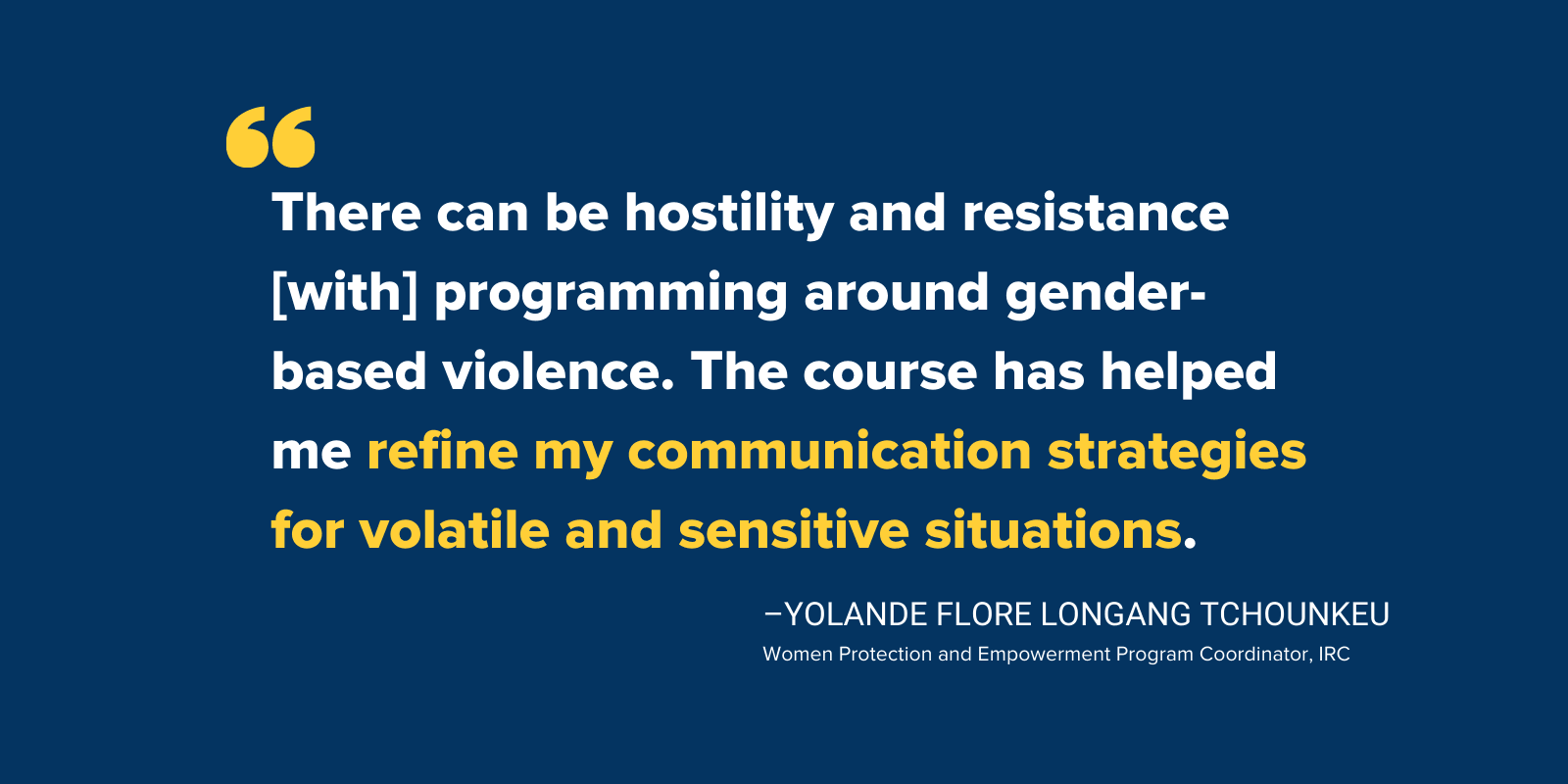 I'm so glad the program is having such a powerful impact on the group. Since 2U-powered online programs play a large role in the education of the Power of 10, how has the course you completed enhanced your leadership and day-to-day work for the IRC so far?
Janet:
One of the core parts of my IRC role is communication—with management, government stakeholders, humanitarian partners, and over 100 staff members—so the CISL course has definitely helped me in my leadership journey. I'm able to speak and interact in a more positive manner and with more constructive feedback than I used to do in the past. I've also built strong connections with my fellow IRC participants. Our experience has been a true definition of women supporting women! Throughout the course, we reminded each other of deadlines, offered support when any of us were struggling, and cheered each other to the finish line, celebrating our gains on a daily basis.
Yolande:
We are all different, and the CISL course emphasized the importance of divergent thinking. It also helped me understand why aligning personal purpose with organizational purpose can help employees be more engaged. In my area of the world, there can be a great deal of hostility and resistance when it comes to programming around gender-based violence, which can lead to the misunderstanding or distortion of our message. If we want people to change, we must build better relationships through more purpose-led communication. The course has helped me refine my communication strategies for these kinds of volatile and sensitive situations in the future.
Interested in learning what you can do to support the IRC and its mission?
Check out Rescue.org
to discover how you can help families in crisis survive, recover, and rebuild their lives.
Learn more about us.
At 2U, we're on a mission—to eliminate the back row in higher education and help partners thrive in the digital age. To learn more about who we are and what we do, follow the links below.