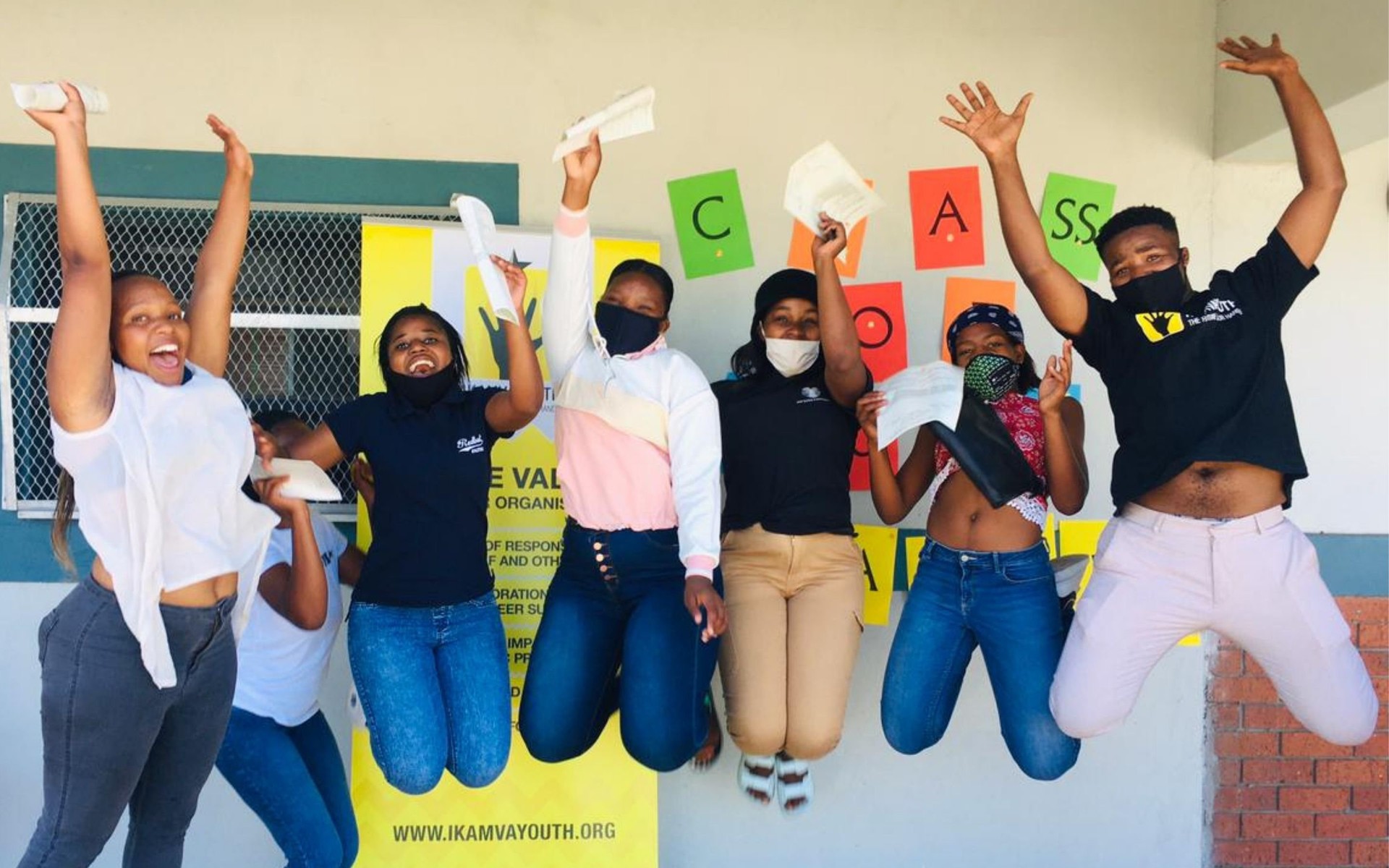 A whopping
50% percent of South African youth
do not complete high school each year, and only 6% of them go on to earn a tertiary qualification (college degree). For
IkamvaYouth
, a nonprofit community partner of 2U's Cape Town office, these are more than just statistics—they're a resounding call to action.
Since 2003, IkamvaYouth has provided structured and safe after-school spaces where some of the country's most underserved high school students receive critical academic tutoring, career guidance, and psycho-social support services. Since 2019, 2U has provided a steady stream of volunteerism and financial support to the organization's honorable mission.
From its humble beginnings, IkamvaYouth has grown from a single location to 17 branches, working with dozens of "post site" schools across five of South Africa's nine provinces. All together, the branches support over 5,000 learners each year through a wide range of impactful programs.
To ensure that every learner feels valued, validated, and even celebrated, the organization maintains an active network of hundreds of volunteers who regularly mentor and tutor students, empowering them to rise above some of the most exigent challenges and achieve their fullest potential. As
Delphino Machikicho
, IkamvaYouth's district manager for the Western Cape province, puts it, "Volunteers are the core of our business."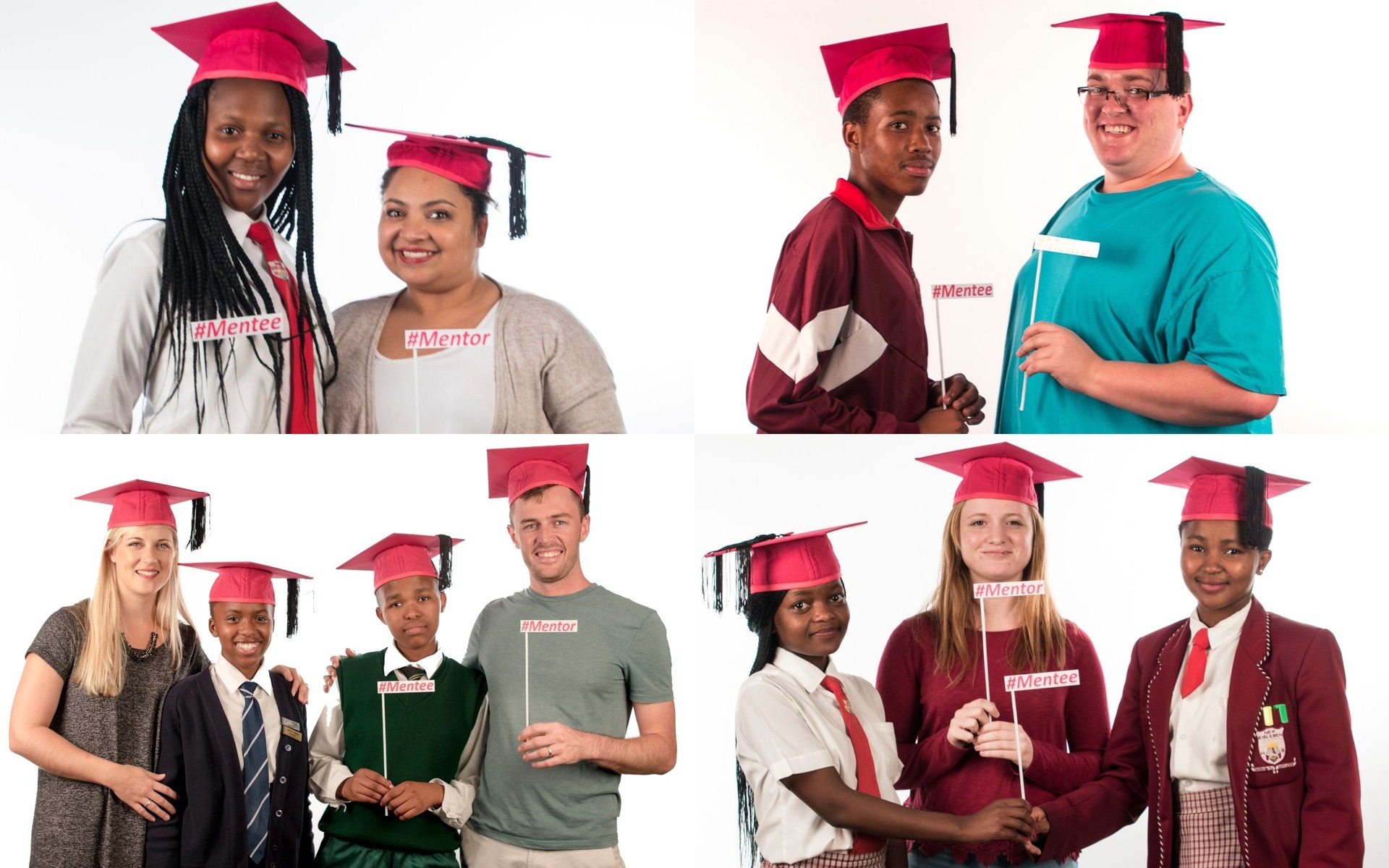 2U mentors and their mentees pose for a photo shoot
Impressive Outcomes Across a Struggling Educational System
There's no denying the dire state of education in South Africa. As Amnesty International proclaimed in a
2020 report
, "South Africa is failing too many of its young people when it comes to education."
Machikicho has witnessed this sobering reality firsthand in his role at IkamvaYouth. "There's quite a wide inequality gap in South Africa," he explains. "The scars of Apartheid still exist today, and education drastically suffers as a result. Schools that are in more affluent areas have more resources and perform better in terms of pass rate than rural and township schools, of course. We work primarily in those more rural townships, because that's where our services are needed most."
"Family structures for most of these learners are severely broken down," Machikicho continues. "Some of our learners are in communities marred with extreme poverty, alcohol and drug abuse, and other issues. Some of these kids go home to empty homes without running water and electricity, without anyone looking out for their mental or social well-being, and with their parents or guardians just struggling to get food on the table. So with IkamvaYouth, creating deep and meaningful connections and conversations is essential. Sometimes just having someone who can sit down with a kid and say, 'How are you doing, how are you coping?' can be incredibly significant for a 17-year-old."
Family structures for most of these learners are severely broken down. So creating deep and meaningful connections and conversations is essential. Having someone who can sit down and say, 'How are you doing?' can be significant for a 17-year-old.

— Delphino Machikicho, Western Cape District Manager, IkamvaYouth
Intent on improving education outcomes in South Africa, IkamvaYouth works tirelessly to ensure that learners "pass matric" (graduate from high school), apply to at least three post-school opportunities—whether those be tertiary education programs, learnerships, or jobs—and set themselves on the path to a dignified and rewarding life.
The results of the organization's efforts have been remarkable. For its most recent class of 2020, even in the midst of a global pandemic, 86% of IkamvaYouth's students passed matric. According to a 2019 survey by the organization, 74% of its alumni were either studying for, or had already achieved, a tertiary qualification. Of those studying, 95% were on track to complete their degrees, and of those employed, 87% were financially supporting extended family.
Furthermore, compared to South Africa's national average, IkamvaYouth alumni are three times less likely to be unemployed, and those who enter a university are 50% less likely to drop out. High school graduates who've worked with IkamvaYouth have gone on to become law students at Rhodes University, R&D managers at Unilever, and even full-time employees at IkamvaYouth headquarters.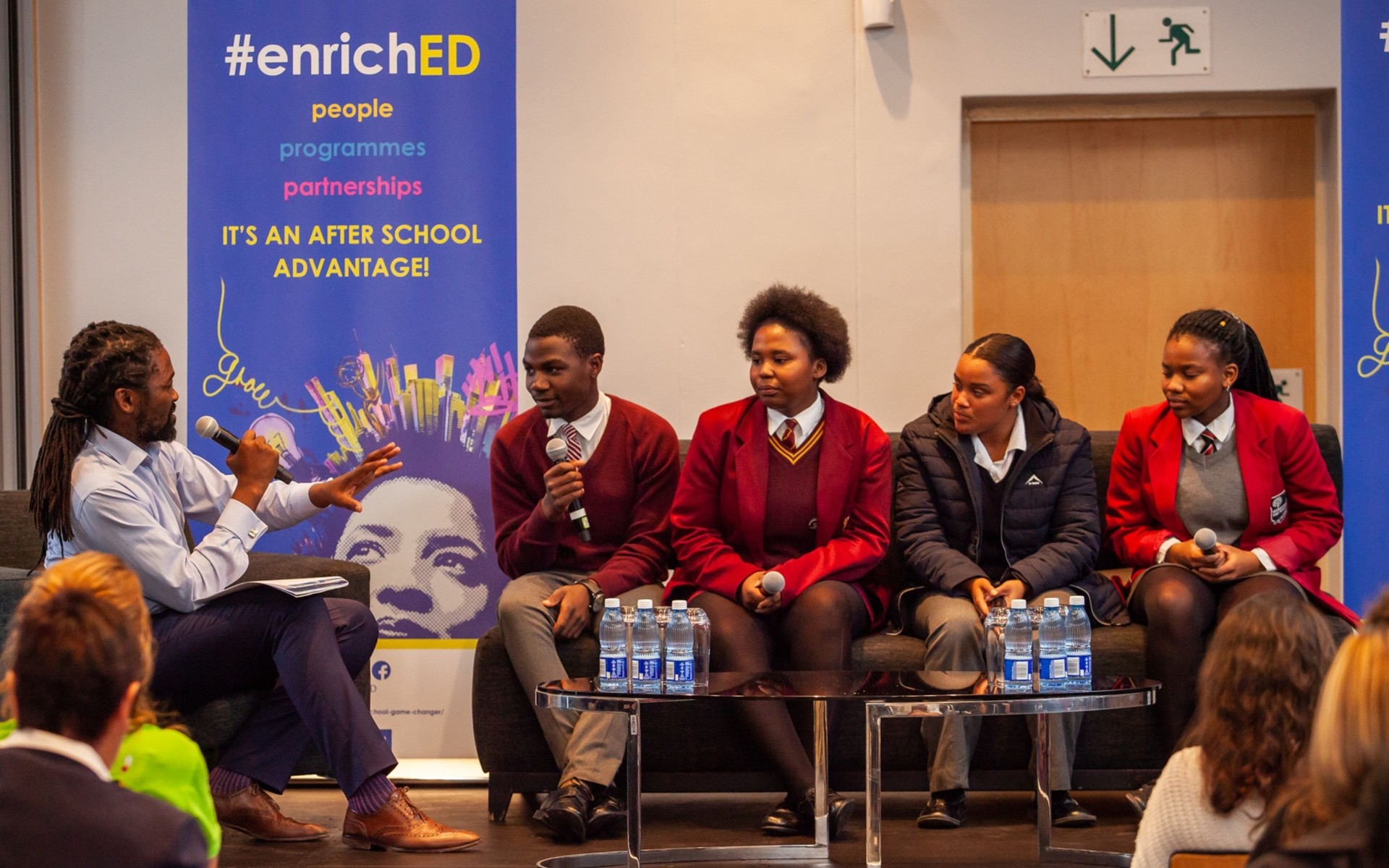 IkamvaYouth students and alumni join an interview panel
Not All Heroes Wear Capes
All of these tremendous outcomes are further bolstered by a collective of passionate, resourceful, and supportive volunteer mentors—or "superheroes," as IkamvaYouth likes to call them—who help guide students through their high school years. So far in 2021, nearly three dozen employees from 2U's Cape Town office have signed up to mentor local learners through the organization's Nyanga township branch. "Our mentors are superheroes, working their magic to transform outcomes for South African youth," says Machikicho.
While COVID-19 has posed countless challenges for IkamvaYouth, the organization has tackled each one with persistence, resilience, and heart. Before the pandemic, IkamvaYouth learners would come to 2U's Cape Town office on a regular basis to work with their mentors, a tradition the office expects to rekindle once pandemic concerns relent. Though social distancing protocol has made in-person mentorship currently impossible, 2U superheroes continue to support learners primarily over the phone, helping mentees with their tertiary applications and steering them through often complex and confusing paperwork and processes.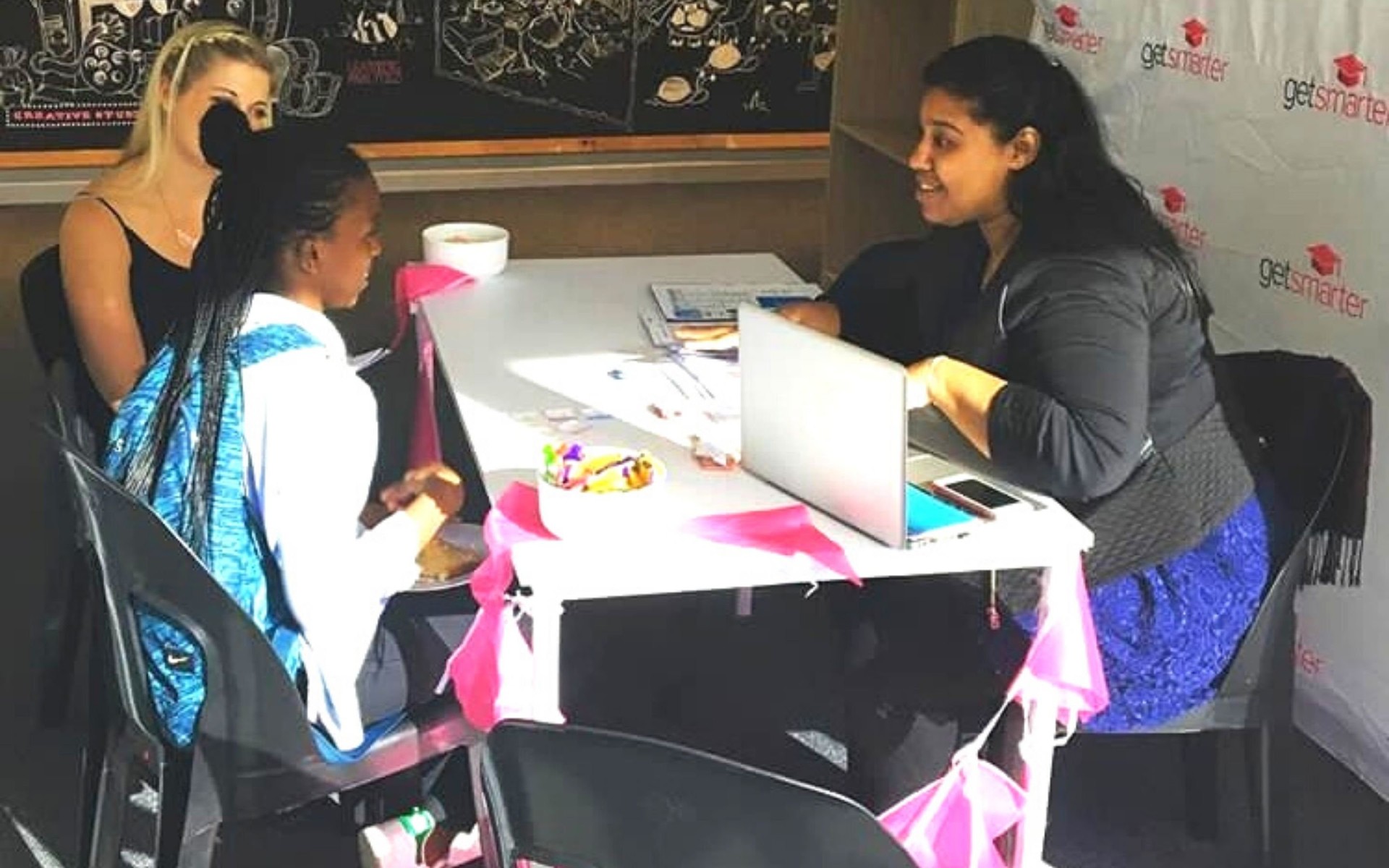 A 2U mentor and mentee bond over a school project
"Having to chat over voice calling and text due to COVID is not the ideal setting to be a mentor right now, but it's been a great lesson in trying to make an impact despite the many obstacles present," says Cara-Lee Arendse, a first-year 2U mentor with IkamvaYouth. "Participating in this program is a stark reminder of the disparity in living conditions and access in South Africa. Being involved has encouraged me to view the world through this lens and serves as a daily reminder to empower and uplift those less fortunate than I am—and use my voice to make strides towards equity in our society on a daily basis."
Jess Jardim-Wedepohl, another new 2U mentor, mixes discussions with her mentee around schoolwork, university applications, and future goal-setting with social chats about her mentee's friends, family, and daily life. "I've tried to establish a helpful rapport where she knows she can vent to me and ask questions," Jess says. "Gen Z South Africans are incredibly resilient people with a lot to say about the world. It's been a privilege to get to know my mentee and help her plan the transition to the next phase of her life."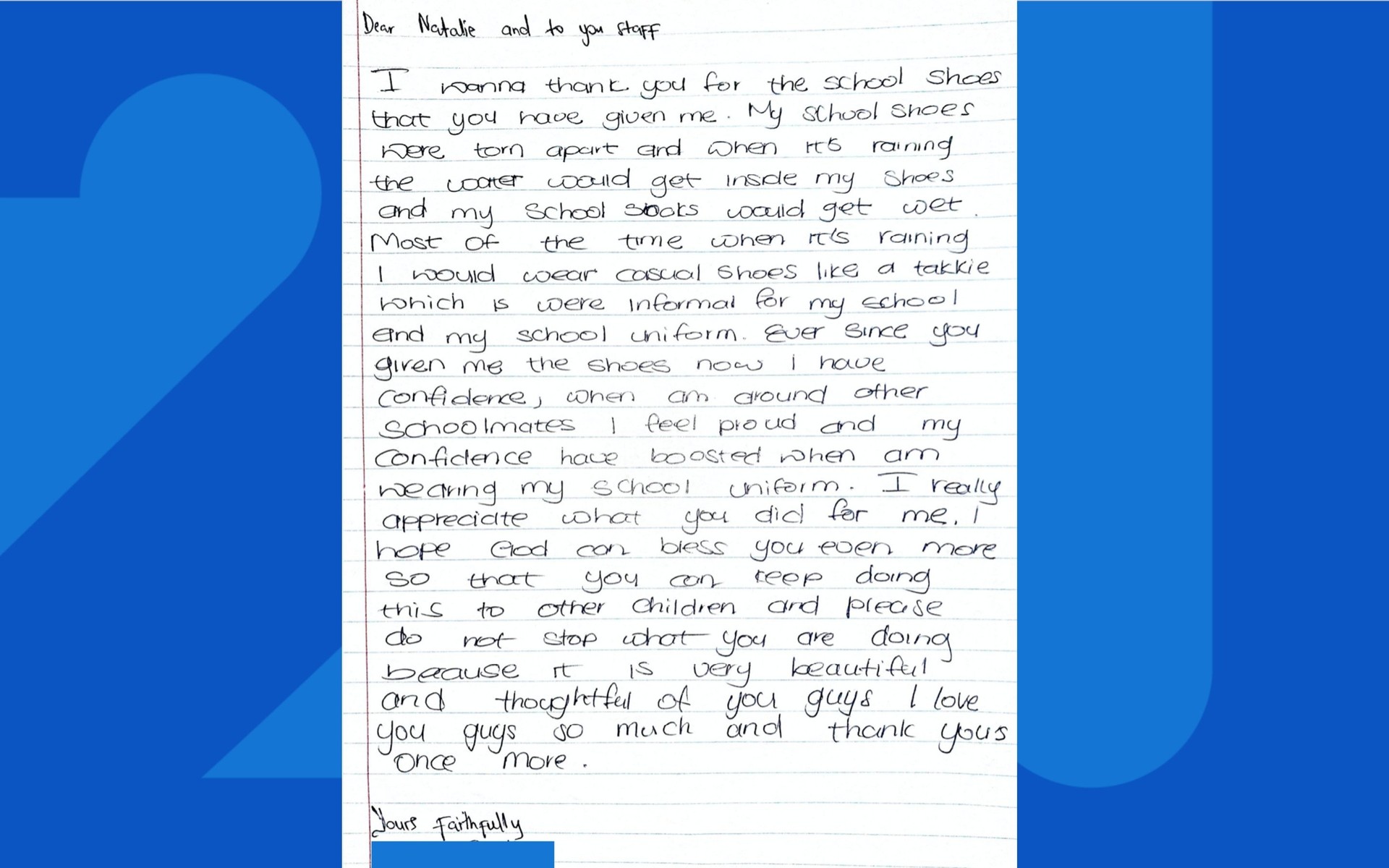 A heartwarming letter from an IkamvaYouth student to 2U's Community Steering Committee following a volunteer school shoe drive
A Commitment That Keeps Paying Off—and Paying It Forward
IkamvaYouth's programs are life-changing for so many students that over 50% of alumni become volunteers themselves after graduating from the program. This popular trajectory of "giving back" encourages other students to follow in the footsteps of those who've succeeded before them and achieve their own greatness.
Machikicho points to one particular student who exemplifies this desire to pay it forward. "One of our recent graduates, Nelson Bila, had always been a high performer," he says. "But he struggled to come out of his shell. So in the last matriculation results, it was incredible to see him listed as one of the top 50 learners across the entire Western Cape province. And now he's on TV and radio doing interviews and sharing how well he performed with the help of IkamvaYouth. He's now a confident and articulate young man with a bright future—and also now one of our tutors assisting learners in younger grades. That's the growth we love to see."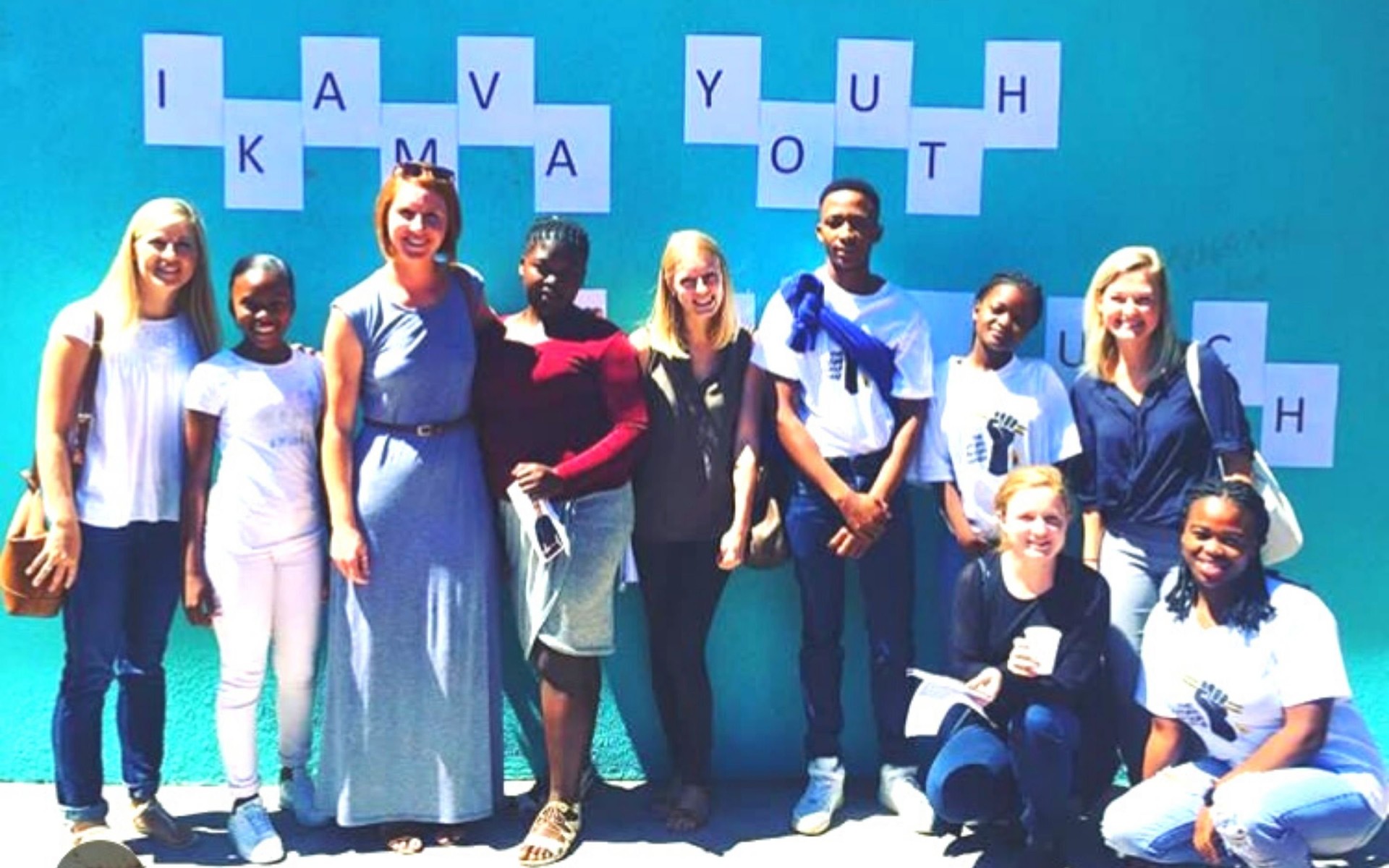 2U Cape Town mentors and mentees on a pre-COVID outing
Of course, growth and change don't happen overnight. But with organizations like IkamvaYouth leading the charge, educational and societal progress in South Africa is inevitable. Looking ahead, Machikicho is eager to continue working with partners like 2U to help lift up young learners who otherwise have few, if any, pathways to a better future.
"We can never over-emphasize our appreciation for the great work that 2U has done," he says. "Volunteers go such a long way in bridging the inequality gap, so we're forever grateful for this partnership."
Learn more about us.
At 2U, we're on a mission—to eliminate the back row in higher education and help universities thrive in the digital age. To learn more about who we are and what we do, follow the links below.