Partner Spotlight
"Talent Is Everywhere, But Opportunity Is Not": How Higher Achievement—a 2U Community Partner—Sets Middle School Students Up for Success
Written by Bannon Puckett on Apr 21, 2021
Related content: Corporate Social Responsibility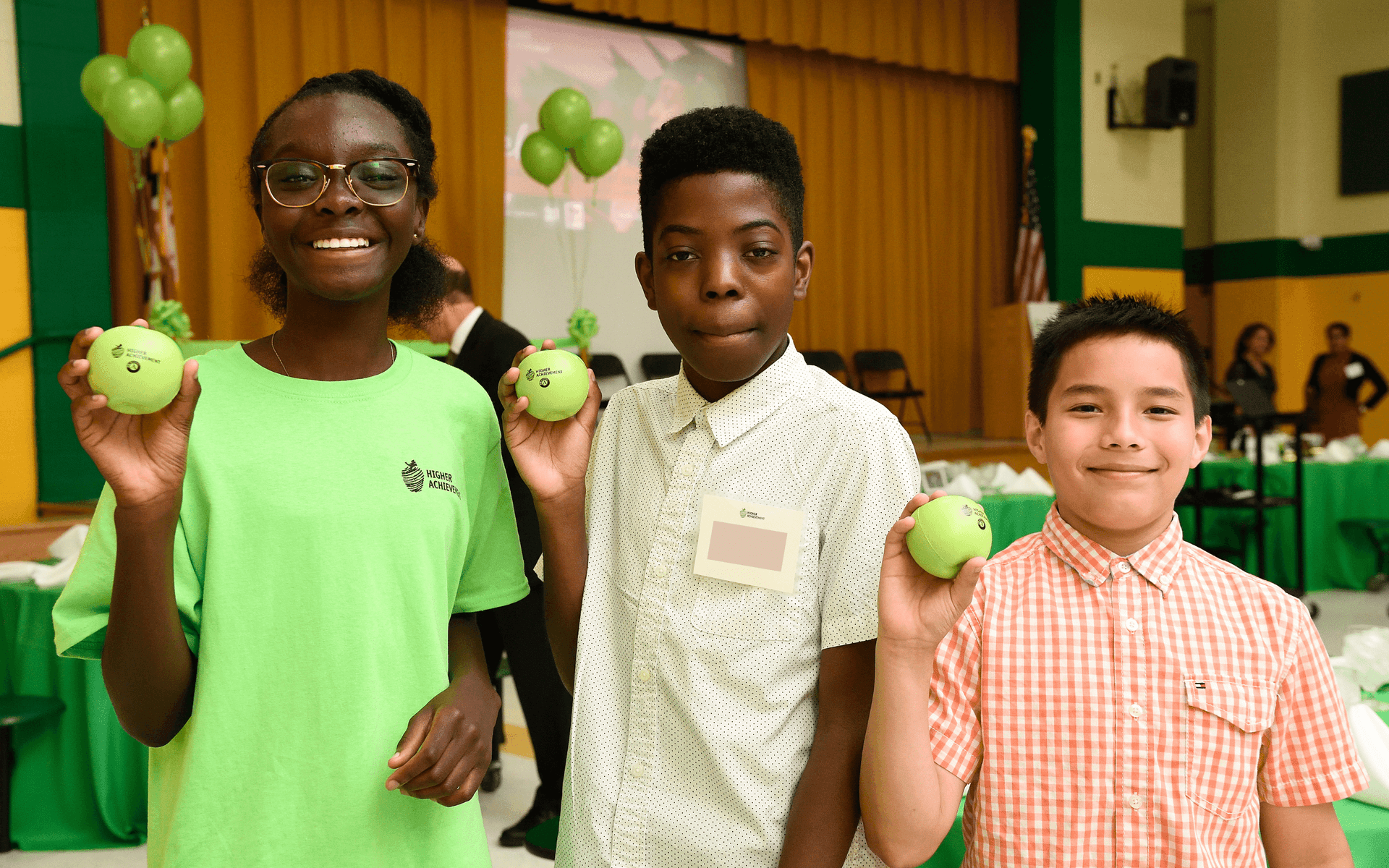 On its website, the mission statement of
Higher Achievement
begins with these words: "Talent is everywhere, but opportunity is not."
As part of 2U's mission to expand access in education, each 2U office partners with a local nonprofit—providing these organizations with technology, volunteer, and financial support to help them pave educational pathways for learners around the globe.
Higher Achievement is one of the community partners of 2U headquarters in Lanham, MD. Also based in Prince George's County, this nonprofit strives to "build a world where every child's promise and potential are realized, regardless of circumstance."
For over 40 years, Higher Achievement has been working to close the opportunity gap for students—referred to as "scholars" by the organization—during their pivotal middle school years. Coming from diverse communities across Baltimore, Richmond, and the DC Metro region, these talented scholars represent a wide range of academic interests and cultural backgrounds with 75% identifying as Black and 12% as Latinx.
95% of Higher Achievement alumni go on to graduate from high school on time. That's a big deal, because for many of their peers outside of the program, the graduation rate is more like 70%.

— Thalia Washington, Executive Director, Higher Achievement
Through a variety of STEM and humanities education enrichment programs, Higher Achievement creates a culture of high expectations to build the character, confidence, and skills that scholars need to succeed beyond middle school. Many scholars will be the first generation in their families to graduate from college.
2U kicked off its partnership with Higher Achievement in 2019, when the organization launched a new achievement center at Greenbelt Middle School, just 10 minutes from our Maryland headquarters. During Higher Achievement's first year at Greenbelt, more than 60 scholars benefited from regular after-school instruction, homework help, one-on-one academic advising, targeted mentorship, and other hands-on learning activities. Through our partnership, DC-area 2Utes regularly engage in
#MakeServiceYourMission
volunteer opportunities with Higher Achievement, providing scholars with mentorship and small group instruction in areas like math and humanities.
Together, these efforts result in incredible student outcomes. "95% of Higher Achievement alumni go on to graduate from high school on time," says Thalia Washington, executive director of Higher Achievement. "That's a big deal, because for many of their peers outside of the program, the graduation rate is more like 70%."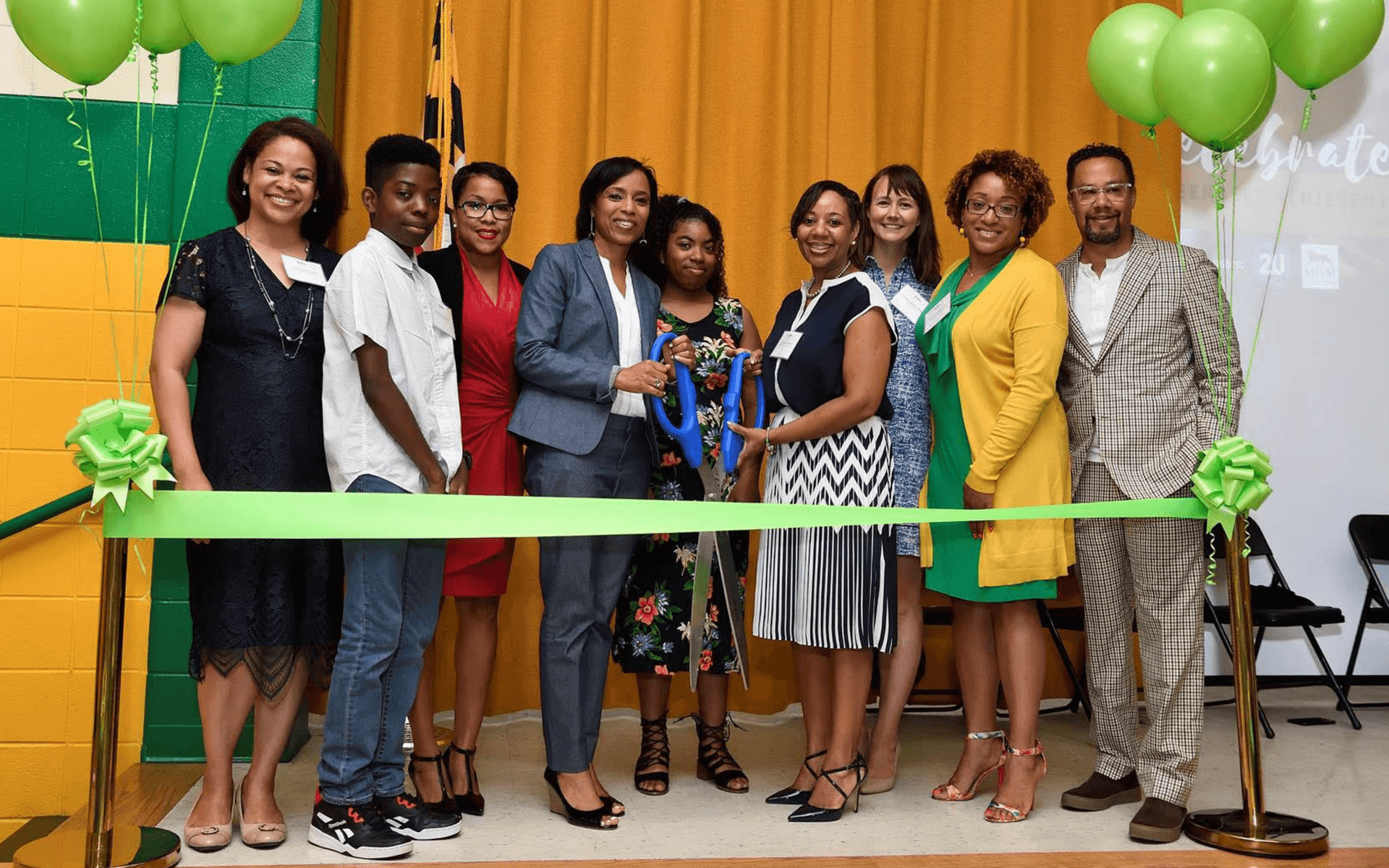 Ribbon cutting for Higher Achievement at Greenbelt Middle School
Changing with the Times During COVID-19
As a school-based program, Higher Achievement was forced to quickly pivot when the pandemic hit last spring. "On Friday, March 13, people across the region went home and did not return to school buildings or offices," says Washington. "Only recently, this spring, have our communities' school systems begun to reopen their doors for students."
During a time of widespread uncertainty, Higher Achievement was proud to get its programming online in only two weeks. "By April of last year, we were serving our scholars virtually," recalls Washington. "The local school systems took much longer to figure out their distance learning strategies."
The organization's partnership with 2U played a major role in this digital transformation. "Zoom was very new to us and to students," explains Washington. "Our staff members had Zoom accounts, but we had never used Zoom as an instructional platform for our scholars. 2U offered us the guidance we needed, with a 2U instructor leading Higher Achievement staff through a series of two or three classes about online learning strategies. That was huge for us."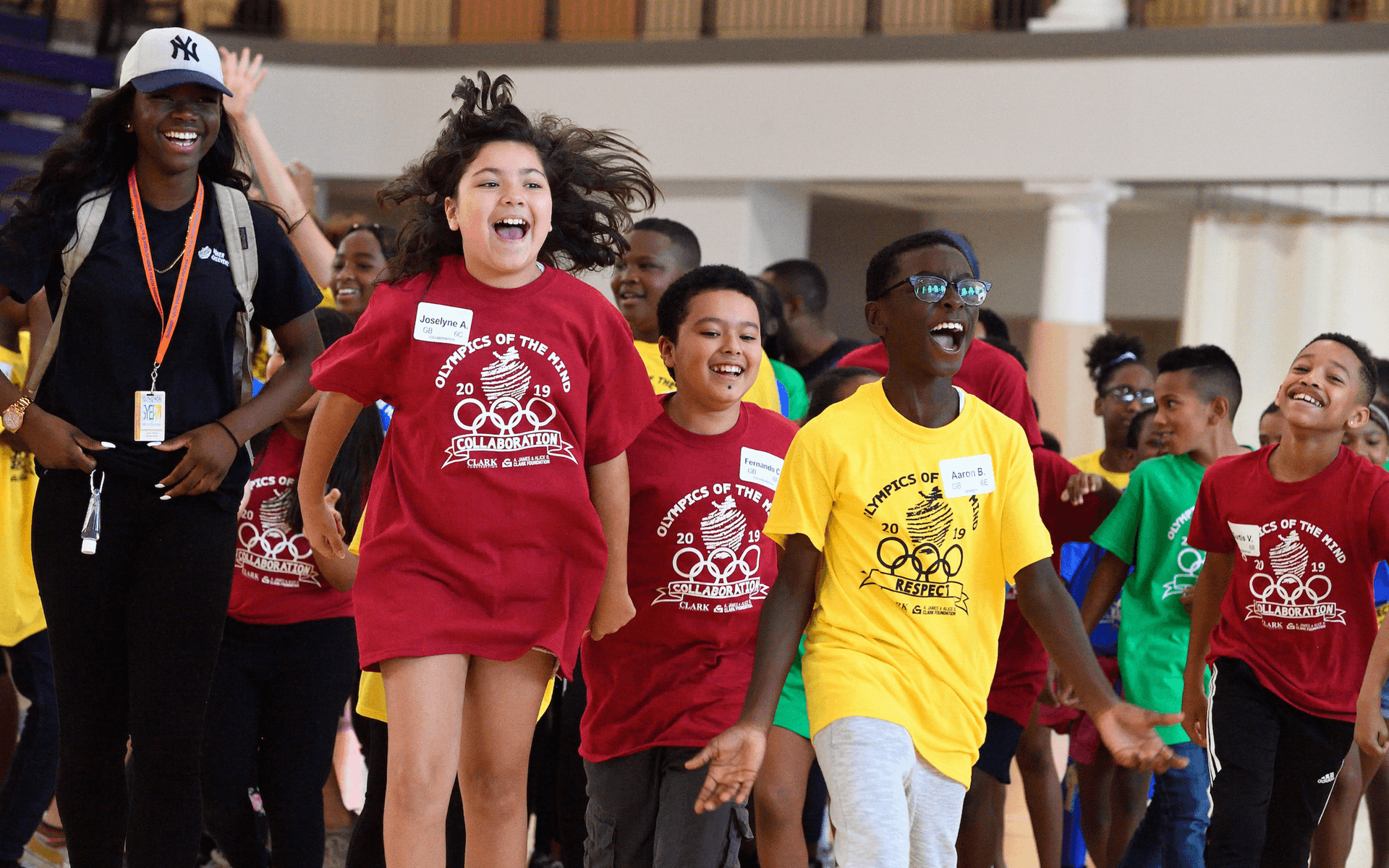 Higher Achievement's "Olympics of the Mind" event
Through programming, Higher Achievement continues to seize innovative opportunities for community building and fundraising, from an "Olympics of the Mind" academic quiz bowl to its annual "Going Places" event, a celebration of scholar success.
Last month, the nonprofit hosted its annual
Love Out Loud
poetry event, where scholars from Baltimore, Richmond, and the DC Metro region were given an opportunity to virtually present original written works. This year's winner, Greenbelt Middle School eighth-grader
Alexis
, had a particularly inspiring story.
"We're really proud of Alexis," says Washington. "She was very shy when she first came to our program in sixth grade. And here she was, two years later: winning Love Out Loud by using her voice to share a poem about identity, race, and social justice with 300 complete strangers."
Alexis' accomplishments don't end there, either. This spring, she was admitted to every single high school she applied to. "She's exactly the reason we love our work here at Higher Achievement," says Washington.
Washington also points to eighth-grader Byron as an example of another scholar who has found success through the Higher Achievement program. This fall, he'll be attending high school as a boarding student at Phillips Academy Andover, one of the nation's top private schools in Massachusetts. If it weren't for his Higher Achievement mentor, he may never have even applied.
"Byron has a Higher Achievement mentor who's an Andover alum," explains Washington. "Two years ago, that mentor said, 'I think he's got what it takes.' That mentor saw Byron's talent and potential and advocated for him. That's why mentoring matters so much."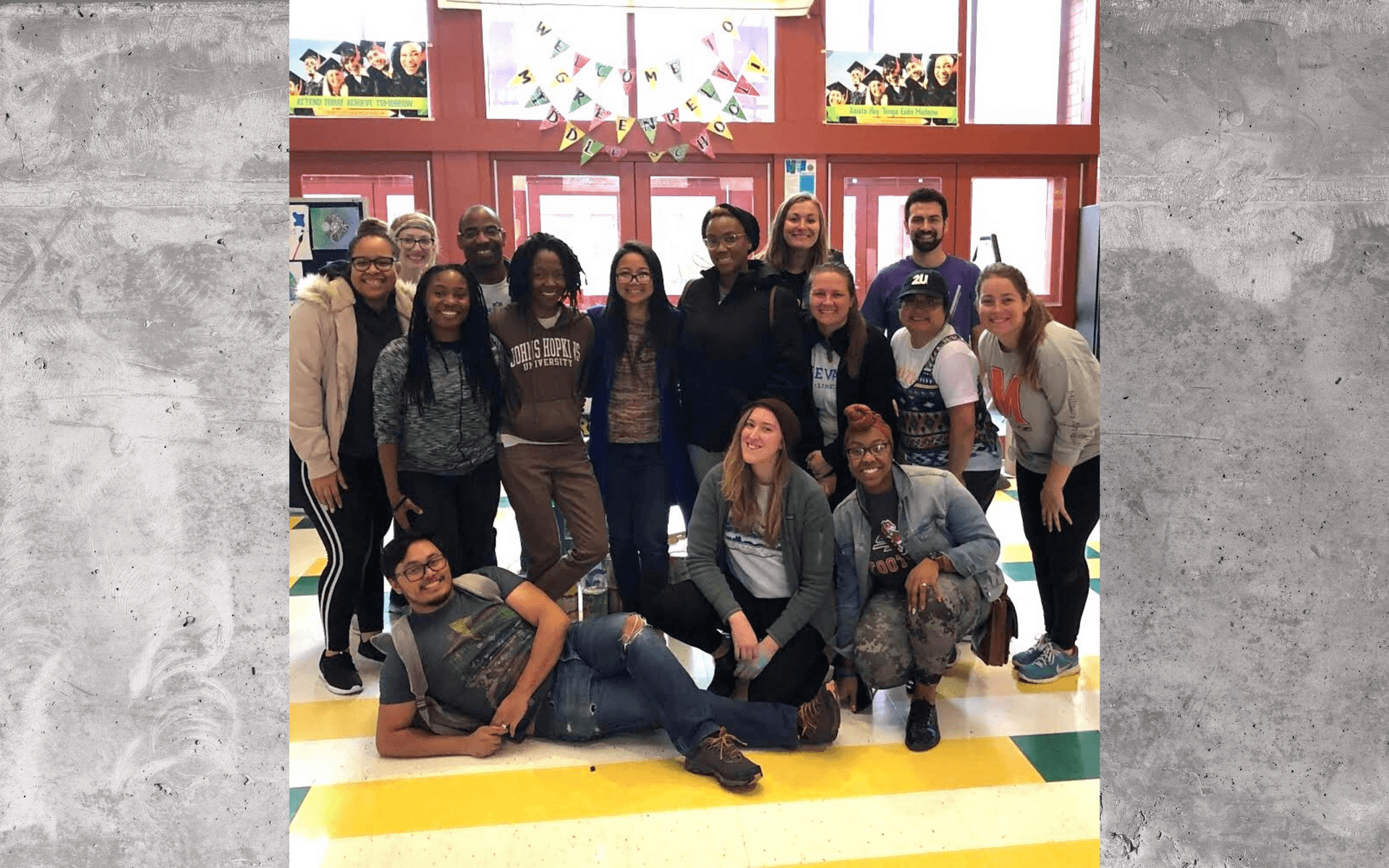 2U beautification volunteers descend upon Greenbelt Middle School
From Higher Achievement to Higher Education
Higher Achievement alumni can even be found within the ranks of 2U.
Elizabeth-Wede Fahnbulleh
, a 2U student success advisor, fondly looks back on her own experience as a scholar with the organization. "Higher Achievement's impact is life-changing," she says. "The programs and mentors shaped my love for literature and my education career."
In the mid-1990s, a middle school-aged Fahnbulleh attended a Higher Achievement summer enrichment program in northwest DC. "My language arts tutor was a Howard University African-American Studies major who completely transformed my life through a very engaging Harlem Renaissance poetry unit," she recalls. "Later, I received waivers to apply to several private high schools outside of my neighborhood. My tutors and director personally reviewed my essays and transported me to school tours and interviews. Because of Higher Achievement, I ended up getting accepted at DC's Duke Ellington School of the Arts, where I studied classical voice and piano and minored in literary media. After college, I taught English Language Arts for years—and my most impactful lessons revolved around the Harlem Renaissance. It was an incredible full-circle journey."
Higher Achievement's impact is life-changing. The programs and mentors shaped my love for literature and my education career.

— Elizabeth-Wede Fahnbulleh, 2U Student Succcess Advisor and Proud Higher Achievement Alum
Looking ahead, 2U is excited to continue helping Higher Achievement empower scholars in all of their academic, creative, and social pursuits. We stand united with our community partner to help ensure that all students are ready and able to realize their full potential and access opportunities that match their talent.
Learn more about us.
At 2U, we're on a mission—to eliminate the back row in higher education and help universities thrive in the digital age. To learn more about who we are and what we do, follow the links below.