News & Press
2U Releases 2022 Transparency & Outcomes Report
Written by 2U on Jul 27, 2023
Related content: Impact and Outcomes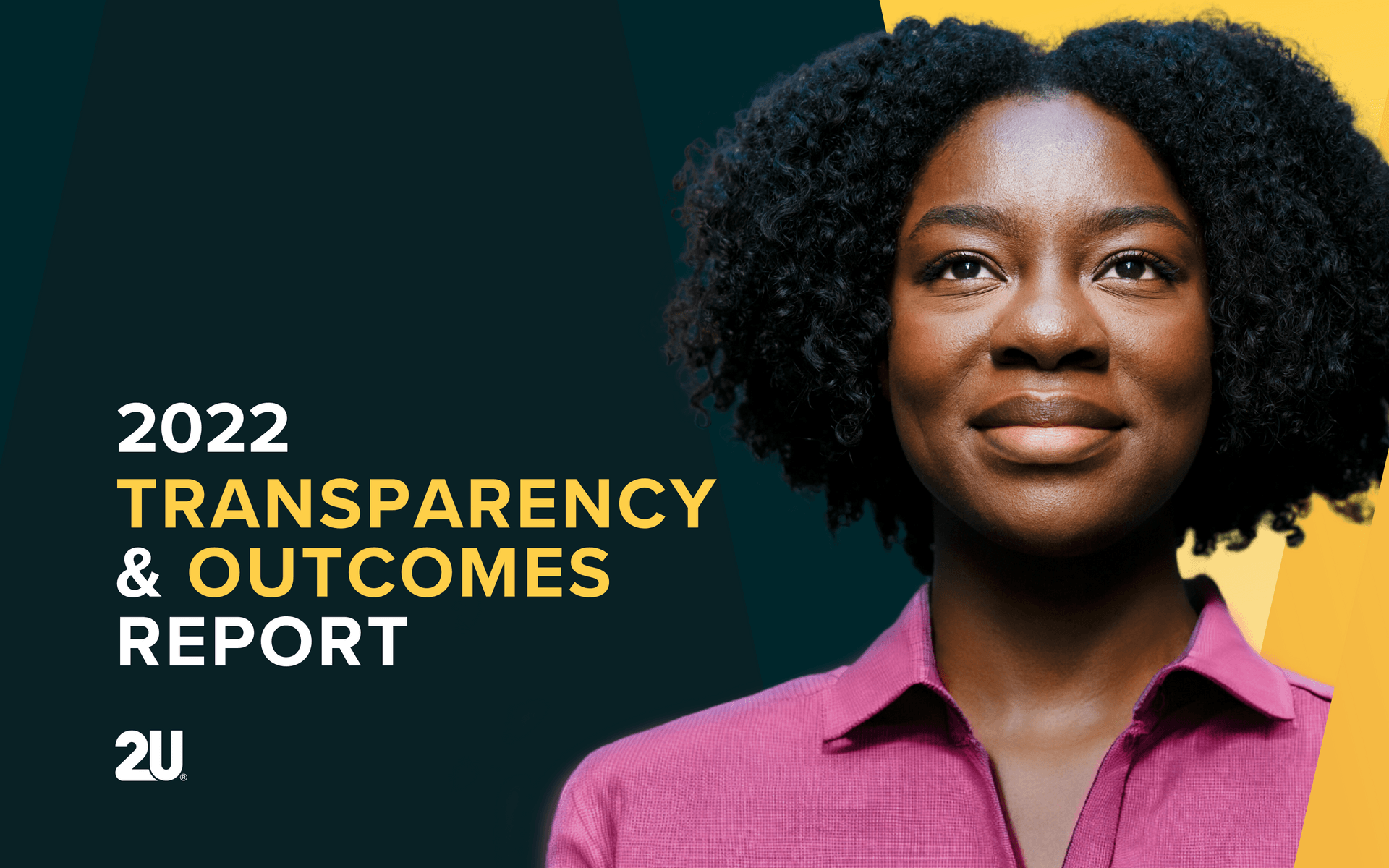 LANHAM, Md.—July 27, 2023—2U, Inc. (Nasdaq: TWOU), the company behind global online learning platform
edX
, today announced the publication of its
2022 Transparency & Outcomes Report
: an annual summary of the impact 2U is making on learners, universities, companies, and institutions around the world.
Today's announcement marks the fourth consecutive year that 2U has published a public outcomes report following the establishment of its industry-leading
Transparency Framework
in 2019. 2U's continued annual reporting cements the company's standing as a leader in publishing transparent outcomes and reinforces its commitment to openly share key facts and figures about its business and partnerships. This year's report is also the first to highlight the combined impact of 2U and the edX platform following 2U's acquisition of edX in late 2021, creating a comprehensive view of the company's impact on online higher education.
"At 2U, we're committed to delivering world-class learning outcomes at scale with edX while helping our partners build sustainable and accessible education programs that keep pace with global advancements, drive progress, and yield tangible value for learners," said Christopher "Chip" Paucek, Co-founder and CEO of 2U. "We created our Transparency & Outcomes Report to provide greater insight into the power of online education and to empower partners and policymakers with information to continually advance higher education in service of students."
Centered on the theme, "Transforming Ambition into Impact," and structured around five core sections—Learner Impact, University Impact, Employer Impact, Government Impact, and Societal Impact—the report outlines work accomplished in collaboration with institutional partners and spotlights learners who completed edX-powered programs.
Key Data from the 2022 Transparency & Outcomes Report Include:
Scale:

In 2022, 2U expanded its learner network to 73 million people globally, served over 230 partners, and grew its content portfolio to over 4,000 digital offerings on the edX platform, from free courses to boot camps to full degrees. Today, that figure has increased to over 76 million people, serving over 250 partners, with a content portfolio of over 4,200 offerings.

Retention and completion rates:

The retention rate from term one to term two for students in edX-powered degree programs was 90 percent, and the graduation rate was 73 percent; the graduation rate for boot camps with edX was 77 percent; the completion rate for edX executive education programs was 91 percent; and the completion rate for edX open courses was 54 percent.

Workforce preparation:

2U remained one of the world's largest developers of tech talent, supporting nearly 200 technology-related boot camps and approximately 68,000 all-time boot camp graduates. As of the end of 2022:

2U provided over 40,000 employment referrals and approximately 2.4 million career touchpoints.

2U launched 18

Access Partnerships

to provide more individuals from marginalized or underserved communities with free or substantially cost-reduced pathways to job-relevant tech skills. Since inception, over 3,000 learners have enrolled in these programs.

Healthcare innovation:

2U continued to create an infrastructure to educate healthcare professionals at scale by connecting students studying online with opportunities to fulfill required fieldwork hours. As of the end of 2022:

More than 24,800 students graduated from edX-powered degree programs in helping hands disciplines, including nursing, social work, counseling, and more.

2U expanded its field placement network to approximately 120,000 sites to support students in programs that require fieldwork hours.

Learners logged over 30 million fieldwork hours at these sites.
The 2U Transparency & Outcomes Report is designed to help learners, universities, and policymakers better understand and assess the role and value that companies like 2U play in building high-quality educational offerings that deliver great student outcomes, particularly in critical sectors like healthcare and technology where there remains a pressing and persistent need for skilled professionals.
"With the
OECD
predicting a staggering transformation of 1.1 billion jobs due to technology over the next decade, our mission has never been more vital," said Anant Agarwal, Chief Platform Officer at 2U and edX Founder. "Together with our partners, we're committed to offering learners everywhere high-quality, affordable online education for rewarding, in-demand careers. Through the edX platform, 2U's goal is to democratize access to education, forging a stronger global workforce and a better future for all."
To view the full report findings, including definitions for the metrics above, please visit
impact.edx.org
.
About 2U (Nasdaq: TWOU)
2U is a global leader in online education. Guided by its founding mission to eliminate the back row in higher education, 2U has spent 15 years advancing the technology and innovation to deliver world-class learning outcomes at scale. Through its global online learning platform edX, 2U connects more than 76 million people with thousands of affordable, career-relevant learning opportunities in partnership with over 250 of the world's leading universities, institutions, and industry experts. From free courses to full degrees, 2U is creating a better future for all through the power of high-quality online education. Learn more at 2U.com.
Media Contact:
Kate Welk media@2u.com