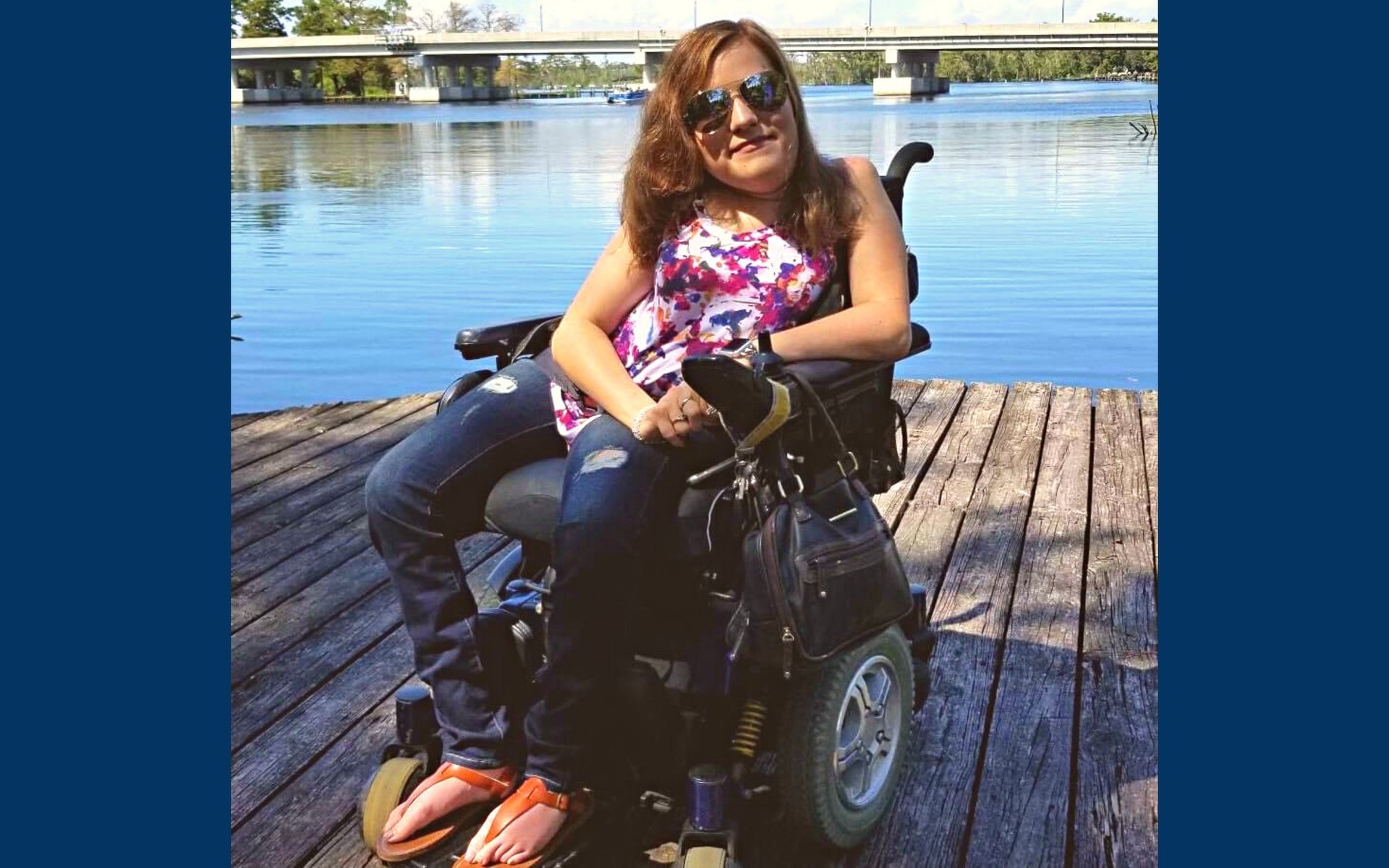 When
Ashley Redman
was four years old, a gymnastics accident—a headstand gone wrong—left her paralyzed from the neck down. Her official diagnosis was an incomplete C3 spinal cord injury with a 50/50 chance of living. Even if Ashley remained alive, the doctors said she'd most likely be in a vegative state the rest of her life. Her parents were faced with the choice to either keep Ashley on life support, in hopes her condition would improve, or let her go. Thankfully, they made the former choice—and so her long road to recovery began.
Flash forward nearly two decades, when Ashley graduated from East Carolina University with a Bachelor of Social Work degree in 2008 and a Master of Social Work the year after. Throughout both programs, she struggled through many obstacles—one being an inability to complete the common placement requirement of home visits, since many residences weren't built with accessibility in mind. Passionate about helping others, Ashley eventually found her way to 2U as the first student success advisor hired for the
SocialWork@Simmons
program. She has now been with the company for seven years, and is embarking upon an exciting chapter as the global chair of 2U's new internal
Ability Resource Network
(ARN).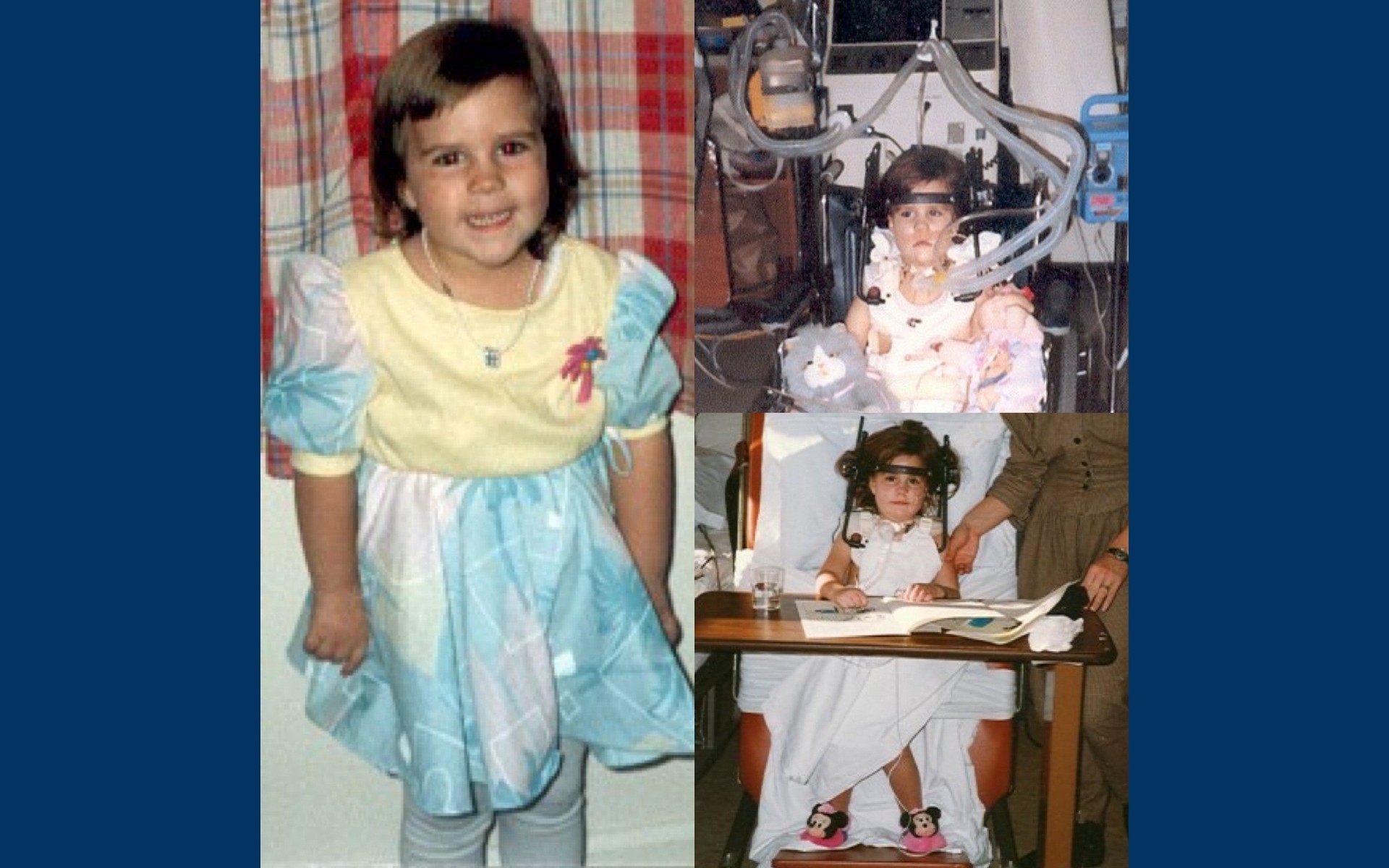 Before and after Ashley's accident in 1990
"For individuals with different abilities," Ashley says, "education and certain career paths can be difficult to achieve. We have so many more barriers to work through—whether that's trying to get the accommodations we need, dealing with physical limitations, or having to constantly prove to others that we belong. Without an education, employability and career potential drops dramatically, especially for those of us with a disability. Therefore, I'm compelled to help others not only fight this battle, but win it. My own education provides me with the knowledge and tools I need to do just that."
For National Disabilities Employment Awareness Month, we sat down with Ashley to hear more about her work at 2U, how her unique ability impacts her life, what fuels her passion for the ARN, and more.
Why did you join 2U? What is it about the company that sparked your interest?
The day I came in for the interview, everyone was so nice and welcoming. As someone with a very visible physical disability, I'm never too sure how I'll be received by others. But I cannot fully articulate the level of comfort I felt from even the minor interactions I had while waiting for the interview to start and during it. My disability didn't seem to be even a second thought, which was refreshing.
The culture seemed to be one of inclusion and fun as I learned about the dance parties and company meetings. But most importantly, I knew 2U's mission would be life-changing for countless people. "Eliminating the back row" to make education more accessible—and giving students tools to further their careers and be change agents—is something I want to help facilitate and strengthen.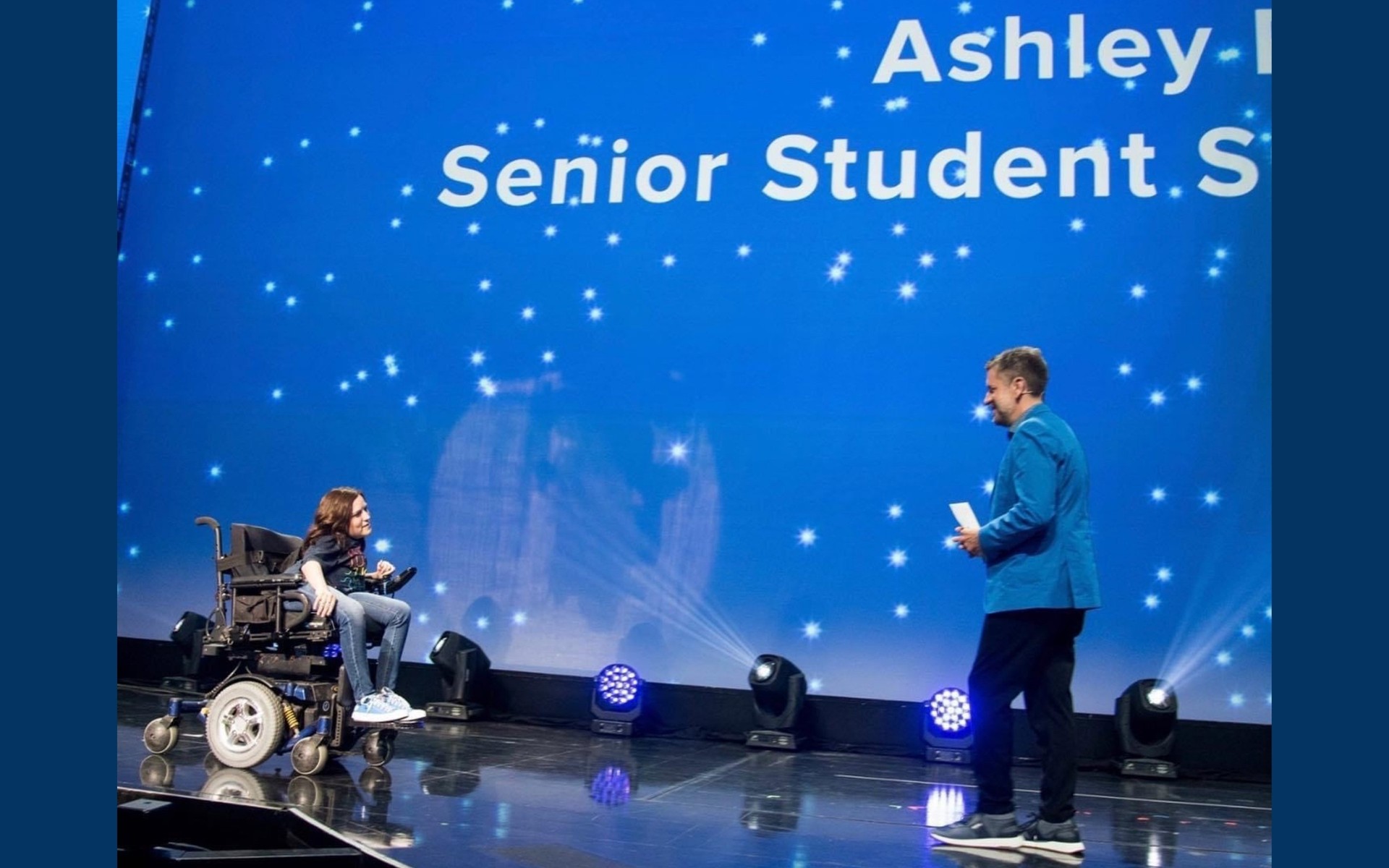 One of Ashley's proudest moments: winning the 2U Service Award at our 2019 Company Meeting (presented by Chip Paucek, our co-founder and CEO)
How would you describe your role as a senior student success advisor at 2U?
I often describe my role to students as, "I'm your tour guide throughout your journey in the program." This lets them know they'll never be left alone to struggle by themselves. I'm here to answer questions (or point them in the right direction), offer support through coaching, and connect students with resources.
What do you find most rewarding about your job?
The most rewarding aspects are my colleagues, and knowing I'm helping students achieve their goals and dreams. I've supported hundreds of future social workers, educators, and leaders who'll go on to impact the lives of so many others. Picturing that positive wave spreading outward keeps me coming back each day.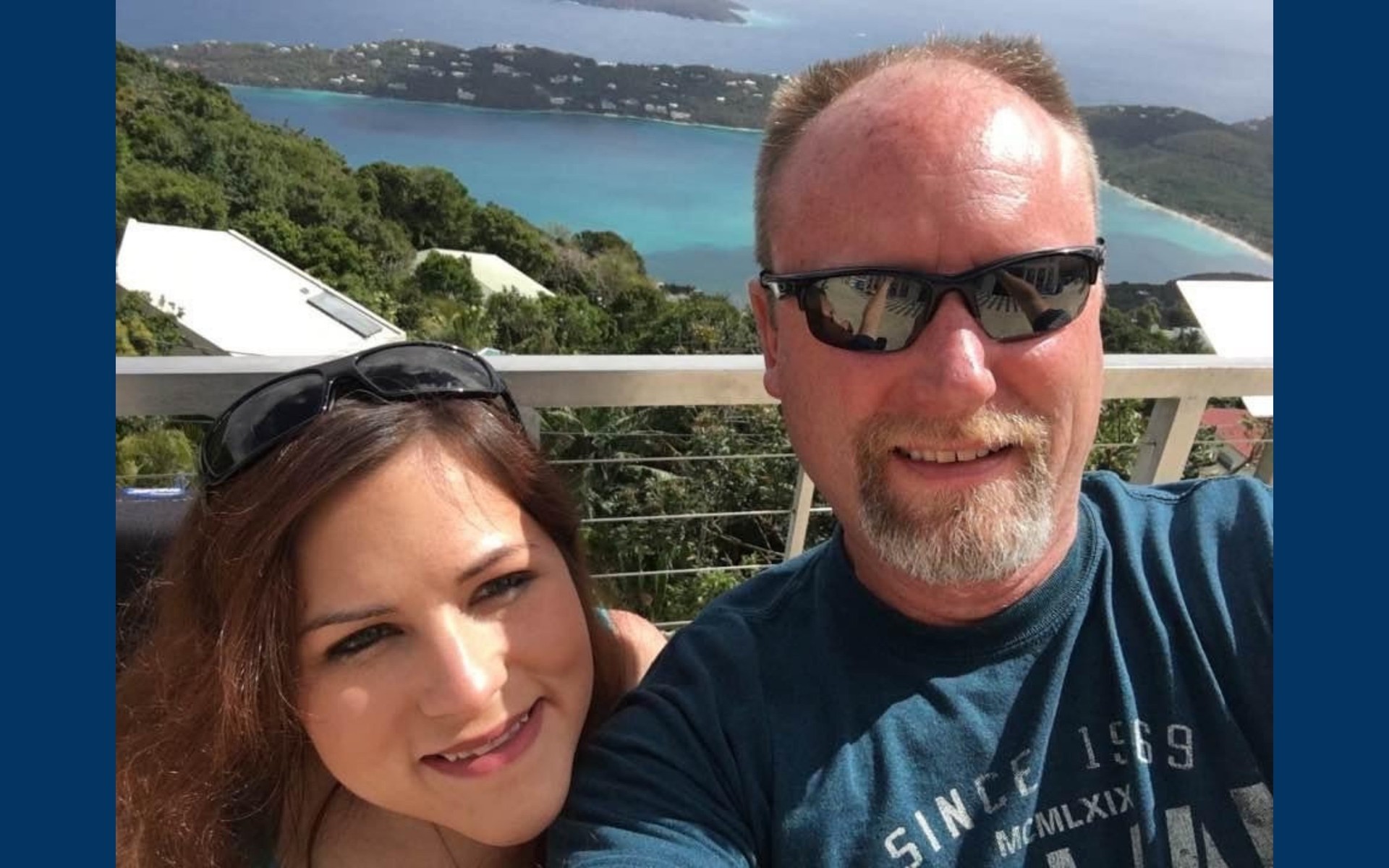 Ashley traveling with her husband through St. Thomas in the U.S. Virgin Islands
Why are you personally passionate about the ARN's mission?
When I was on life support, I was not able to speak, and that left a profound impact on me, as it made me more empathetic and compassionate. I want to help empower others to get
their
voices back, advocate for those who can't speak for themselves, and form a strong community where we can be allies for one another.
The ARN provides the infrastructure to create supportive, inclusive, and accessible spaces for those of us who've been traditionally underrepresented in conversations around diversity and inclusion. My past experiences, both negative and positive, fuel my passion toward this goal, and I'm honored to help build the foundation.
How would you describe the unique ability you have, and how does it impact your day-to-day life?
My accident left me with one fully functional limb—my right arm—and l will use a wheelchair daily for the rest of my life. My altered abilities are all-encompassing. Physically, it takes me much longer to do even simple tasks like laundry, cleaning, or just getting ready for the day. Some days it feels like I'm stuck in a rat race in a fully able-bodied world, and I can never hope to keep up, but I refuse to stop trying.
Due to this determination, I've achieved nearly every goal I've set for myself over the years: traveling to different places, living on my own, driving, getting both of my degrees, etc. I've been told so many times that I won't succeed for whatever reason, but I always do, even if it takes years. I've learned patience, problem-solving, and resolve, as I continue to adapt and evolve by finding my own ways of doing things that work for me.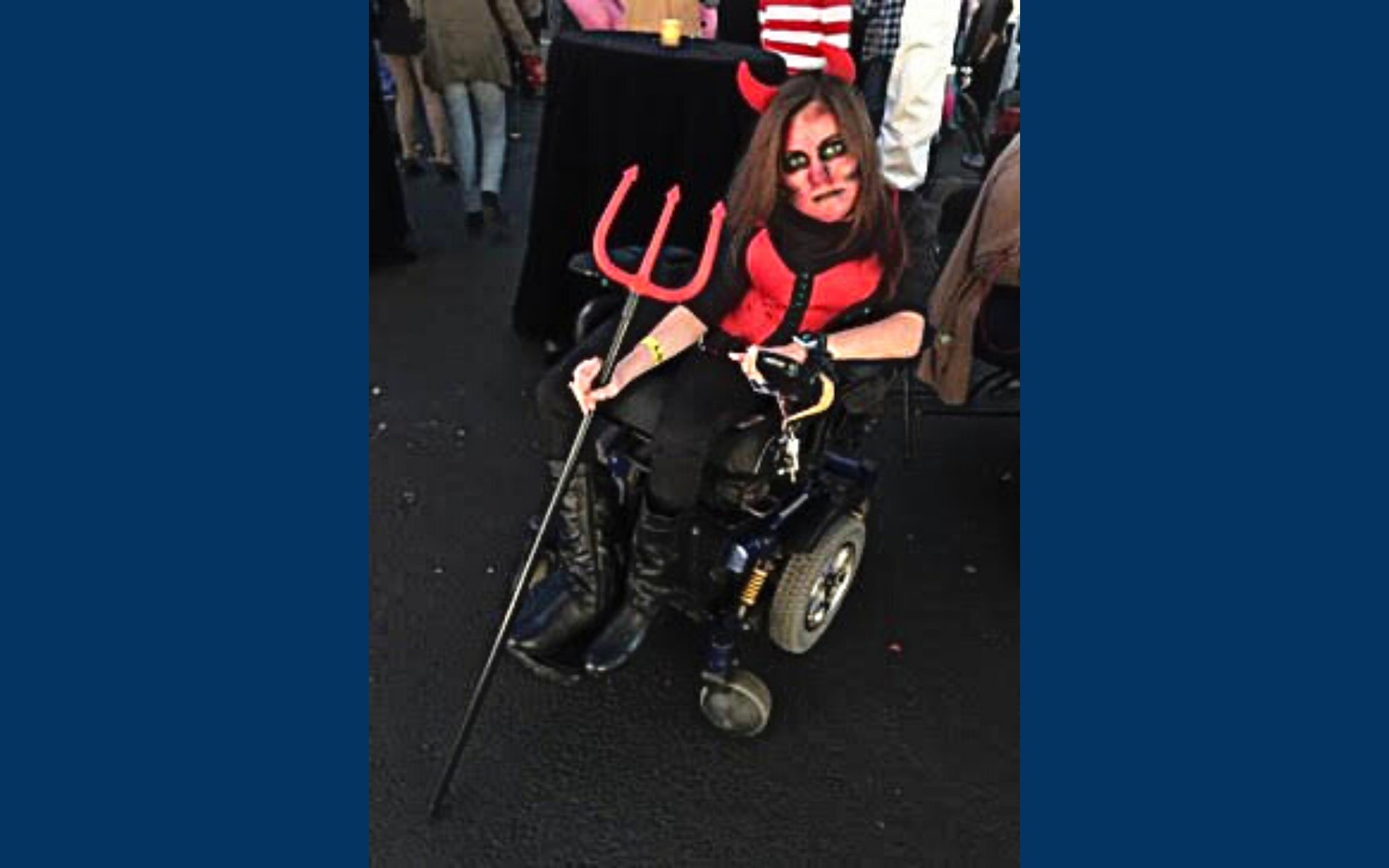 Ashley has a "wicked" sense of humor; here she is at 2UBoo, our annual Halloween celebration, dressed as "Hell on Wheels"
What are you most excited about with the ARN and your role?
I'm most excited to build the ARN so I can 1) collaborate with colleagues and provide an inclusive, safe, and supportive space to share our experiences, 2) pinpoint ways we can lead change, 3) bring awareness, and 4) provide training and education. My experiences have offered me insight into systemic discrimination, and I can see our world through the lens of social justice. I'm eager to improve systems, policies, and spaces for people with different abilities and help position 2U as a leader in this area.