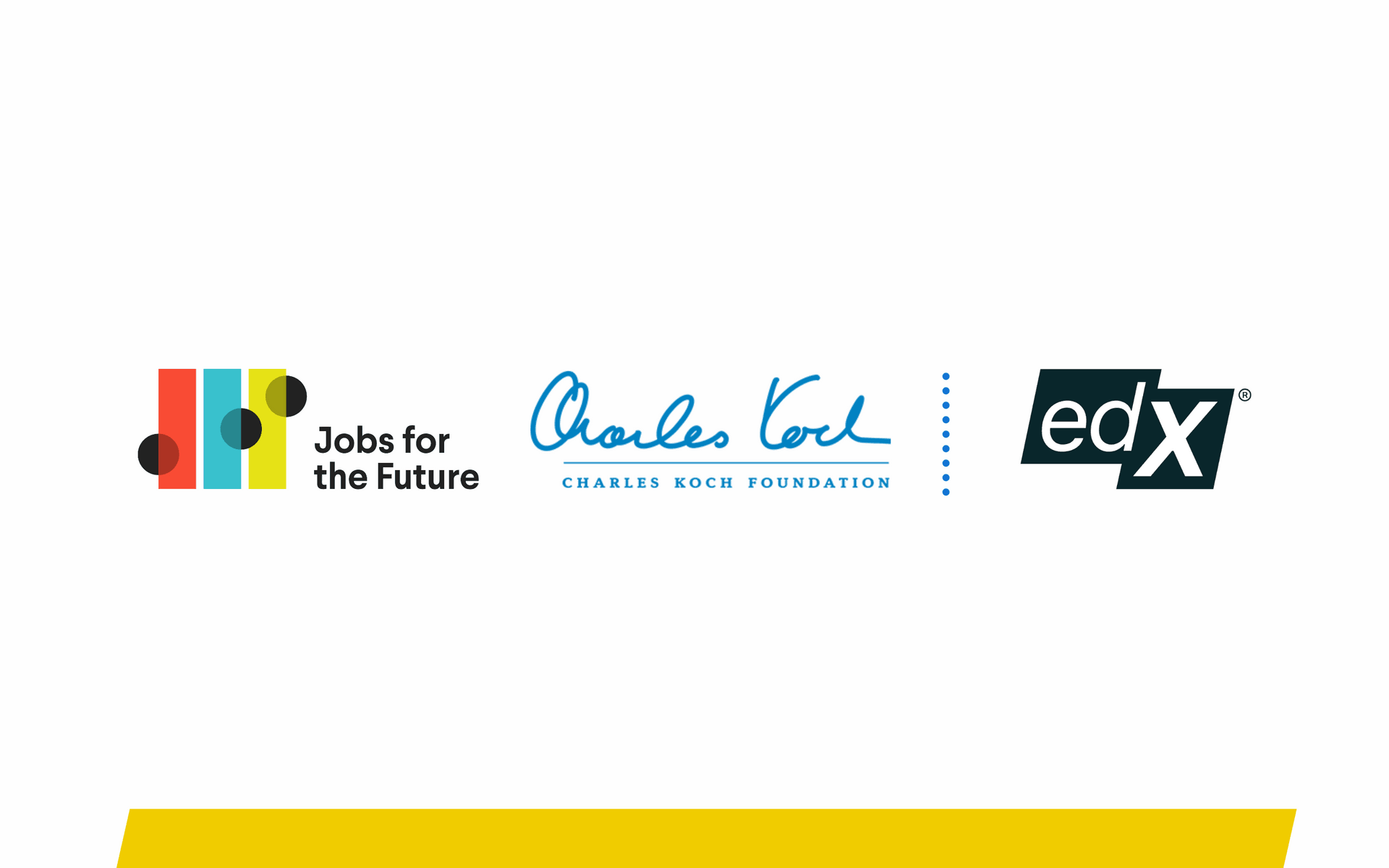 New program, funded by The Charles Koch Foundation, will connect non-traditional learners with no-cost higher education programs
LANHAM, Md. and BOSTON, Mass – July 20, 2023 –
edX,
a leading global online learning platform from 2U, Inc. (Nasdaq: TWOU), together with
Jobs for the Future (JFF)
, and with funding from
The Charles Koch Foundation
, today announced the launch of the
edX MicroBachelors® Program Pathway Initiative
: an initiative to connect adults who aspire to earn a bachelor's degree with MicroBachelors programs on edX at no cost. Learners will also receive the opportunity to interview at companies seeking qualified candidates for roles that don't require a traditional two or four-year degree.
The program will be open to anyone without a bachelor's degree who wants to train for an entry or mid-level role that requires fundamental tech or business skills.
Starting
today, qualified learners will be able to apply for the following MicroBachelors programs:
"Through the edX MicroBachelors Program Pathway Initiative, we're working to level the playing field, empowering adults without traditional degrees to build relevant, marketable skills," said Anant Agarwal, founder of edX and Chief Platform Officer at 2U. "By working with JFF and the Charles Koch Foundation, we are taking another significant step toward bridging the skills gap and democratizing access to high-quality education for all."
According to a recently-released survey on skills-based hiring trends,
80% of employers believe in prioritizing skills
over degrees in the hiring process. Yet, most still require a credential to determine a candidate's skills and experience. Launched in 2020, edX's MicroBachelors programs are credit-backed, open-admission credential programs designed for adult learners without a traditional four-year degree. Leading companies and nonprofit universities worldwide offer these rigorous, career-focused programs in partnership with edX. They are designed for anyone looking to gain industry-relevant skills in high-demand and emerging industries. For learners who want to pace their studies, MicroBachelors program certificates come with transferable college credit from one of edX's university credit partners. Those who complete a MicroBachelors program can immediately use it as a standalone credential on resumes and LinkedIn pages and eventually apply the academic credit toward a full degree with the school of their choice.
JFF, a national nonprofit that drives transformation of the U.S. workforce and education systems, will support the initiative by sourcing and evaluating candidates for the program. JFF's long history of advocating for policies and systems that promote equal opportunity for economic advancement will help ensure the initiative's success and lasting impact on hundreds of learners over the next three years.
"In partnership with edX and the Charles Koch Foundation, we're pioneering a transformation in higher education and work," said Rusty Greiff, Chief Strategy and Growth Officer at JFF. "Programs like the edX MicroBachelors Program Pathway Initiative are one step toward creating sustainable pathways to prosperity for people who face systemic barriers to advancement, including the over 40 million with some credit and no degree, who are often overlooked by traditional hiring systems."
The Charles Koch Foundation is supporting the initiative in two key ways: first, the Foundation will fund the cost of the MicroBachelors programs for 500 learners over three years; and second, the Foundation will provide resources to JFF to develop a longitudinal efficacy study to measure the efficacy and efficiency of using MicroBachelors program credentials as criteria for recruitment.
"Innovation in the higher learning space provides tremendous value for learners, employers, and academia," said Ryan Stowers, the executive director of the Charles Koch Foundation. "We are very excited about our partnership with Jobs For the Future and their work with edX to develop and launch this MicroBachelors program. This program will help prepare students for fulfilling careers faster while giving employers access to a more motivated and better-matched workforce."
The edX MicroBachelors Program Pathway Initiative is part of
edX for Impact
– a collective effort to help marginalized learners get the education they need in order to develop the skills to pursue rewarding careers. edX for Impact programs are typically funded by corporate, foundation, local, state, and government partners, and provided at no cost to learners. This work includes
Access Partnerships
, a workforce development model that brings together nonprofit universities, companies, governments, and local workforce development agencies to create free or substantially cost-reduced pathways to job-relevant tech skills for women, people of color, lower-income professionals, and other identified groups who the traditional education system has historically underserved. To date, edX has launched 18 Access Partnerships.
edX is the global online learning platform that fuels the world's ambition. edX was developed in 2012 by Harvard and MIT to make the world's best education available to everyone. Today, as a part of 2U, Inc. (Nasdaq: TWOU), edX connects over 76 million people with online learning to meet every professional moment. Together with top-ranked universities and organizations at the forefront of their fields, edX offers thousands of job-relevant programs across nearly every career discipline, from artificial intelligence and robotics to sustainability and public health. Find online courses, certificates, boot camps, and degrees that fuel your ambition at edX.org.
Jobs for the Future (JFF) drives transformation of the U.S. education and workforce systems to achieve equitable economic advancement for all. www.jff.org
About The Charles Koch Foundation
The Charles Koch Foundation partners with social entrepreneurs to remove the barriers that prevent people from reaching their potential. It does this by supporting innovations in postsecondary education that allow all learners to discover, develop, and deploy their unique aptitudes and gifts to benefit themselves and others. CKF also supports best in class research exploring the key issues of society, such as immigration, criminal justice, and economic progress.
MicroBachelors is a registered trademark of Axim Collaborative, Inc. All Rights Reserved.
The Charles Koch Foundation:
mediainquiries@charleskochfoundation.org