News & Press
edX Named to Fast Company's 2023 List of the World's Most Innovative Companies
Written by 2U on Mar 2, 2023
Related content: Boot Camps, Impact and Outcomes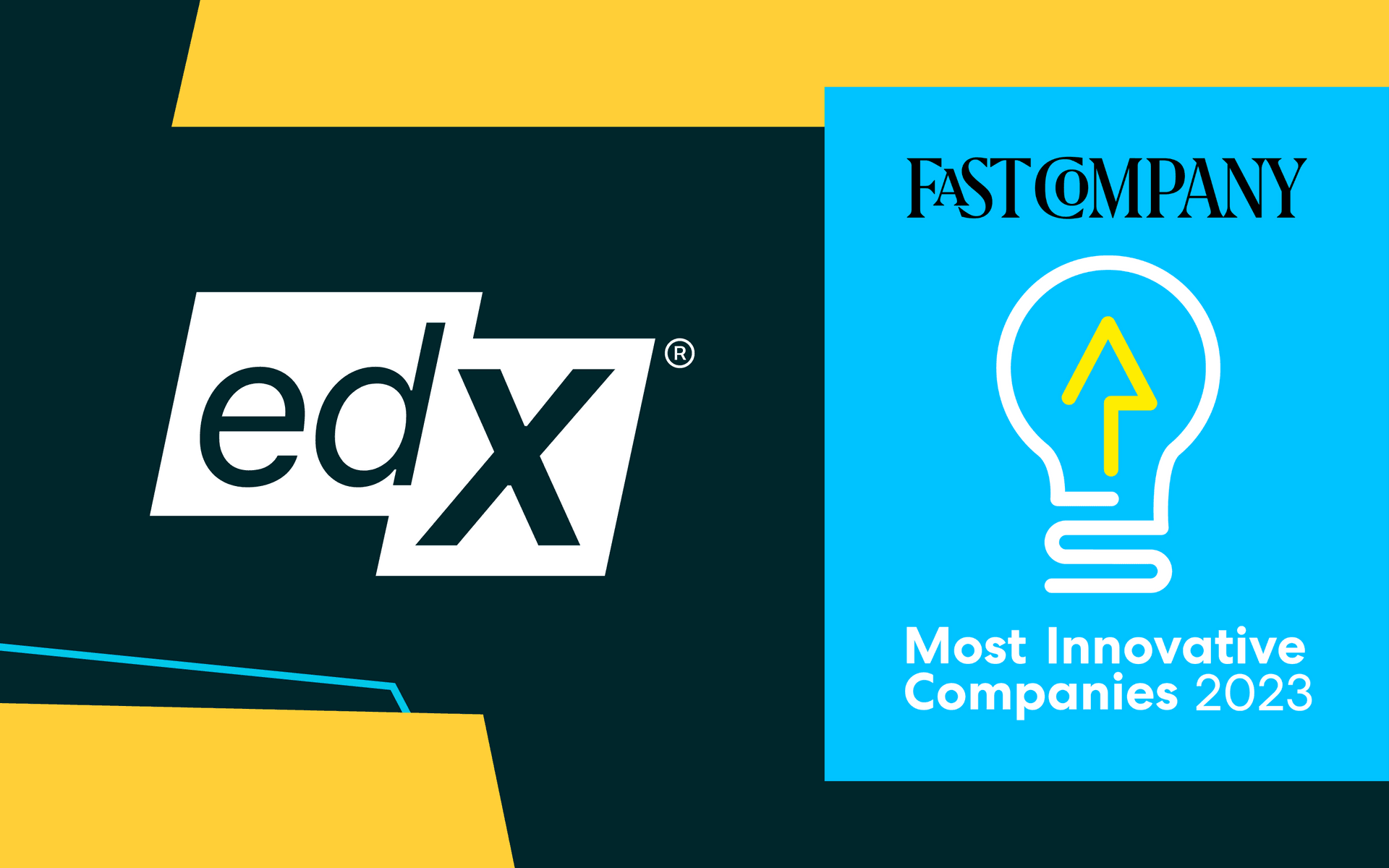 Recognized for Access Partnerships, a sustainable and scalable workforce training model designed to break down barriers to education and increase diversity in technology
Lanham, Md. – March 2, 2023 – edX, a leading global online learning platform from 2U, Inc. (Nasdaq: TWOU), is honored to announce its inclusion once
again
in the annual list of the
World's Most Innovative Companies by Fast Company
. Fast Company's annual list recognizes businesses at the forefront of their respective industries, paving the way for the innovations of tomorrow. This year, edX has been recognized as setting the standard for innovation and impact in the education category.
For over a decade, edX and 2U have each been dedicated to creating more access, affordability, and innovation in education. Together with the world's leading universities and companies, edX connects more than 48 million learners from across the globe with online learning opportunities that help them achieve their goals and transform their lives—from thousands of free and open courses to disruptively priced degrees in fields like artificial intelligence and public health.
edX's inclusion in this year's list of companies is tied to its newly launched
Access Partnerships
: a workforce development model that brings together nonprofit universities, companies, governments, and local workforce development agencies to create free or substantially cost-reduced pathways to job-relevant tech skills for women, people of color, lower-income professionals, and other identified groups who have historically been underserved by the traditional education system.
"The power of quality education offers limitless opportunity to create change—whether that's in our individual lives, careers, communities, or for the entire world," said Christopher "Chip" Paucek, co-founder and CEO of 2U, edX's parent company. "This inclusion alongside fellow innovators like Open AI and NASA is a powerful recognition of edX's work to help solve society's critical needs on a global scale. As one of the largest educators of tech talent in the world, edX is forging a cultural shift in the way public and private enterprises partner to create meaningful solutions to economic and social issues."
To date, edX works with 17 of its nonprofit college and university partners and 93 agencies and community partners to power the Access Partnerships initiative. Scholarships are typically funded by foundations and government grants. Throughout the initiative, learners receive a wealth of wraparound services funded fully by agencies and community partners–ranging from laptops and wi-fi to transportation and childcare–all with the goal of removing as many barriers to success as possible.
Boot camps are foundational to the edX Access Partnerships model. These intensive online training programs offered by edX and its university partners upskill participants in high-demand technology fields like coding, data analytics, digital marketing, and cybersecurity and feature robust student support and career services. To date, over 60,000 working adults have completed boot camps with edX and over 6,700 companies employ them.
"Our mission is 100% about access, and the boot camps that University of Denver (DU) provides on the edX platform are critical to how we meet that mission by teaching job-ready skills and offering robust career and support services to any learner who desires the opportunity to increase their economic mobility," said Teri Markle, Associate Dean of Finance, Business Operations and Continuing Education at DU. "When edX brought DU and the City and County of Denver together to create a more equitable pathway to tech skills development for our community, we were immediately aligned—this initiative has helped us extend our reach and institutional mission by a significant magnitude."
Access Partnerships underscore edX's vision of stackable, modular and affordable education that drives meaningful outcomes. The initiative is an integral part of edX's mission to increase access to high-quality education for everyone, everywhere.
"Because of the scholarship, I was able to take the boot camp I had been planning for years," said Paul Vatterott, a graduate of an edX-powered boot camp offered by the University of Utah as a part of the Access Partnerships initiative. "Only a month after graduating, I landed a new job—a direct result from what I learned and the resources provided. Now, I'm making more than twice what I was before and with better benefits. Plus, my job is more rewarding with plenty of opportunities for growth. I hope other people are able to have their lives changed, just as mine did."
Fast Company's
Most Innovative Companies
issue (March/April 2023) is available online
here
, as well as in-app form via iTunes and on newsstands beginning March 14.
edX is the global online learning platform that exists to help learners everywhere unlock their potential. edX was founded by Harvard and MIT in 2012 to make the world's best education available to everyone. Today, as a 2U, Inc. company (Nasdaq: TWOU), edX connects 48 million ambitious learners with the skills, knowledge, and support to achieve their goals. Together with the world's leading universities and companies, edX offers thousands of free and open courses, professional certificates, boot camps, credit-bearing micro credentials, and undergraduate and graduate degrees. Discover purpose-built online programs in technology, business, healthcare, science, education, social work, sustainability, and more at
edX.org
.