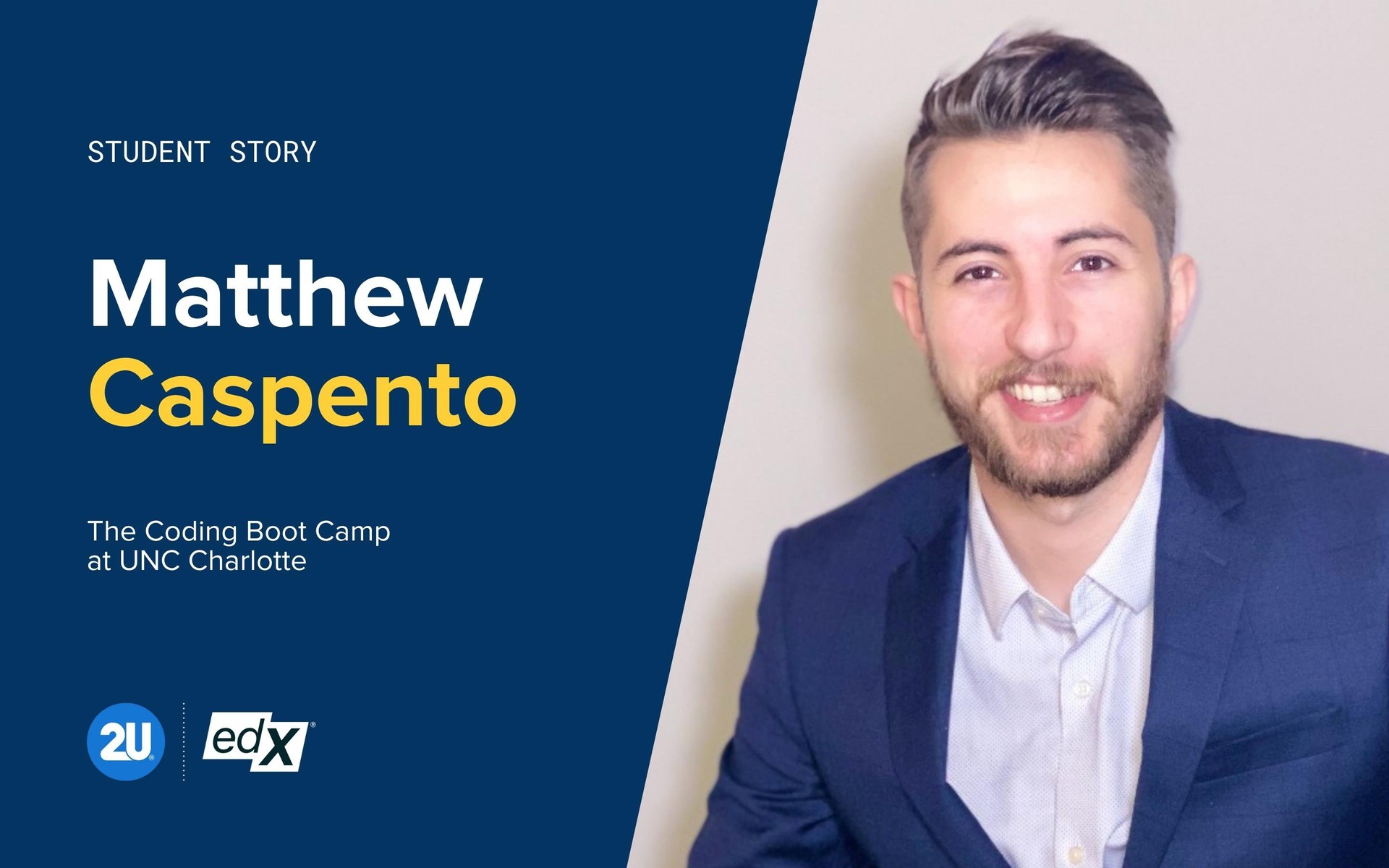 EDITOR'S NOTE: This story is part of a spotlight series on alumni of 2U-powered university boot camp programs whose experiences will be captured in the release of our
Gallup-2U Boot Camp Graduates Study
this summer.
Tinkerer. Gamer. Jokester. Dreamer. These are just a few words to describe
Matthew Caspento
, a Biology major whose overwhelming desire to start somewhere new after college and satiate his artistic side led him to slinging artisanal cocktails in Charlotte, NC. After a pandemic layoff compelled him to enroll in the
Coding Boot Camp at UNC Charlotte
—and after catching the eye of a hiring manager through 2U's Career Services—Matthew has since added another descriptor to his eclectic roster of talents and interests: full-time cloud operations engineer.
"I was bartending for a restaurant group, mixing drinks that taste just like PB&Js," Matthew says. "But once the pandemic hit, everything shut down and I lost my job. My best friend, who recently passed away but once worked for Apple, was always encouraging me to take a boot camp. When we were younger, we'd mod video games by opening up the code base and changing files to tweak the gameplay. He knew I'd be good at coding, so after going on unemployment, I took his advice because I needed a job as quickly as possible. The time and money I spent with the boot camp were worth it, one-hundred percent. I've already made double my bartending salary, plus I have benefits and healthcare, so I can't trade that for anything."
To Matthew's delight, absorbing all the material in the boot camp came a lot easier than expected; he found coding to be another way to express his artistic side.
"Whether it's back-end or front-end, coding is an art form—you can pretty much create anything if you have the passion and you know how to do it," he explains. "I enjoy figuring out puzzles and patterns through trial-and-error, and the pace of the boot camp helped me learn how to learn fast. It gave me that drive to educate and better myself, and once I got a taste of that feeling, I couldn't let go of it. I wanted more, and it wound up changing my life."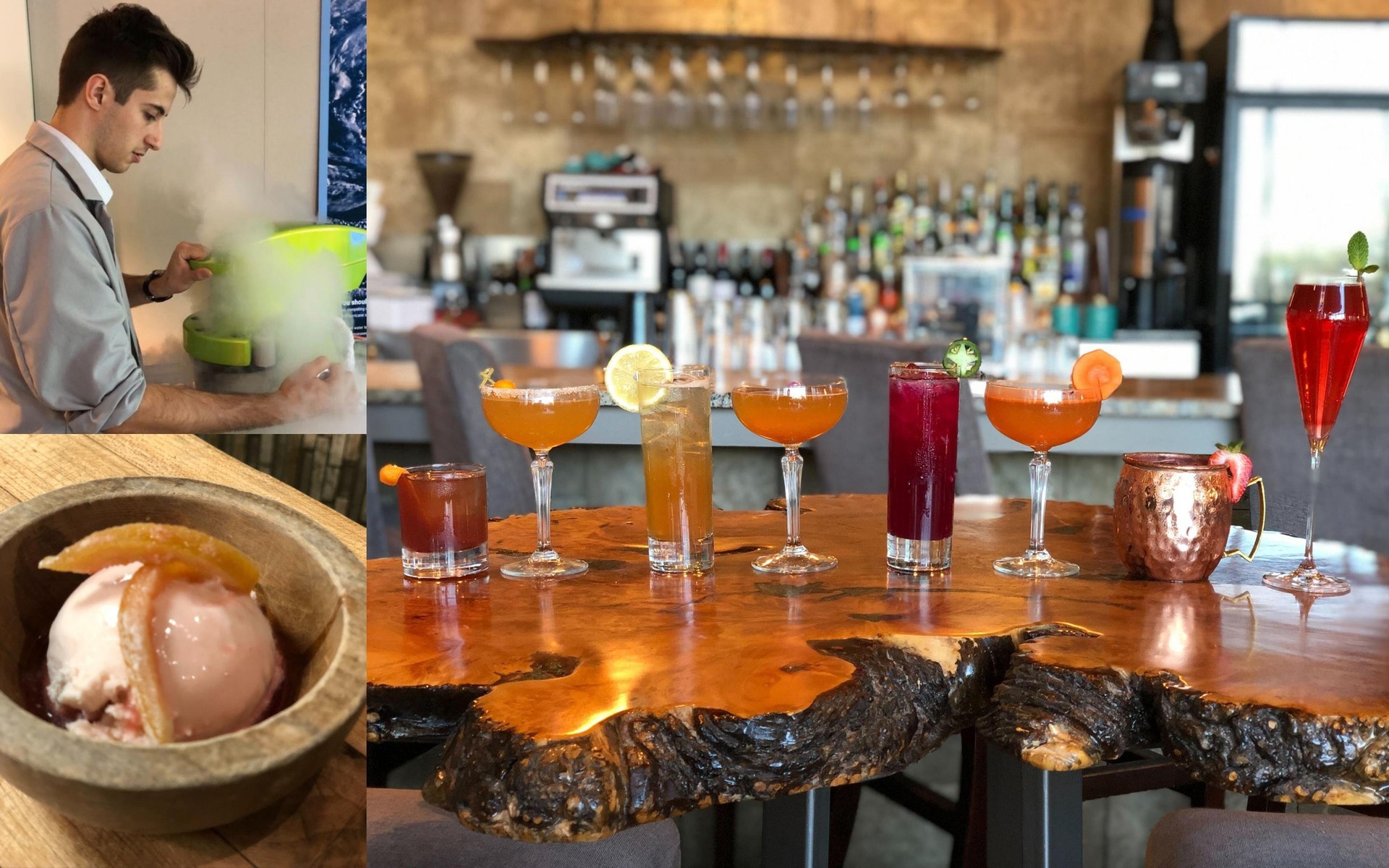 Matthew went from satiating his artistic side with creative cocktails ("Strawberries and mushrooms pair really well," he says) to discovering coding as another powerful art form. Left photos: Matthew making alcoholic negroni-inspired ice cream, complete with candied orange. Right photo: a range of his refreshing spring concoctions.
Becoming Employer-Competitive Through a Mix of Tech and Human Skills
Matthew's knack for taking initiative and putting people at ease gave him a leg up in the boot camp. But his instructor's real-world expertise and unique approach to teaching helped Matthew further enhance his balance of tech and people skills.
"The boot camp knocked it out of the park as far as being extremely informative and building community," he says. "My instructor and TA were both very patient with everyone and generous with their time outside of the live class. Learning templates for REST (Representational State Transfer) APIs were really helpful, as was creating containers with MySQL and developing queries. And the way they kept emphasizing how tech is constantly changing, and how they kept assigning different groups to work together, helped prepare us to be as agile as possible in the real world. You're always jumping into projects with new team members who have different values and personalities. The boot camp kept me learning how to work with people from all walks of life—even the ones who don't get my jokes."
Upon finishing the boot camp, Matthew began working with a career advisor, one of the many support services that come standard with 2U-powered programs. She helped him set benchmarks to move from
employer-ready to employer-competitive
, taking him through assignments to optimize his resume and directing him to job postings, employer webinars, and all the other resources available in 2U's Career Engagement Network.
"My career advisor was my favorite person at the time," Matthew shares. "She took a lot of that stress away from worrying about the job search, because I knew I had that career support to fall back on. Once I started getting emails from recruiters, that built up my confidence even more."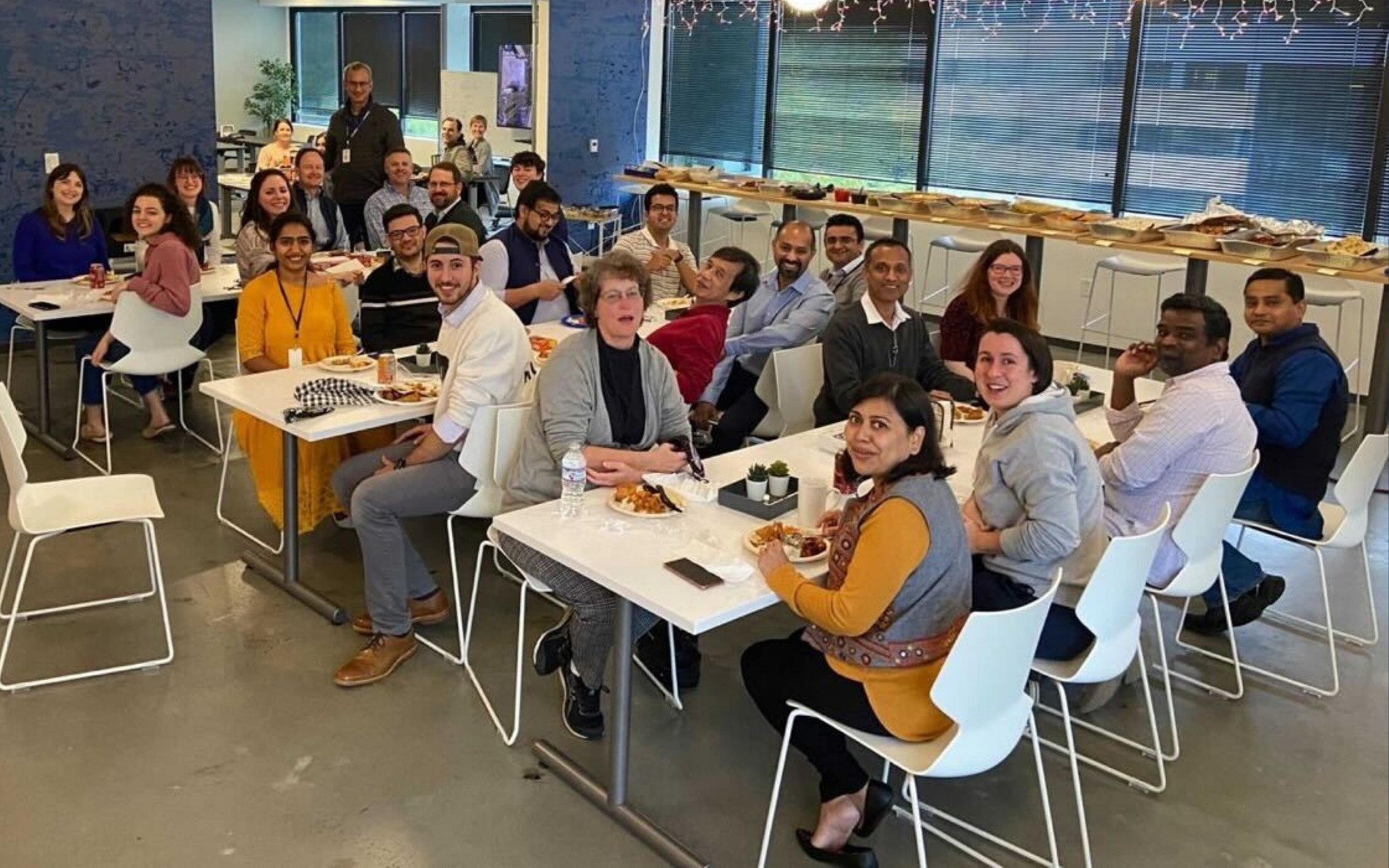 Matthew (center with white shirt and backwards baseball cap) lunching with some of his Zaloni coworkers
Proving His Initiative and Adaptability
All the while, Matthew kept tinkering with his final boot camp project, going back into his "competitive volunteering" app for students and cleaning up the code to make it even more functional and streamlined. That process led him to digging even deeper into some of the technologies he learned in the boot camp, from JavaScript to MongoDB to Kubernetes, and picking up additional skills to add to his resume. When Matthew decided to join a Demo Day—a 2U networking experience where boot camp students present their projects for feedback from industry professionals from the regional area and around the world—those skills captured the attention of the vice president of engineering (now CTO) at Zaloni, Matthew's current employer.
"After my presentation, the VP reached out to me, and my first instinct was, this can't be real," Matthew says. "But it
was
, and when they asked me to interview, they said they were hiring for a junior role with a CKA (Certified Kubernetes Administrator). I seriously powered through the CKA exam in a week and then messaged him with a screenshot of the cert. I don't think he expected me to work that fast, but I guess that proved my initiative and adaptability. The next thing I know, he's sending me to HR and I'm hired."
Today, in his day-to-day role as a cloud operations engineer, Matthew works with a variety of clients, developers, and other stakeholders to manage Zaloni's free trial of its SaaS (Software as a Service) product. "I'm reviewing user accounts and metrics, looking over the cluster and container logs, managing the control plane, and developing automation for some of the components," he explains. "I've also created the REST API for the application and am currently working on the UI (user interface). I'm definitely using a lot of the skills I learned in the boot camp."
Matthew adds that while he and his manager work in the U.S., the rest of the cloud ops team is based in India. "I work with those teammates a lot," he says, "so that's another way the online boot camp helped me, in terms of learning how to be more articulate and collaborative in virtual interactions."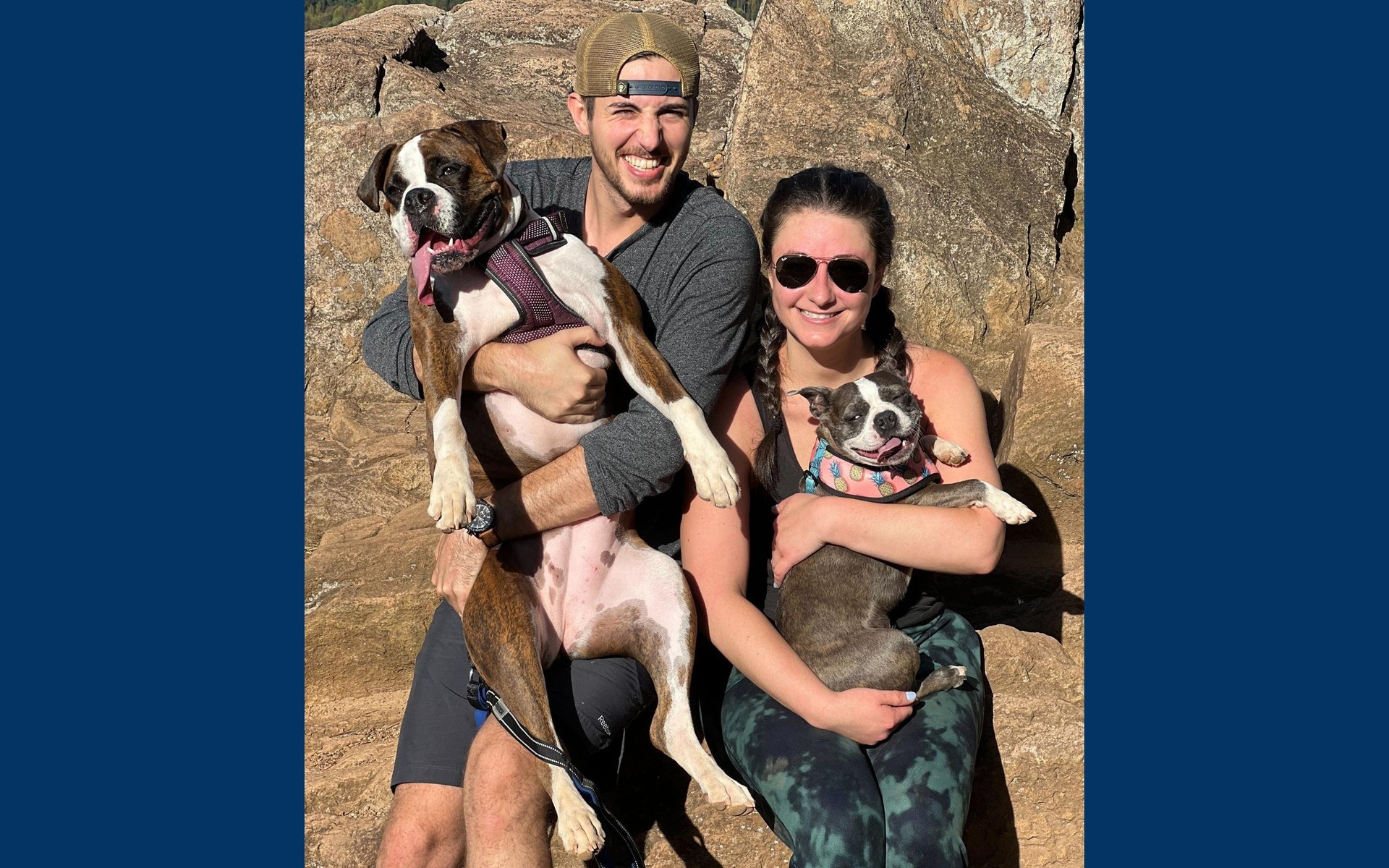 Matthew and his girlfriend with their two happy pups
Fresh Creativity and a Viable Career in the Cloud
In the short term, Matthew is proud to be applying his skills to helping Zaloni get more businesses exploring and using its SaaS platform. When asked to paint a picture of his long-term goals, he says he's excited to continue growing as a "cloud pioneer" and standing out even more.
"What I learned in the boot camp, and what I continue to learn on the job, has been useful not just because the cloud is a really huge field and emerging market, but also because you can utilize these same skills for so many other areas," he says. "Like, you could take these skills into marketing and get products into the world faster because you know how to speak the language of engineers and problem-solve with them. I could take these skills and create some kind of consumer-facing cocktail app that integrates with bar terminals, who knows. In the meantime, I've just built my own home server and I've got plans to build and code things like that
breakfast machine in the opening scene of Flubber
."
Further fueling Matthew's creativity is his deeper sense of fulfillment in having a viable career for the future. "I love engineering now, but when I was in high school and college, it just wasn't something I knew much about or even considered for myself," he shares. "That stress of 'doing something with my life' after college is now completely gone. My parents are proud of what I've been able to accomplish, and in general my life has been more positive. I ended up moving, getting an apartment in the sun with my girlfriend, and buying a second PS5 (PlayStation) for her as a friend I can now game with the rest of my life."
With his sunny outlook and passion for tech growing stronger every day, Matthew is now eager to share his story and inspire others to follow in his footsteps. "Another buddy of mine just completed the boot camp based on my recommendation," he says, "because people are seeing how much of a difference it made for me."
Learn more about us.
At 2U, we're on a mission—to eliminate the back row in higher education and help partners thrive in the digital age. To learn more about who we are and what we do, follow the links below.