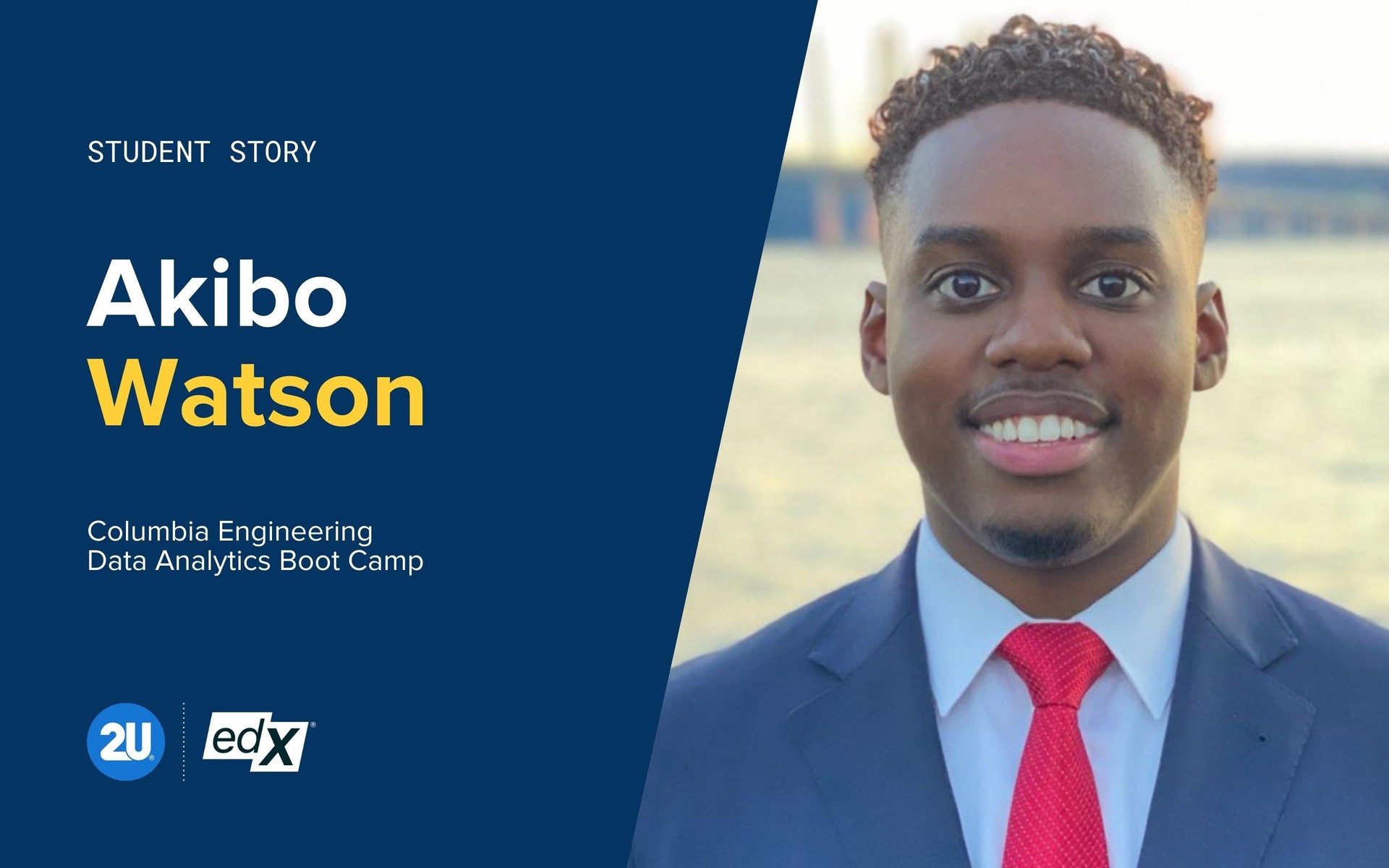 EDITOR'S NOTE: This story is part of a spotlight series on alumni of 2U-powered university boot camp programs whose experiences will be captured in the release of our
Gallup-2U Boot Camp Graduates Study
this summer.
Former executive recruiter
Akibo Watson
is his own best example for his take on the tech industry: "The beauty of tech right now is that people from all different backgrounds can come into the field, and as long as you have the skills, you can get a job," he says. Akibo discovered the many opportunities that exist in the tech world first-hand when, right before being laid off at the start of the pandemic, he enrolled in the
Columbia Engineering Data Analytics Boot Camp
. By taking quick advantage of 2U's career services, part of the suite of value-add student support services that come standard with the program, Akibo was able to land his first tech job—a contract position that turned permanent—before completing the boot camp.
"I knew I could trust the Columbia University brand," he says. "The boot camp allowed me to get up to speed with an industry really fast, getting me credentialed in a unique and competitive way. It also taught me how to build a strong professional profile, develop my career aspirations, and combine all my other experience so I could put my best professional foot forward."
Now, a year and a half after the boot camp, Akibo has taken his career to even greater heights as a senior technology venturing and innovation analyst at PepsiCo. "I feel closer to where new ideas and innovations are being created," he says. "And that's where I've always wanted to be."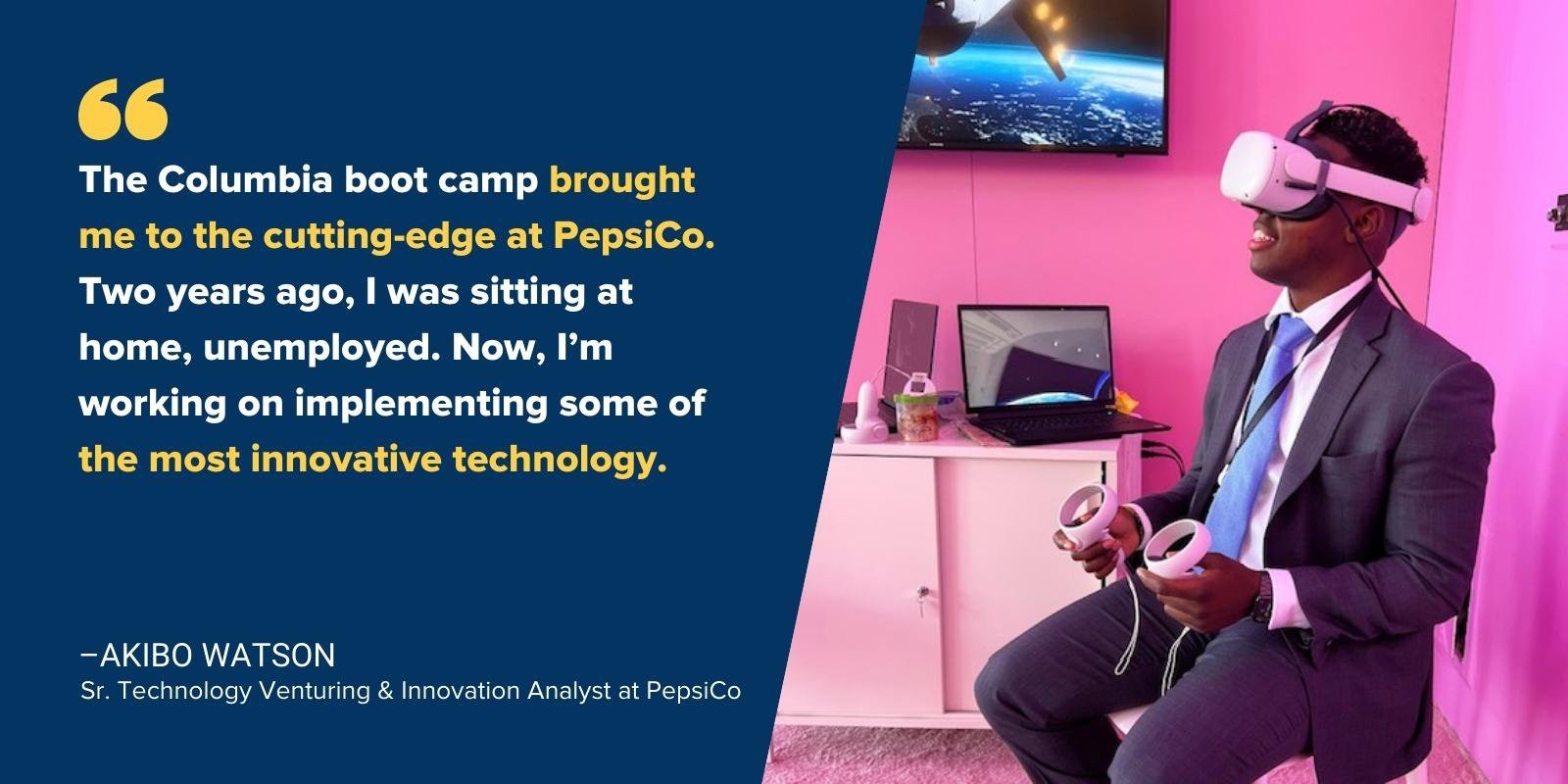 Photo: Akibo exploring augmented-reality technology for his new role with PepsiCo
Finding More Flexibility with a Project-Based Framework
Prior to enrolling in the boot camp, Akibo was wedged into the sales-driven culture of recruiting, working with financial service clients to help them source candidates for jobs. The job lacked what he craved: some semblance of ownership over the processes he managed and the trajectory of his career.
"In sales at that level, you typically don't control the results as much as you think you can," Akibo explains. "I was having to rely on clients and other people to help me hit my quarterly KPIs (key performance indicators), so my performance really fell outside of my own hands. After years working with technology and banking teams on the client-facing side, I learned about the many technical specialist roles involving data and analytic skills. These were people making great salaries, having really interesting careers, and being way more in control of their projects and outcomes. That's what got me interested in pursuing a more technical career."
Along with the flexibility to learn part-time and online, the boot camp's project-based framework attracted Akibo over other educational options he explored. "It wound up being a great place to learn because you're tasked with exploring and coming up with your own creative solution to a business problem that doesn't just have one answer," he says. "The boot camp aligned with how people actually do work in the real world."
Learning how to work on GitHub, and building a portfolio of projects on that platform, was especially useful for Akibo. "Understanding how teams use GitHub and collaborate within it—beyond just learning how to write code and memorize library structures—made me a very effective team member when I started my first tech job," he shares.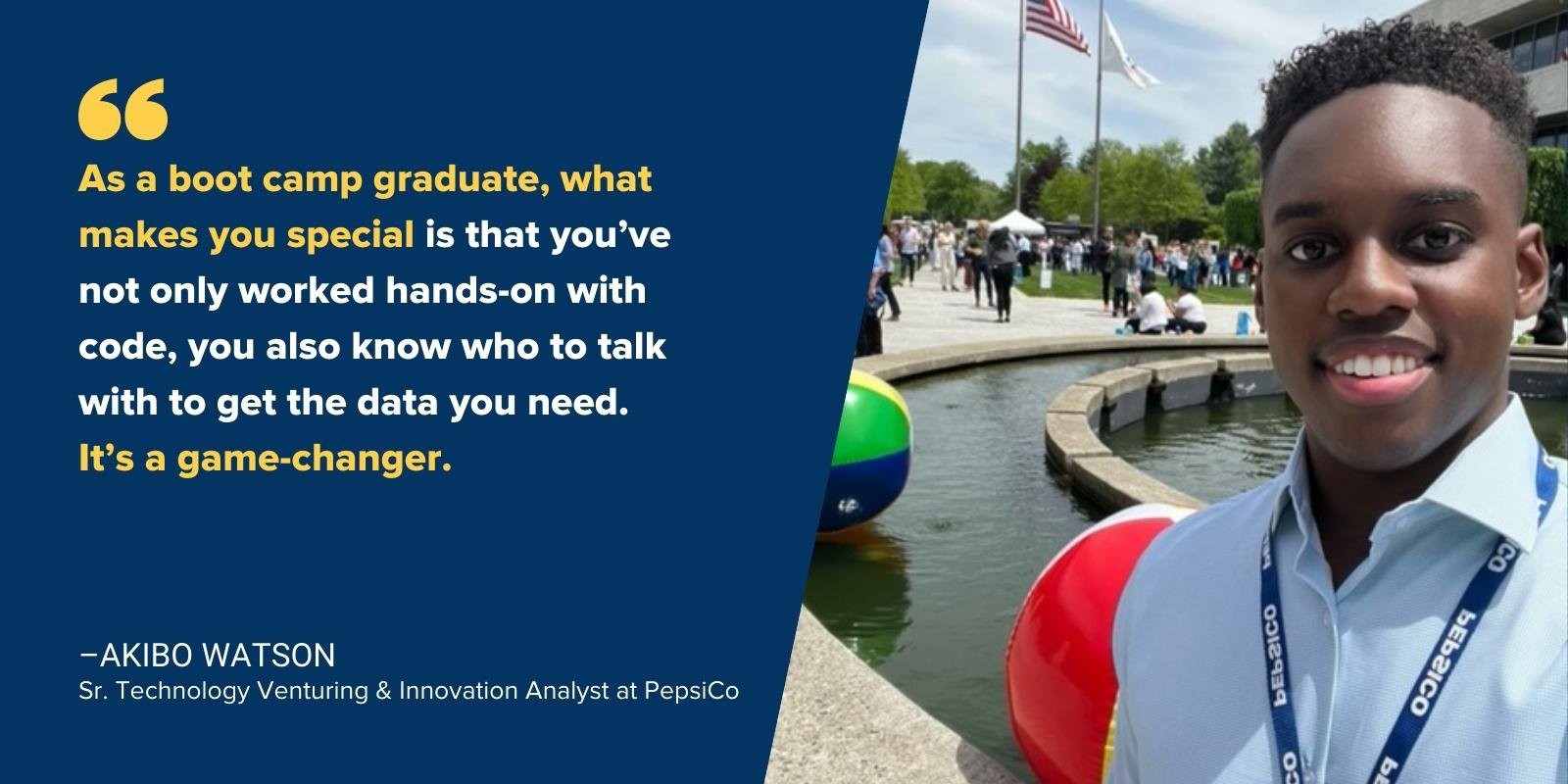 Photo: Akibo enjoying life at PepsiCo
Memorable Career Advice and Life-Changing Tools
For his first two months in the boot camp, Akibo focused on getting his feet wet with creating dashboards and writing code. Once he felt comfortable enough with the new material coming his way, Akibo dove head-first into the program's career services.
"I wanted time outside of the classroom to think about how to reframe my career," he says. "So I followed the timeline that 2U recommends for working through all the career activities. That was the biggest help to me, because it felt fully wrapped around what I was learning in the boot camp."
Akibo's career coach had a significant impact, showing him how to align his digital profiles and resumes together. "She helped me realize that your online professional profile can be one of your most life-changing tools," he says. "If you build a strong presence and brand for yourself—and if you add the right keywords in the right places and curate a thoughtful project portfolio—then you'll start popping up in tech recruiters' searches the right way. You won't necessarily even need to apply for jobs, because they'll be coming to you. Learning how to do that with the Career Services team was key."
Through 2U's industry webinars, Akibo also gleaned memorable advice that ultimately proved the best next step for him. "I wasn't initially looking for anything other than full-time," he says. "But a tech recruiter in one of those webinars encouraged us to be open to all kinds of roles, including temp and contract positions, because they're real opportunities to get your foot in the door. He said when a recruiter sees you're getting paid to code, you're instantly higher up in the resume pile than 60-80% of applicants at the entry level."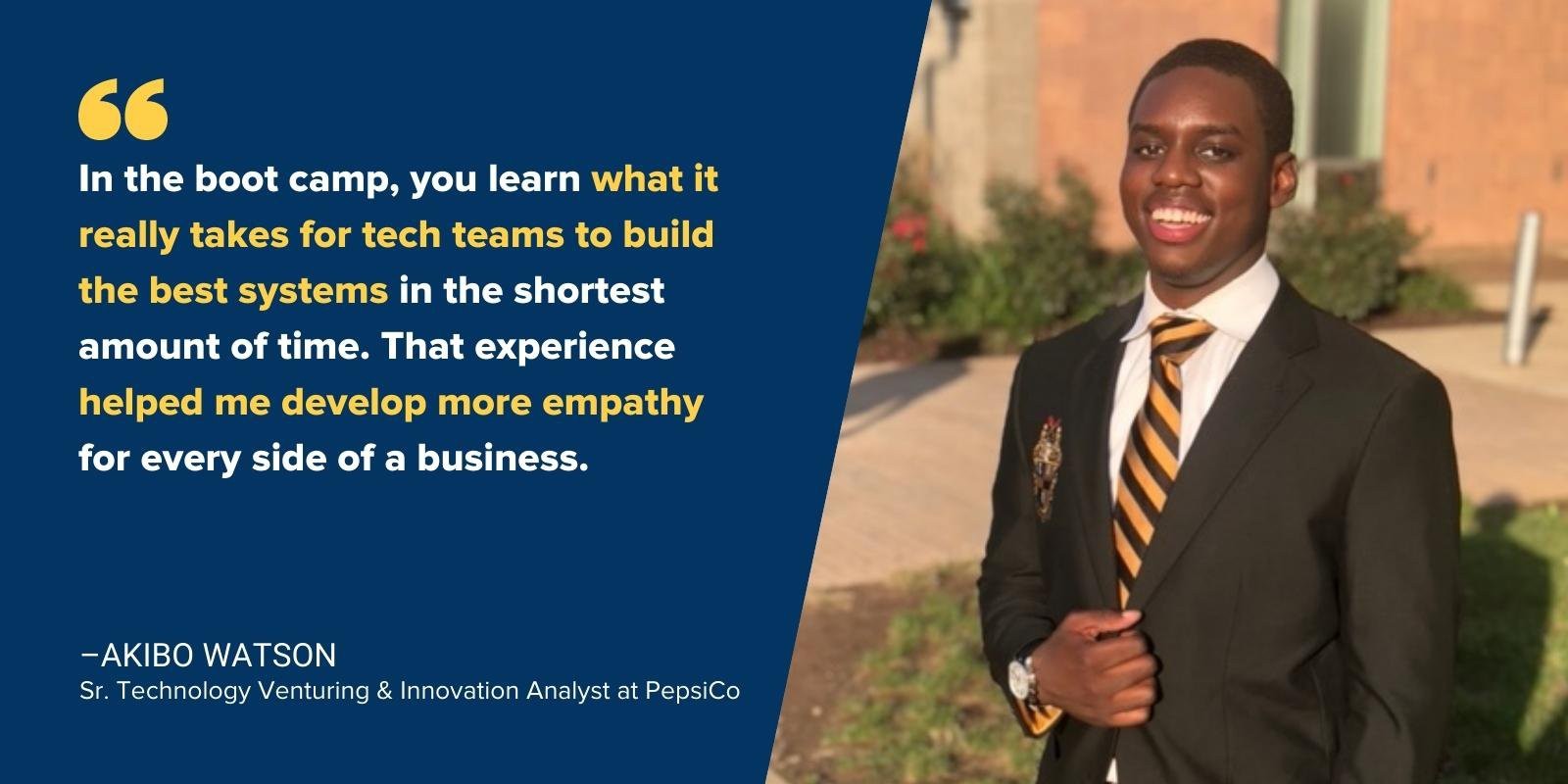 Photo: Akibo in his leadership fraternity, Alpha Phi Alpha Fraternity, Inc., as an undergraduate at Binghamton University
Standing Out and Moving Forward
With one month to go in his boot camp experience, Akibo got the call he was waiting for: a job offer from Veritas Technologies, for a six-month contract as an IT operations analyst. He accepted the offer, completed his final project for the boot camp, and jumped into his new role.
"All of the technical aspects I learned in the boot camp connected exactly with what I was doing at Veritas at first," Akibo says. "As a boot camp graduate, what makes you special is that you've not only worked hands-on with code and understand how databases work on the back-end, you also know who to talk with to get the data you need. All of that relevant training makes you better at navigating those conversations across your team. It's a game-changer."
That was certainly the case for Akibo, who proved his skills with Veritas enough to be upgraded to a full-time role as an IT business analyst. But the progress didn't stop there.
"Eventually, I didn't need to touch much code to get through my responsibilities," Akibo says, "because I was having more strategy discussions about running processes on different tools and upgrading our internal capabilities. I was getting to ask bigger-picture questions, but I still knew how everything
technically
worked: what data was being captured, how it was being collected, where it was being stored, etc. That helps you separate the wheat from the chaff when making technological business decisions—and that's how I flipped the role to make it my own."
Taking Control and Igniting His Passion
Fast forward a year, and Akibo found himself to be yet another snug fit at PepsiCo. At the company's New York global headquarters, he evaluates startup technologies to help solve some of PepsiCo's business challenges.
"The hands-on nature of the boot camp ultimately enabled me to be a better strategic partner to the stakeholders I work with at PepsiCo," he explains. "I'm getting further away from code with each new role, but I'll always remember being that guy who struggled to set up a Google Maps API for a class project. In the boot camp, you learn
what it really takes
for tech teams to build the best systems in the shortest amount of time. That experience helped me develop more empathy for every side of a business. I think that's what makes you a much better force inside of your own domain."
Today, Akibo feels much more confident walking into a meeting room, knowing he won't feel lost or not in control.
"The Columbia boot camp brought me to the cutting-edge at PepsiCo," Akibo says. "When you're doing this kind of research and analysis, sometimes you're the first person to see numbers roll off a spreadsheet that translate to a new phenomenon or discovery. That's what makes my career so fulfilling. Two years ago, I was sitting at home, unemployed, wondering what my next move would be. Now, I'm working on implementing some of the most innovative technology. The boot camp kicked all of this off."
Learn more about us.
At 2U, we're on a mission—to eliminate the back row in higher education and help partners thrive in the digital age. To learn more about who we are and what we do, follow the links below.