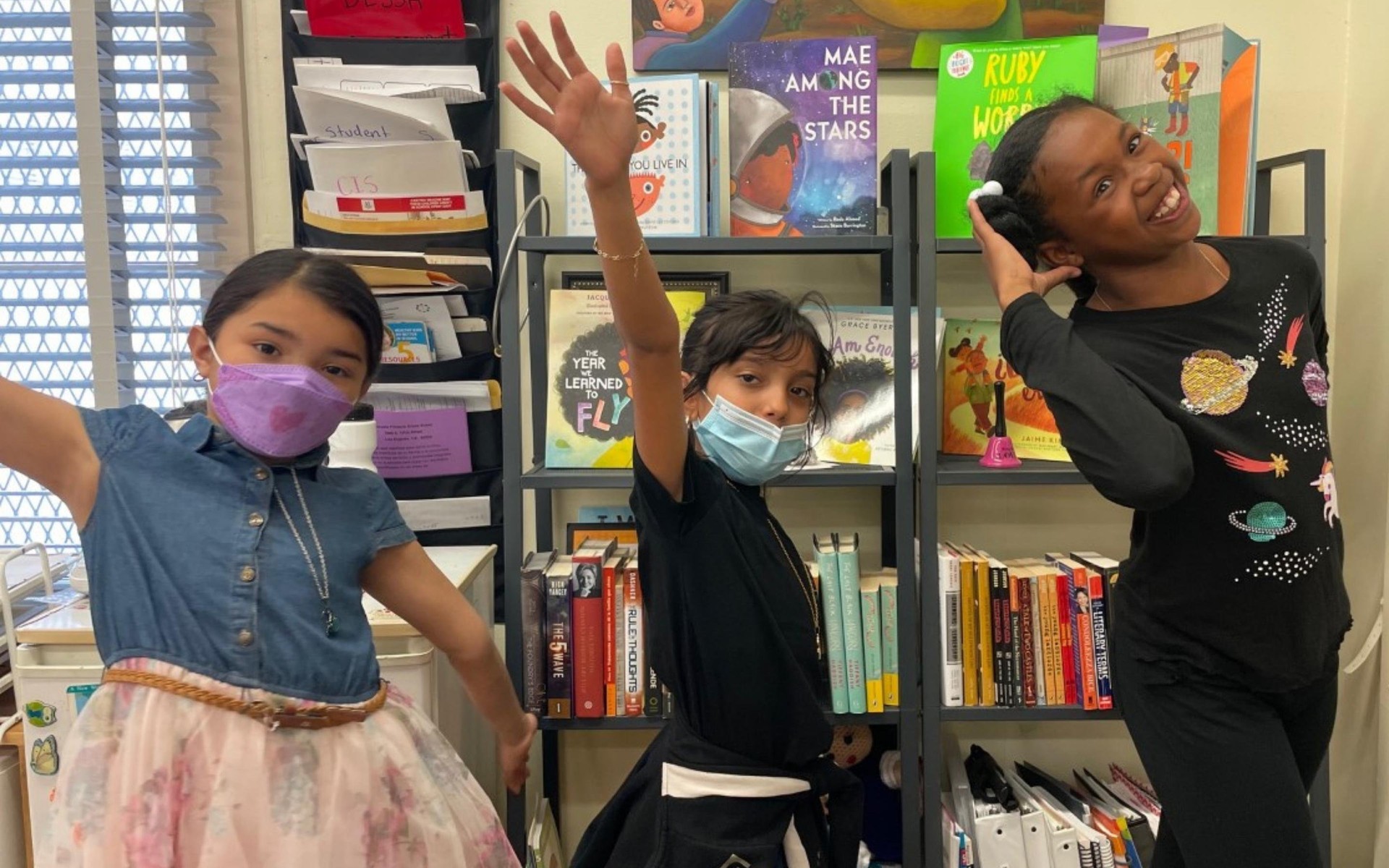 CISLA kids beaming with confidence
I grew up in mid-city LA, so
Communities in Schools of Los Angeles (CISLA)
—the community partner of 2U's LA office—holds a dear place in my heart. Since joining 2U seven years ago and returning to LA to raise my family, volunteering with CISLA in various capacities has brought me a great sense of purpose and joy. Every time I connect with students at one of the organization's partner schools, being able to "give back" to the community I came from leaves me beaming from ear to ear.
As the LA affiliate of America's leading dropout prevention organization, CISLA's mission is to "
surround students with a community of support
, empowering them to stay in school and achieve in life." These goals clearly align with 2U's mission to
eliminate the back row in education
, as well as with my own passion for supporting diversity, equity, and inclusion (DEI) in lifelong learning. That's why, through the 2U/CISLA partnership, I've done everything from "speed networking" with high school kids to reviewing the personal statements of college-bound seniors. I've even had my own personal mentee, who has since graduated and is now making her mark at Cal Poly Pomona.
Most recently, I joined one of CISLA's career days, where I shared stories with a classroom full of fourth-graders about my childhood in LA, my educational journey, and the work I now do at 2U. I loved answering all of their thoughtful questions, because these kids not only look like me and have passion like me, they essentially
are
me. Just like many of them, I was the inner-city child of immigrant parents, navigating the world with a blindfold on, and yet I still managed to be the first generation in my family to go to college. It felt great to have a
real
conversation with these kids—I could see the sparks lighting up in their eyes—and that's exactly the kind of impact the folks at CISLA make every day.
In the middle of CISLA winding down its 2021-2022 school year and celebrating senior graduations all across the school district, I had the lovely opportunity to talk with
Elmer G. Roldan
, CISLA's executive director. He shared with me all the ways CISLA supports students in LA public schools, why Social Emotional Learning (SEL) goes hand-in-hand with academic learning, and what excites
him
about the 2U/CISLA community partnership. Here are some highlights from our conversation.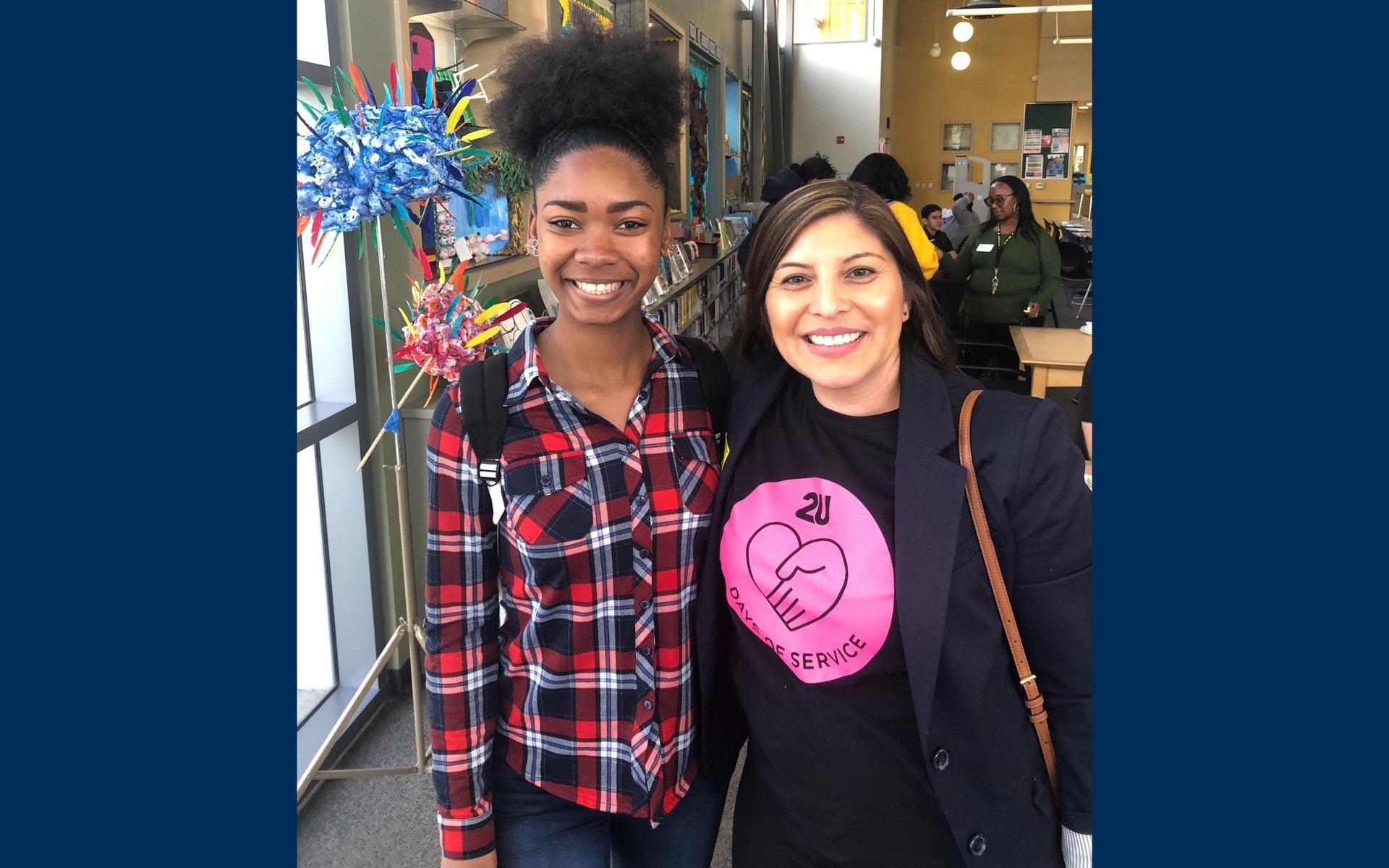 My mentee and I at a CISLA networking event during 2U's Days of Service in April 2019
Hi, Elmer, it's a joy to connect with you! You lead such an important education organization here in LA, and I hope you know how proud 2U is to have CISLA as our community partner. To start us off, how would you describe CISLA's role within the LA school system and greater community?
Well, thank you for this wonderful opportunity—we value our partnership with 2U and appreciate being highlighted this way! CISLA provides intensive case management and SEL support for students across the full K-12 spectrum. We currently have nearly 1,000 students in our caseload across 13 schools in the LA Unified School District (LAUSD), with two more joining us this fall. On each of their campuses, our staff sets up in a classroom for the full day, where students receive one-on-one support as well as group support based on their identities. Each school recommends students for our programs based on academic or behavioral or attendance issues they may see, and then that young person gets additional attention that the primary school faculty doesn't have the bandwidth to provide.
CISLA also provides programming for the entirety of the schools we serve, so we work with each school's leadership around their annual goals. We then conduct conferences and assemblies to encourage students to meet those goals, and reward them when they do. The amalgamation of these rewards can be found in our
2021 annual report
, which describes, among other successes, how 100% of our case-managed seniors graduated compared to 82% across all of LAUSD, how 93% of our students said CISLA has been supportive to them and their family, and how 93% of parents and caregivers said CISLA played a major role in their student's SEL development.
You encapsulate all that hard work so succinctly, and those outcomes are impressive! Among everything CISLA offers, you mentioned group support based on students' identities. As the global chair of 2U's Latinx Business Resource Network, TuGente, DEI is a passion of mine and
central to what we do at 2U
. Why are these identity groups important?
Students function best when they have connections, either with caring adults or with their peers. As we learn more about each student, we invite them to participate in support groups targeted to young women, young men, LGBTQIA+ kids, African-American students, immigrant youth, and other shared identity groups. For example, one of our schools has the largest concentration of recent arrivals to this country, so those students need a very specific set of support and tools to help them navigate the system and identify resources that will lead them to their post-secondary career goals. In these groups, our job is to help students understand that the core of who they are as a person serves as a badge of honor—it's something they should be proud of, not a mark of shame. Your identity is the only true way you relate to the world, so we want to empower our students to believe in themselves and connect with other students facing similar identity journeys.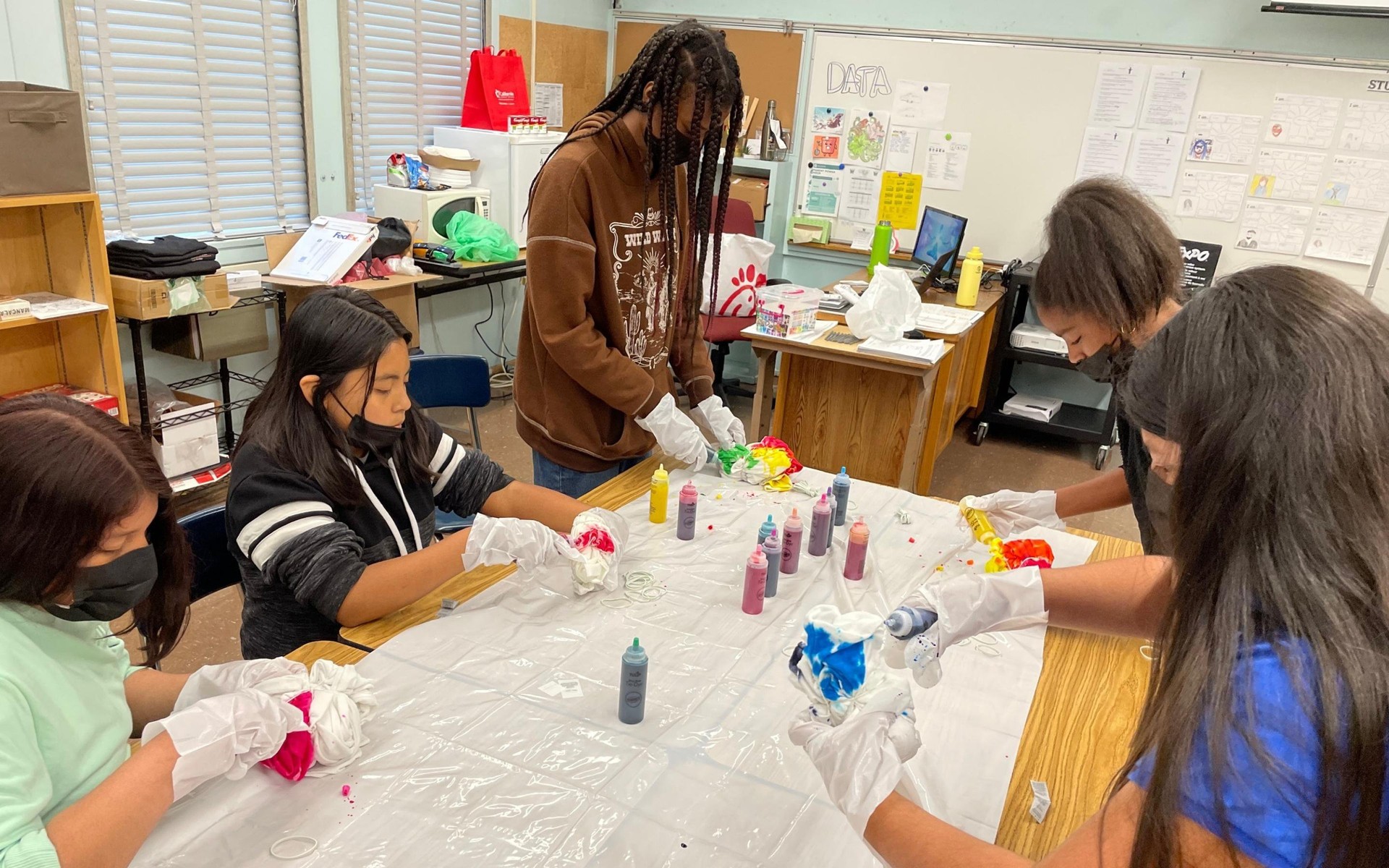 Young girls bonding over an art project; an example of a CISLA shared identity group
Yes, that's so critical to students' growth and self-confidence! Family support is also vital to their learning—how do families play a part in CISLA's programs?
CISLA treats parents and caregivers as partners in our process. We believe students should have agency and be able to decide what kind of support they need, but connecting with families is important because it gives us insight into what we're often not able to see from the child directly. In most cases, where there's a strong family connection, the outcomes are far better for young people. When the pandemic started, CISLA was fortunate to have a lot of those family connections already in place. As schools closed and everyone moved online and to Zoom, those standing family relationships helped us pull them even closer and become even stronger partners.
It's really heartwarming to see those efforts pay off like that in a time of crisis. Now that the pandemic is more under control, if I were to walk into one of CISLA's physical classrooms during the school year, what would I see?
You'd see that classroom buzzing with activity! Students gravitate toward the CISLA classroom because they know it's a welcoming place that's always available for them. Whether they're struggling or having a good day, someone's going to be there to listen and talk to them. We often have snacks and games and lots of activities going on, so students pop in and out all day long. At a recent middle school site visit, one of our students said something I thought was really profound: "CISLA should be another subject just like Math or English—I wish all my teachers were like your staff!" These kids understand the value of SEL, because CISLA is there to meet them where they are.
And meeting learners wherever they are is essentially
2U's approach
as well! There really are so many synergies between our two missions. What would you say is so special and unique about CISLA's way of working with students?
Before the pandemic, schools tended to treat SEL and focusing on mental health and well-being as "nice-to-haves," but now it's become a front-and-center issue. Students, families, and school staff are even demanding these supports be baked into school goals! And CISLA appreciates that, because it's something we've been shouting from the rooftops for as long as we've existed. We also understand the importance of empathy and compassion and the impact of secondary trauma on students in ways others may not see. For example, even though a physical event like the tragic Uvalde school shooting happened over a thousand miles away, kids today feel that trauma and fear very intensely, because gun violence has become so normalized in our country. When it comes to someone's death or abandonment or food, rent, or health insecurities, whether students experience them directly or see them on social media, these are things kids carry around with them all day. So we work closely with them to help them manage these emotions and experiences.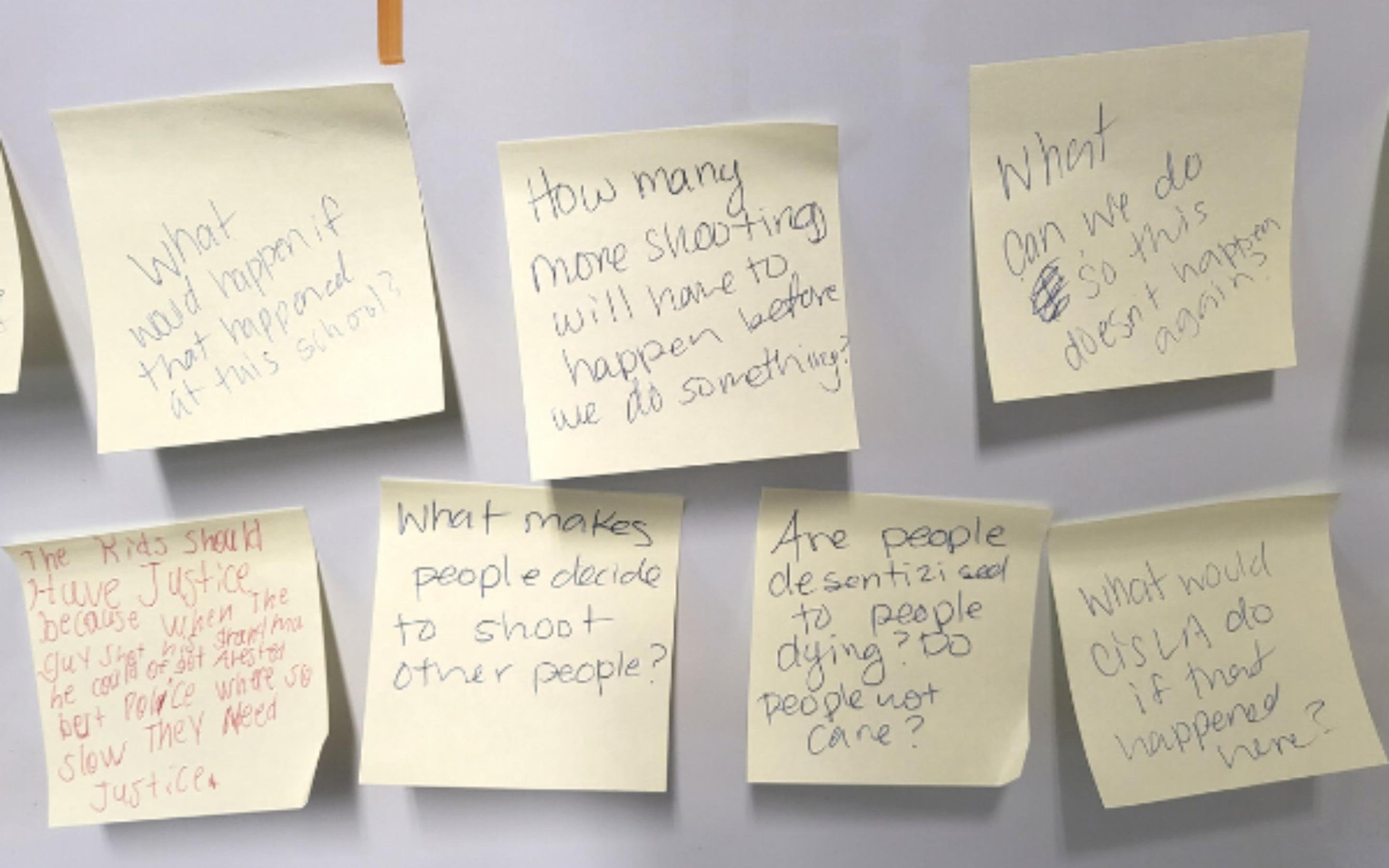 Powerful student reflections on the Uvalde shooting from a CISLA Social Emotional Learning (SEL) exercise at a middle school
The world cannot have enough empathy and compassion these days, so thank you for imparting that to your students. The folks at 2U are also compassionate when it comes to supporting causes we believe in. So how would you say the 2U/CISLA community partnership is helping you help students and meet your goals?
Community partnerships like the one we have with 2U are so important, because one organization can't solve all the problems in our communities alone! 2U has come to the table offering not only an annual financial contribution but also volunteer and mentor support—just like all the things
you've
personally been doing with CISLA, Tania. It really was great to see someone originally from our own communities come back and speak to our students about being proud of their heritage, going to college, and carving out a career. From the surveys our students fill out, we know those perspectives are one of the biggest assets our volunteers bring. Especially with 2U having so many university connections and educational options beyond high school, that's a valuable resource for our kids to learn more about. They get very inspired by someone who has walked in their same shoes.
I find so much personal reward in connecting with your students, it's truly my pleasure. Speaking of college and careers, CISLA also has a strong alumni network and scholarship programs. How are these two areas of your organization also making a difference in students' futures?
College has become such a monumental step in young people's lives. The world tells kids to go to college, but they're rarely told what's going to happen once they get there. Especially when there are social or emotional or economic disparities, college can be a shock to the system, because it can be a very rigorous and expensive journey. A lot of young people leave college because they don't have that support network to help them stay motivated. So CISLA launched our alumni network with the same intention and energy that we carry students through their K-12 career—with people they can lean on for resources, a professional they can consult with, and folks who can simply encourage them to keep going. Combined with our scholarships—which include $5,000 for each year that recipients remain in college, and our "Achieve In Life" fund that helps them explore other post-secondary options—we're here to help students kick off their journey into adulthood and hopefully become lifelong learners.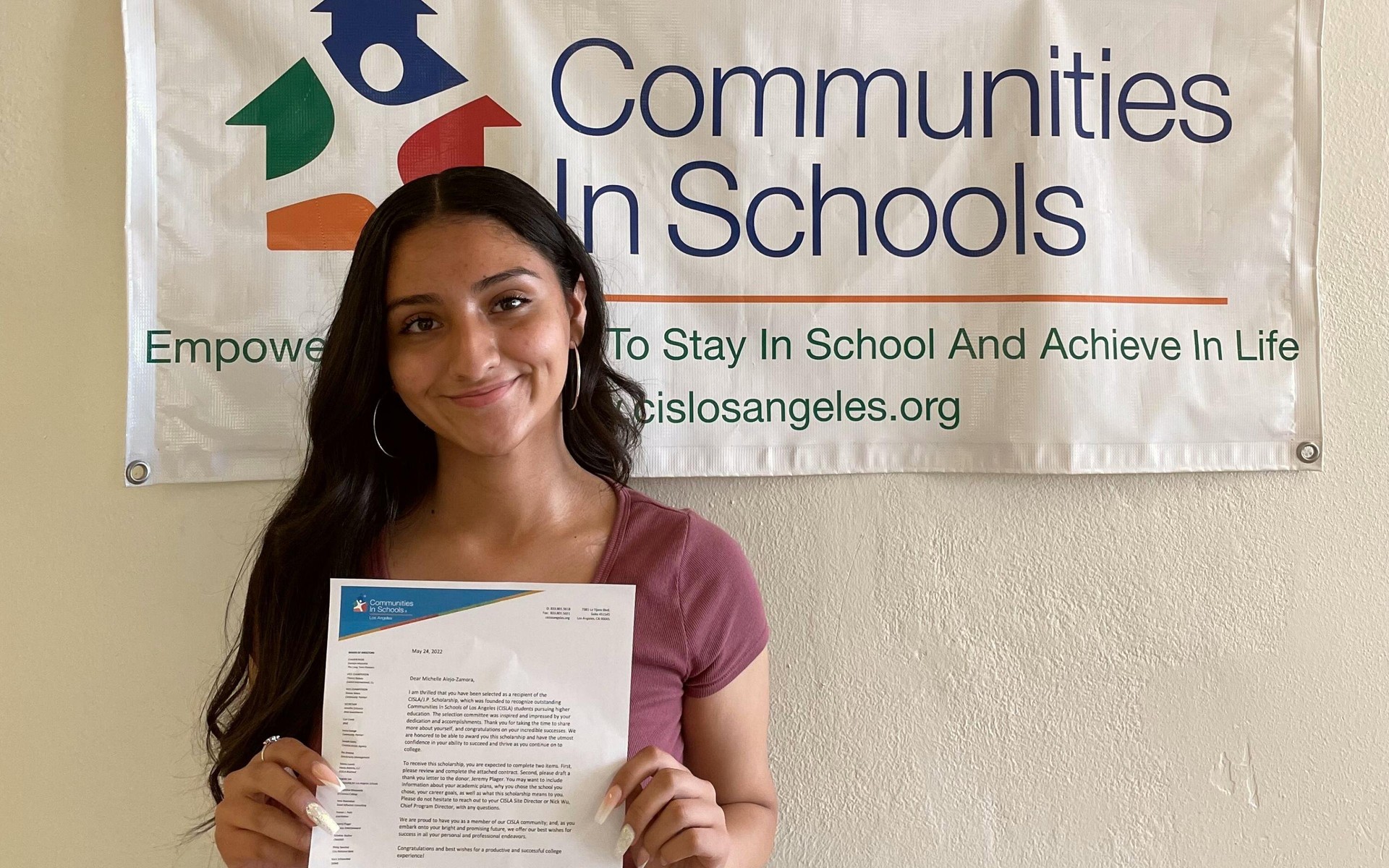 A proud CISLA scholarship recipient
It's true that when young people see others caring about and investing in their lives, that tells them they are worth something and can do great things. Looking into CISLA's own future, what great things are coming up in the next school year?
Back to School is always an exciting time—that's when we provide all sorts of new supplies and equipment to our families. Our alumni network and volunteer engagement activities will also continue to grow, and we'll do a big holiday drive with meals and toys and lots of volunteer opportunities. But for all the work our staff does for the kids in our caseload, I know there are still tens of thousands of students in the LA area who don't have the equivalent of CISLA to support them. So I'm personally looking forward to continuing to be an ambassador for the impact our organization is making, and advocating for more resources and funding to get even more students the support they need to thrive.
Learn more about us.
At 2U, we're on a mission—to eliminate the back row in higher education and help partners thrive in the digital age. To learn more about who we are and what we do, follow the links below.