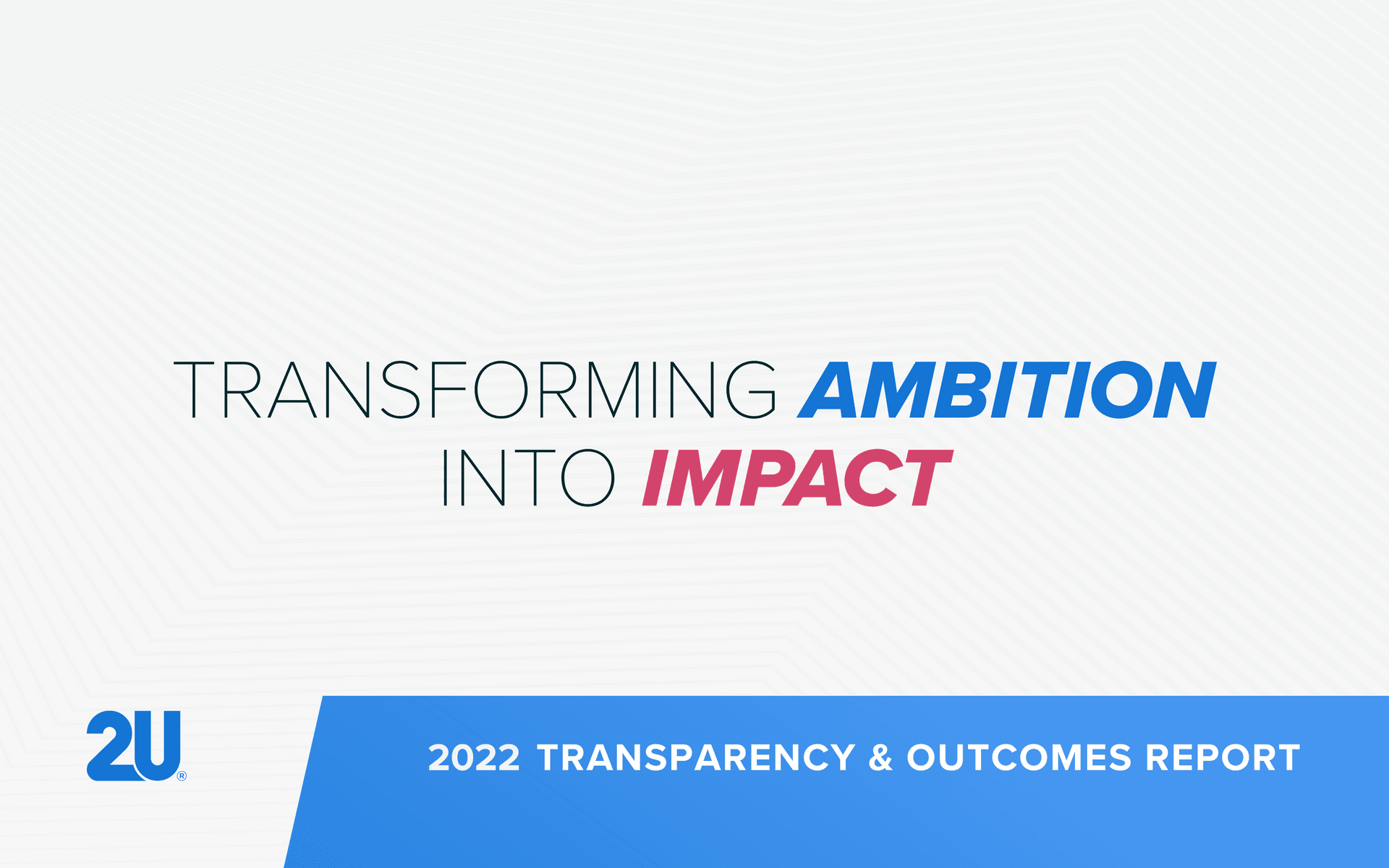 Education is the key to empowering people to create a better future and build a stronger society. For every nurse, teacher, counselor, engineer, executive—everyone eager to help find solutions to our world's greatest challenges—education is what helps them transform their ambition into impact.
To enable this impact, education must be affordable and available whenever people need it. It must go the extra mile and meet them wherever they are. It must be designed and delivered by experts in their fields who know what it takes to move their industries forward. It must teach job-relevant skills and offer multiple pathways to success. It must anticipate learners' needs but be adaptable to change. And it must ultimately open doors to unlimited opportunity, inspiring the confidence for people to say:
"What's next?"
Providing educational opportunities that bring these tenets to bear has always been core to what 2U is all about. Guided by our founding mission to eliminate the back row in higher education, we've spent 15 years advancing the technology and innovation to support leading institutions in bringing excellence in education online. Now, as the company behind global online learning platform edX, we enable learners, universities, employers, governments, and society at large to transform their ambition into impact toward lasting change.
Changing Lives, Communities, and the World for the Better
Today, we published our
2022 Transparency & Outcomes Report
, showcasing how we've helped learners and our partners use the edX platform to change lives, communities, and the world for the better.
At 2U, we take our responsibility to build, deliver, and support high-quality online education that drives meaningful outcomes at scale seriously. This report reflects our unwavering, industry-leading commitment to sharing key facts and figures about our business and partnerships. This is our fourth year of consecutive transparency reporting for 2U, now with additional data to encompass the full impact of the edX platform. Our open approach, highlighting tangible metrics and insights, fuels not only our pursuit of innovation but also our vision for shaping a more informed, effective, and resilient future for education as a whole.
My Key Takeaways from the Report
From the five main sections of our report—focused on learners, universities, employers, government, and society—here are some of my personal top takeaways that shed light on 2U's full impact by the end of 2022:
With the edX platform, we meaningfully expanded our global reach with 73 million people across our learner network and over 230 partners offering thousands of learning programs, in 23 languages.

(Today, that figure has increased to over 76 million people and over 250 partners.)

We offer 20 disruptively priced degrees under $26K, in collaboration with nine of our university partners.

For example, in 2022 we supported Boston University in developing a disruptively priced online MBA and a Master of Public Health degree, and worked with the University of Maryland to develop a $25K Master of Professional Studies in Product Management.

Expanding access to learners from all backgrounds remains a top priority at 2U.

In 2022, 35% of students in edX-powered degree programs and 27% of edX boot camp learners were Black, Hispanic, or Indigenous. We've made meaningful progress in increasing diversity in our tech programs through Access Partnerships, a workforce development model that makes job-relevant tech skills available to marginalized or underserved communities at little or no cost.

2U is one of the world's largest developers of tech talent,

supporting nearly 200 boot camps on edX with approximately 68,000 all-time boot camp graduates. In 2022 alone, we provided over 40,000 employment referrals and approximately 2.4 million career touchpoints in all. And with over 940 enterprise customers, we expanded the impact we're having on businesses worldwide, giving employers a more holistic way to upskill and reskill their people to drive impact at every level of their organizations.

We're one of the only organizations to create an infrastructure to educate healthcare professionals at scale.

More than 24,800 students have graduated from our partners' programs in helping hands disciplines. Across our network, we have an all-time total of approximately 120,000 placement sites—with students in those field experiences completing a total of over 30 million placement hours.

We have meaningfully expanded our work with local, regional, and national governmental organizations

to help them champion policies and programs that provide their citizens with the skills required to drive economic growth, build a competitive workforce, and remain resilient amid conflict or crisis. For example, our work with the UK Department for Education (DfE) is helping to support up to £4.8M worth of free tuition for 1,200 learners in online coding boot camps.
Real People, Real Institutions—All Fueled by Ambition
The data in our
2022 Transparency & Outcomes Report
speaks for itself, but the human stories behind the numbers are what really drive it home—of real people who've transformed their lives and careers through the power of online education.
Take Moses, for example: He leveraged free tuition for an online boot camp through our Access Partnership with Tulsa Community College to kickstart his cybersecurity career. There's also Colleen: She earned her online Master of Social Work degree from Fordham University—and was immediately offered a full-time position at her clinical placement site, which 2U coordinated for her during the program.
These stories of impact extend to our partners across the globe as well. In the U.S., we're working with George Washington University to develop a fully stackable degree pathway in public health—and with Netflix to increase representation in tech for individuals from primarily Black, Latinx, and Native American populations. We've partnered with Georgetown University for more than 12 years to educate the healthcare workforce of the future through a series of online graduate degrees that brings the school's tradition of "caring for the whole person" to communities across the globe. And in India, we're helping IIM Bangalore reach nearly 2 million learners from over 150 countries through their open courses on the edX platform.
Meaningful Outcomes and Lasting Value
All of the data, insights, and spotlights in our
2022 Transparency & Outcomes Report
make clear that online education is no longer "a nice to have"—it's an expectation. More people than ever are using online learning to acquire new skills and advance their careers, including in
burgeoning fields like generative AI
. And more universities, employers, and government agencies are leveraging it to expand their reach, train their talent, close skills gaps, and empower future generations. Ensuring that these investments generate real outcomes and lasting value for learners is pivotal.
Year after year, 2U remains dedicated to openly sharing transparent outcomes data that help our stakeholders evaluate and elevate our collective online offerings, find means to drive down the cost of education, and keep meeting learners' needs. And we'll continue to drum up support for more accountability and social responsibility across all of higher education into the future. Leading in transparency: It's the greatest way to ensure we're providing high-quality education that makes a difference for all.
Over the rest of the summer and into the fall, be sure to follow
2U on LinkedIn
as well as our blog
The Latest on edX
—for regular features centered around our 2022 Transparency & Outcomes Report that range from expert perspectives from company leaders to more spotlights on learners and our partners.
Learn more about us.
At 2U, we're on a mission—to eliminate the back row in higher education and help partners thrive in the digital age. To learn more about who we are and what we do, follow the links below.