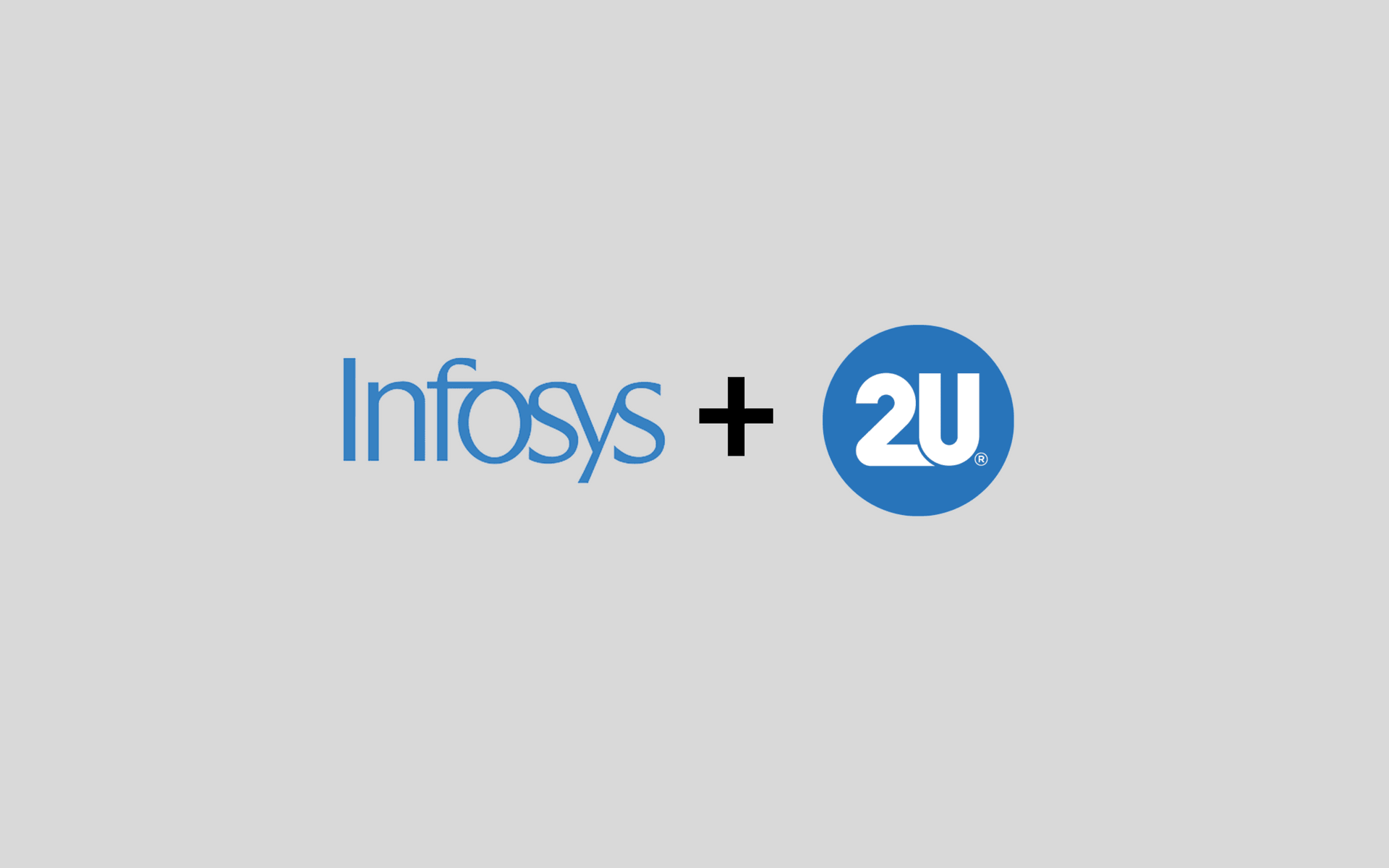 Jack McNicholas, an associate team lead with
Infosys
, is what you'd call a committed recruiter. He's that rare professional who combines both passion and
com
passion in his role helping people from diverse backgrounds break into exciting tech careers—including, to date, 110 graduates from 2U-powered university boot camps.
"I remember my dad being laid off when I was a kid," Jack says. "He started gaining tech certificates and eventually wound up happily employed in an IT department. So from a young age, I understood the value of those kinds of credentials and the importance of employers that recognize that value. It's great to now work at Infosys in a capacity where I get to help other people do the same thing."
As a global leader in next-generation digital services and consulting, Infosys and 2U are aligned in helping create more on-ramps to opportunity and fulfilling careers. Since Infosys became a 2U industry partner—one of hundreds of employers we work closely with to create these on-ramps for learners in 2U-powered programs—I've seen Jack enthusiastically speak with boot camp graduates through several webinars and, more recently, our virtual career fair. In nearly every interaction, he praises the benefits of his company's paid training program for new tech hires, which even further sets nontraditional learners up for success.
"We put an emphasis on hiring people who are eager to get to know our tech platforms, work with us to find their best fit, and then keep learning and growing to tailor their careers into the future," Jack says. "Through two months of initial tech training, we help them get acclimated to the company with a couple of additional certificates in languages relevant to whether they're coming in for data analytics, software development, UX/UI, or cybersecurity. It's a great transition going from a boot camp to the Infosys world—and it means a lot when new hires say how thankful they were to get up to speed on the right platform versus being immediately thrown into the field to fend for themselves."
A Mutually Beneficial Partnership
With nearly a quarter of a million employees and over 900 clients spread across all 50 states and throughout 46 countries, Infosys offers 2U boot camp graduates the opportunity to work on a wide variety of projects and new technologies, ranging from AI to machine learning to cloud tech. In return, 2U's boot camp graduate pool offers Infosys a trusted and consistent pipeline of qualified tech candidates hailing from all walks of life and professional experiences.
"One thing that really impresses me about our 2U partnership is all the different learners supported through the boot camps," Jack says. "They're not all young people coming right out of a four-year degree looking for their first shot at a career. Instead, maybe they're needing to look for a job for the first time in a decade. Or they're people with only a high school diploma who've decided to skill up. Or they're total career changers with new kids and families to support. It's inspiring to me that all these people can dive into the boot camps—which requires a lot of focus and commitment over four-to-six months of intensive skill-building—and look forward to making a better future for themselves."
As Jack explains, that combination of tech skills, human skills, and unique backgrounds can help a 2U boot camp graduate be more competitive and stand out from the pack in the recruitment process.
"Infosys has a very wide and diverse client base," he says. "So, when candidates come from different areas of experience, that can be incredibly beneficial to us. If prior to the boot camp you worked in a non-tech role at an energy company, or in finance, communications, or healthcare—really, any of the sectors our clients are in—then that can offer real value. Your experience could translate into being able to bring deep, industry-relevant insight to a client's problem or a solution that helps them take their tech to the next level."
Recognizing the Value of Experience—and Lifelong Learning
No matter which position Infosys is hiring for, Jack describes the company's process as a focus on the "Three E's": The education, the environment, and the experience a candidate brings to the table.
"For their education, we're either looking for that specialized tech concentration or that more well-rounded set of tech skills," Jack says. "For their environment, we want to know if they've worked in a fast-paced setting with tight deadlines. And for their experience, we're keen to understand the projects they've worked on and collaborated on in a group dynamic. 2U boot camp graduates tend to offer that desired balance and diversity, given their backgrounds and training. They're also usually willing to learn and work hard to grow through the company. And that's important, because tech is ever-changing and you need to keep up."
New tech support associate hires at Infosys—which focus on software production and maintenance and tend to be recruited from well-respected tech training programs, like a 2U-powered university boot camp—can quickly grow into one of two streams, as a senior associate for infrastructure or app development. From there, they can even move into roles that would otherwise require a degree—once again, signaling the value Infosys places on on-the-job experience.
Jack is always looking for new boot camp graduates aligned with the needs of open Infosys jobs. He continues to come back to 2U to source candidates because he's seen firsthand the impact they have had on the company. Boot camp graduate
Chidinma Nze
is a prime example.
"I think the combination of 2U boot camps and Infosys's training program really helps the graduates we hire scale up fast, giving them even more confidence to do the job we know they can do," Jack says. "I don't see a lot of other companies doing that, as far as providing that kind of seamless segue from an intensive learning experience into even more relevant training and mentorship that's paid."
In working with 2U to keep building upon our partnership, Jack acknowledges another "edge" many boot camp graduates possess, thanks in part to the curriculum itself.
"They're always looking out for one another; I suppose that's because they wind up working so closely together on their projects" he says. "Sometimes, we hire a graduate, and they turn around and recommend someone else from their boot camp. They want everyone to succeed as much as we do—and that thinking fits really well into a team environment. I want to continue to represent Infosys with that same level of caring and authenticity and respect they have for each other."
"As the saying goes, 'As iron sharpens iron, so one person sharpens another,'" Jack continues. "In other words, no one is alone here. At Infosys, we want to give people an opportunity and a challenge but also provide them with full support—because we recognize there's a mutual benefit to making others better."
Learn more about us.
At 2U, we're on a mission—to eliminate the back row in higher education and help partners thrive in the digital age. To learn more about who we are and what we do, follow the links below.