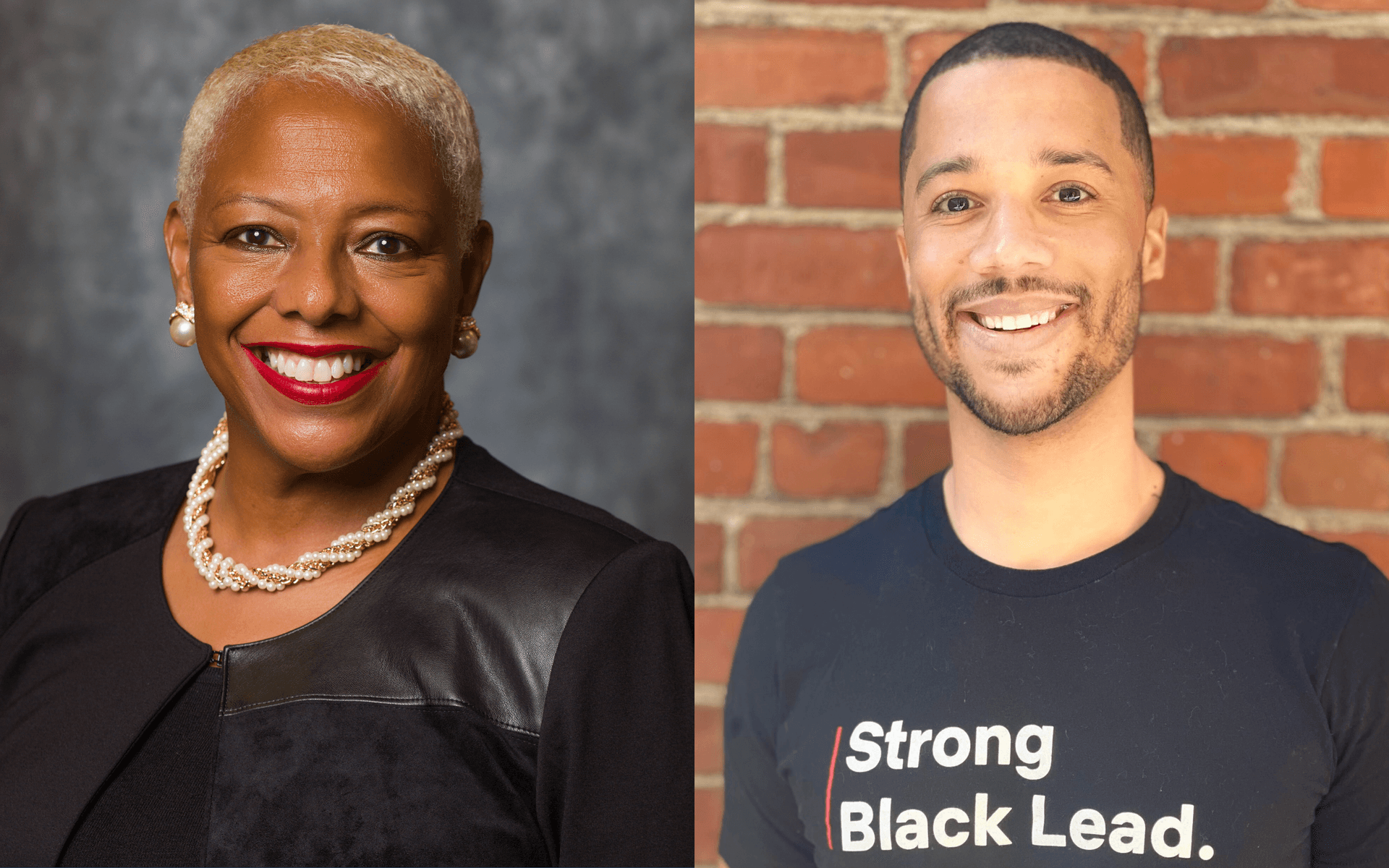 L-R: Dr. Javaune Adams-Gaston, president of Norfolk State University, and Corey Twitty, talent acquisition leader at Netflix
I've worked on many public-private partnerships over the years, and they are exceedingly difficult. So much time, energy, and effort go into designing, developing, and implementing change. But the potential impact you can have is worth it every time. The 2U-powered
Netflix Pathways Bootcamp
is an inspiring and inspirational example of how public-private partnerships can move the dial, bridging diversity, equity, and inclusion gaps in the tech industry by creating real opportunities and access pathways for more historically underrepresented students in the field.
Since launching the Netflix Pathways Bootcamp, more than 120 students from participating Historically Black Colleges and Universities (HBCUs) and Hispanic Serving Institutions (HSIs) have successfully completed the program, and many have landed internships and full-time jobs in the tech industry, including at major companies like Microsoft, Oracle, and Netflix​. The Netflix Pathways Bootcamp, which can be taken for academic credit without additional fees, equips learners with marketable skills, pairs them with mentors, and creates a pipeline of diverse talent to increase representation in tech.
These outcomes wouldn't be possible without the incredible
pioneers behind the Netflix Pathways Bootcamp
, Dr. Javaune Adams-Gaston ("Dr. J"), president of Norfolk State University, and Corey Twitty, talent acquisition leader at Netflix. For company and university leaders passionate about improving equity, access, and opportunities through their own public-private partnerships, Dr. J. and Twitty offer some invaluable lessons learned based on their experience launching a program that has changed lives.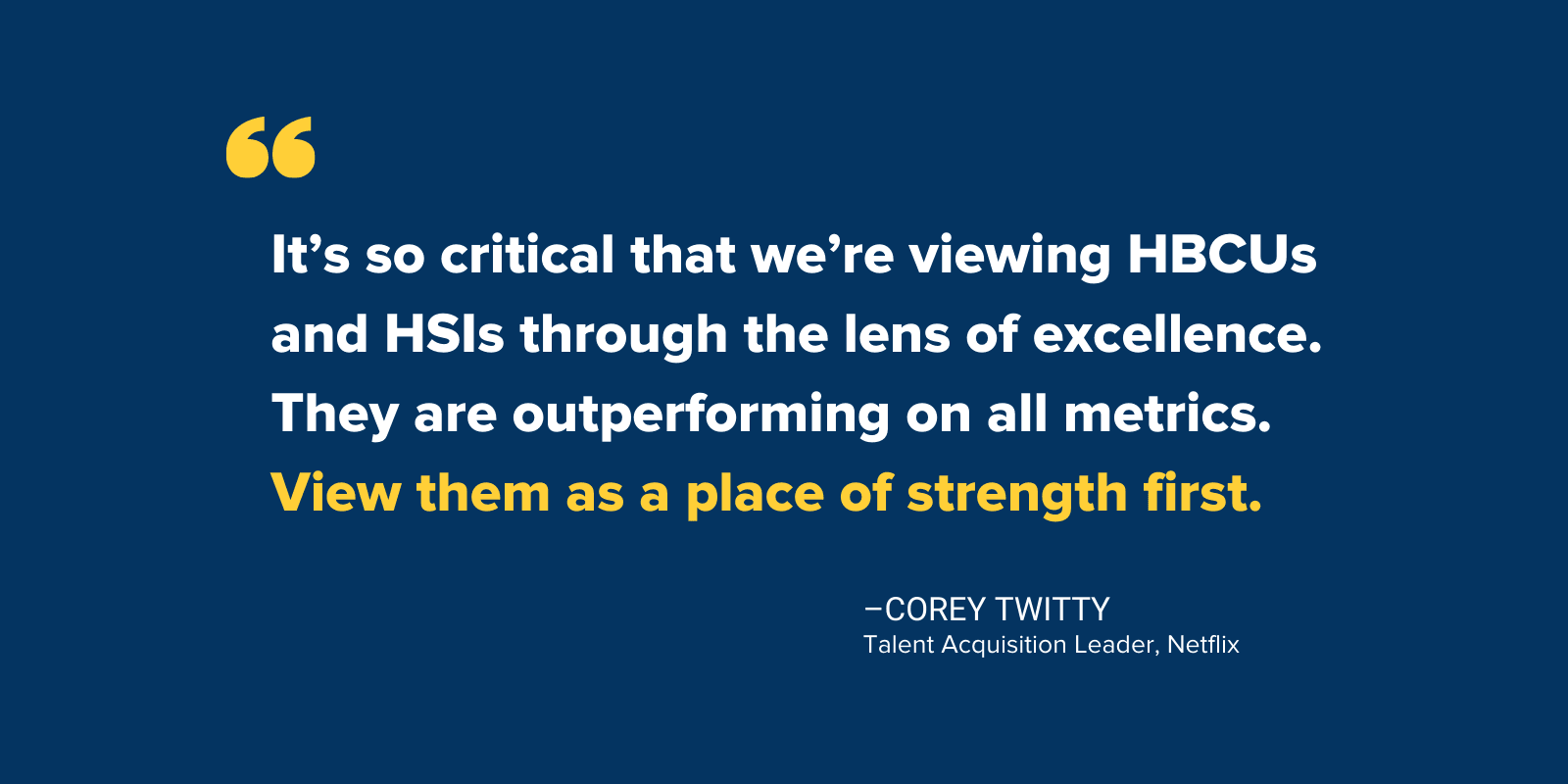 1. Tension may arise between your goals and the foundational needs of those you are designing a solution for, which in our case is students. Find a balance that meets your objectives and those of the intended user.
When we put initial plans together for the Netflix Pathways Bootcamp, Netflix wanted to take the real-world, practical application of computer science education and see if it would translate theoretically to what students are learning to optimize access for students. "The first iteration of the boot camp had this incredibly advanced-level Java engineering portion," said Twitty. "It was like how we do engineering at Netflix."
It didn't take long to recognize that there was a bit of a disconnect. Some students required an introductory course first to hone specific skills that needed to be developed before trying their hand at the real-world application. So, taking a student-centered, problem-solving approach, we built a foundational course for them. "There are now two parts of the boot camp: one really exposing them to the concepts and career path, and the other more advanced-level classes [for those with the intrinsic motivation to continue their education]," said Twitty.
2. All partners bring something valuable to the table. Appreciate them for their unique perspectives and strengths, and marry your goals together.
Both private and public sector leaders have beneficial insights, experiences, and viewpoints to share but, as Twitty expressed, it's important that companies don't become hyperfocused on their own initiatives at the expense of their university partner's. "It's so critical that we're viewing HBCUs and HSIs through the lens of excellence," he said. "They are outperforming on all metrics. View them as a place of strength first."
"Instead of coming in with the lens of 'we are Netflix, and here's what we think,' it's really been about taking a step back and committing to co-partnership, co-development, and co-design with the university," added Twitty, "to make sure that those connection points and through points between what students are learning are actually applicable to what we're trying to teach them."
Understanding what's important to each organization within the partnership and then marrying goals together is also crucial. For Netflix and Norfolk State University, that has meant making sure the end of the program coincides with the start of the private sector's recruitment timelines.
"At the end of the day, yes, we want to build student skills and capabilities and development, but we want these folks to get hired, too," said Twitty. "Tactically ensuring that we can connect the program to the recruitment process so that these students are finishing these programs and ready to go at the right time is key."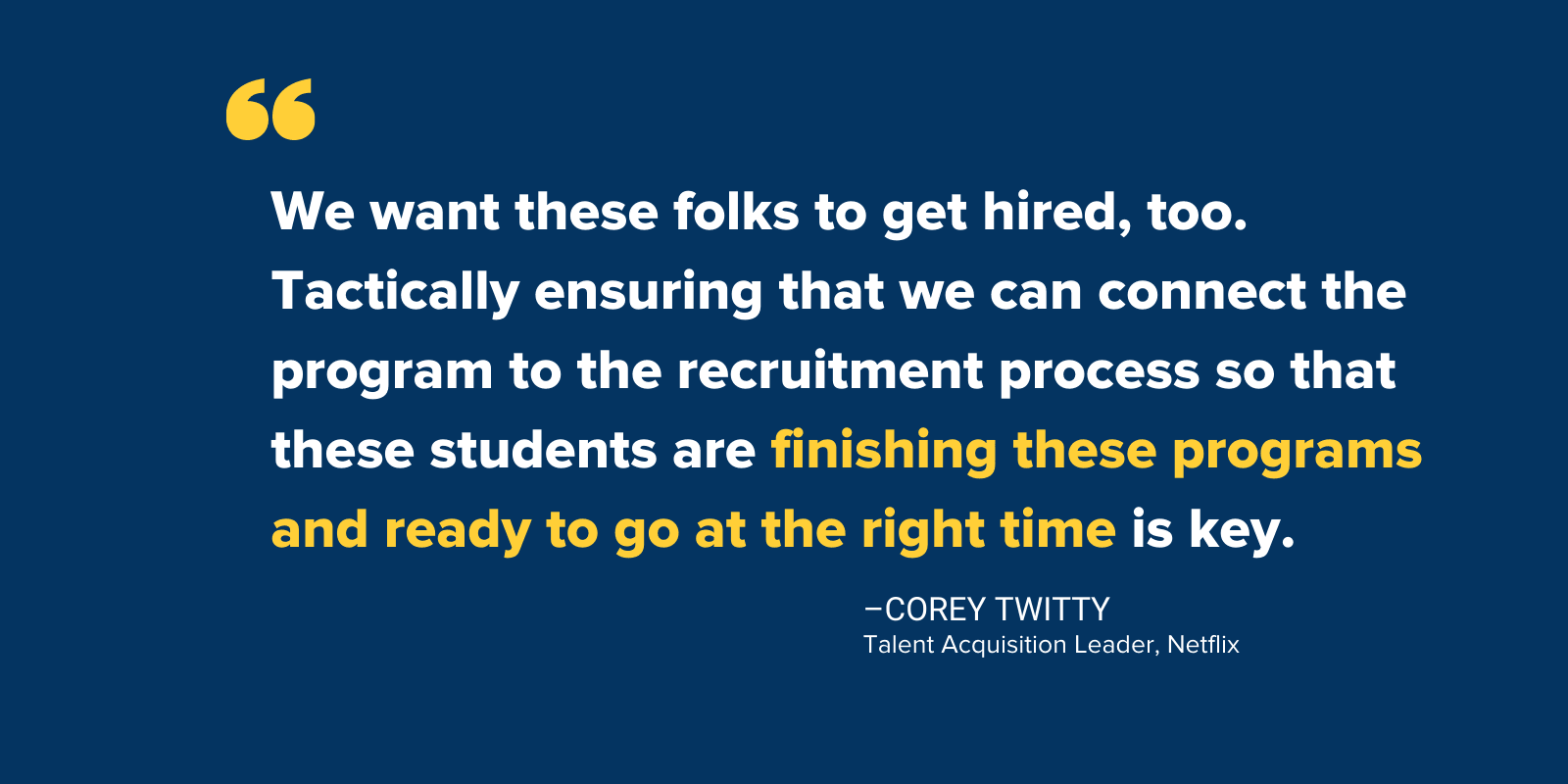 3. You need adequate support, investment, and mentorship from the very beginning.
For higher education leaders interested in building a public-private partnership, Dr. J. strongly advised garnering support from the top of the institution and faculty first. "If they were my peers, I'd say you have to get involved and be on those Zoom meetings with students." If they are not in it to win it themselves, it can become one of those programs that sit on the shelf gathering dust, Dr. J cautioned.
Dr. J also stressed the importance of providing wraparound service to learners with a support network of mentors and advisors in place to help students stay involved and engaged. "It was a hard time. [When the program started], it was still during the [height] of COVID, but [students] wanted to do [the program] because they were encouraged to believe that what was in them could be brought forth and they could be successful," she said. "And they were. That's what really matters."
When students are immersed in a situation where they're allowed to make mistakes, especially in the realm of tech, they learn faster and bolster their self-confidence. The program is about more than "providing information," Dr. J added, which any online program can do. Rather, "it is really working with the students to enhance who they are."
Improving Equity and Access in Tech
Public-private partnerships require tremendous commitment from all parties involved, but by leveraging both higher education and private-sector resources, they have the potential to yield long-term, sustainable outcomes. The Netflix and Norfolk State University partnership proves that it's possible to increase access by equipping students with the tools they need to succeed.
Learn more about us.
At 2U, we're on a mission—to eliminate the back row in higher education and help partners thrive in the digital age. To learn more about who we are and what we do, follow the links below.