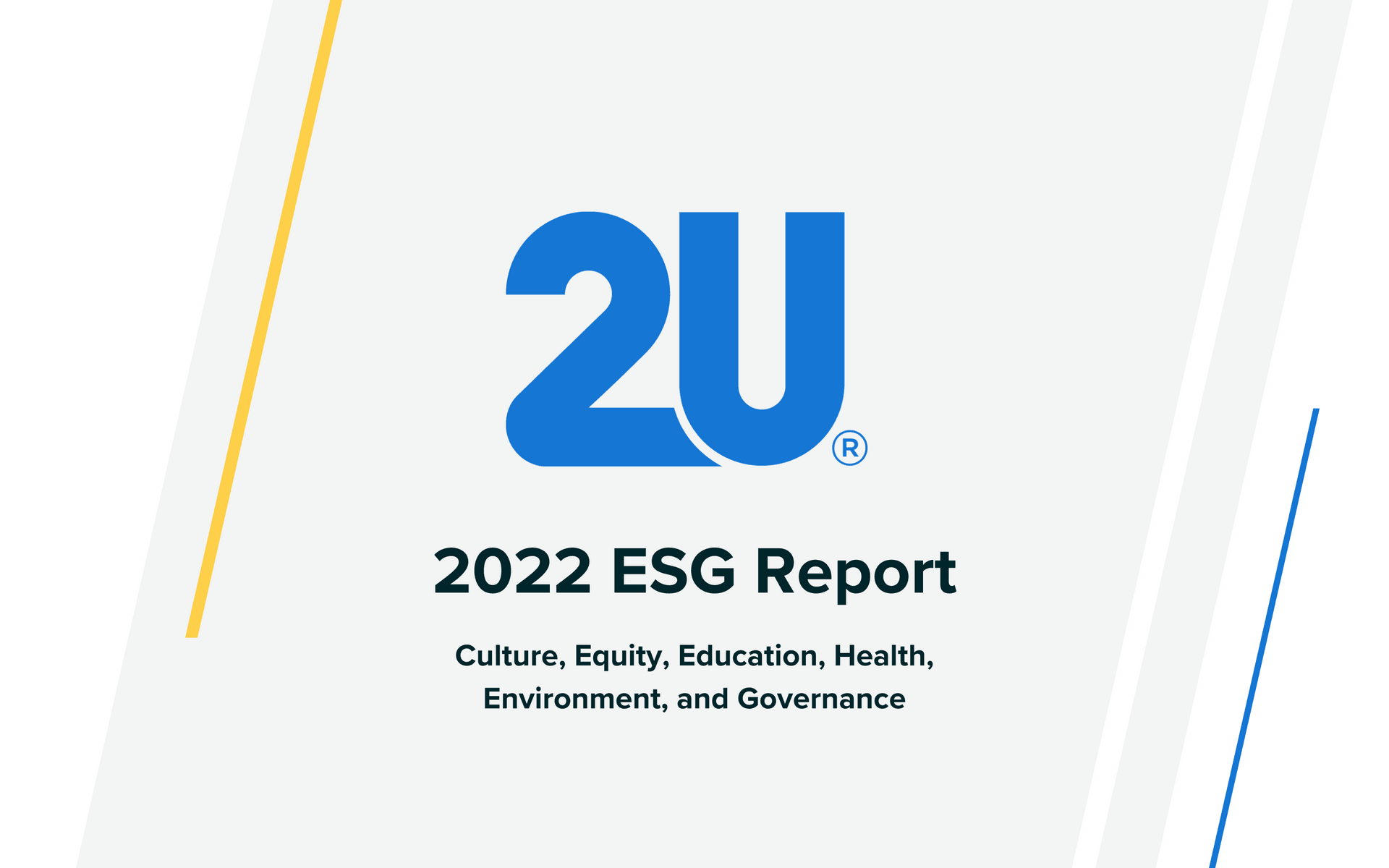 Today, 2U released our annual
Environmental, Social, and Governance (ESG) Report
, highlighting our continued progress in 2022 toward building a more sustainable business at scale. As a mission-driven company, 2U's commitment to social responsibility is central to everything we do. We're passionate about helping our partners deliver life-changing outcomes for learners and fostering an inclusive culture that grows our impact. That's why we've issued an ESG Report for the last five years, underscoring our industry leadership in
transparency
reporting.
Our 2022 ESG Report centers on our core belief that more equitable access to high-quality education is the key to social mobility and economic security, and that improved diversity, equity, and inclusion in higher education and in the job market benefits everyone. The report features our continued dedication to increasing this access, specifically in the healthcare field.
Highlights from the report include:
We expanded our

Access Partnerships

through a collective impact model, launching 18 new partnerships to provide more individuals from marginalized populations with affordable pathways to job-relevant skills and life-changing careers in technology.

We helped learners fulfill their career aspirations and do good for the world with more than 24,800 students graduating from healthcare verticals since inception, including from nursing, social work, and counseling programs.

We enabled students to complete more than 30 million clinical hours at placement sites across all 50 states.

We invested in more accessible and affordable programs, including a $10,000

disruptively priced

master's degree in artificial intelligence (AI) from the University of Texas at Austin.

We continued to help our partners drive student diversity, with diversity in our graduate degree programs exceeding the national average for certain groups. This includes female (66%), Black or African American (19.4%), and Asian (10.4%) students.

We increased gender and race/ethnicity representation in our workforce leadership at the VP level or higher, including an equal 50-50 male-to-female ratio.
To view our full 2022 ESG Report, click
here
. To access 2U's past ESG Reports, please visit
investor.2U.com
.