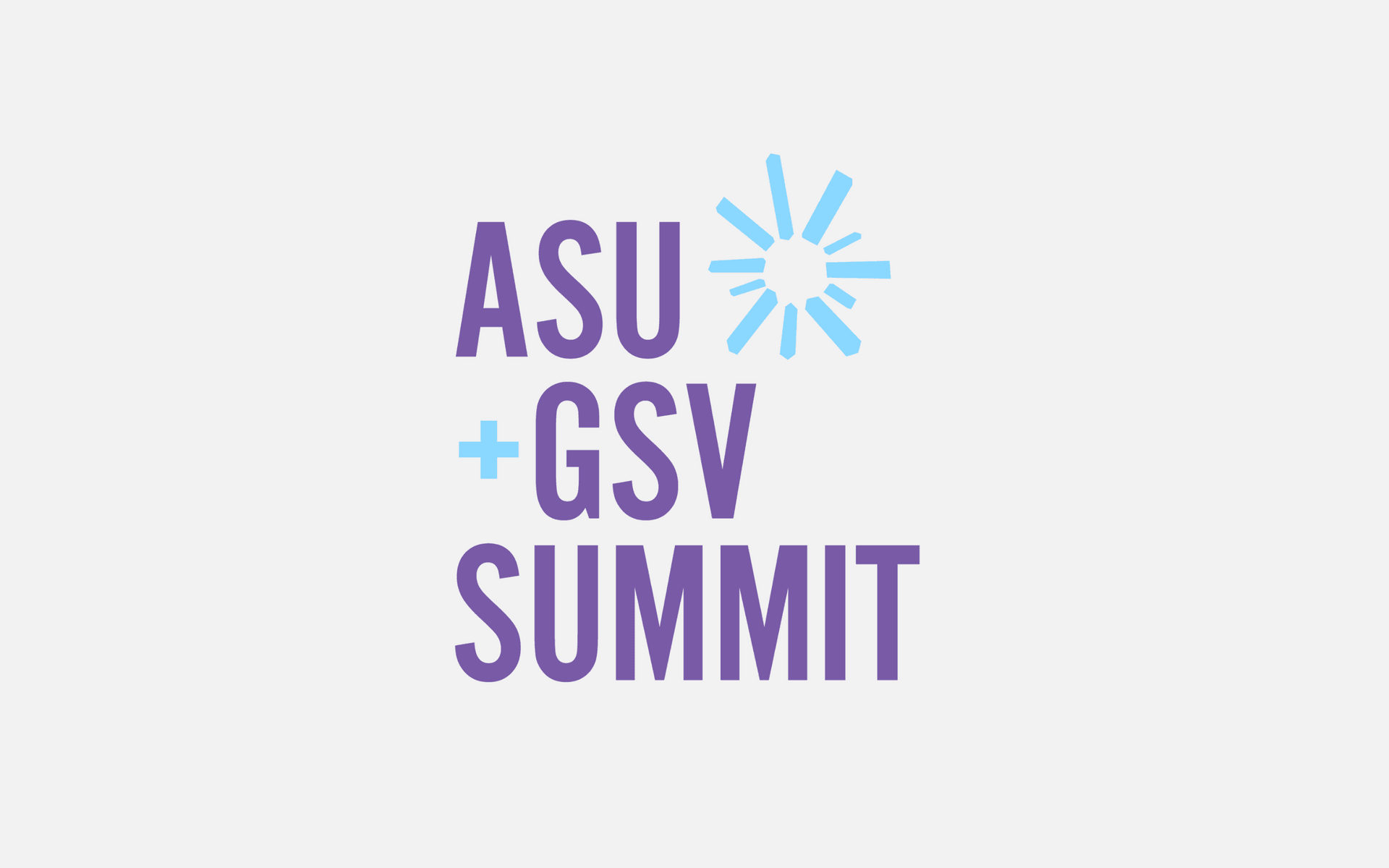 Once again as a sponsor of this year's event, we invite you to join us either in-person or virtually for the annual
ASU+GSV Summit
, taking place April 17-19 in San Diego, CA. What began in 2010 as a collaboration between Arizona State University (ASU) and Global Silicon Valley (GSV) is now one of the world's most influential edtech conferences, bringing together leading minds to discuss how the future of learning and work is transforming education, business, and society at large.
The theme for this year's conference is "
Brave New World
," which imagines a new era in which all people have equal access to the future. The needs of learners, universities, businesses, and the workforce are evolving fast—and as this year's ASU+GSV theme reminds us, you can't use an old map to navigate new terrain. We're proud to be part of the solution by continuing to help unlock human potential worldwide through the transformative power of high-quality education.
In six engaging sessions, leaders from across the company including
Christopher "Chip" Paucek
, co-founder and CEO of 2U,
Anant Agarwal
, edX founder and chief platform officer of 2U, and Denis Ryan, EVP of compliance and regulatory affairs at 2U, will discuss topics ranging from the power of learning platforms, stackable credentials, and AI-driven support solutions to the complex relationship between regulation and innovation in higher education. Check out each of our sessions below to learn where we'll be at ASU+GSV and how you can tune in.
#ASUGSVSummit
The Magic of Thinking Big… Reaching EdTech's Massive Market Cap Potential
Christopher "Chip" Paucek, Co-Founder and CEO, 2U

Moderator: Michael Moe, Founder and CEO, GSV
A fireside chat discussing the "capped potential" of education. Join Michael and Chip as they discuss the missing mega-scale companies in education and explore the trickier questions that leaders within the space are tackling today. For example, why is it that it's going to be possible to pay $100 for a flat screen that spans your whole wall, but more likely that we head in the direction of paying $1M for a traditional college degree?
Maximizing Student Success and Faculty Impact: Embracing AI-Driven Just-in-Time Interventions
In person
on Monday, April 17, 2-2:45pm PT, Solana Beach A, Level 3
Anant Agarwal, edX Founder and Chief Platform Officer, 2U

Quddus Pativada, Founder/CEO, Digest AI

Rajen Sheth, CEO and Co-Founder, Kyron Learning

Tom Wagner, Senior Director - Learning Analytics, Western Governors University

Joe Dery, VP and Dean of Data Analytics, College of Information Technology, Western Governors University

Moderator: Ashutosh Tiwary, SVP and Executive Dean, Western Governors University
​​Why wait for students to ask for help? What if we could automatically detect when a student needs help in an online environment and assist faculty in delivering their "Just-in-Time Interventions" to the student within minutes? Interventions that are personalized to the student and their learning pathway, driven by expert faculty members, and assisted by AI? Students will benefit from help when they need it leading to better outcomes while faculty can be more targeted, effective, and efficient in helping their students. Join us at our panel to hear about this emerging work from experts at WGU and founders of AI startups focused on solving this problem.
Solutions that Scale in Emerging Markets
In person
on Monday, April 17, 2:50-3:30pm PT, Seaport H, Level 2
Anant Agarwal, edX Founder and Chief Platform Officer, 2U

Joseph Nsengimana, Director of the Centre for Innovative Teaching and Learning, Mastercard Foundation

Kathy Perkins, Director, PhET Interactive Simulations

Geetha Murali, CEO, Room to Read

Amy Klement, Managing Partner, Imaginable Futures

Moderator: Christopher Thomas, Director of Partnerships, Yidan Prize Foundation
By 2050, 85% of the world's young people will live in Africa and Asia. In an interconnected world rife with challenges from climate change to peace and security, their education is a matter of urgency and opportunity. This panel showcases educational solutions that are making a large impact. We will discuss the conditions that facilitate scaling of solutions and how these are changing in many parts of the world.
LEGO Towers, Not Ivory: The Power and Promise of Stackable Credentials in Higher Ed
Anant Agarwal, edX Founder and Chief Platform Officer, 2U

Ashutosh Tiwary, SVP & Executive Dean, Western Governors University

Liesl Riddle, Dean, College of Professional Studies, The George Washington University

Bill Hughes, CEO, Education Design Lab

Moderator: Doug Lederman, Editor & Co-Founder, Inside Higher Ed
​​Adult learners today have more diverse needs than ever before. So let's stop thinking of higher education as this grand ivory tower in the sky, where academic pursuits are separate from everyday life and accessible only to the few. And let's start giving all learners LEGO-like building blocks to help them build their own towers to success. Stackable credentials are gaining more and more traction as incremental, skills-based, career-relevant learning that forges direct links between education and work—and that puts learners' needs front and center. Join a panel of experts from the fields of education, business, and workforce development for an insightful discussion on the benefits and challenges of creating stackable credentials that give everyone, everywhere more affordable and flexible pathways to opportunity, advancement, and lifelong learning.
Innovation Meets Oversight: The Tug of War Between Regulation and Higher Ed Progress
In person
on Tuesday, April 18, 11-11:40am PT, Harbor I, Level 2
Denis Ryan, EVP, Compliance and Regulatory Affairs, 2U

Vince Sampson, Special Counsel, Cooley

Barbara Mistick, President, NAICU

Pramath Raj Sinha, Founder and Chairman, Harappa Education

Renato Feder, Secretary of Education, State of São Paulo

Moderator: Robert Cohen, Strategic Advisor, 2U
Regulation and government oversight in higher education exists to protect students and the health of our institutions. Some might argue, though, that it also protects the status quo and slows innovation in a sector that so urgently needs it. Led by a group of experts, this discussion will provide valuable insights around the complex relationship between regulation and innovation in higher education.
In person
on Tuesday, April 18, 11:15-11:55am PT, Promenade A/B, Level 3
Christopher "Chip" Paucek, Co-Founder and CEO, 2U

Alessio Artuffo, President and Chief Operating Officer, Docebo Inc.

Adrian Ridner, CEO and Co-Founder, Study.com

Lucy Suros, CEO, Articulate

Moderator: Stephen Sheldon, Partner/Equity Research Analyst, William Blair
Combining multiple offerings into a platform creates defensibility and scalability. Bundling can also increase access, lower costs, and drive better outcomes—some might even call it RoE (Return on Education). Hear from the leaders of successful learning platforms and how they are adapting to this new environment that's powered by Generative AI.