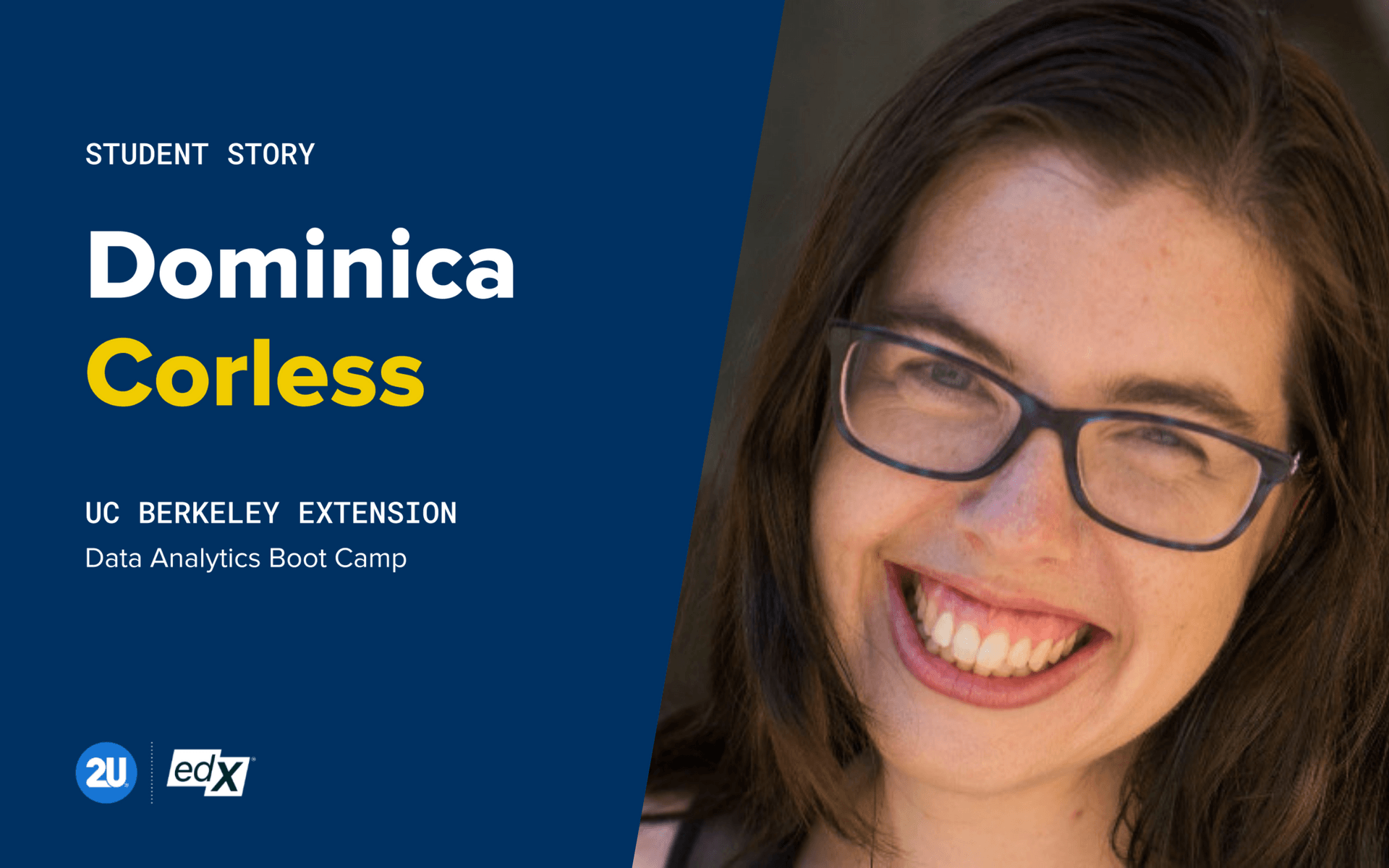 With her bright smile and infectious laugh,
UC Berkeley Extension Data Analytics Boot Camp
graduate turned part-time 2U Curriculum Engineer
Dominica Corless
is one of those people who seems to find the silver lining in everything. You'd never guess she's faced her share of challenges in the past few years: a big international move, a surprise diagnosis, and losing her job due to the pandemic, among them. Last month, Dominica shared her remarkably upbeat perspective on these experiences with students through my "Life After Boot Camp" webinar series on 2U's
Career Engagement Network
, a conversation that left me wanting to learn more about her path to success.
"In 2017, I found out that I'm autistic, soon after my son was diagnosed," Dominica shares on a recent Zoom call. "While working through the criteria and answering questions about him, I realized what they were asking resonated with me, too. I thought, this neurodiversity realm is normal to me! It's a spectrum, of course; many things fall under that umbrella, including autism, ADHD, and dyslexia, and the understanding around neurodivergence continues to grow and evolve."
Dominica's diagnosis came about three years after she and her family moved from Malaysia to California. "My parents are both from the U.S., but I was born and raised in Australia," she says. "I have a BS in Internet Computing from Murdoch University there. I worked as a web developer for a while but then got married and had children quite young. In between having my two kids, I moved to Malaysia where my visa didn't allow me to work. So I left tech, and while I was a stay-at-home mother, I gravitated toward writing, filmmaking, stand-up comedy, and improv, which fit with how my brain works, and having random thoughts and ideas come to my head."
Improv helped Dominica build more confidence and embrace her autism as both ability and opportunity. But then, more challenges arose. "I was going through a divorce and
working as a tour guide
when the pandemic hit," she says. "Tourism was practically canceled overnight, so I lost my job and decided to retrain back in tech. I chose data analytics because I enjoy looking at charts and designing surveys—I was fascinated by all the ways COVID data was presented when the pandemic hit. UC Berkeley Extension has a great reputation, and the admissions counselor reaching out to me was a personal touch that helped their data analytics boot camp stand out over other programs I was considering."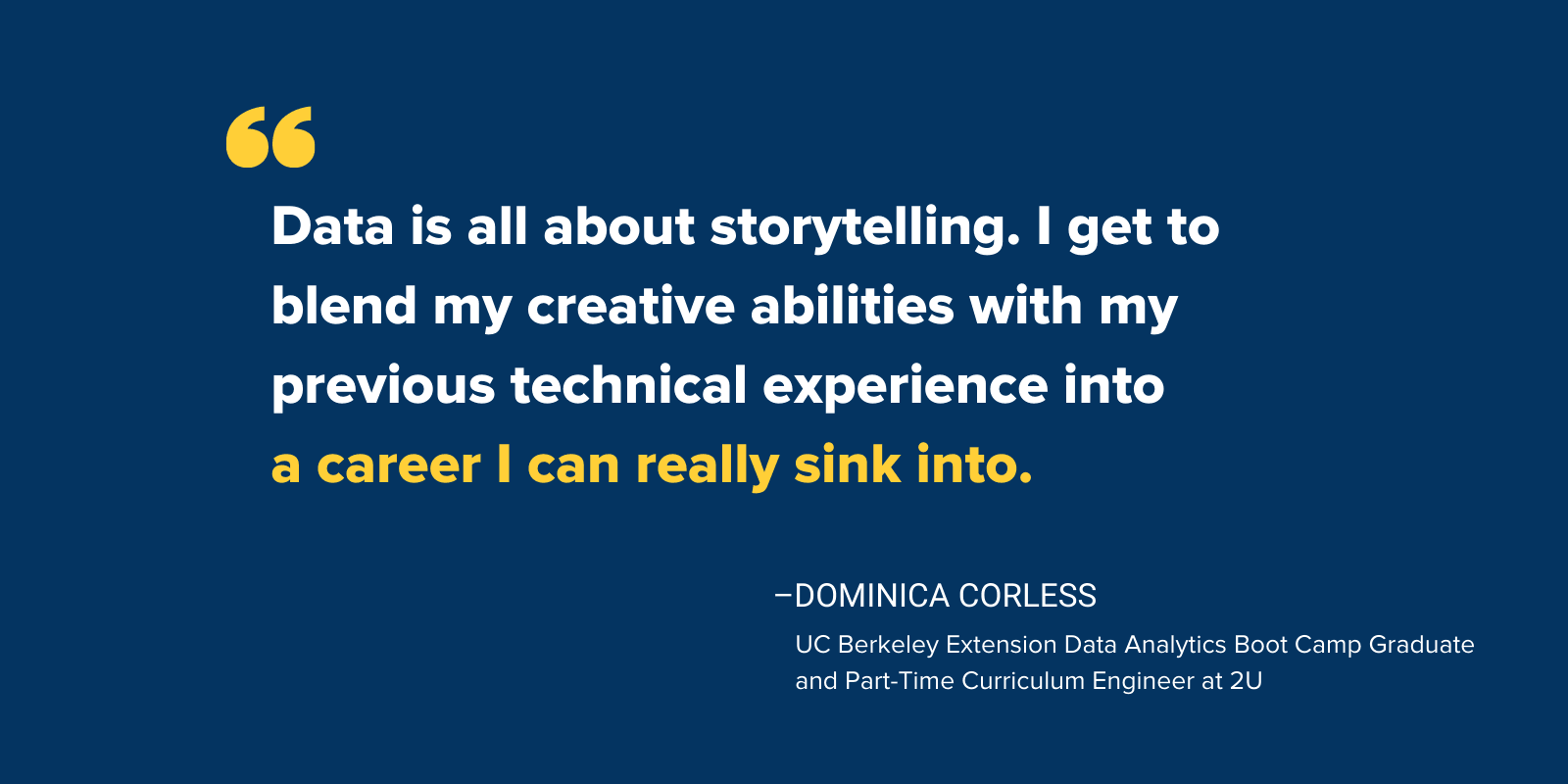 Coding Demos, Career Services, and Intentional Connections
Dominica was nervous about starting the boot camp but quickly found it aligned with her way of thinking and working. "In the very first class, the instructor explained that data is all about storytelling," she says. "I thought,
great
! I get to blend my creative abilities with my previous technical experience into a career I can really sink into. As classes continued, watching the live coding demonstrations helped everything click in my brain more easily than when I was at university. The weekly homework and hard deadlines also kept me on task."
2U's Career Engagement Network was also something Dominica found helpful to leverage right away. She attended webinars on topics like imposter syndrome, connected and networked with coaches and other students, and received tips for putting her best foot forward on her resume. "The career services aspect of 2U was one of the major reasons I chose the boot camp," she says. "I reached out to my career counselor in the first couple of weeks. There's so much that 2U offers to help you be career-ready. For data analytics students, they'll give you assignments like making sure your GitHub repositories are up to par because they know that's what employers are going to be looking at during the interview process."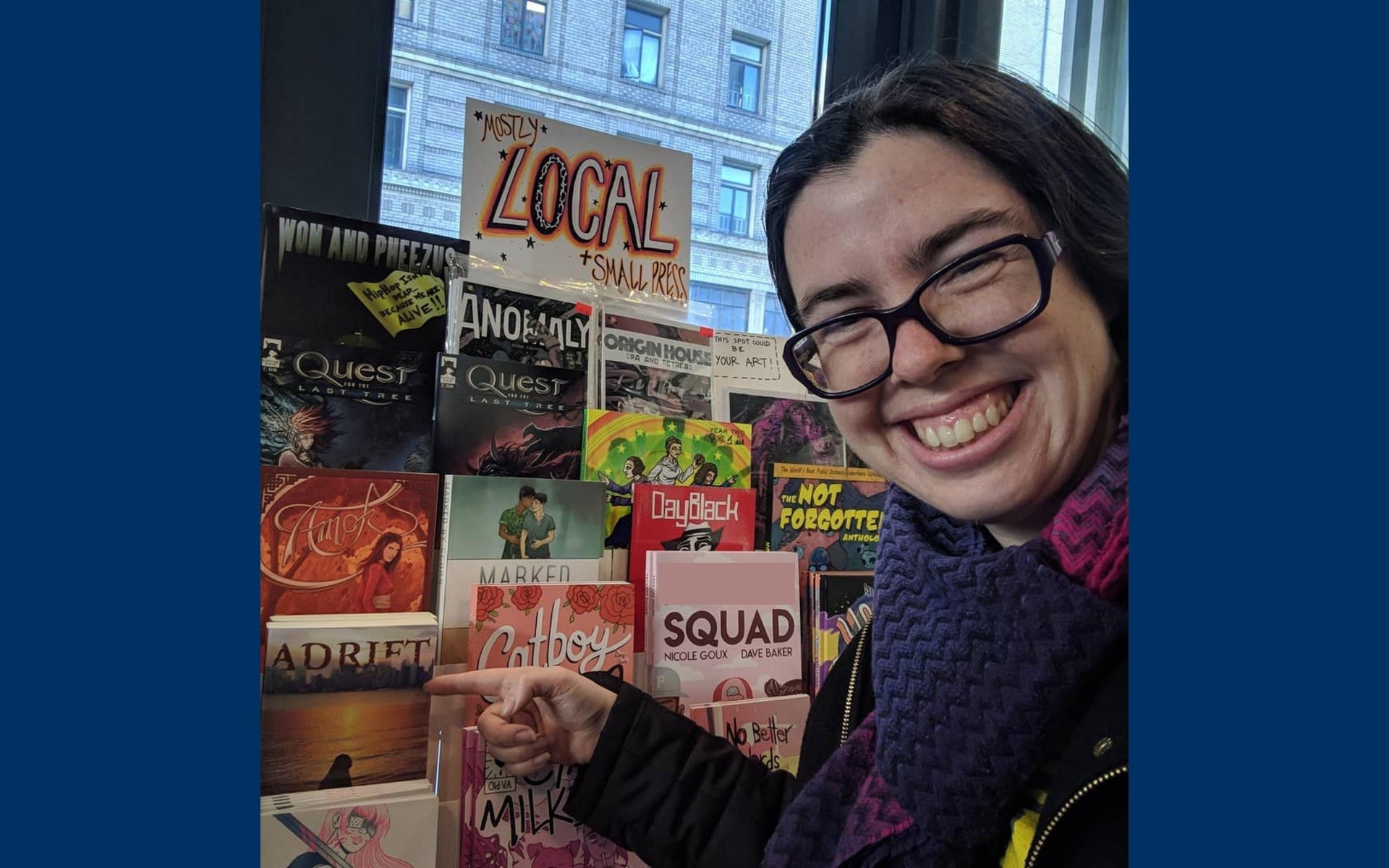 Dominica pointing to three of her published books at a local comic shop in downtown Oakland, California
Soon after earning her boot camp completion certificate last February, one particular 2U connection that Dominica made proved fortuitous. "I commented on a LinkedIn post by one of the webinar presenters," she explains. "We started a conversation about what I learned in the boot camp and my career goals. Eventually, he asked if I'd be interested in applying for a position at 2U. Flash forward to July, and I started part-time as a curriculum engineer—working on the data analytics boot camps I used to be a student in!"
For her role at 2U, Dominica makes updates and enhancements to the boot camp curriculum to keep it aligned to current trends in data analytics, while also incorporating student feedback to continue to improve the learner experience. Along the way, she suggests content modifications to help make the information that needs to be conveyed as clearly presented and accessible as possible. "There have been a few occasions where I've proposed a rewrite so that the content would make more sense to someone like me," Dominica says. "And in
the world of accessibility
, an update or accommodation for one or some tends to benefit most or all. I try to be conscientious of students' diverse backgrounds to ensure content feels as inclusive as possible."
Dominica also points to Pandas and Python as two of the most helpful programming skills she learned from the boot camp. "I use both quite a bit in my job," she says. "I also see how my brain automatically makes connections and spots things that neurotypical people can miss, so I feel I'm an asset to the team in that way, too."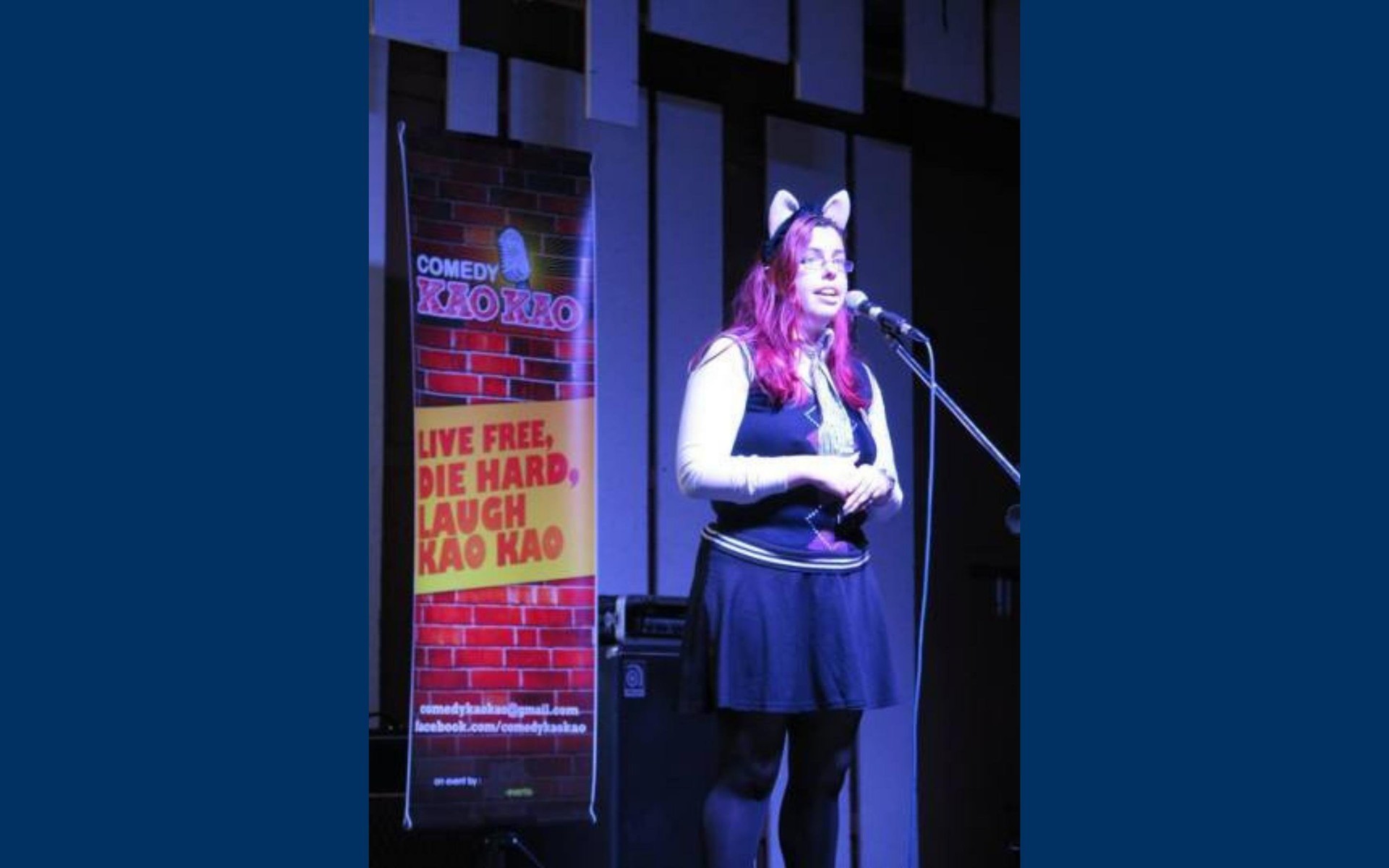 Dominica performing stand-up comedy in Kuala Lumpur, Malaysia
Confidence, Community, and a New Career
With her growing passion for diversity and inclusion, Dominica feels she's found a supportive community at 2U. By joining the employee-led
Ability Resource Network
, she's connecting with other like-minded individuals who are eager to share their experiences, open minds, and foster a world that's more compassionate and inclusive for all abilities.
"I felt comfortable mentioning I'm autistic throughout the interview process," she says, "and though I haven't asked for any specific accommodations to this point, a flexible schedule is critical to how I need to work. My current part-time situation offers that. I can take breaks when I need them or work straight through something if that's more conducive to me at the moment."
Dominica's due diligence when researching 2U was her first indication she'd found the right fit. "The company promotes so many great values, and I realized I connect with all of it!" she says. "When I first learned I was autistic, I didn't want to see myself as disabled. Following other people on Twitter who are disabled helped me learn that's not a dirty word; internalized ableism was making me feel that way. Jumping into improv and pivoting to a new career have also helped me be more of my authentic self. Yes, I sometimes laser-focus on things and have no filter, and I tend to bounce from interest to interest when I feel I've learned all I can about them for a while. But it turns out those are all things people really appreciate about me and lead me to do great work. Neurodiversity certainly has its challenges, but many other aspects wind up being a real benefit to me."
Learn more about us.
At 2U, we're on a mission—to eliminate the back row in higher education and help partners thrive in the digital age. To learn more about who we are and what we do, follow the links below.