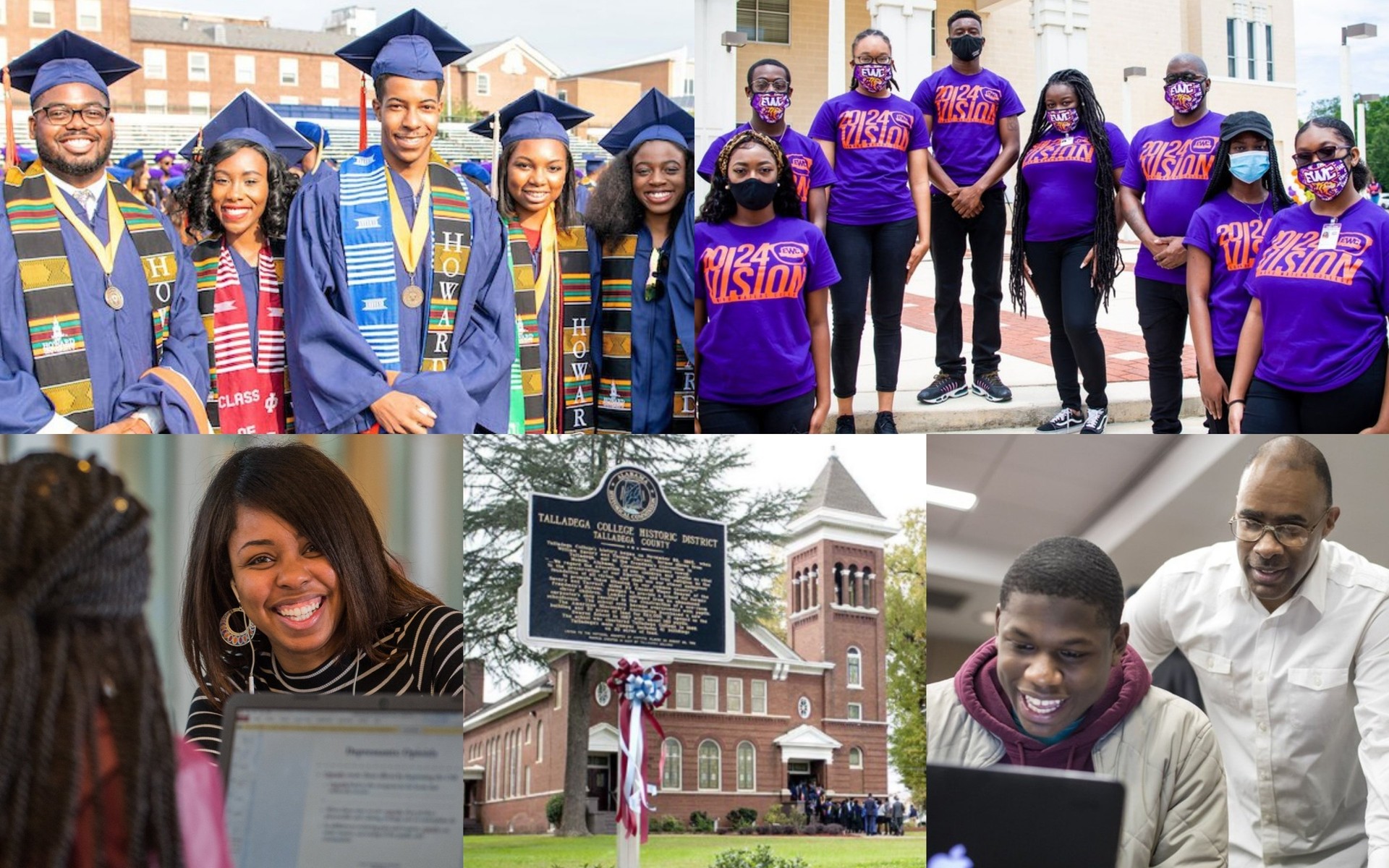 Clockwise from top left: Graduates from Howard University, masked-up Edward Waters University students, a mentor and mentee at Morehouse College, the Talladega College campus and historic district, and two students at Norfolk State University
In the mid-1800s, Historically Black Colleges and Universities (HBCUs) were established to create access to higher education for Black Americans where it had previously been denied. Prior to the Civil War, Black students were not permitted to attend other higher institutions of learning, given their education was either illegal or heavily discouraged. After the Civil War, Black students were not welcomed, as schools remained segregated for a full century later. HBCUs thus became intimate havens of opportunity and community for generations of learners, from Florida to Michigan, Texas to Washington, DC.
Today, the role of HBCUs is much broader. Beyond access, HBCUs now also represent acceptance, empowerment, and goal-driven success. They are institutions where students are not only invited and encouraged to be themselves, but also celebrated for it. And they are places where Black history, traditions, and culture are the norm instead of the exception. So much so that most HBCU graduates will likely name "the sense of belonging" among their fondest memories from their time in school. For so many Black Americans, much of our everyday life experience is spent validating our existence, or even fighting for it. But within the walls of HBCUs, the significance and power of our existence is a given: acknowledged, nurtured, and honored on a daily basis. That's why, for so many of us at 2U, there's an enormous sense of pride and excitement each time we announce a new HBCU partnership.
A New Generation of Non-Traditional Learners
Today, 2U plays an important role in continuing the HBCU tradition of excellence by partnering with several unparalleled engines of social and economic mobility.
Morehouse University
,
Howard University
,
Norfolk State University
,
Talladega College
, and
Edward Waters University
, all HBCUs, are among the more than 85 university partners we work with to deliver a wide range of online educational offerings, from undergraduate and graduate degree programs to technical boot camps and short courses. As lightning-speed advancements in technology and highly strategic business leadership continue to drive more and more of the world's economy—and with COVID and social justice remaining front and center in news headlines—now more than ever, there's an acute need for creative, targeted solutions intent on bridging the divides across technology, business, healthcare, and socio-economic realms, which for many historically marginalized populations all threaten to grow even wider. In close collaboration with our HBCU partners, 2U is helping to carve out novel and innovative pathways to quality educational experiences and vibrant academic communities for a new generation of non-traditional learners.
One focus of our combined efforts is to address the distinct disparity of Black professionals in fields ranging from tech to healthcare, and management and senior leadership positions. A 2020
USA Today report
found that, of the 279 top executives at the 50 biggest companies in the S&P 100, only five were Black, or less than 2%. And according to 2018 statistics compiled by the
U.S. Equal Employment Opportunity Commission
, the ratio of service workers and laborers compared with senior-level management is 105 to 1 for the Black community, whereas it's 7 to 1 for white people. Clearly, we have a long way to go toward parity and equity on these fronts. By expanding access to the rigorous and fulfilling high-quality learning experiences offered by HBCUs on a global scale, we're helping our HBCU partners chip away at these statistics and unlock powerful new economic and professional opportunities for their communities.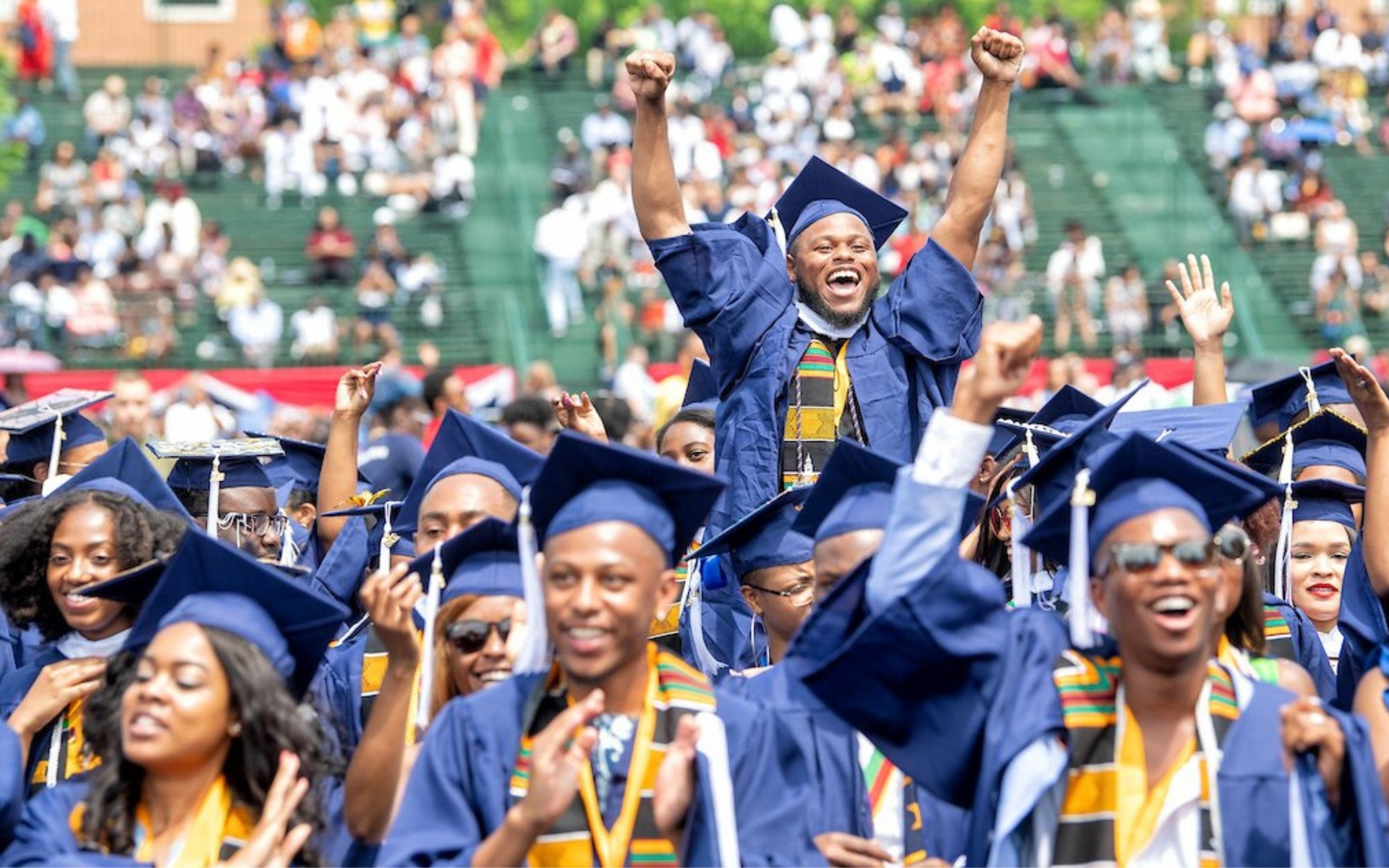 The excitement of graduation day at Howard University
Howard and Its Focus on the Black Perspective
Howard University's online Master of Social Work (MSW) program
is one such example of how 2U is helping HCBUs expand their mission, eliminate barriers to education, and meet the diverse needs of more students. Dr. Sandra Edmonds Crewe, dean of Howard's School of Social Work, captured this sentiment beautifully when we
first announced our partnership
with the university's top 25-ranked MSW program, saying that "online education gives [students] the opportunity to live out their dreams." She also reiterated how incredibly special Howard's MSW curriculum is, in that it is grounded in the Black Perspective.
By offering a framework that articulates how oppression, segregation, self-determination, and other factors have historically informed how social workers serve different individuals and communities, the program challenges students to engage with the Black Perspective through the lens of social justice, criminal justice reform, and other timely topics. Though the Black community is disproportionately affected by health disparities, we are heavily underrepresented in the workforce of health professionals who are engaged in helping to reduce those disparities. Howard's online MSW program has been specifically created to equip graduates to address these persistent inequalities across Black and other populations—and not just in the School of Social Work's immediate realm of influence throughout the Washington, DC, area, but across the rest of the country and the world as well.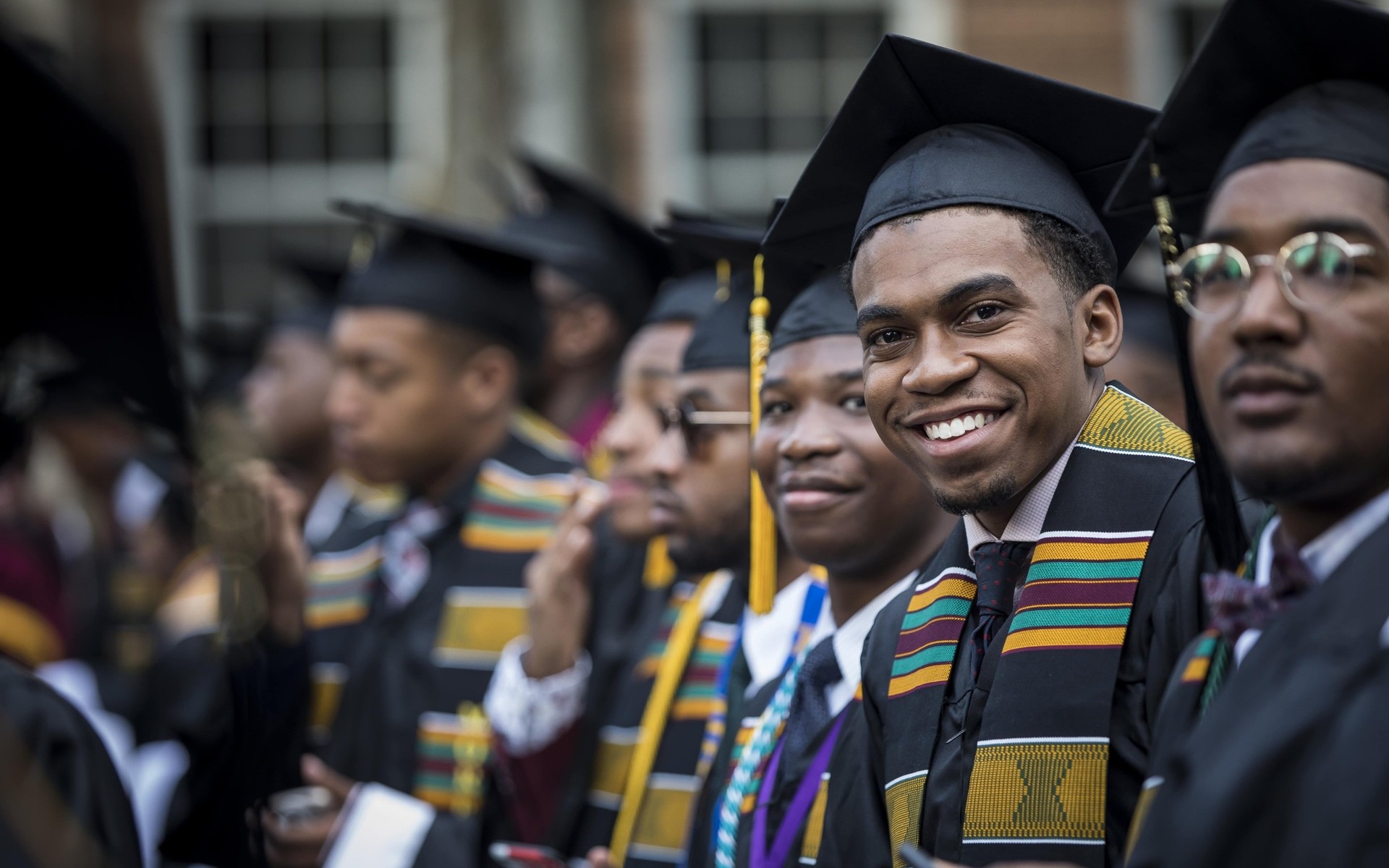 The legacy of the "Morehouse Man" continues on at Morehouse College graduation
Morehouse and Its Legacy of Leaders
Morehouse College's online undergraduate degree program
is another example of 2U's commitment to bringing the power of an HBCU experience to more learners. As the only HBCU dedicated to the education and development of men, Morehouse boasts an impressive legacy of cultivating leaders with disciplined minds who go on to pursue careers of influence, service, and impact. The college also has a very distinctive culture and close-knit network of students and alums, which are all key to inspiring academic, intellectual, and professional success.
It's no surprise, then, that Morehouse propels
more than one-third
of its low-income students into the top-fifth of income earners. Morehouse Online seeks to bring this same level of achievement to men who have previously earned some college credit at Morehouse or elsewhere—enabling them to complete their undergraduate degree, from anywhere in the world, through the college's extraordinary academic platform and robust learning community. This model unleashes opportunity for not only thousands of former Morehouse students, but also
more than 3.4 million Black men
over the age of 25 who have either some college credit or an associate's degree.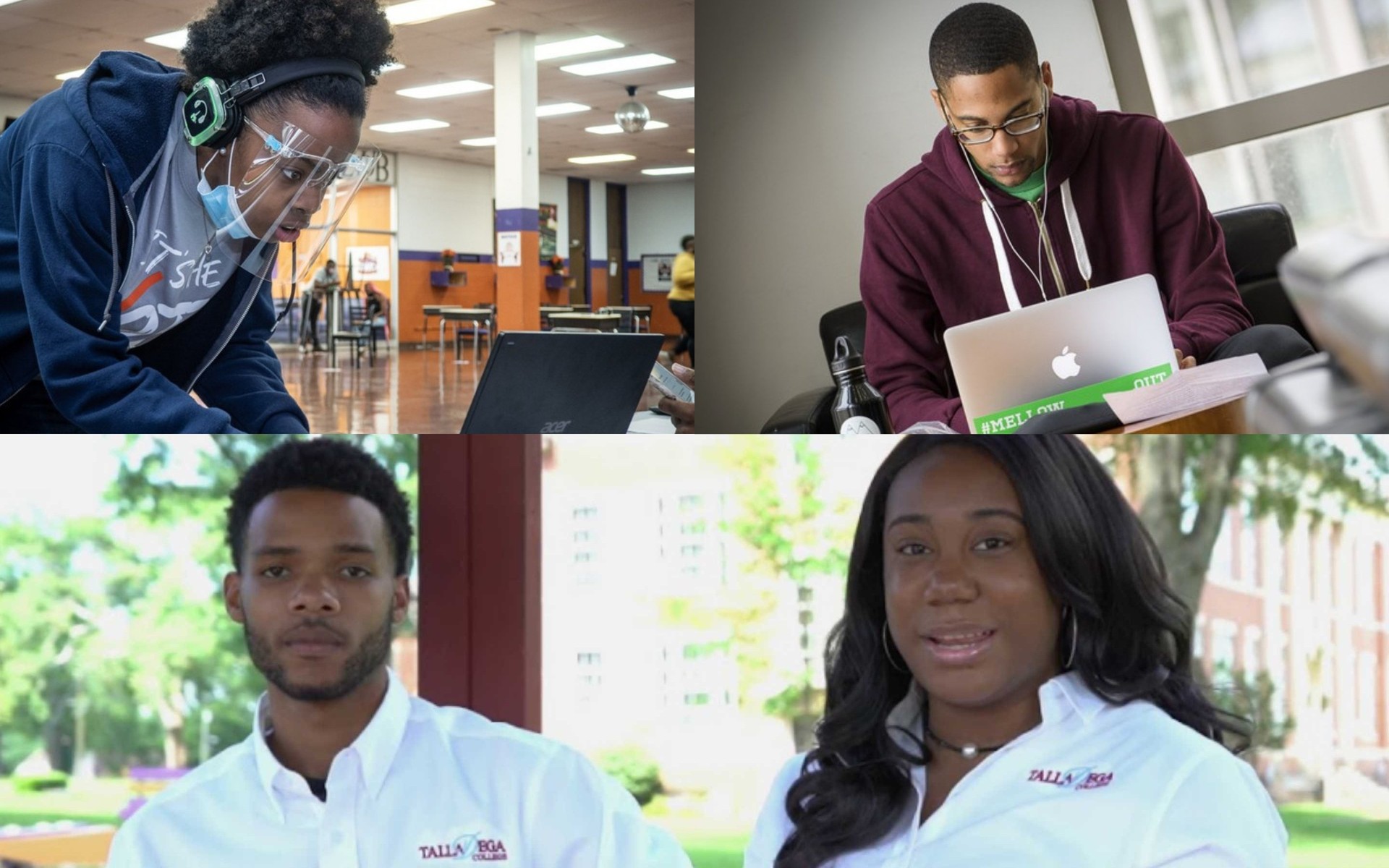 Clockwise from top left: Students at Edward Waters University, Norfolk State University, and Talladega College
Norfolk State, Edward Waters, and Talladega and Their Springboards into Tech
For programs like the
Netflix Pathways Bootcamp
, which 2U began only a year ago in partnership with Norfolk State University and has since expanded to include Edward Waters University, Talladega College, and a duo of Hispanic-Serving Institutions (HSIs), the goal has been to provide Black and Brown students with access to another critical space we've historically been marginalized: tech. Through these intensive programs, 2U and our partners are not just validating that Black and Brown students belong in fields like coding, data science, and UX/UI. We're also setting them up for career success every step of the way, wrapping 1:1 mentorship, career guidance, portfolio building, and professional networking into the curriculum. Added to that, students can take a boot camp for academic credit without incurring any additional fees.
To get a glimpse of some of the program's successes so far, look no further than
these three students
from the first Norfolk State University cohort. One of them completed the Advanced Java Boot Camp, went on to intern with Netflix as a software engineer, and then began a full-time job with Microsoft this fall. Another completed the UX/UI Boot Camp before going on to intern at Cox Communications, working alongside the vice president of operations and gaining visibility on special projects with other senior executives. Yet another followed the Advanced Java Boot Camp with an internship at Oracle as a software engineer, putting her in pole position for securing a computer programming role in Silicon Valley when she graduates next spring. There's a reason why even more institutions want to join the ranks of the Netflix Pathways Boot Camps: The program is producing immediate outcomes.
Ever-Growing Pathways to Prosperity
Ever since the first higher education institution for Black Americans was
founded in 1837,
HBCUs have been about access. But over the years, the meaning of this word for a more and more diverse universe continues to morph and change. What started out as giving permission to receive an education has evolved into an unwavering determination to open up as many pathways to prosperity for as many different learners from the widest possible range of backgrounds, experiences, and abilities. Some of these opportunities are already a reality; others have yet to be discovered and forged.
Black Americans have always been welcome at HBCUs. And now with 2U and our future-forward HBCU partners, we have an ever-growing number of ways to attend HBCUs and leverage more pathways to success.
Learn more about us.
At 2U, we're on a mission—to eliminate the back row in higher education and help universities thrive in the digital age. To learn more about who we are and what we do, follow the links below.