COVID-19 is changing how colleges and universities are offering their academic programs this fall. In the midst of this momentous change, we wanted to better understand how the pandemic is affecting the way students are thinking about the delivery of their academic experience. To find out, we asked prospective students firsthand about their perceptions of online and on-campus degree programs and how they're thinking about enrollment decisions in light of the pandemic.
Today, we released the findings of a
quantitative survey of 1,754 prospective students
from June 30 through July 22, 2020. The survey respondents were drawn from a representative cross-section of prospective students expressing interest in 2U-powered graduate and undergraduate degree programs from April 1 through May 31, 2020.
The results show a clear share shift toward online degree programs and away from on-campus learning. Key survey findings include: 73% of respondents said the COVID-19 pandemic made them much more likely (52%) or somewhat more likely (21%) to consider online programs, and 20% of respondents said that, absent COVID-19, they would not have considered an online program.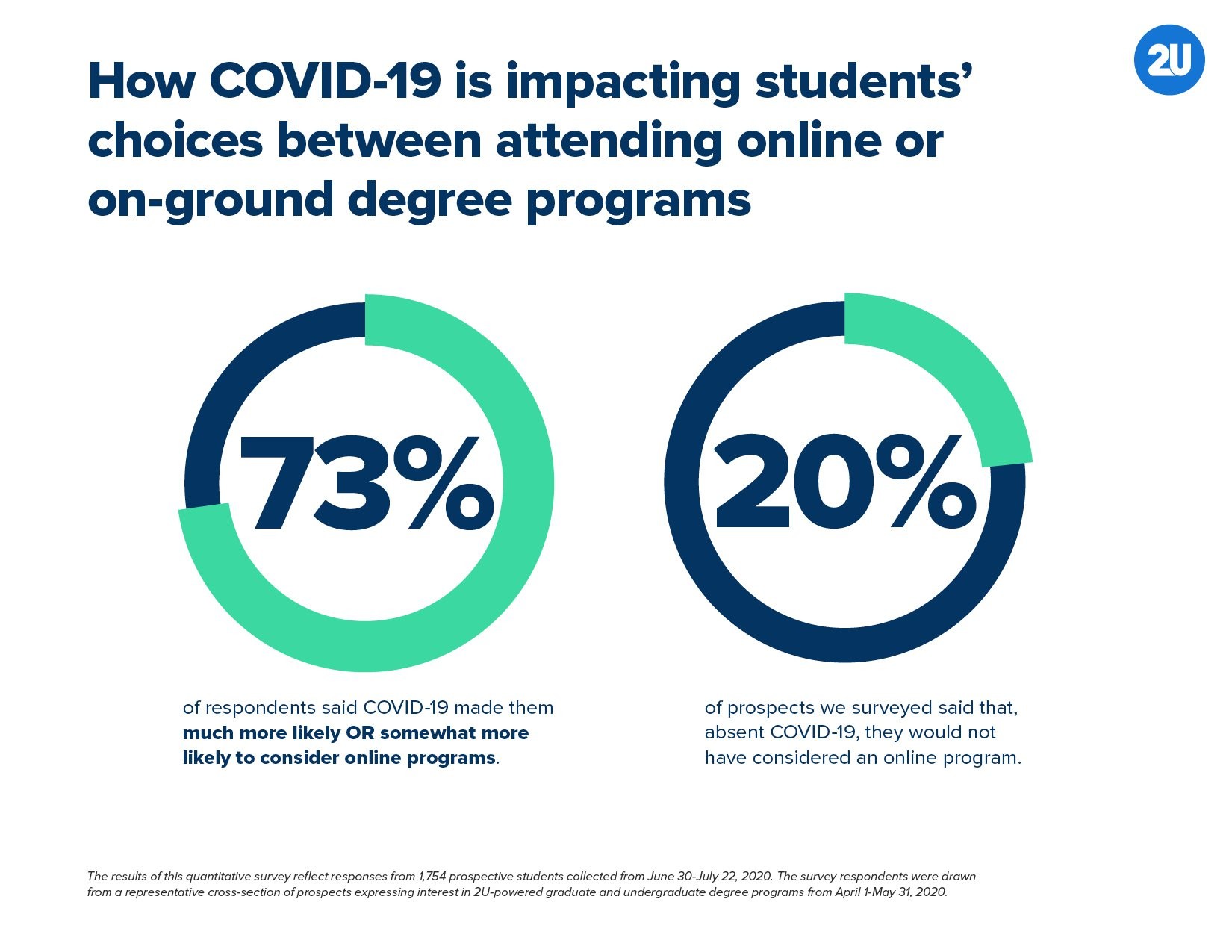 This data strongly suggests that a growing number of learners will be choosing to enroll in online programs over on-campus programs.
While our survey focused on prospective students for 2U-powered degree programs, other data sources show similar patterns. Since mid-March 2020 as the pandemic spread, Google searches for higher education offerings have also sharply risen. For certain verticals, like public health and nursing, increases in search volume over last year are particularly pronounced. For example,
searches for "online mph programs"
saw an increase in early April of almost 200% over the same time in 2019.
As more students affirmatively choose online degrees over on-campus alternatives, we believe they will also look for programs with a proven history of quality and great student outcomes. And 2U-powered degree programs deliver on both of these priorities as demonstrated by our
recent Gallup study
showing that 92% of the alumni would still pursue an online graduate degree if they had to do it over again.
For centuries, universities have delivered a quality on-campus academic experience, and we've also proven it's possible to bring the best of themselves online. As more students choose online over campus-based degree programs, universities must adapt and accept the opportunity to build high-quality, relevant, affordable, and accessible online offerings.
Quality online education is the future—now. And universities that embrace this share shift will meet the demands of today's students and win this future.
Learn more about us.
At 2U, we're on a mission—to eliminate the back row in higher education and help universities thrive in the digital age. To learn more about who we are and what we do, follow the links below.