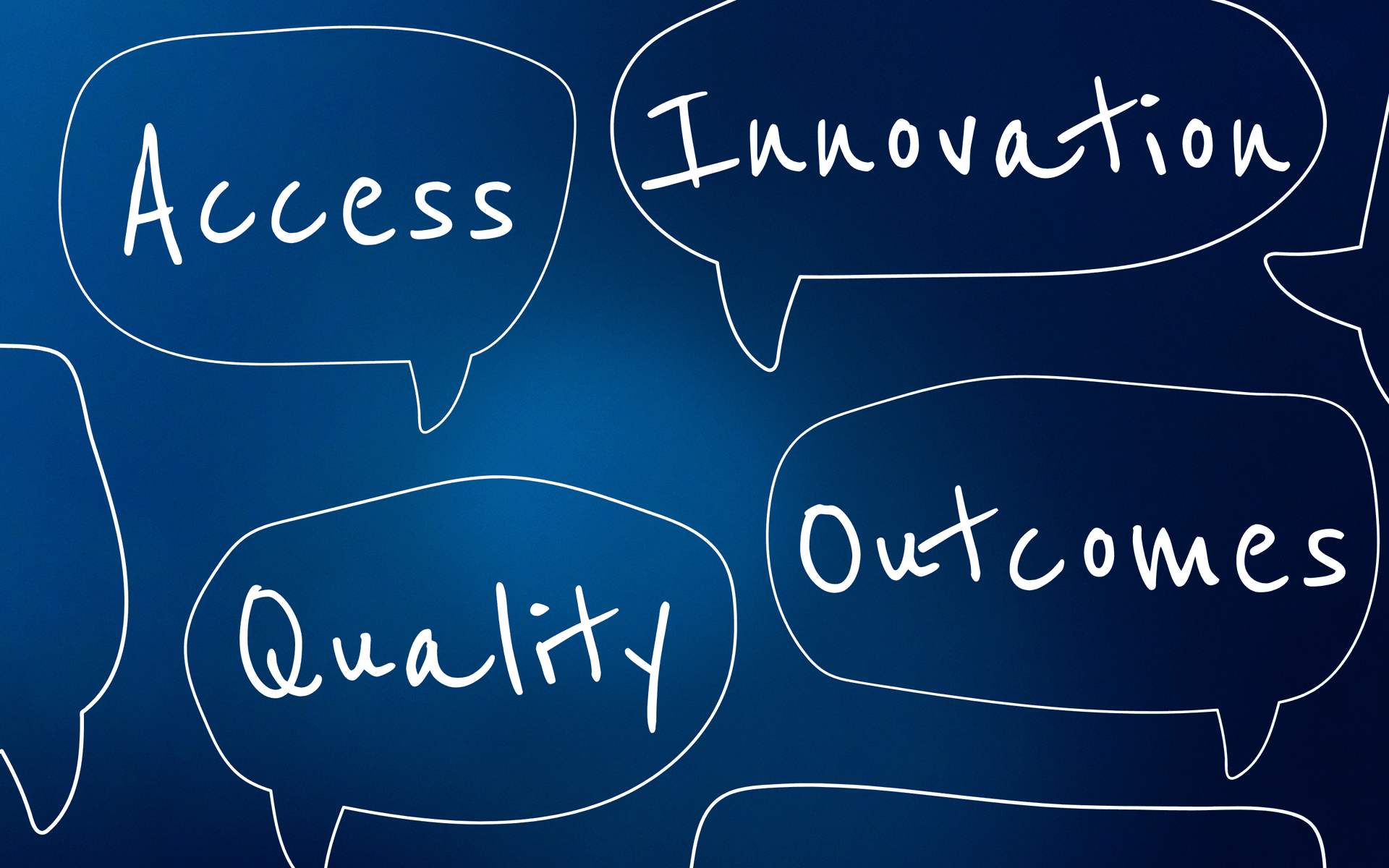 Seeking solutions to rising student loan debt, the U.S. Department of Education (ED) recently announced a review of the 2011 Dear Colleague Letter, guidance introduced by the Obama administration that supports partnerships between universities and companies like 2U. The Letter's "bundled-services provision" permits universities to share revenue with an unaffiliated third party as long as they provide a "bundle of services" in addition to recruitment support. These essential services can include technology, clinical placement, student support, marketing support, career counseling, and any other services needed to drive great student experiences and outcomes.
While 2U shares the Administration's goals of serving students by reducing student debt, this latest move reveals an Education Department out of touch with a modern, progressive world—as well as a fundamental misunderstanding of the critical role that industry plays in higher education in the 21st century. Increased regulation threatens to stifle innovation and reduce access to high-quality online education for students nationwide.
I'm thrilled to see that
over 30 of 2U's university partners provided comments to ED in support of keeping the bundled-services provision and revenue-sharing agreements in place
. In addition to comments from many graduates from online programs supported by 2U, our university partners' comments underscore
the value that revenue sharing has created
for both universities and students. In fact,
about 84%
of public comments submitted to ED support keeping the current guidance.
Too often, these voices—the very universities who understand these partnerships best—are left out of the conversation. Revenue-sharing partnerships give universities an important tool to better serve students. Over the last 15 years, 2U and our university partners have given millions of learners the opportunity to pursue an education through online programs, from free courses to full degrees, without uprooting their lives. The bundled-services provision is integral for us to continue to achieve this impact together.
Here are five of the most important reasons why our partners and their students say it's critical to preserve the guidance that makes these opportunities possible: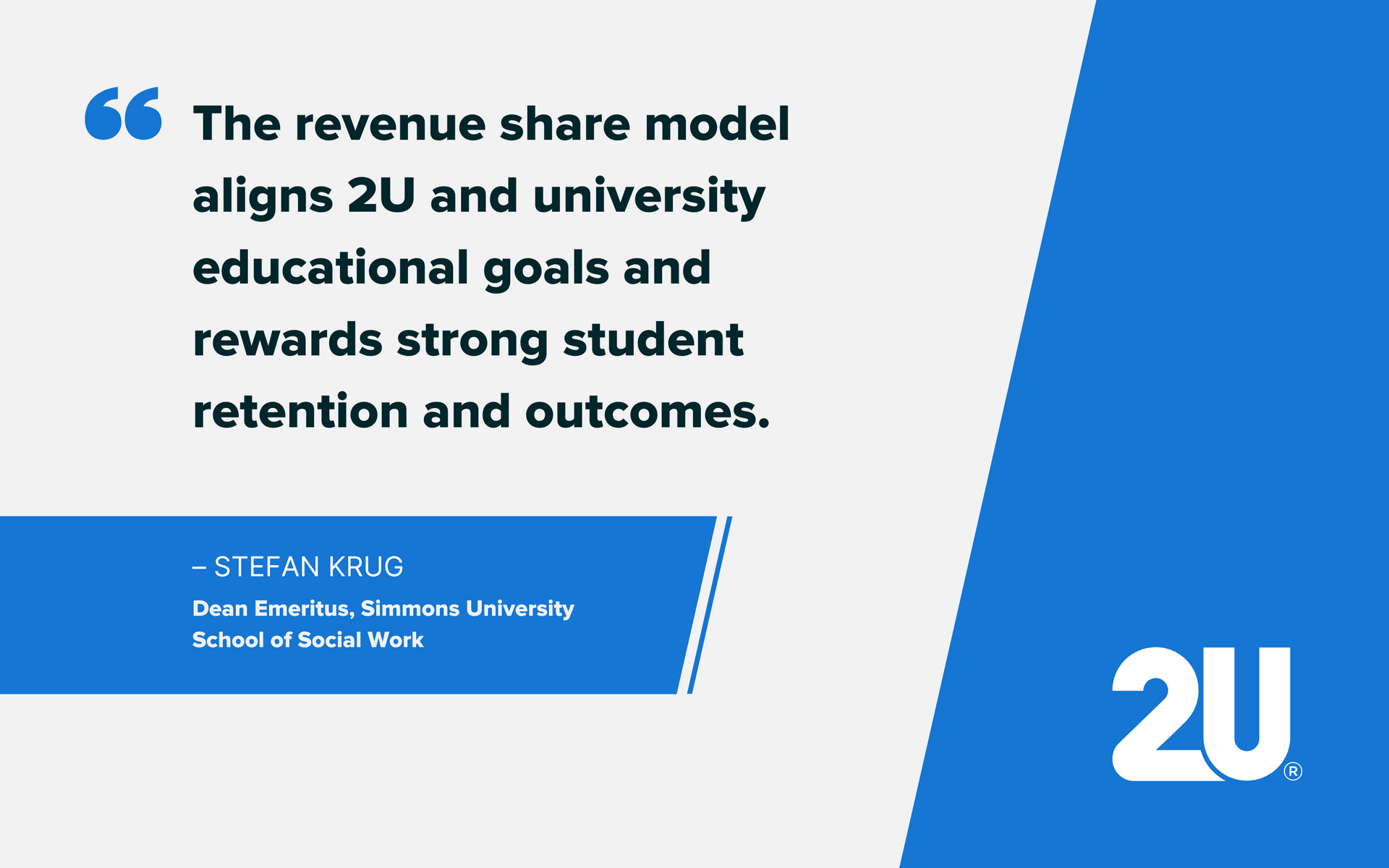 1. Revenue sharing is the only model that aligns incentives in the best interest of students.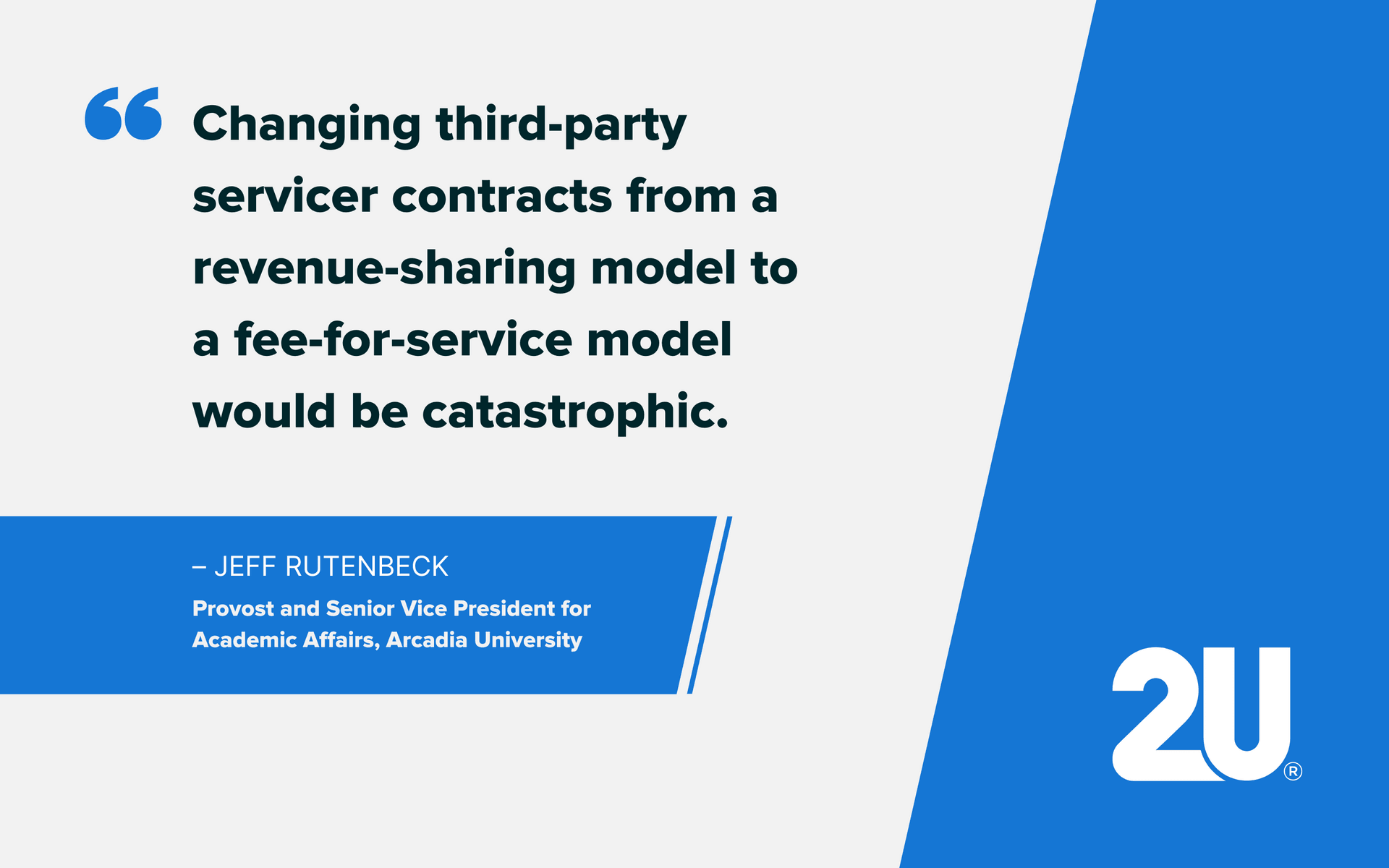 2. Revenue sharing provides universities with the capital for innovation and reduces institutional risk.
Developing a purpose-built, high-quality online program is expensive and risky. 2U invests $5 million on average into each online degree program we support before recouping a single cent. Universities bear minimal upfront investment while maintaining exclusive control over core academic functions including admissions, financial aid, curriculum, instruction, and tuition. When you consider that
up to 25%
of all online degrees launched by universities fail within the first year, this support is especially critical.
A revenue-sharing model eliminates that risk for institutions, enabling them to develop the innovative online education this country desperately needs, including programs that transform people into nurses, teachers, physician assistants, and therapists.
Jeff Rutenbeck
, provost and senior vice president for academic affairs at
Arcadia University
, spoke to these higher costs in his ED comments. "We have conducted independent market research that indicates we would need to spend anywhere from 30 to 40 percent of our anticipated program revenue just on marketing and recruitment. And these investments would have to be continually adjusted using the latest techniques in data analysis and digital strategy—competitive intelligence that is extremely difficult for an institution of our size and means to build and maintain," he said. "
Changing third-party servicer contracts from a revenue-sharing model to a fee-for-service model would be catastrophic
for all cash-constrained institutions like Arcadia."
AnnaLee Saxenian
, dean emerita of the
UC Berkeley
School of Information, added this about the benefits of 2U's support: "
Our relationship with 2U provides institutional independence, oversight, and shared accountability.
It has enabled the 'I School' to focus on what it does best: developing curriculum, hiring and overseeing faculty, and instructing and mentoring students."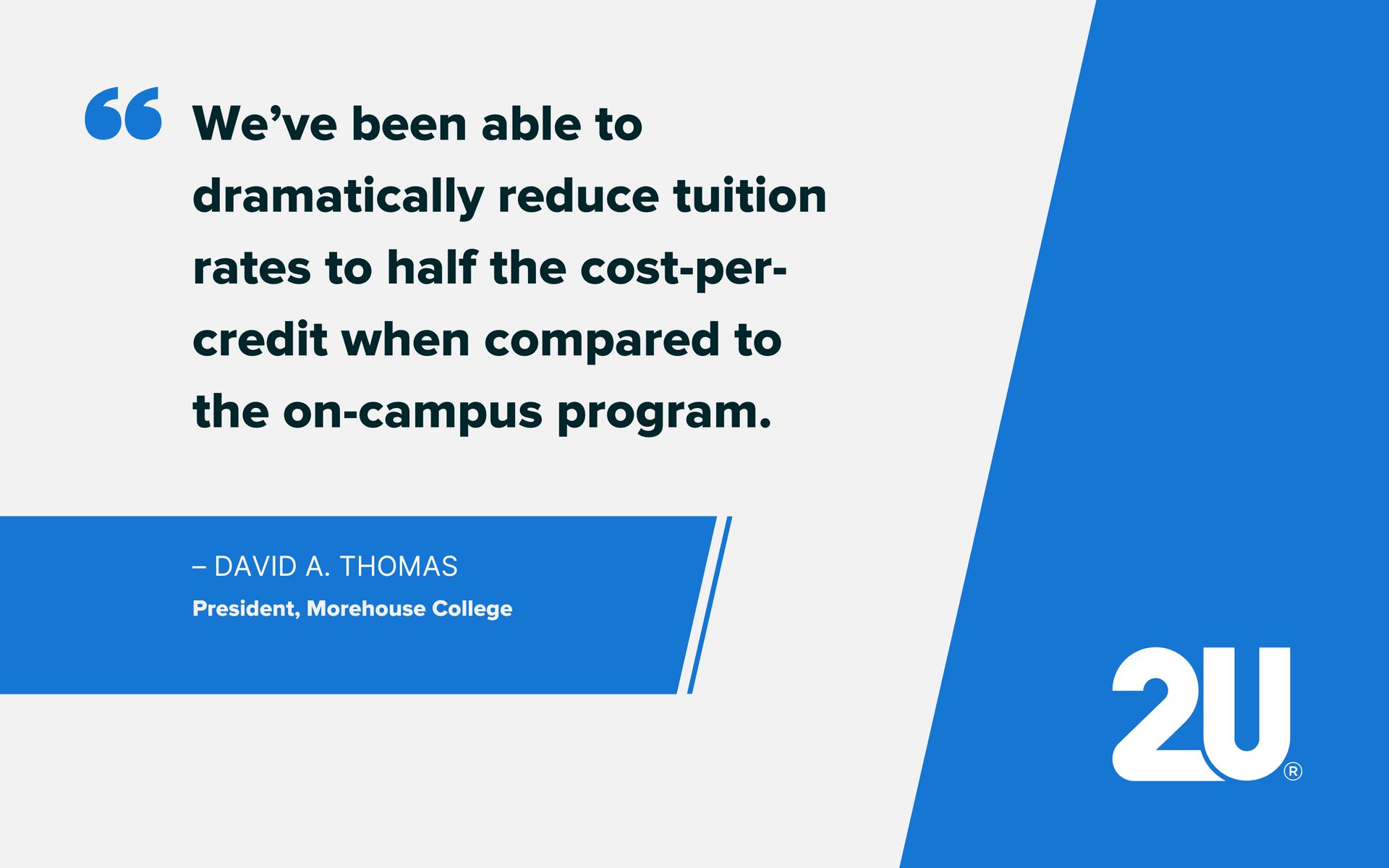 3. There's no evidence whatsoever that revenue sharing increases tuition or student debt.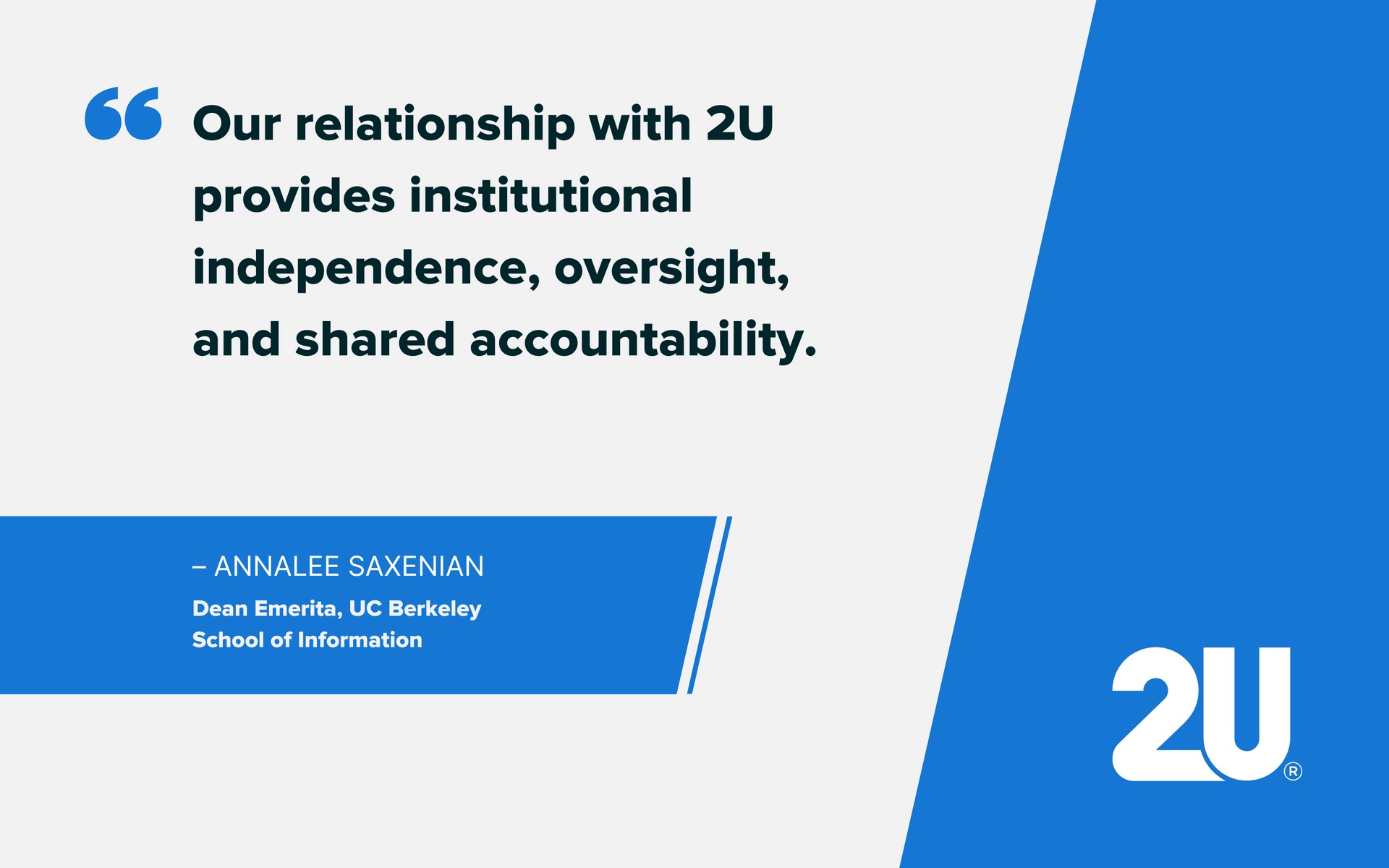 4. Revenue share arrangements do not take funds away from institutions. They create greater economic opportunity.
2U's investment capital is the reason these online degree programs get off the ground, and our technology and expertise is often the reason that universities are able to successfully operate the programs in a complicated and fast-moving digital marketplace. The overall revenue simply wouldn't exist without these arrangements.
Eric Spina
, president of
University of Dayton
(UD), spoke to these benefits in his ED comments. "By partnering with 2U, UD was able to launch its online programming more quickly than it would have been able to do without such a partner," he wrote. "The expansion of its missional reach through its partnership with 2U has not come at the expense of any aspect of its educational mission."
Helen Drinan
, interim president of
Cabrini University
, referenced similar reasons for partnering with 2U in her comments to ED: "Currently, we recruit students only in our local area because we have very limited marketing capacity," she said. "This calls for far more expertise in technology-based recruiting than we can possibly afford alone.
2U has guided our programs well and quickly
. For a tuition-dependent, modestly endowed institution, this backing is the difference between getting into expanded markets and not."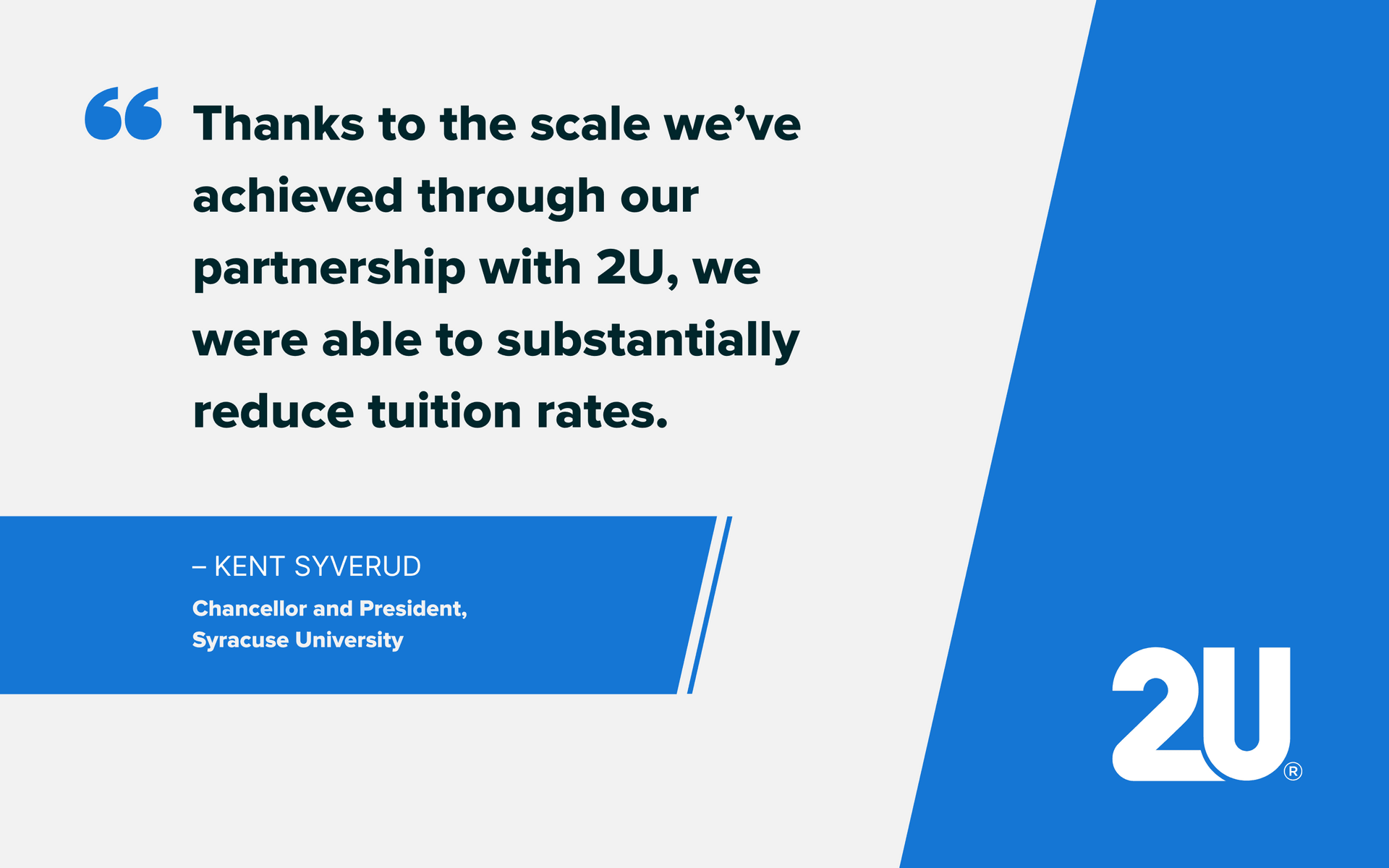 5. Most importantly, 2U's public-private partnerships—which are expressed through a revenue share—result in tangible benefits to students.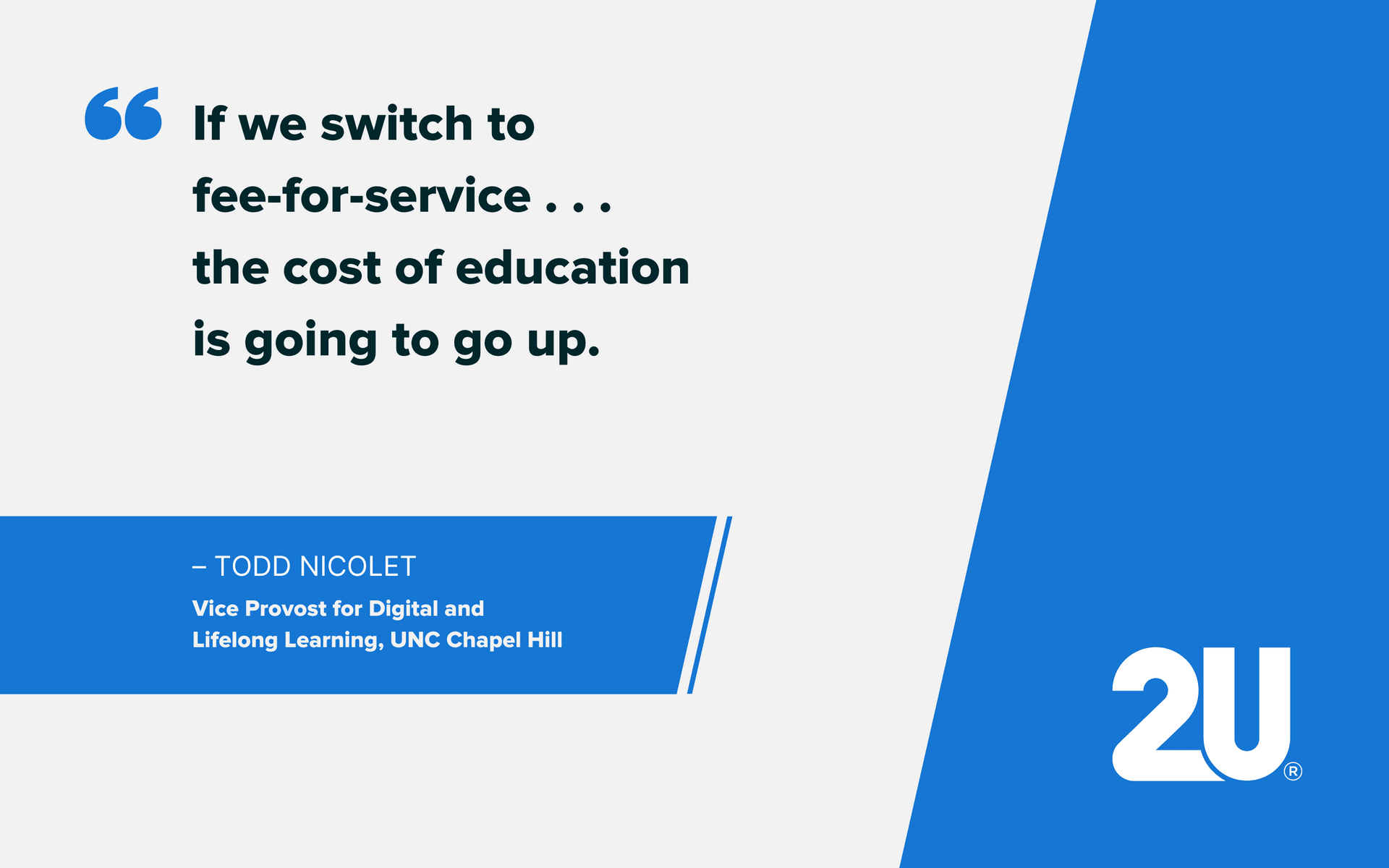 Access, Affordability, and Great Outcomes: Revenue Sharing Enables It All
I think we can all agree that our country needs greater access, affordability, and outcomes for millions of Americans who are underserved by traditional education.
The current guidance makes achieving these goals possible
. Limiting a university's ability to partner with companies like 2U to provide quality online learning would be enormously detrimental to the future of education.
Matthew J.
, who completed USC's online Master of Teaching program while teaching in South Korea, offered ED perhaps the most powerful reason for why revenue-sharing partnerships must continue. "My program was a game changer," he explained. "I could pursue my education while not having to quit my job. Online education is important—it can be as rigorous and engaging as in-person, and you can build a community. I hope ED will continue to support policies that help, and not hinder, colleges and universities from working with companies like 2U that are
essential to expanding access
to these important opportunities."
Learn more about us.
At 2U, we're on a mission—to eliminate the back row in higher education and help partners thrive in the digital age. To learn more about who we are and what we do, follow the links below.