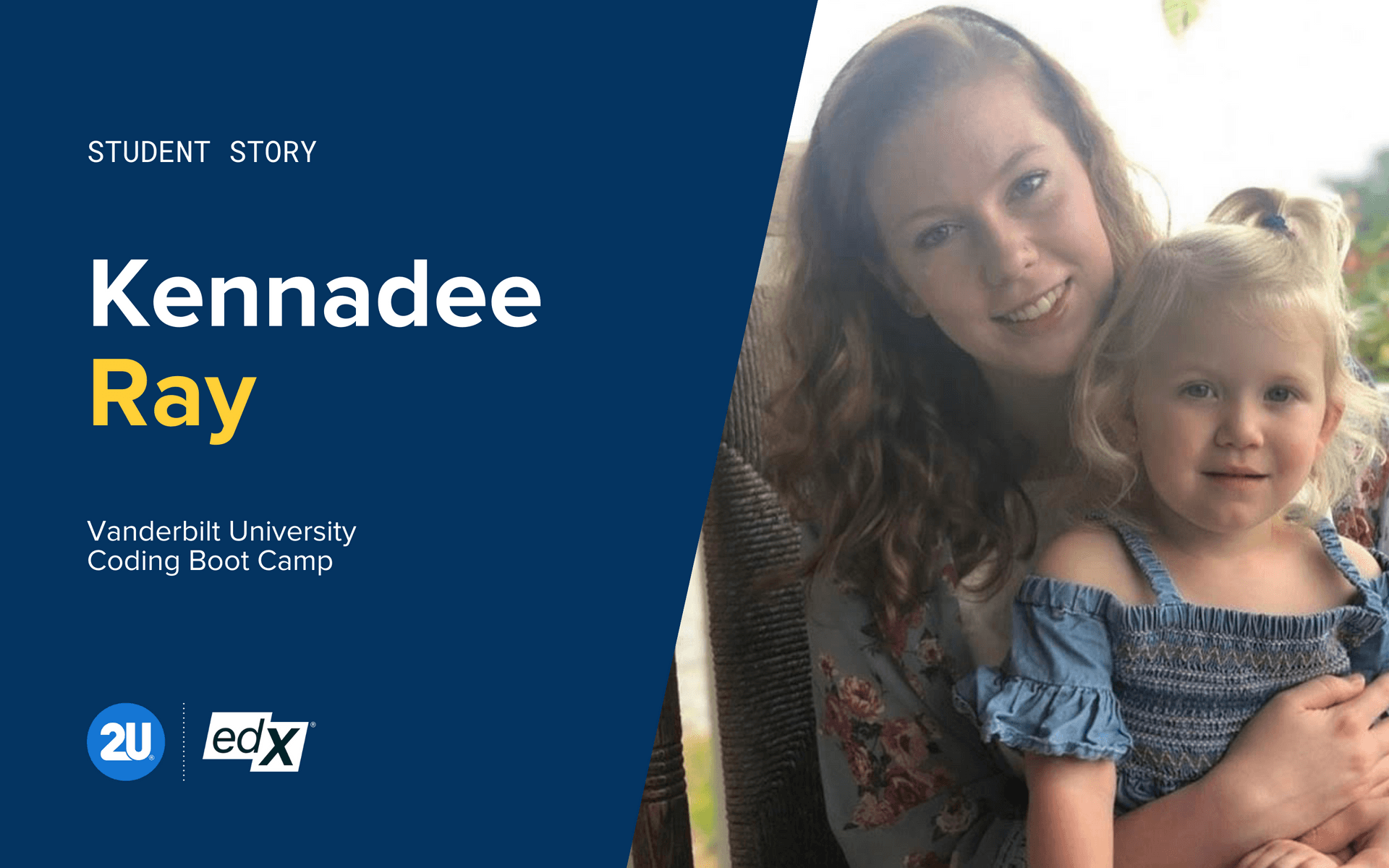 EDITOR'S NOTE: This story is part of a spotlight series on alumni of 2U-powered university boot camp programs whose experiences will be captured in the release of our
Gallup-2U Boot Camp Graduates Study
this summer.
In Tennessee approximately 30 miles east of Nashville, Lebanon has slowly absorbed more residents from neighboring "Music City" in recent years, yet it maintains its charming small-town feel.
Kennadee Ray
herself moved to the area after graduating high school and continued her education through a local associate's degree program while waiting tables at a steakhouse. She was also a single mom at the time, busy with a toddler from dawn to dusk.
"After two years in my associate's program while also waitressing and raising my daughter, I wasn't sure I could keep doing all the running back and forth," she says. "If I was going to continue on to get a bachelor's degree, I knew that would take me quite a while longer to get through."
As she was considering her options, Kennadee's best friend since middle school, who works in the tech industry, suggested the concept of a boot camp, leading Kennadee to discover the 2U-powered
Vanderbilt University Coding Boot Camp
. "I didn't know boot camps existed," she confesses. "But once I learned how much value Vanderbilt crams into only a few months of training—and how it could lead to a good tech job soon after that—it was pretty mind-blowing."
Within a month of completing her associate's program, Kennadee enrolled in the boot camp and dove in—ready, as she says, to "git 'er done."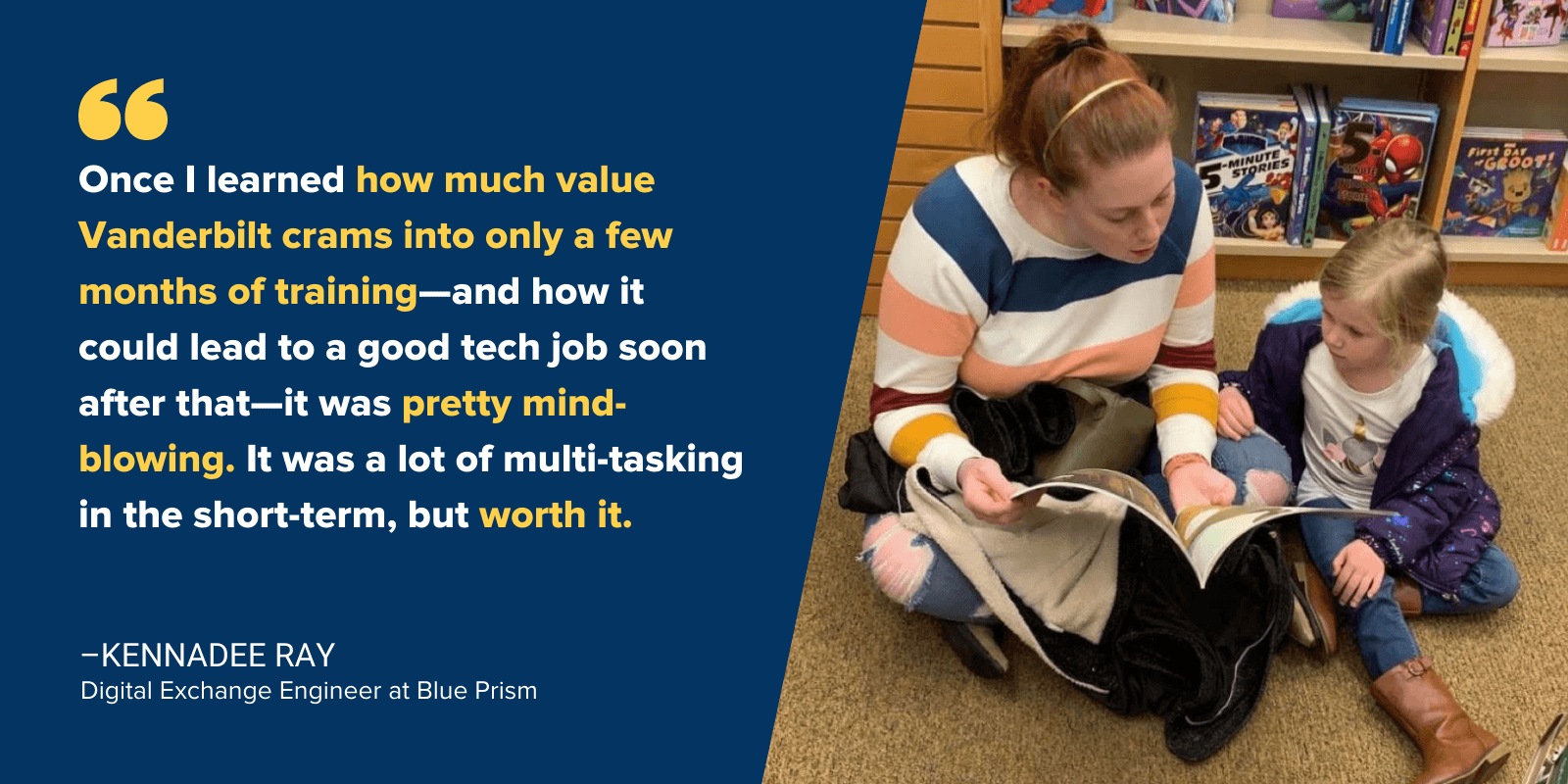 A Better Way to Search for Needles in a Haystack
During her associate's program studying Mathematics, Kennadee had taken an intro to coding class, which gave her enough of a taste to know she'd like the work and be good at it. "I've always been a STEM-loving person with a pattern-oriented mind," she says. "I like complex problem-solving, so coding seemed like a great fit for me."
For Kennadee, how the boot camp scaffolded new concepts—layering them one upon the other in direct lessons followed by a more hands-on project each week—was a helpful way to structure the breadth of the material. She also enjoyed the "virtual peer programming" experiences that her instructor and TA set up to connect different classmates together on assignments each week and with all of three of the boot camp's major projects.
"Virtual peer programming is something I've done on the job a lot—where you work through a problem like debugging with another developer, sharing your screens and talking through potential solutions together," Kennadee explains. "There's a lot you can learn through that simultaneous teaching and learning, especially since coding is often like searching for a needle in a haystack."
Group projects in general were integral to Kennadee's skill development—whereas in the first coding class she took, they didn't exist. "Working together is a really important part of learning to become a developer," she says. "In most jobs, you're going to be on a team of people trying to accomplish a larger goal. The boot camp helped teach those organizational people skills, so that you're not stepping on each others' toes when working on the same code."
Kennadee is also grateful for the flexibility the boot camp offered her as a single mother, and how it taught her to budget and manage her time in more productive ways.
"Sometimes I'd work doubles at the restaurant, and then between shifts I'd sit at a table, pull out my laptop, and either study or join one of the boot camp's virtual office hours," she says. "And then at home, I had what I call my porch desk, because I love being outside. I'd give my daughter chalk, bubbles, and other toys to play with on the porch while I worked on my assignments out there, too. It was a lot of multi-tasking in the short-term, but worth it."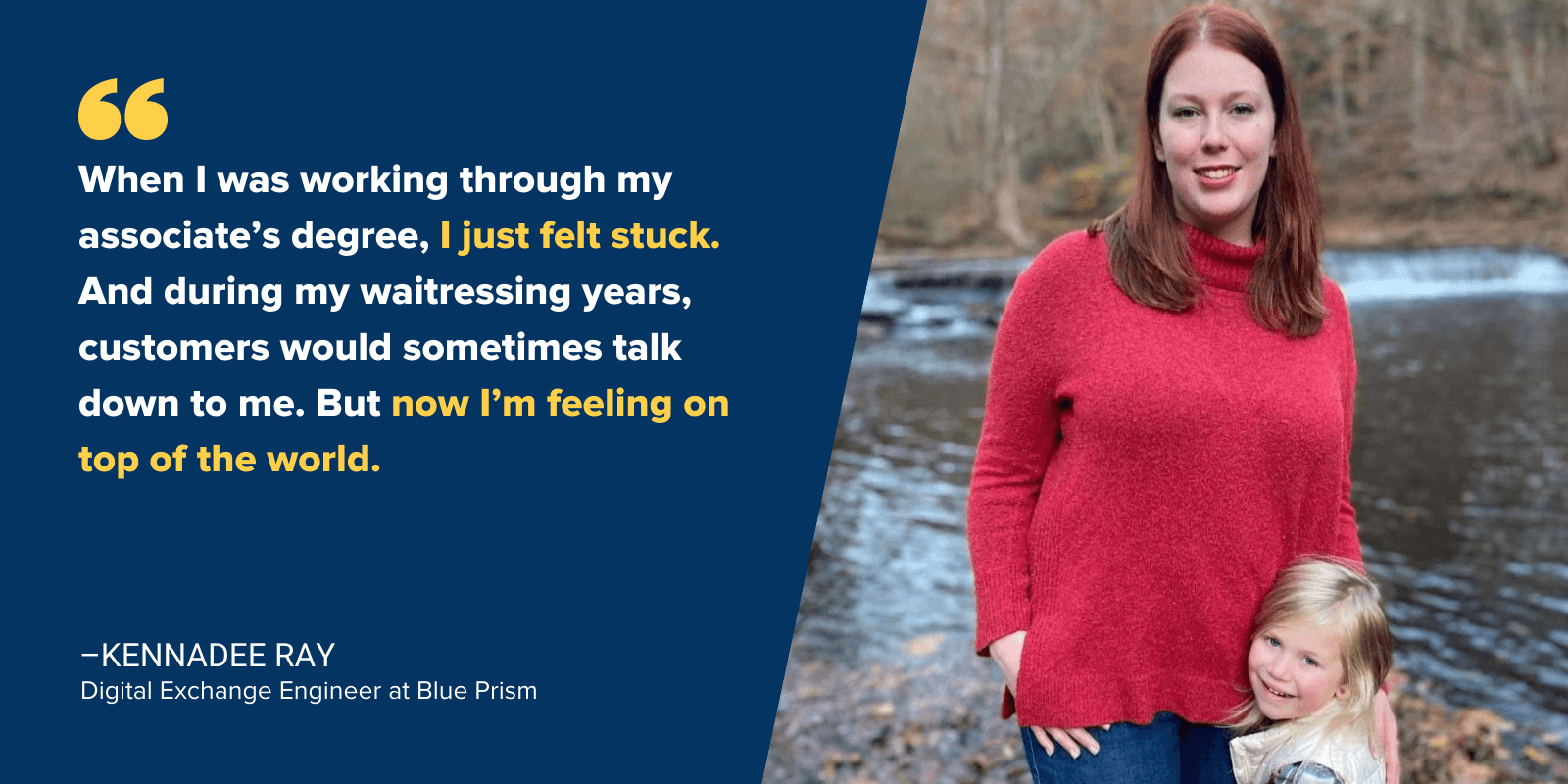 A Better Way to Search for Tech Opportunities
From React.js to SQL to web APIs, Kennadee felt the boot camp's in-depth overview of the latest front-end and back-end coding tools gave her enough knowledge and confidence to start applying for jobs before the program ended. "Most tech jobs don't expect you to know every detail about every tool out there when you first start," she says. "But if you're familiar with one kind of tech stack, it's easy enough to learn the next big one, and so on."
Kennadee's career coach, part of 2U's wraparound support services for students, also helped her focus. "2U had a very clearly laid-out, step-by-step plan for developing your LinkedIn profile and setting up your Github portfolio," she says. "I'm a relatively independent person, but every few weeks, they'd also check in and make suggestions for other companies and jobs I could be applying to."
The first job Kennadee landed was at a Nashville-based IT consulting company. She was drawn to the role of technical consultant, because it gave her the opportunity to work on a wide range of projects, technologies, and clients. "Having that variety, and developing a service mindset, can be really important for a developer just starting out," she says.
While Kennadee was content in her first role after graduating Vanderbilt's boot camp, an exciting new opportunity presented itself nine months later. "My best friend said her company Blue Prism was hiring for a digital exchange engineer," she explains. "They work on robotic process automation, and that's something I was curious about even before my associate's degree. So I did my research, applied, got the job, and just started back in April! Now I'm working fully remote from home and updating assets for the digital exchange, which is a place where creators can put out community-supported content like apps and integrations. Our customers can then save time by using those assets to develop their own solutions. It's a cool job."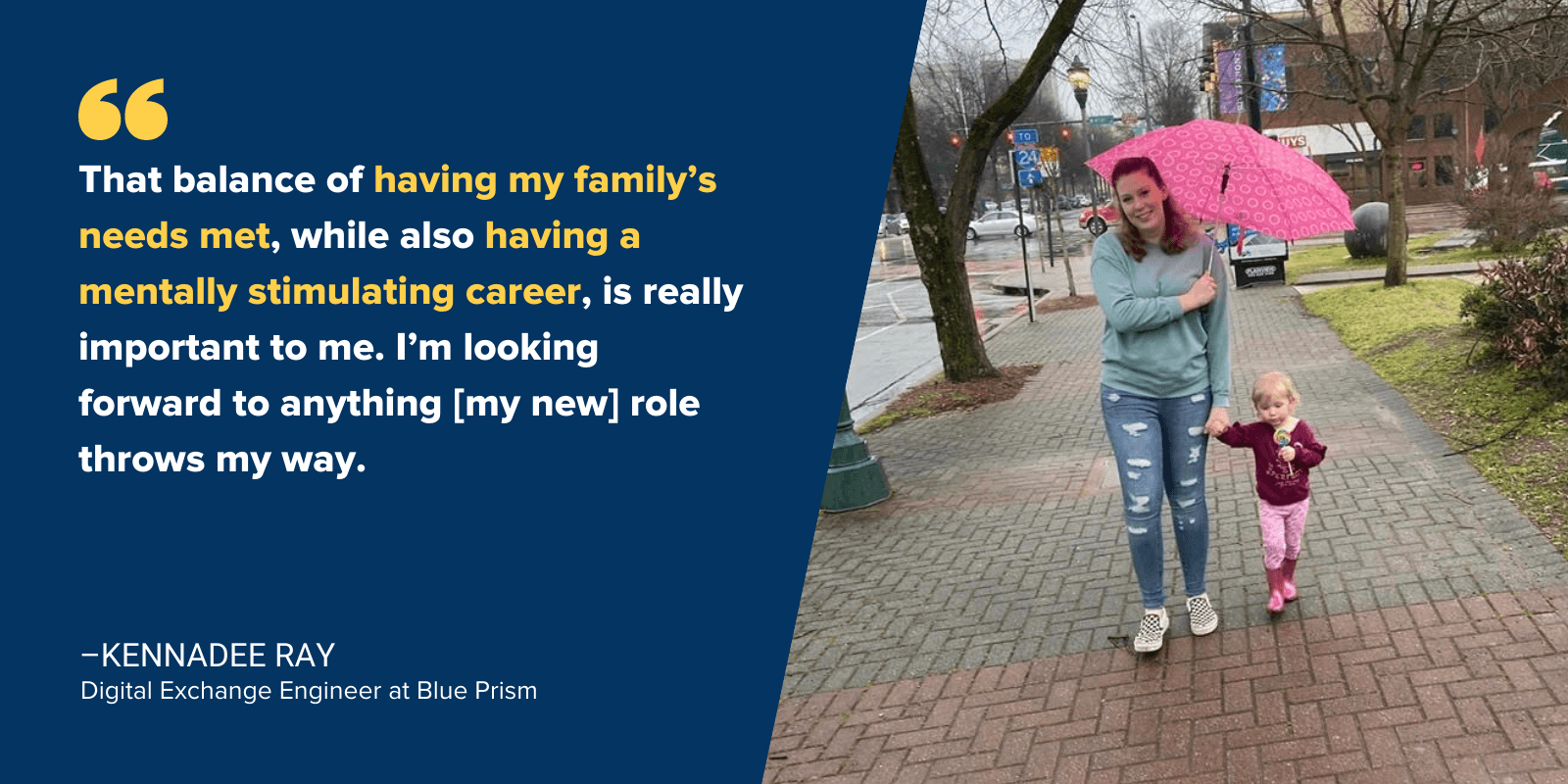 A Better Way to Balance It All—and Pay It Forward
Looking back, Kennadee believes the boot camp's skill-building, career-oriented nature played a big role in getting her to where she wanted to be, both personally and professionally.
"That balance of having my family's needs met, while also having a mentally stimulating career, is really important to me," she says. "When I was working through my associate's degree, I just felt stuck. And during my waitressing years, customers would sometimes talk down to me. But now I'm feeling on top of the world."
Today, Kennadee's daughter is almost four-and-a-half, and as of last week, Kennadee is married. "My husband and I met a little over a year ago, and just like everything else in life, we moved fast," she laughs. "Plus, we've got another kid on the way!"
Kennadee's commitment to her education and career evolution has inspired others in her family to pursue their goals, too. Her aunt, whose background also includes working in restaurants, has just begun the
University of Central Florida (UCF) Coding Boot Camp
. "She's been kind of keeping up with what I've been doing, and asking how I got to where I am," Kennadee says. "I knew there was a larger network of 2U boot camps, so because she lives near Orlando, I recommended UCF."
Proud to now help others get on the path to their own fulfilling careers, Kennadee says she's equally eager to dive into her own new job. "I'm still getting acclimated, but I'm excited to acquire as many new skills as I can," she says. "I'm looking forward to anything the role throws my way."
Learn more about us.
At 2U, we're on a mission—to eliminate the back row in higher education and help partners thrive in the digital age. To learn more about who we are and what we do, follow the links below.