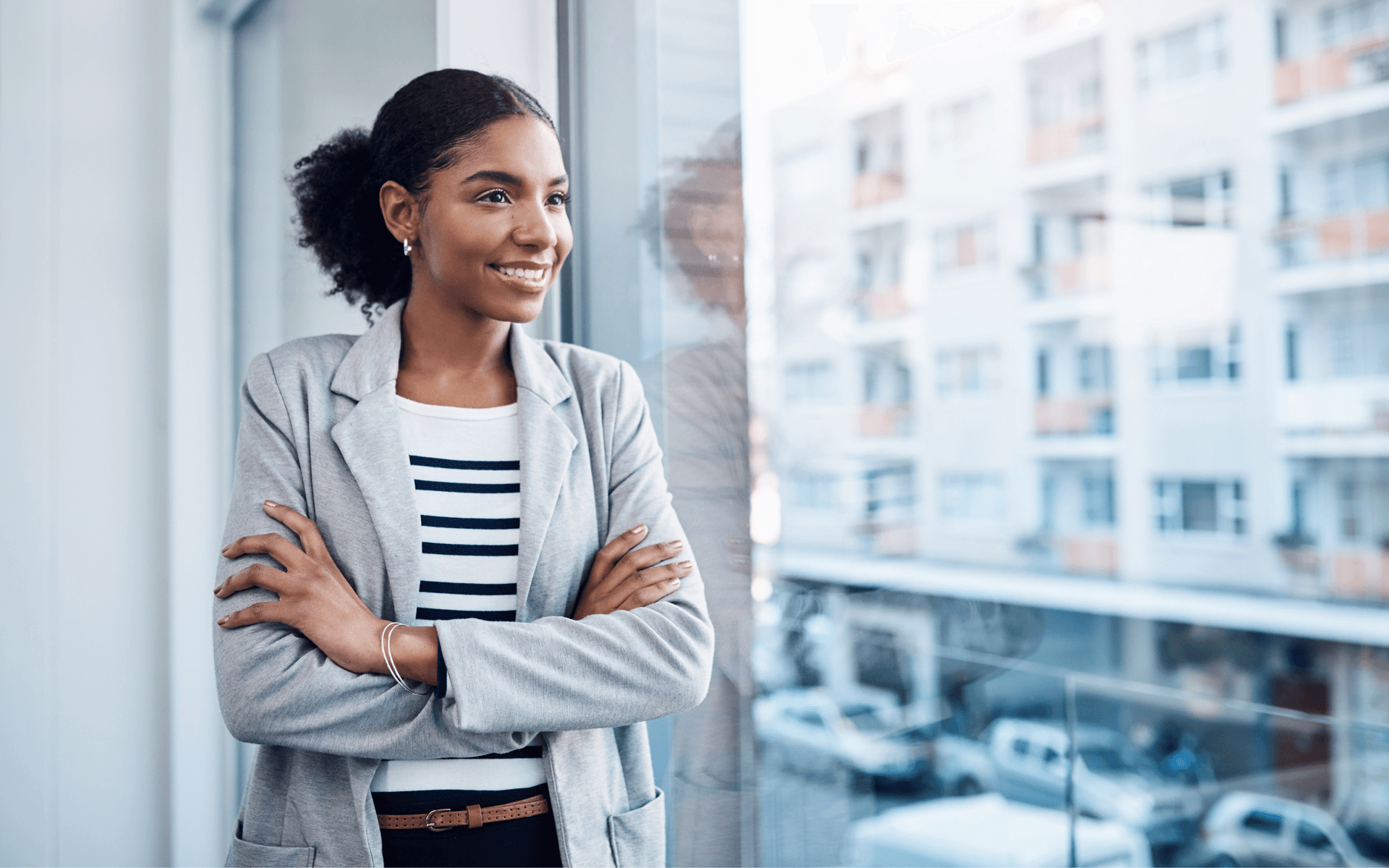 I've long been a believer in the power of partnerships to help address society's most critical needs. Workforce development is one area where we're increasingly seeing the positive impact of partnerships—among nonprofits, state and local governments, and four-year public and private universities—that are designed to offer adult learners affordable pathways to careers in technology. These pathways are helping to not only fill in-demand jobs, but also improve the diversity of regional tech workforces.
In nearly all realms of business, demand for tech professionals is booming—a trend that has only been accelerated by COVID. At the same time, more and more Americans are leaving their jobs. According to the U.S. Bureau of Labor Statistics,
over four million Americans have left their jobs
each month since last July. And the tech industry is not immune to this trend:
Resignations increased by 4.5% in 2021
compared to 2020, causing the skills gap to continue growing in many regions across the country. For example:
Through the development of what we call Access Partnerships, 2U is helping universities in these and other regions fill pressing workforce needs through the creation of career-igniting scholarships, which in the U.S. covers full tuition along with other resources like laptops. Prioritizing innovative thinking and grassroots relationship-building, 2U has matched several boot camp programs with local workforce agencies and corporate/nonprofit/government funders in order to secure the vital financial resources needed for these scholarships, as well as the learners who could most benefit from them. Our current Access Partnerships include
University of Central Florida (UCF)
,
University of Denver (DU)
,
University of North Carolina (UNC) at Chapel Hill
,
University of Oregon
,
University of Utah Professional Education
, and the UK's
University of Birmingham
, with more to come.
Recently, representatives from three of our Access Partnerships shared with me the value they see in this initiative and what excites them about the future. Their perspectives illustrate how Access Partnerships can be an effective way to collaborate on carving career pathways for diverse learners and meeting employers' specific talent needs. Their words also speak to how the model can adapt to each region's unique challenges—making our collective efforts stronger in helping people change their lives through the power of education.
Designing Public-Private Partnerships That Expand Access and Opportunity
In cities across the U.S., universities, businesses, nonprofits, and local government agencies all have a shared interest in creating skilled workforces that can help their regions thrive. With Access Partnerships, 2U has become the "glue" that connects these entities together to collectively drive impact.
In Portland, 2U is helping the University of Oregon offer UX/UI boot camp scholarships to young men and women of color by connecting the university with
Worksystems, Inc.
, a local workforce development agency, and
Emerging Leaders
, an area nonprofit. "We wanted to apply some of our funding to on-ramp tech programs for the populations we serve; mostly young people and low-income," says
Barbara Timper
, Worksystems' youth development program manager. "While Portland is a fairly white community, the Black, Latinx, and Asian populations are steadily rising. Employers want to diversify their teams to reflect these evolving demographics."
In Denver, DU was seeking ways to more thoughtfully drive diverse learners into tech. "Our mission is all about access," explains
Renae Jacob
, executive director of DU's Center for Professional Development. "Our boot camps meet that mission by teaching job-ready skills and offering robust career and support services. When 2U brought DU and the
City and County of Denver
together to brainstorm ideas, we immediately felt the synergy." Jacob specifically cites the $7.38 million grant that Denver Economic Development and Opportunity (DEDO) Workforce Services was awarded by the U.S. Department of Labor to invest in its
Technology Employment in Colorado Partnership
(TEC-P) program.
"DEDO designed the grant to also serve surrounding county agencies,"
Chris Berthiaume
, TEC-P project manager, says. "That way, we can support the widest range of referrals that come to us from people from disadvantaged backgrounds or those who've been laid off."
In Orlando, UCF was looking to use corporate donations provided to its foundation arm in order to help upskill and reskill laid-off workers across Central Florida. "We were one of 2U's first partners with boot camps," says
Chris Rose
, UCF's director of corporate training, partnerships, and affiliate programs. "We knew they offered the right model for launching our 'Charge Up' initiative with
CareerSource Central Florida
, our main workforce and referral agency. With the help of 2U,
JPMorgan Chase
as our primary funder, and
Habitat for Humanity
as another referral source, we focused the program to support career changers and individuals from low-income households."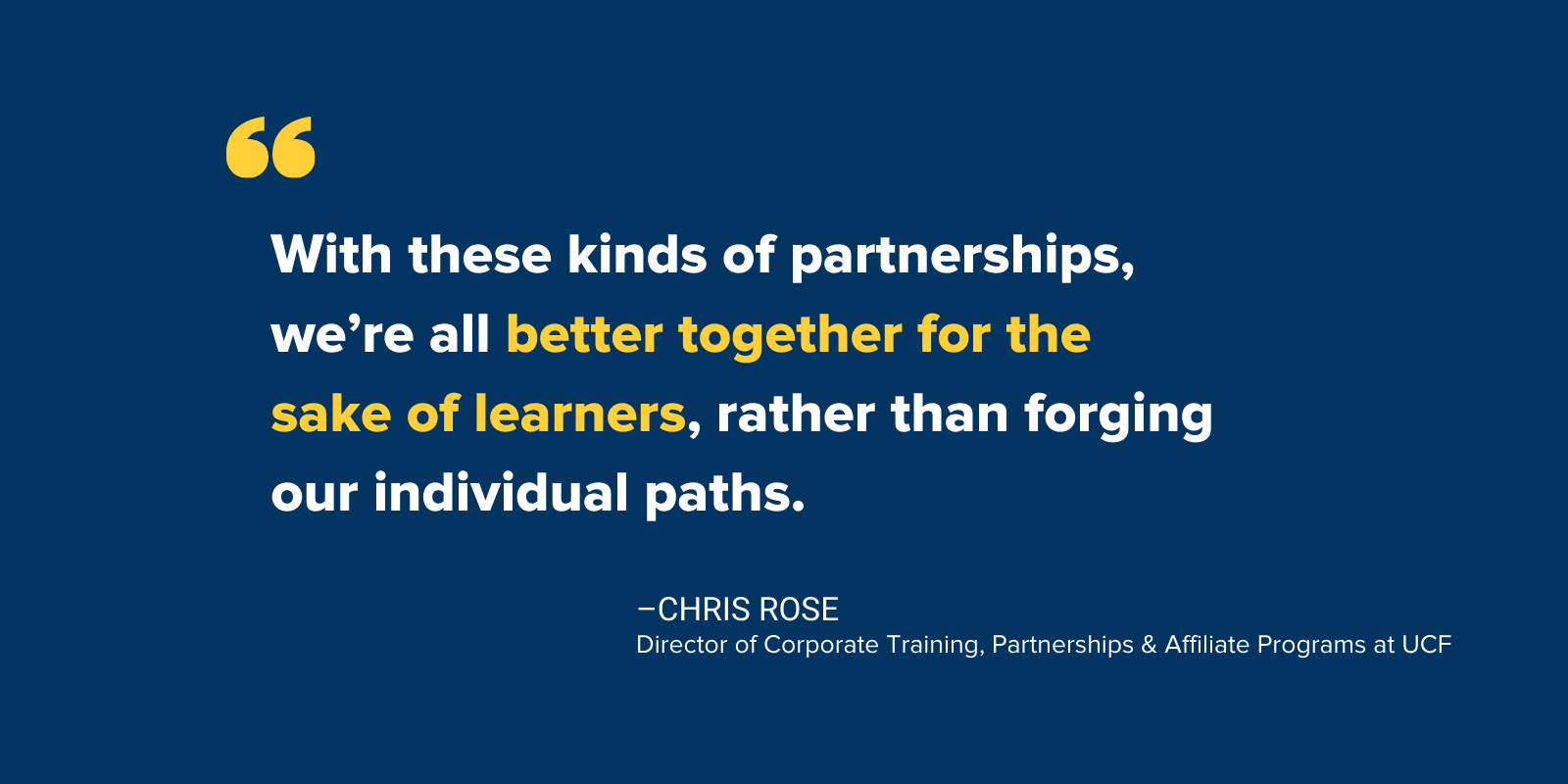 Matching Financial Support with Student Support to Help Learners Achieve Their Goals
By their nature, scholarships help reduce or eliminate the financial burden on recipients. Additional intrinsic value of Access Partnerships lies in priming learners for success from the start.
According to DU's Jacob, it's the support structures that make a notable difference. "The boot camp curriculum is rigorous to ensure students get the highest-quality education that translates into professional success," she says. "Dedicated student success managers and community-building forums give scholarship recipients essential reinforcement, helping them break down barriers to learning along the way."
UCF's Rose agrees, and points to 2U's
Career Engagement Network
as critical to providing the professional support learners need. "It's the best employer network I've seen with our training providers," he says. "Beyond the career fairs and Demo Days, the curriculum and live instruction have real-world examples and industry expertise baked in."
To Worksystems' Timper, value can be more personal in nature, equipping those facing hardships with skills that lead to more dignity and self-sufficiency. "Think of a struggling single mom, who otherwise couldn't afford to train for a more empowering future," she says. "That certificate with the university's name on it adds credibility for employers, and confidence and pride for her."
Ensuring Qualified Talent and Diverse Pipelines for Employers
For as many ways as they serve learners, businesses and regional economies can also reap the benefits of Access Partnerships. With the labor market the tightest it's been in a generation, skilled tech talent attracts businesses and spurs investment, economic growth, and innovation.
"Qualified talent is one of the most valuable assets to companies," Worksystems' Timper explains. "COVID and the labor shortage have made this more evident. Yet, many companies are so busy putting out fires, they focus on immediate talent needs versus partnering to develop a predictable talent pipeline. We can help them reduce the cost of recruitment, screening, and training, and they can focus on demonstrating their commitment to the community in action."
"For so much of Denver right now, it's the equivalent of tech employers having signs in their windows saying they desperately need the help," says DEDO's Berthiaume. "In their search for talent, knowing that we'll find the exact boot camp graduate to send their way, right away, is a huge plus to them."
UCF's Rose seconds this benefit of built-in employer confidence. "Companies can rest assured that our boot camps are teaching the most relevant technologies.," he says. "They can see learners' portfolios of work up close through small-group presentations, instead of throwing up a job post on social media and spending time vetting candidates."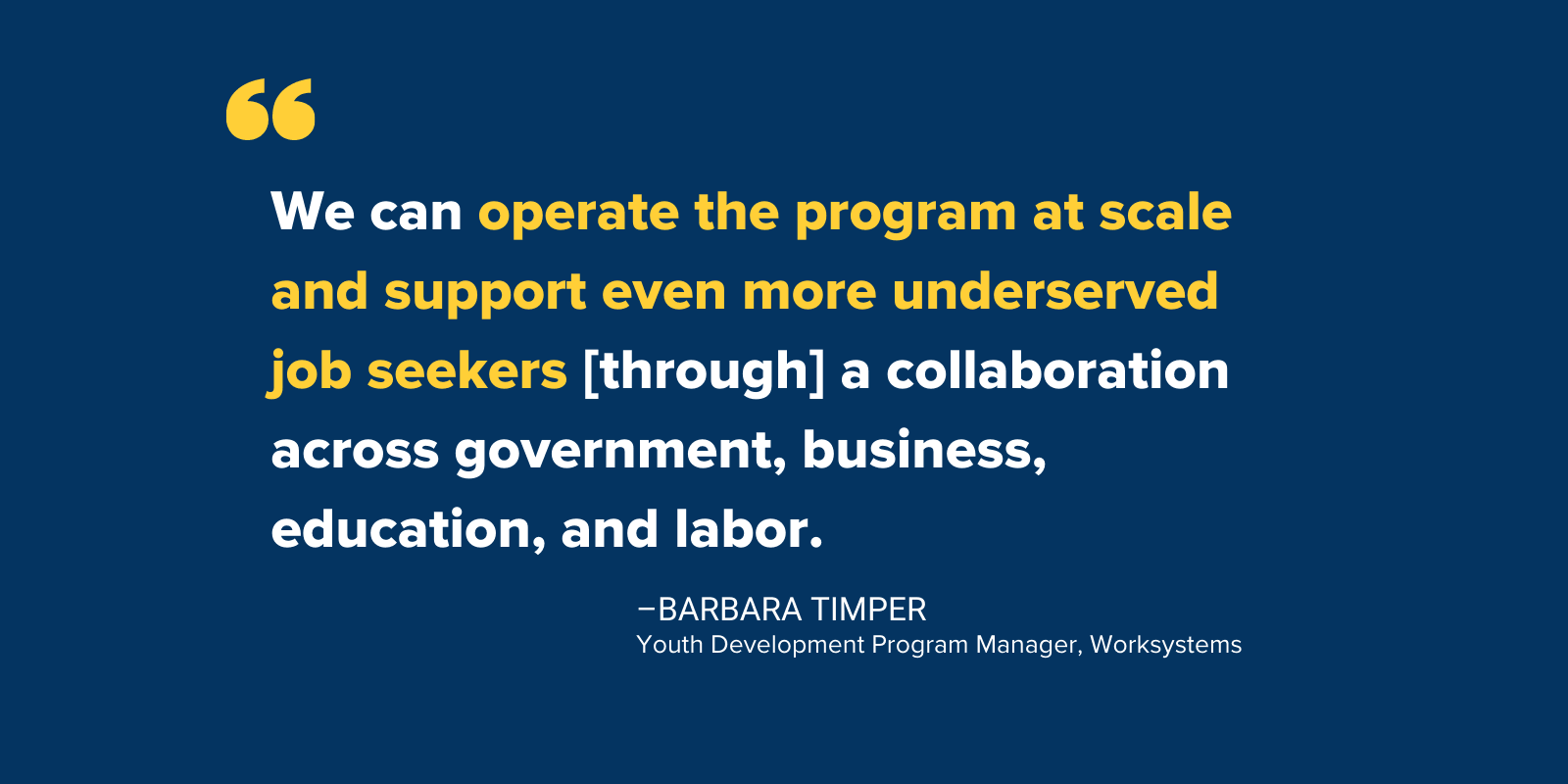 Transformational Impact for a Better Tomorrow
With the creativity, commitment, and care that's helped establish our Access Partnerships so far, the future bodes bright for so many learners on the receiving end of these scholarships. For example, graduates from the University of Oregon's inaugural boot camp cohort have already been hired in tech roles at Microsoft and Portland-headquartered Nike. But this work is easier said than done.
"Right now, some of our funding comes from the Recovery Act, but that won't last forever," Worksystems' Timper says. "If more employers buy into a co-investment model, we can operate the program at scale and support even more underserved job seekers. Success in this initiative will need to come from a collaboration across government, business, education, and labor to meet these goals."
Dedicating the time and effort to building these Access Partnerships is worth it, especially considering the lasting impact they can have on lifelong learning. "We are in a time of constant change, whether it's technology, the workforce, or the pandemic," DU's Jacob says. "This partnership is helping us ignite that spark of continuous learning for those who may not have had the opportunity to see its value before."
"With these kinds of partnerships," UCF's Rose adds, "we're all better together for the sake of learners, rather than forging our individual paths."
Ultimately, there's nothing more inspiring than hearing about the transformational power of high-quality educational experiences, direct from learners. As one University of Utah graduate puts it, "Because of the scholarship, I was able to take the boot camp I had been planning for years. Only a month after graduating, I landed a new job—a direct result from what I learned and the resources provided. Now, I'm making more than twice what I was before and with better benefits. Plus, my job is more rewarding with plenty of opportunity for growth. I hope other people are able to have their lives changed, just as mine did."
Interested to learn more about developing an Access Partnership in your region? Email 2U at
AccessPartnerships@2U.com
to start the conversation.
Learn more about us.
At 2U, we're on a mission—to eliminate the back row in higher education and help partners thrive in the digital age. To learn more about who we are and what we do, follow the links below.